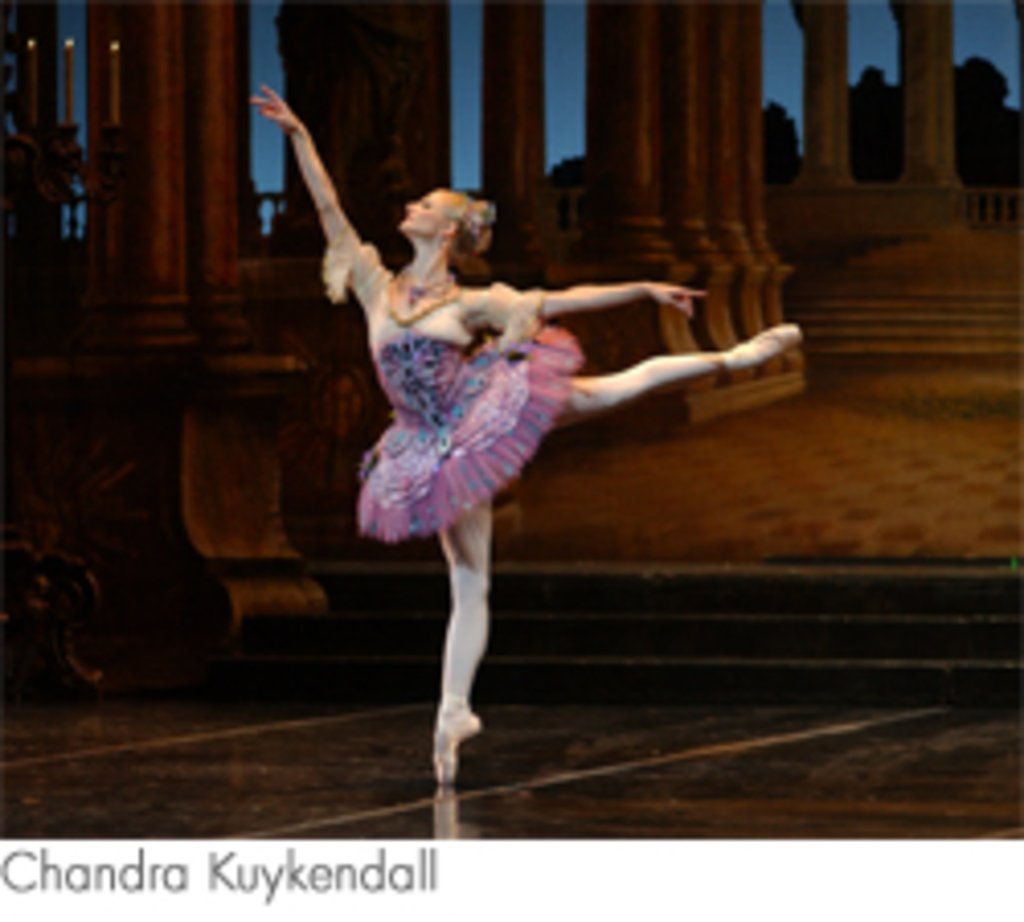 Colorado Ballet chose to open it's 2012-2013 season with a true classic; The Sleeping Beauty is more than 100 years old, and, contrary to what some may be led to believe, is actually not geared towards children. It's a staple in the classical realm of dance, with three full acts (read: three hours), a score set by Tchaikovsky specifically for this ballet, and a collection of sumptuous pas de deux, intricate corps de ballet work, and luxurious sets and costumes. This piece was set, after all, pre-Youtube, when folks used to go out and make a night of the whole production – dress to the nines, head to the opera house, and settle in for the majority of the evening.
Because of this, Sleeping Beauty does seem to move a bit slow in places, as it's not full of the hair-raising familiar score and fantasy of Swan Lake, lacks the haunting sadness of Giselle, and the passion (ie. sex and murder) found in Romeo and Juliet. Still, Colorado Ballet fills out a production like this nicely, and makes use of it's large company. As support for the arts in financially tight times strains the ability of dance companies to support dancers, and for cities to support dance companies, I raise this point merely in the hopes of transmitting a sense of gratitude that Denverites have the rare opportunity to see a full length, professional, classical ballet in their city. After all, Colorado Ballet provides the biggest classical dance repertoire you can find in Colorado, or in the western (non-coastal) United States for that matter. So, like that bottle of wine you've been saving for a special occasion, this ballet is to be savored and doted on – and Colorado Ballet makes that pretty easy.
The corps de ballet kept beautiful time as Lilac Fairy Attendants in the First Act, as Nymphs in the Second Act, and as Mazurka in the Third Act. It was refreshing to see Casey Dalton pulled from the corps and highlighted as part of the duo Puss N' Boots in the Third Act – she absolutely nailed the technical aspects of the choreography, played into her character flawlessly, and fueled my curiosity as to why she's in the corps de ballet again this season.
It's hard for me to ignore the rankings at Colorado Ballet; I've been watching the company for four years now, and although that's not an exceptional amount of time, it's enjoyable to be able to spot who is dancing without looking at the program, who has really progressed as an artist, and who the starting quarterbacks are, season over season. That being said, I wasn't surprised that Maria Mosina was playing Aurora when I opened my program on a Saturday evening, but this didn't keep me from rolling my eyes. I've said it before and I'll say it again – Mosina is a technically sound, good dancer, but it's starting to feel like Maria Mosina and Some Really Good Denver Ballet Company. I'm beyond ready to see some new blood pumped into lead roles during headlining evening performances; vanilla is a great staple of ice cream, but there are some really kickass flavors (whiskey infused, sea salt/caramel, anyone?) out there.
My eyes are always, always, always drawn to dancer Dana Benton. I've seen her take command of classical pieces and bring nothing short of concentrated soul into contemporary pieces, and I was secretly hoping she'd be playing Aurora, even though she's only (surprisingly) a soloist. She is a true 2012 ballerina, able to tackle any kind of choreography thrown at her – impeccable technique, stunning use of épaulement, always holding that little breath at the end of an extension, a jeté, a fish dive. The role of Princess Florine and the Bluebird Pas De Deux, a much beloved variation in Act Three, was perfectly suited to her, but I'd still love to see her soak up the stage for 120 minutes, not just 5.
Gregory K. Gonzales probably had the most fun out of anyone on stage; as a man playing the evil (female) witch Carabosse, Gonzales sat through long hours of makeup to get the perfectly wicked look just right, and it paid off. His sharp, antagonizing movements were a highlight of the production, and it was fun hearing the little girls sitting next to me gasp when he exited the stage several times in smoke and flames.
Sleeping Beauty is gorgeous. Colorado Ballet executes it flawlessly, and the live accompaniment by the Colorado Ballet Orchestra ups the ante on the magic factor. It's a great piece for children and adults alike; with a familiar plotline, you can relax on autopilot and really soak up the minutia.
Nutcracker is up next around Thanksgiving, and then some innovative pieces in the spring – and at that point, I'm sure we'll get to experience birthday cake, hot buttered rum, and apricot ice creams, too.
Catch remaining performances of The Sleeping Beauty Wednesday evening at 6:30 pm, Friday and Saturday nights and 7:30 pm, and Saturday and Sunday matinees at 2pm. All performances are held at the Ellie Caulkins Opera house in the Denver Performing Arts Complex in downtown Denver.