There are only two times in my life that I don't have music playing in my head. One of those times is when I'm skiing, and the other is when I'm watching football. I think it's because both activities have a strong rhythm of their own. Although most of my friends like to listen to music inside their helmets, I ski better when I allow the rhythm of the mountain to tell me when to make my turns. And on Sundays during football season, I gladly let myself get caught up in the play-huddle-play rhythm of the game.
That's not to say that music and football don't have anything in common. On Sunday afternoons, after the late games have ended, I look forward to playing music again on my drive home from the sports bar. It helps me contemplate everything I saw happen that day, and music is the only thing that cheers me up when my favorite team loses. Hank Williams Jr. might be the musician most people associate with the NFL, but he's not the only great artist tuning in to the games on Sunday.
This week I spoke with bass player Victor Wooten. I know him best from his work with Béla Fleck, as one of the Flecktones. He also plays in the band SMV and has a successful solo career. He is a five-time Grammy winner, has been named bass player of the year three years running, hosts a music camp in the woods outside of Nashville, Tennessee, and authored the book The Music Lesson: A Spiritual Search for Growth Through Music. He is currently working on a sequel.
Between his music camps (he hosts six to eight of them per year), writing books, and touring all over the world, it's amazing that he can find the time to catch a game here and there. I feel lucky to have been able to ask him a few questions. We spoke about some of the things music and football have in common, and the role football has played in his life.
What's your favorite football team? How did you first come to root for them?

I don't really have a favorite team anymore. When I was young, I was a Dallas Cowboys fan – way back in the Tom Landrey, Tony Dorsett days. That was because my brothers rooted for them. I guess, living in Nashville now, I get excited when the Titans win.
Did you play football, or any other sport as a kid or in high school?
I never played organized football, but I was a good soccer player. I followed my brother Joseph into that sport. We were both really good at it. I also played little league baseball. That was much fun. I would play any sport that was going on in the streets around my house: two-hand touch football, basketball, dodgeball, freeze tag, gymnastics, etc.
You won the Bass Player of the Year award from Bass Player magazine three years in a row. Brett Favre won the NFL MVP award three years in a row. Do you think you and Brett have anything in common that helped you both achieve success in your fields?
We both have an "R" in our first name. No, seriously now. I don't know Brett personally, but I'm sure we both have a powerful drive to be the best we can be. The difference is, in my world, I don't have to compete against anyone else. My awards are based on what other people think.
A quarterback and his best receiver are said to have chemistry when they're on the same page, both during scripted plays, and in moments of improvisation. Football players build that relationship by practicing, repeating a play over and over together. How do you build that kind of relationship with your band mates?
I think that if you were to ask a quarterback that question, he would say that he needs to have that kind of chemistry with ALL of his players, not just his receiver. I agree. It's no different with a band. All my band mates are just as important. That kind of chemistry comes from knowing and accepting each other on and off the stage/field. I want that chemistry with my audience also.
You've been described as the "Michael Jordan of the bass." Who would you say is the Victor Wooten of football?
Anyone that honestly loves what he/she is doing.
On a typical fall Sunday, what are you doing, and is there a football game on a TV nearby?
If I'm home on a Sunday, the kids usually rule the television. I have to find another room to keep a game on. Then, I can check the score every now and then. During playoff season, the kids have to find another room.
In the year 2020, will there be more commercially successful bass-oriented bands, or fullbacks in the NFL?
Probably fullbacks. But, bass-playing fullbacks. 😉
Victor Wooten is one of the best bassists on the planet. His website is http://www.victorwooten.com/, where you can hear about new releases, tour dates, and more. If my opinion is worth anything to the producers at NBC, and it's not, one day we may get to see a Wooten/Flecktones intro for Sunday Night Football, at least before games hosted by Tennessee.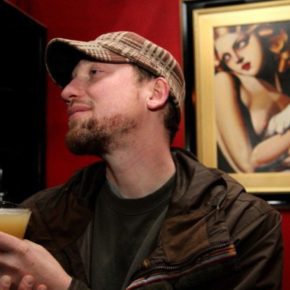 Pete is a Redskins fan living in Bronco country who thinks The Bass-Playing Fullbacks would be an excellent name for a band. He's co-founder of the Team Tomorrow ski and snowboard team, and a guy at the bar last Sunday told him "you know a lot about football for a weirdo." He is HEAD writer for the Warren Peace NFL Report. Follow Pete on twitter @TakingaKnee303