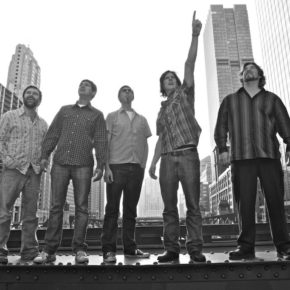 Aside from its looming mountains, cool rivers, fresh air, and white trunked Aspen groves- there's the music. The music scene in Colorado is unparalleled: an impressive variety of authentic local bands, big name festivals during all seasons, and majestic outdoor venues that rank on bucket lists across the nation. So it only makes sense that when our community comes together in response to the recent tragedies of the statewide infernos and the freak shooting incident in Aurora, it is through music.
Cease Fire, a nonprofit organization that advocates stricter gun safety laws in Colorado, has put on several events this summer to raise money and support for victims of the fires and the shooting. Now they will be using their good-natured intentions to bring music education to kids in the Denver area. Statistically speaking, the arts curriculums in Denver Metro public schools are going out of style faster than the dinosaurs. This must be stopped. A study published in the Psychology of Music Journal claims that musically trained students "display superior cognitive performance in reading skills compared with their non-musically trained peers." These musical skills permeate throughout all facets of education. It is essential that we maintain school programs that encourage kids to use their imagination and express their creativity in various platforms, especially with technology taking over our brains from such a young age these days. iPads and Wiis consume our youth where action figures and coloring books once were the norm.
"School Rocks" is a concert that will be taking place at Cervantes on Thursday September 6, sponsored by Cease Fire and starring Denver's own bluegrass quintet, Oakhurst. Oakhurst recently put out their fifth album, Barrel, which was recorded down in Nashville, Tennessee. Voted "Best Bluegrass Band in Colorado" by Westword in 2007, they have come along way since then, evolving and refining their sound. Fort Collins' Muskateer Gripweed and Boulder's seven-piece Rocktin Grove will be kicking off the evening, with doors opening at 8pm and music playing until 2am. Tickets are only $10-12 and all proceeds will go towards the cause of "helping children grow musically and academically." Instrument and financial donations are generously accepted and appreciated. Go out and dance and donate and help future generations of Colorado kiddos follow in the footsteps of our predecessors such as Yonder Mountain String Band, Leftover Salmon, Pretty Lights, and Big Head Todd.
Allison Cohn loves gold spray paint and nonsense. She also has a very difficult time sitting still and keeping quiet. She can often be found dancing like a fool when she isn't hiding out in her mountain lair or gallivanting around the globe.