Perhaps out of a sense of responsibility to the small business owner, here I go again…running my watering mouth off about Boulder's best budget bites, just like I did last week. Truth is, when I think about it, this support the small guy mentality might be a little misguided, as all of these spots are consistently brimming with business and perfectly on the verge of going on a wait (Mountain and Southern Sun notwithstanding).
Maybe, what I'm instead attempting here is a subconscious sabotage that will beget a waist and wallet size that shrink and grow respectively and proportionally—logic being that if I can't get a table at my habitual eateries, I'll be forced to eat at home or not at all…in protest. Okay, really it's because I don't/can't cook.
At any rate, here's the rest of my off-Pearl, must-go, of-the-moment list.
Go Here, Get This
Of all the authentic Thai joints Boulder bears, The Buddha Café stands out for its smiling service, which is only outshined by the slow-cooked, savory meals. Peanut sauce lovers need look no further than the Buddha Noodles, a plate heaped full of steamed rice noodles and pan-fried mixed vegetables topped with peanut sauce. This dish goes by a different name during lunch (Angel Noodles, I believe), and whatever time of day, the spice inclined should not be afraid to go for hot or extra hot to perfectly offset the sweetness.
Another star on this menu, the Drunken Noodles will almost never see the likes of a leftovers container…it's one of those that, after proclaiming your fullness, napkin on table, you take another bite. These are pan fried wide rice noodles with eggs, bell peppers, broccoli, tomatoes, mushrooms, basil, chili sauce and not too drunk to please.
A bit healthier yet equally satisfying, the Yellow Curry—with coconut milk, yellow curry paste, onions, carrots and potatoes—is the best I've tried at this restaurant…or any other of the Thai variety, for that matter.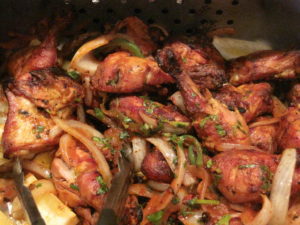 Serving up my favorite curries of a different category, Tandoori Grill is Indian at its freshest. The lunch buffet is served every day, and while it's not as expansive a spread as others I've visited, what's in it far outweighs what it might be lacking. This quality over quantity approach results in an array of just-cooked options, including saag, dahl, chicken or fish curry, crispy pakoras and chicken right out of the tandoor, among other selections.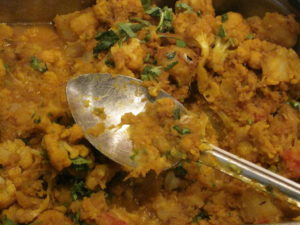 Most noteworthy, however, is what's for dinner. If the salmon is on chef's special, order it—I once heard that the owner goes up and catches it himself from Alaska. And while I've never asked him myself, it tastes true. To complete the order, start with garlic naan, mulligatawny soup and tandoori corn (if available). The salmon comes with a side of curry, but if you're really hungry, stuff yourself with biryani, too and then bask in the warmth of sleepy fullness.
Because everyone needs a little Mexican y Salvadorian in their diet, Pupusas Sabor Hispano resides on the laidback outskirts to the north of town. The beans and cheese pupusa—a traditional dish from el Salvador consisting of a stuffed and grilled corn meal patty—is what I go there for. It's like a pancake over which you dump pico and/or avocado sauce from the homemade salsa bar instead of syrup. Rice and beans complete the pupusa plate and make it a full and filling meal. But that rarely stops me from also ordering the chicken tortilla soup, another dinner on its own. This usually puzzles the nice waiter, who, unaware what I'm capable of, brings two spoons for sharing.
Throw eggs any way you like 'em atop the dish for which the restaurant is named and call it breakfast, served all day. Chilaquiles are also offered up with eggs and good first thing in the morning, for dinner or after you go to bed…where you'll be eating them in your dreams.
Wow do I love ethnic food; I never thought to make that statement about myself before writing this. I suppose American cuisine, as the alternative, is best left to the chain restaurants you all know and hate to admit you love. Or is it? While a few non-native options make an appearance among her offering, Shamane's Bake Shoppe has a cafe menu full of what I would consider to be some stateside classics. And Shamane bakes them well.
I, for instance, might never have found a chicken pot pie on a plate in front of me my first visit if not for the way these things look sitting there in the case…not to mention the insistence of my boyfriend, already a believer and regular at this point. But I will find one sitting there again because Shamane got me to appreciate the beautiful, bread and buttery crust in a way that only a masterful baker can.
What I'm about to say may completely discredit me as a food blogger, but she also got me to appreciate cupcakes, which were never my first dessert choice until experiencing the Oreo. Every Shamane's cupcake, and dessert for that matter, is a masterpiece, and all those lucky enough to come across this tucked away treasure are even more fortunate to find a seat here. But don't bother. This is takeout that's best put into a wicker basket and eaten under a tree somewhere—arguably one of the best dining venues Boulder has to offer.