If you're in need of a place to rest at the Fillmore Auditorium — especially during the storm of a show by Wednesday night's performer, Yeat — there's bleacher seating behind the pit, complete with a perfect view of the stage. It's a great way to take in the beauty of the entire venue.
Six enormous glass chandeliers run three-by-three, parallel to each other. Amazingly, they didn't start shaking when Yeat ran on stage to a pulsing crowd, who charged with excitement at the mere sight of the Oregon artist.
As humans, acting like animals in crowds is in our blood. It's dangerous and wild and rush-inducing. Your pumping heart in your chest synchronizes with your feet pounding into the floors again and again and again. Rage rap's newest obsession, Yeat, with his trademark turban (or shiesty), is a catalyst for this freeing, primal energy. He's in the business of creating vertical stampedes.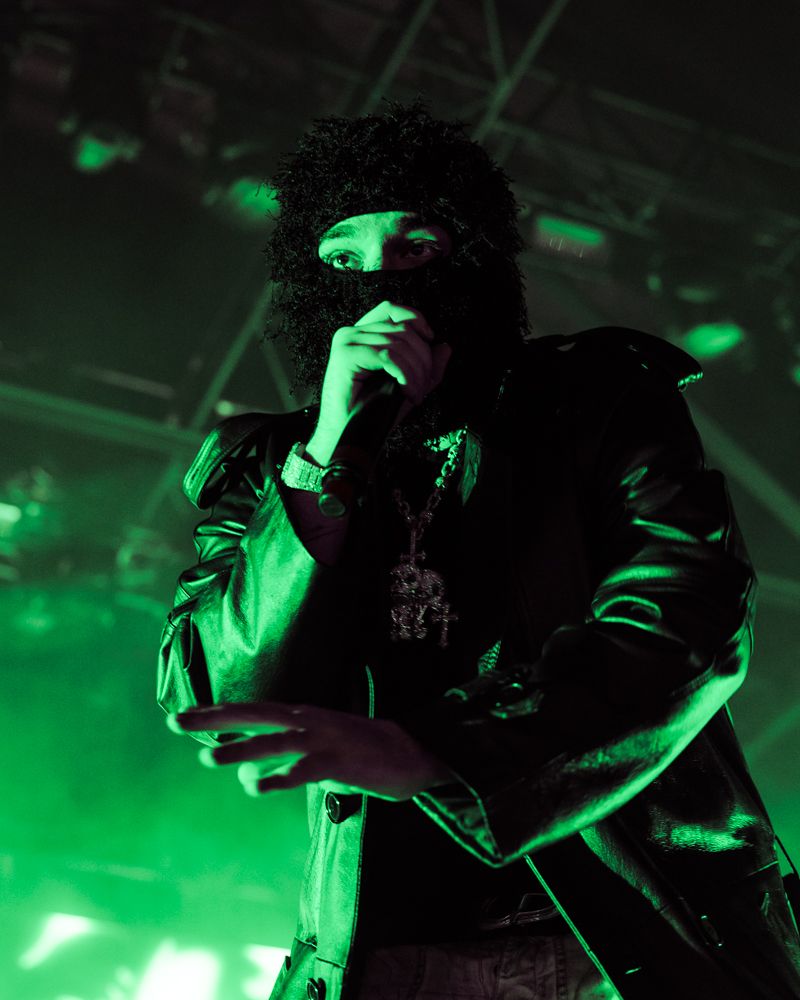 Picture this: Yeat is rocking a black ski mask with a trench coat to match. Considering the speed and intensity of his show, that trench coat will eventually become a wearable sauna, so he ditches it. The two primary light strips, positioned left and right stage, flash a deep green that lights up the audience, whose collective concern is hanging on for dear life as Yeat sprints through records like "Twizzy Rich," a dizzying track off Up 2 Me. "Nun id change," a buzzing, infectious pivot in pace (but not energy) is the first example of many light switches from green to red.
It becomes a pattern — "red" songs are lower frequency, more of a nod or sway, and less of a bounce, which is reserved for the unhinged mania of the "green" songs. Both are blinding, like Mountain Dew flavors in stage light form. Yeat's cadence rolls on and on. And he's ripping through his setlist (sure, his records are usually shorter, but there's never a moment in this show where he doesn't have the crowd's attention in a chokehold).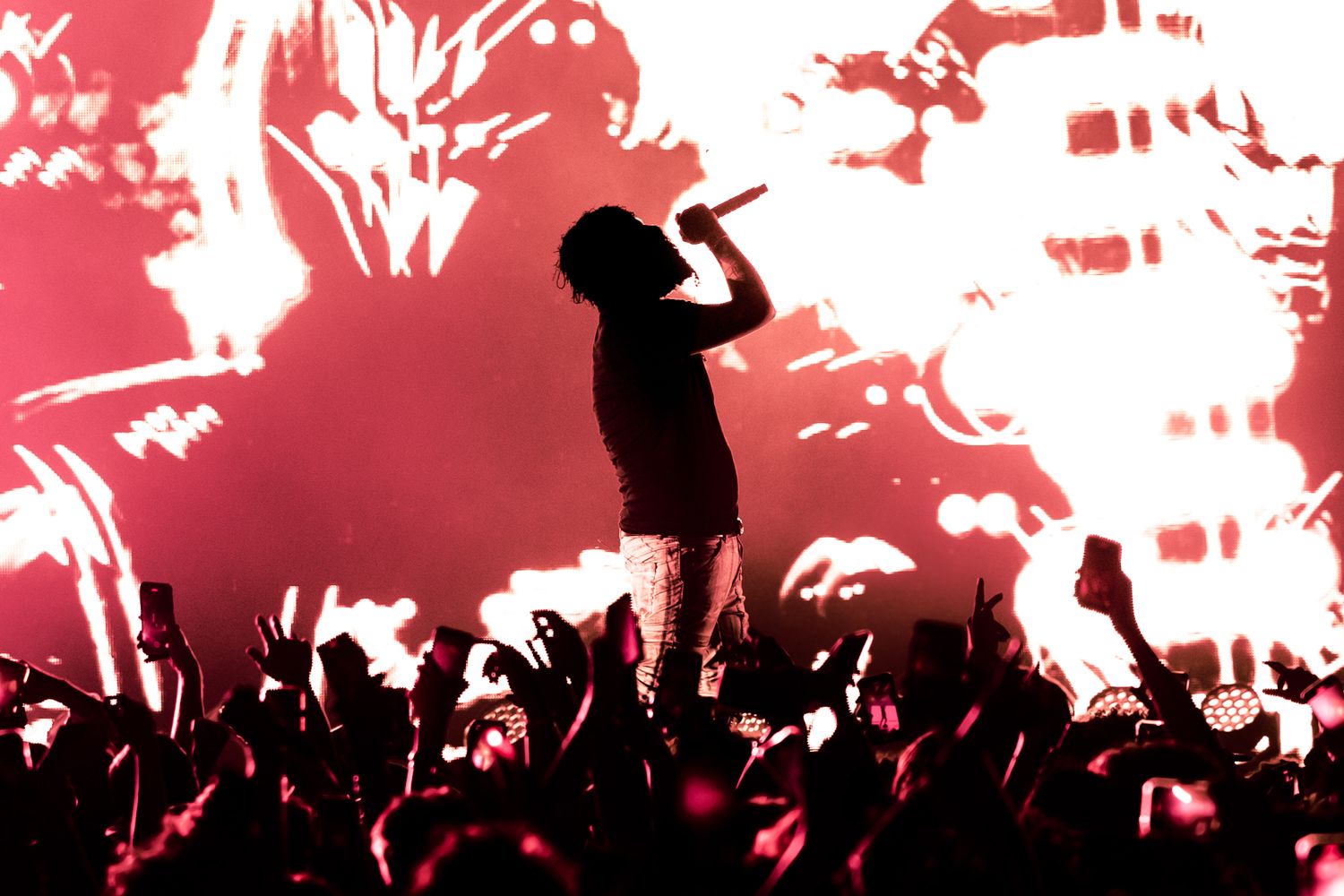 The records start blending together. Perhaps a little too much so. Yeat paces back and forth in an unwavering pattern, like a soccer player. Some may say this is repetitive. In reality, it's a part of his plan, because every fifth or sixth song, he hits the hypnotized crowd with one of his signature tracks — "Sorry Bout That," a fun, glitchy single from his early days that shot him into the limelight, catches show goers off-guard, only adding to the chaos of a set that, in total, plays well over thirty songs in a little under an hour. Another banger, "Dub," gets the biggest crowd response of the night — the chorus is unmistakable. For a time, it was a marker of the newest digital age. 
"Talk," boasts a signature intro — on the recording, fans outside a venue geek out over the show they're about to witness. Yeat compliments this moment live with red and blue flashing lights. Then it descends into madness. The beat on this track is so good that it etches itself deeper into the "Yeat-lore" through his arrogant, carefree flow.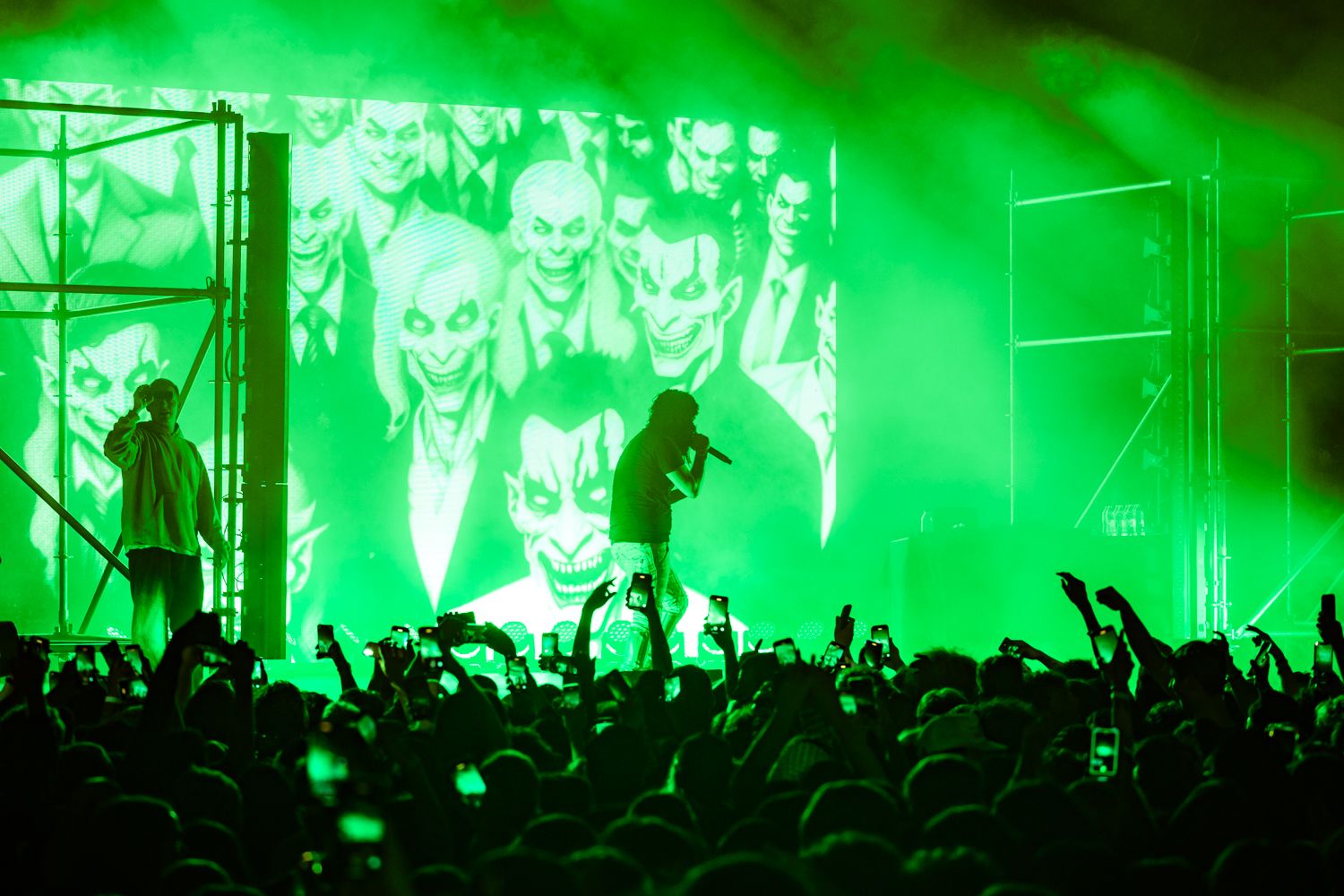 Track after track, each one played for no more than a minute, tops — and one facet of Yeat's sound remains evident: the bass.
It's unrelenting. I've been covering shows in Denver for years. Last week, I turned twenty-four. About halfway through Yeat's onslaught of speaker knockers, I ask myself, "am I getting old?" I ask this subconsciously, not because I'm getting "old," but because, for the first time in all the concerts I've had the pleasure of covering, this is the first that I'm seriously considering an investment in earplugs. The bass is unbelievable. Is this a Yeat problem? Is it a "me" problem? (It's a "me" problem). Should I have gotten earplugs sooner? Is this why my ears ring all the time? Do I have any business being at this show? How much bass is too much bass for human consumption? Rave junkies, can you help me answer the preceding question? Am I asking too many questions? How in God's name have those chandeliers not fallen from the ceiling?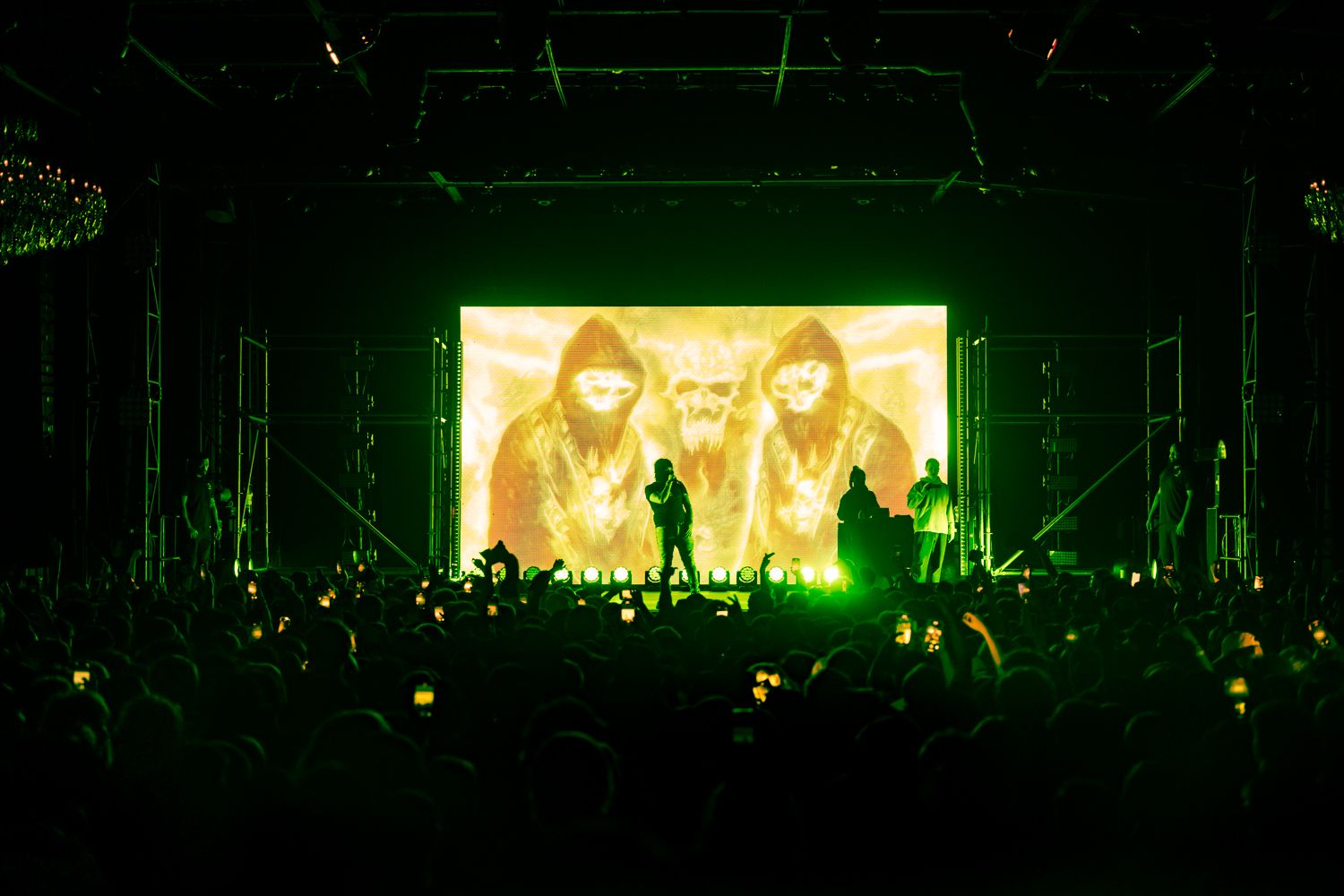 A mother and her two kids — presumably early teens — watch giddily in front of me. They likely begged their mom to come to this show. She paid, and they dragged her here. She had no idea what she was getting into. They bob their heads sheepishly at the show's beginning, and she watches them carefully.
Then she watches Yeat, scoffing at the guy on stage who, as far as she's concerned, is speaking Finnish. Tracks come and go, and by the show's closing songs, unbeknownst to her own psyche, she's bobbing her head too, wearing a smile. How can you blame her? With Yeat, it's impossible not to. It's his superpower, and at the Fillmore Auditorium on Wednesday, he made his fans feel like superheroes too.