Denver-based alt-rock band, Sponsored Content, is more than a talented collection of musicians. In fact, according to Jason Edelstein, lead singer and guitarist for Sponsored Content, his band is "an agenda as much as it is a band. Our music is best described as extreme, rhythmic propaganda." Thankfully, the kind of propaganda Sponsored Content projects to the masses is more of the tongue-in-cheek musical variety than the corrupt, murderous dictator brainwashing tactics. 
Not to say there's no brainwashing and trickery is happening here — there's plenty of that. But it's all in good fun. In their latest video, a Nathan Fielder-esque documentary titled "The Session," that follows the bizarre live recording session of their track "Off The Grid," Edelstein fully embraces the ridiculous antics of a close-knit musical community that frequent the Salt Lick Records (owned by Edelstein and Andrea Hoang).
"Lots of the comedic elements in 'The Session' were heavily inspired by Nathan Fielder's 'The Rehearsal,'" Edelstein said. "As the narrator and director, I wanted to allow myself to follow every potential pivot point and make people uncomfortable. I want the audience in on the joke and outside of the joke at the same time. The end product, I hope, is a truly surprising and hilarious short film."
The video features an all-star cast of Denver musicians, including Rafael Nava, lead singer and guitarist for Shadow Work, and Austin Bourdon, guitarist for mlady. I wish I could say the documentary's premise is simple, but that's not really the point anyways. It's supposed to be disorienting and a little awkward. It is all of that — in the most endearing way. All you need to know is that there's a mystery masseuse and an elaborate scheme to replace Sponsored Content's former guitarist, Jake Sabetta, who recently parted from the band on good terms.
There's a convoluted sequence of pranks at play here from the very beginning of "The Session," and it quickly becomes clear that no one really knows what's going on except Edelstein, the mastermind behind the madness. From one silly prank to another, Edelstein gives us a deeper insight into his fellow bandmates' lives through deadpan humor and some pointedly fun facts. Did you know Austin Bourdon is lactose intolerant? Me either. He still eats cheese though. Good for him, I guess.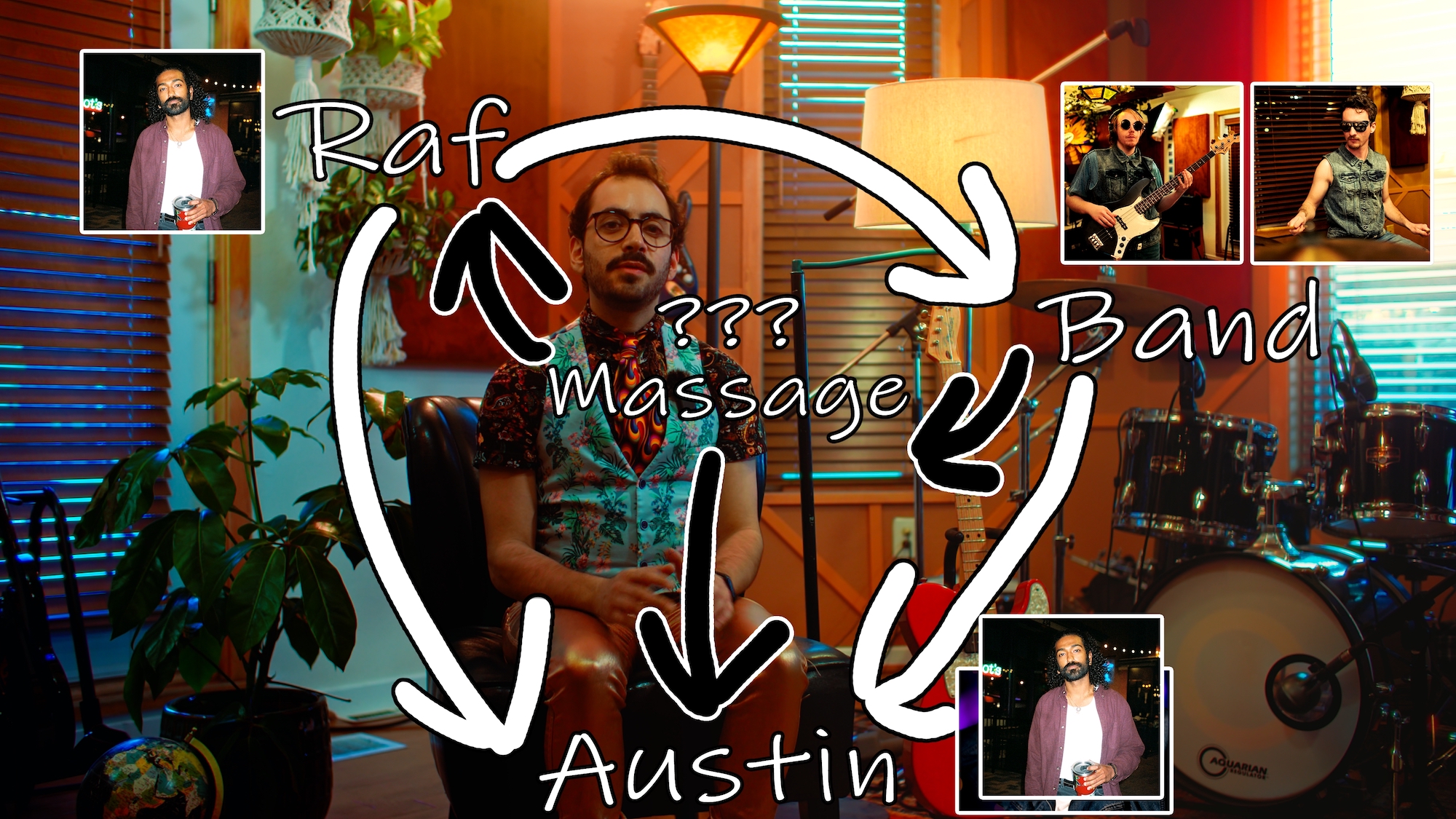 Then, there's the live recording itself. This is where the real magic happens, the moment it all makes sense. The themes of controlled chaos, cheeky deception and unfamiliar territory scattered throughout "The Session" documentary mirror the narrative of "Off The Grid," which is "loaded with imagery of that liminal space between awake & sleep, that world within a world where everything is slightly wrong," Edelstein said. "Where your hands have too many fingers, and your fingers have too many toenails, and you're eating rice with solder and doing electrical work with pinto beans. The abnormal feels comfortable before you think about it too much."
"Abnormal" is a fitting word to describe "The Session" documentary, but that doesn't mean there is no method to the madness. Sponsored Content really did lose their guitarist — and that really did change the dynamic of their band. In a way, "The Session" was a vital element in Edelstein's healing process as he learned to embrace a new future for Sponsored Content without his friend and former bandmate, Jake Sabetta.
More than that, Edelstein wanted to make sure the live session for "Off The Grid" captured something special that made the newly-recorded version stand completely on its own. Edelstein knew that he needed to create an environment that threw his bandmates off guard to capture the raw energy he was looking for. We're happy to say, his offbeat tactics really worked — the "Off the Grid" live session is bursting with authenticity, originality and electric energy. "That was the rawest first-take energy we could have ever hoped to have captured," Edelstein said. "No one knew what was really going on until we hit record."
Well, now we know. Magic happened. And everyone had fun playing their part, even if they had no clue in hell what was happening.