Live-streaming has become the most common alternative for live concerts for the time being, and many of these live-streams have used their platforms to raise money for several important causes. Rocky Mountain Virtual, presented by ARISE Music Festival, has announced Strings For Change, a benefit concert that will raise funds in the wake of the current unrest in America.
Rocky Mountain Virtual has become one of the forefront live-stream players in the Denver area, providing a platform for many local musicians. This newest concert will hone in on the following they have already created and use it for the sake of a cause they feel is important.
"
When Sarah and I founded RMV [Rocky Mountain Virtual] in March, we agreed that our fundamental mission would be to uplift and support our community," said Alyssa Montaño, RMV Co-Founder in a press release, "Strings for Change will bring viewers the RMV experience they know and love, while also helping members of the community who need it most right now. Now more than ever, we have to work to fight for change."
Rocky Mountain Virtual also hopes to foster an educational environment that tackles the topics about race through their platform.
"It's very important to us to be a resource for musicians, bands, and individual viewers who are seeking a way to be a part of the conversation but don't know where to begin," said Sarah Shuel, RMV Co-Founder in a press release, "Music is a very powerful thing, and we believe we can use it as one way to guide our online community's more anxious members to purposeful actions that feel right for them."
ARISE Music Festival presents Rocky Mountain Virtual and also released a statement regarding the benefit concert.
"Arise remains strongly committed to supporting those who need it most during these challenging times, in not only the arts and music communities but also in the larger fight against ongoing systemic racism and violence. We are honored to partner with Rocky Mountain Virtual to be able to provide a safe, positive and creative platform, to help raise awareness and funds to benefit causes that support real change in the world," said John March, the Associate Producer Arise Music Festival.
The concert will be a five-hour event featuring Colorado strings bands Banshee Tree, Manos (ft. Michaela Borth), Quixotic and friends, and Spectacle, with proceeds from the event going to Black Lives Matter 5280.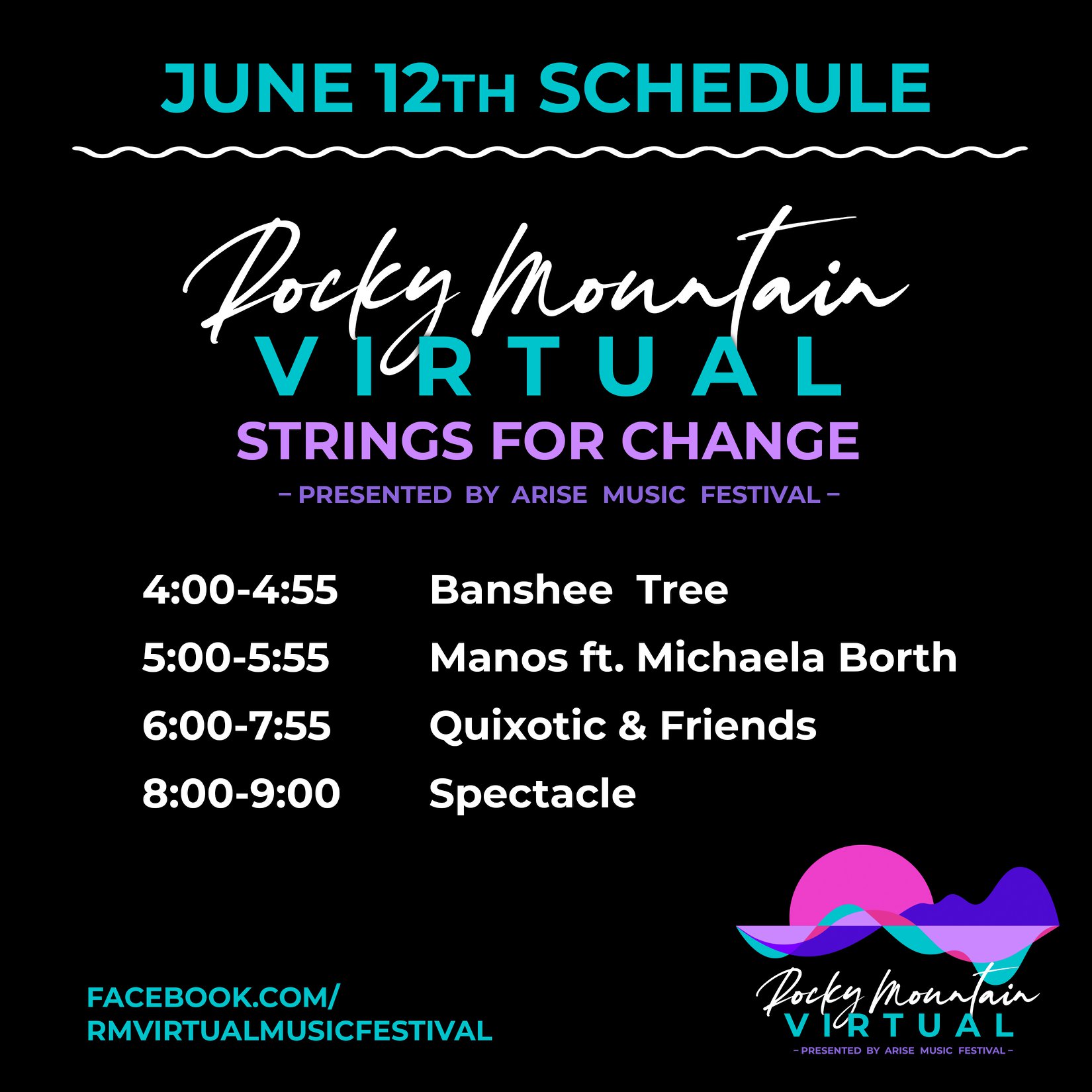 The event will go live at 4 p.m. on Friday, June 12 on Rocky Mountain Virtual's Facebook  and Youtube page as well as on ARISE Music Festival's Facebook page. 
For more information on the schedule check out Rocky Mountain Virtuals' Facebook.