Last night, Red Rocks saw a gorgeous evening — sunny, warm weather that was starkly different from the show that was about to come. Like a storm brewing, the night's lineup included forces of nature Caroline Rose, Dr. Dog and Shakey Graves. Though no mid-day summer rain hit — like we've seen a lot of lately — the trio of acts summoned a full moon and flowing winds in a night full of contrastingly different emotionally-packed performances paired with Red Rocks glory.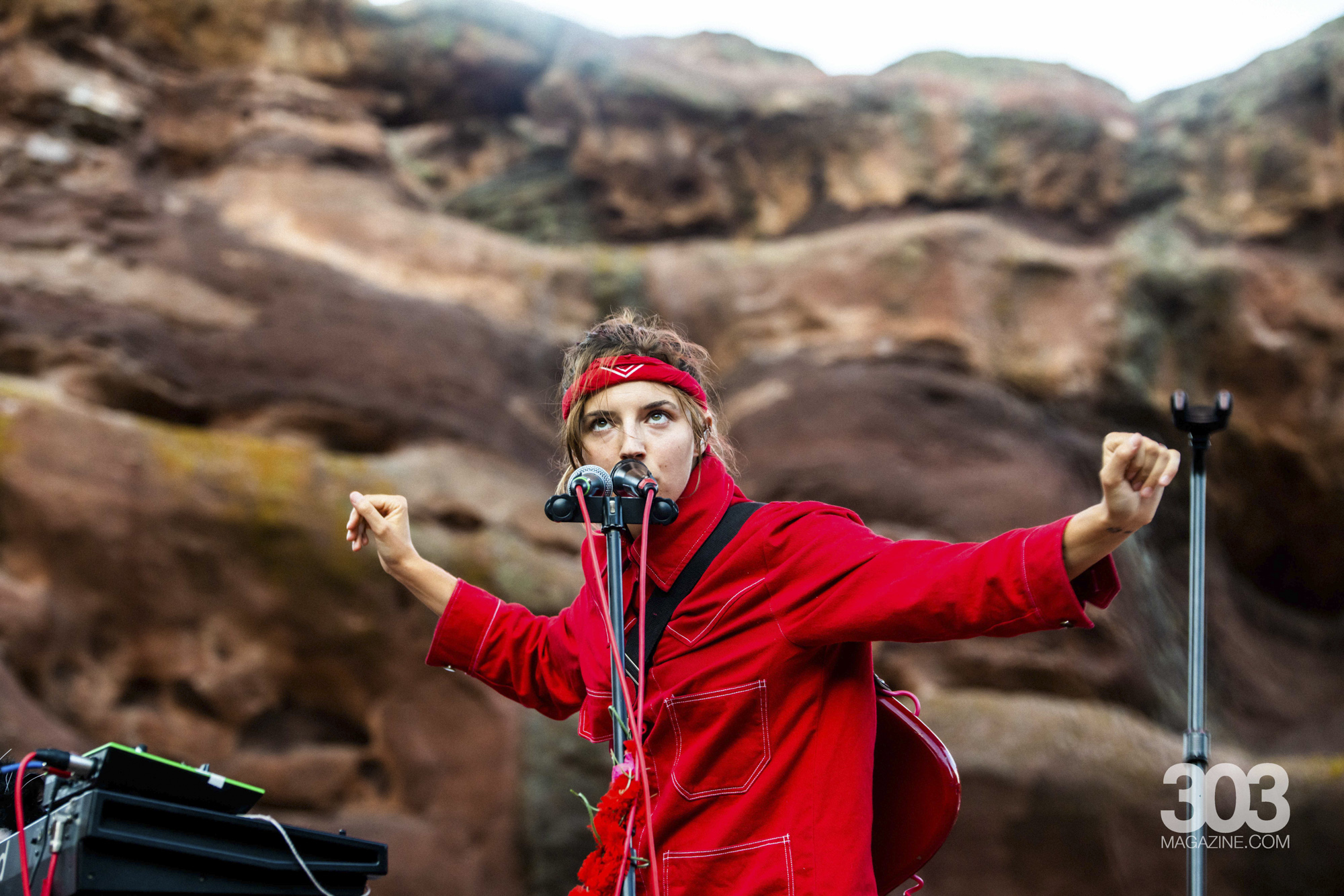 Long Island native Caroline Rose opened with the most light-hearted show of the evening. The stellar up-and-coming songwriter delivered an unforgettable set, even for those who weren't familiar with her work. Her witty — and relatable — punk personality combined with a charismatic band and a bad-ass synth-rock sound justified the statement that she's an artist to be paid attention to. Over the course of her set she chugged a beer and smashed it over her head, laid down on stage with a devious smirk, played a kazoo cover of Aerosmith's "I Don't Want to Miss a Thing" and at one point even approached the camera to point out the snot dripping from her nose. "I think this is going wonderfully," she replied to the antic. Throughout it all, she served up nonchalant comments and sly expressions in a humorous, but impressive start where Rose proved sometimes it pays off to show up early.
Dr. Dog came next, kicking their set off with a crowd-pleaser. Starting at the tail end of the sunset, the group showed off some well-choreographed yet simple lighting amplified by fog. They had us mesmerized in no time. The Philadelphia group quickly dived into some danceable tunes giving us a show that was hard not to like. It was mellow but soulful, mounting up to a groove-rock set so captivating — and fun — that it flew by in the blink of an eye. Before we knew it, the band was waving goodbye to the crowd and the stagehands were setting up for Shakey Graves. I had always heard Dr. Dog put on a good show, and it's safe to say they lived up to the statement as I couldn't help but want just a little more.
Just before Shakey Graves took the stage, skulls shone on the rocks. Red Rocks is clearly a special place for the artist. Earlier this month the musician announced he would be auctioning off a custom-designed, Red Rocks-art Epiphone guitar for MyMusicRx of the Children's Cancer Association. Last night, he wore a suit — a red one that matched Caroline Rose's color scheme — a comparison he later joked about. The set-up of the stage was clean, with the stage rock unmasked, as it had been all night, leaving its natural beauty revealed. A technicolor cloud-like setup was spread across the stage with a vintage TV peering through. As the show began, the tv lit up in hazes of pinks, purples and blues. It was a "Red Rocks meets Blade Runner" blend of past and present — retro and futuristic.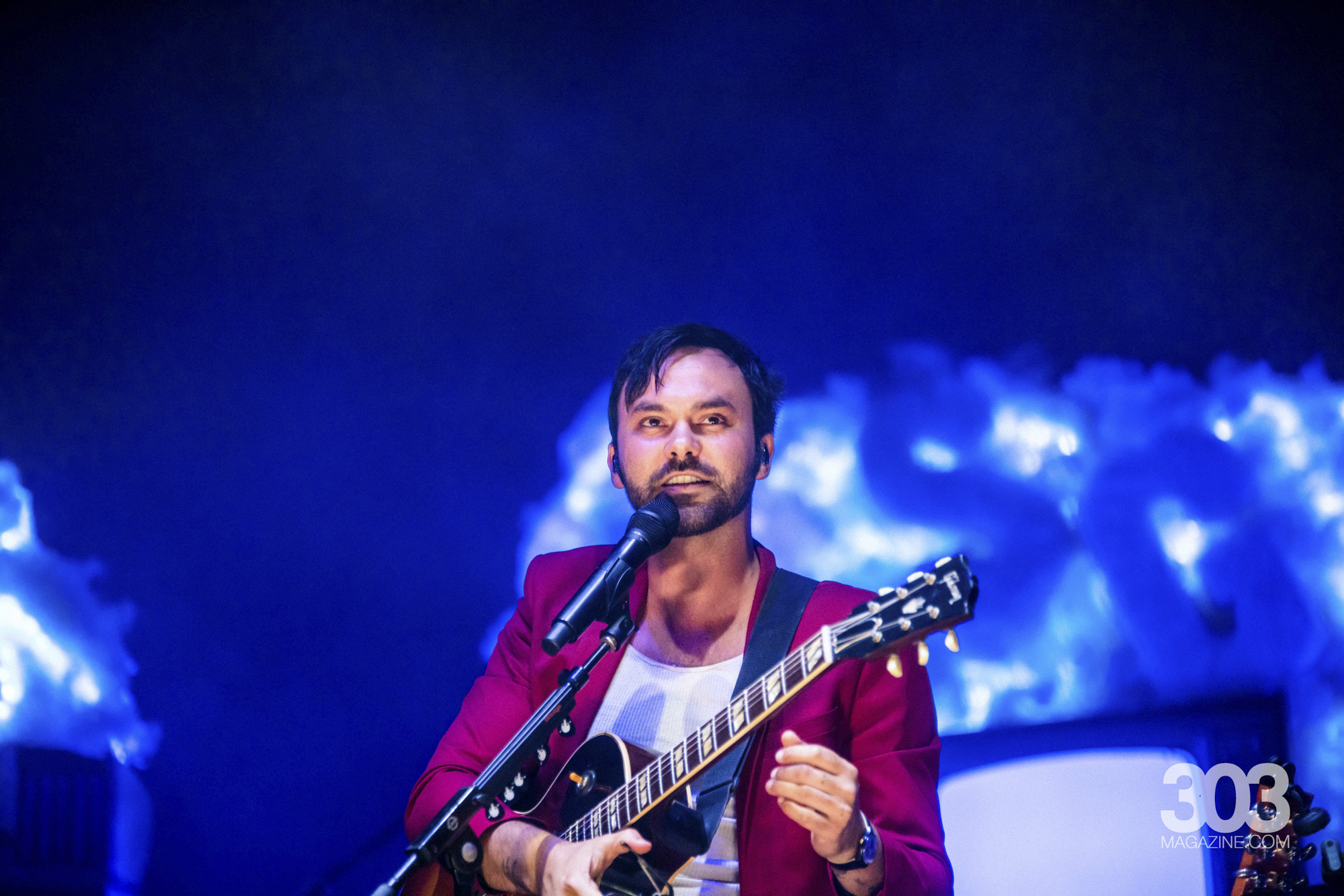 "What's up, Red Rocks? How are you? I'm Shakey Graves from Austin, Texas," the musician opened to an eager crowd. "It is an absolute pleasure to be here. This is a tune about leaving people in the dust. Sometimes there are some toxic ass people in your life… and it can take you years to realize it." From there, Alejandro Rose-Garcia — Shakey Graves' "real world" name — dived right in with "Hard Wired," an emotional and soulful start from the one-man-band.
"It's so much fun to be back here again. I feel like this time I'm really able to take it in. Last year I watched a video and the whites of my eyes were huge. […] You gotta soak it in. You don't get this all the time." – Rose-Garcia
Shakey Graves served up stellar vocals, a great rendition of his busker-style one-man-band approach and catchy, soul-filled guitar playing. His showmanship and lyricism are relatable — and in a spiritual way that's showcased by one man and his vision. There was something special about all of that being at Red Rocks, too, adding to the night's raw emotion and passion as the wind rushed through the crowd's fingers in the air.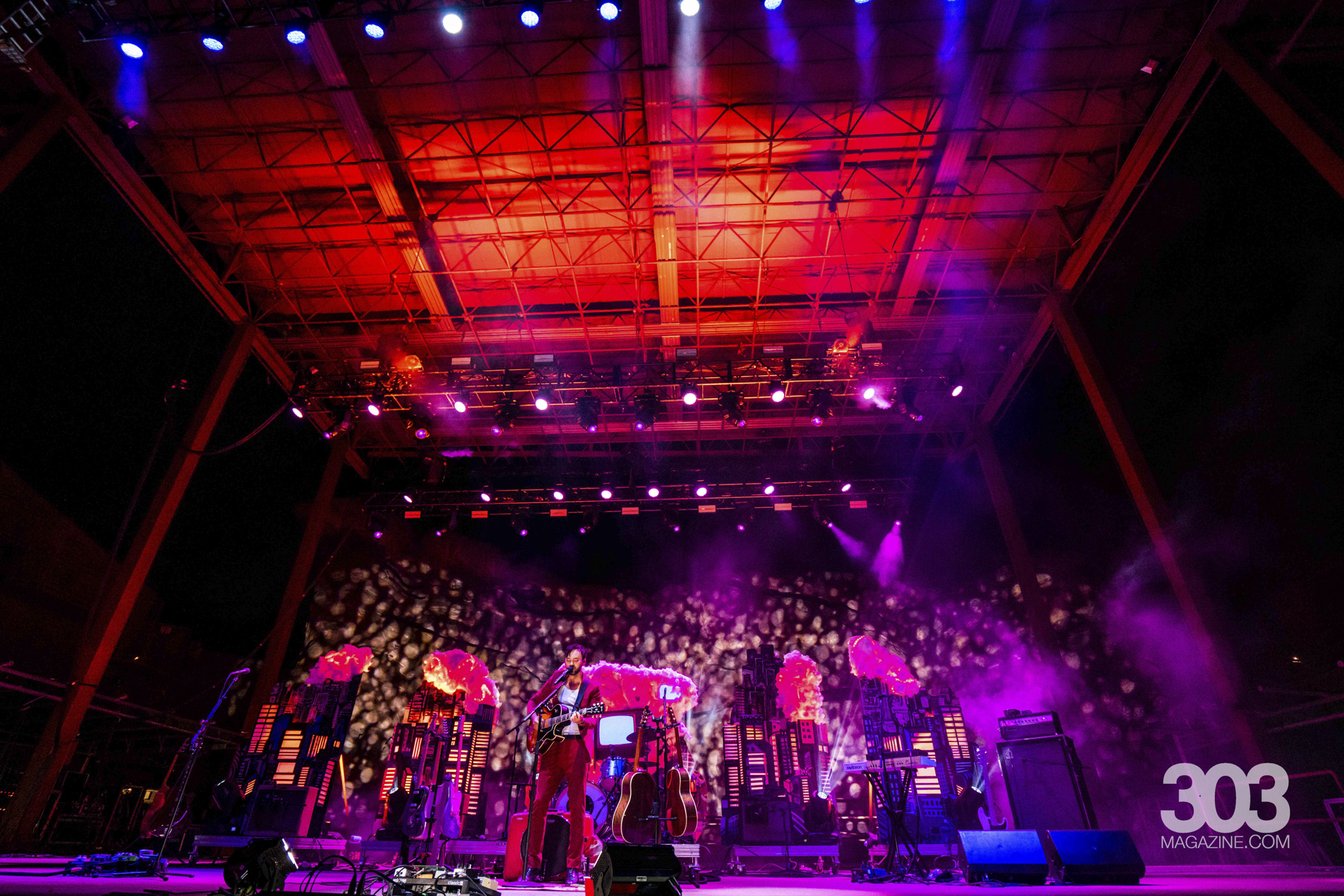 The musician provided another night of crowd-pleasing songs and antics like sing-alongs and call-and-repeats. Shakey Graves is no stranger to Red Rocks yet he always finds a way of feeling freshly entertaining at the venue whether through absorbing show openers or his wildly energetic style of playing live music. We can only hope he returns to the Rocks.
All photography by Meg O'Neill