Last April, the quickly rising star of bass-driven electronic dance music (EDM) — Opiuo — traveled to Colorado in order to present an entirely unique experience to an adoring crowd at the legendary venue Red Rocks. With help from Devotchka's Tom Hagerman, the New Zealand-born, Australia-based DJ (named Oscar Davey-Wraight) curated a live concert with a 20-piece orchestra that was put together and tuned specifically for the amphitheater. With a smattering of new instruments accompanying Opiuo's hypnotic and deeply dramatic drumming, the Syzygy Orchestra amplified his talent and cemented his spot as a leading force in the EDM world.
Although the goal was to provide a one-time-only show, the acoustics were special enough to record the entire thing live — and release it later in 2018 on Spotify. The term syzygy refers to the alignment of three or more cosmic bodies, as in, "the planets are aligned" — a sentiment that Davey-Wraight felt particularly connected with when he found out he would be headlining Red Rocks. "It might sound cliché but I honestly feel blessed and fortunate to be able to even do something like this and to do it somewhere like Red Rocks. It'll be the highlight of everything I've ever done," Davey-Wraight explained to 303 Magazine before performing that show.
Now, just under a year after that momentous show, Opiuo is headed back to Colorado on his "Astro Syzygy Tour." It's not his first time back since Red Rocks, though. He performed at Arise Music Festival in August 2018 as a headliner as well. This time around, he'll visit Fort Collins, Aspen, Frisco and Boulder before heading to the West Coast to continue the tour. But this will not be just a regular Opiuo tour — it's a changed, evolved and different Opiuo. And it's all because of his Red Rocks exclusive. "[That show] encouraged even broader thinking — further outside the box. To trust myself, and to never stop doing what I love. I found new ways to look at melody, making huge stacks of layered instrumental elements, moving small parts to make huge impacts. I love it all and plan to use this inspiration to push myself even more. It changed my life. I'll never be the same," Davey-Wraight explained.
Although Opiuo won't be bringing his 20-piece orchestra along with him, he will still be delivering something special to his dedicated fan base. Each night (with the exception of two shows) he will perform two unique sets as their own "Opiuo adventures." The first set will be downtempo and the other will increase in speed, voracity and passion, leaving fans with elevated heart rates as they leave for the night. Davey-Wraight teased, "the first will be more downtempo, experimental, or just different — throwbacks and brand new. Played with minimal lighting, so the focus is on the listening and dancing to the music. Then the second set we all blast off into space via the funkadelic party laser ship!"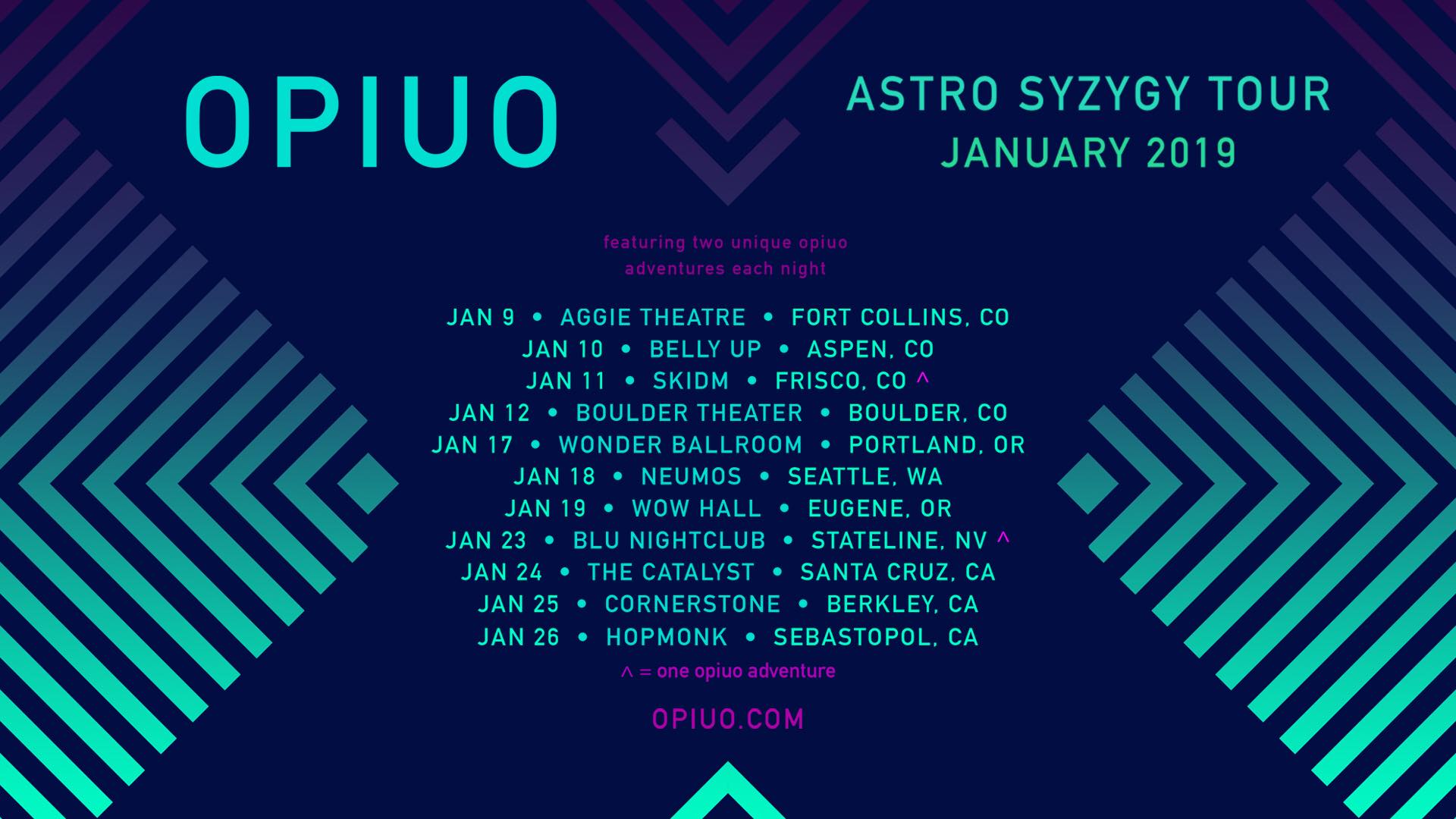 —
Opiuo will play the Aggie Theatre in Fort Collins on January 9, Belly Up in Aspen on January 10, skiDM in Frisco on January 11 and the Boulder Theater on January 12. Find out more about each upcoming show here.