Cypherpalooza —a micro-music festival celebrating the city's burgeoning hip-hop scene — is set to make its debut in Denver this weekend. Going down on Saturday, January 12 at the Gothic Theatre, the event will highlight some of the cities brightest hip-hop stars. These artists will all be under one roof dropping hard-hitting beats and spitting rhymes as if their lives depended on it. In a scene as competitive as Denver's hip-hop scene, the festival marks a rare moment of unity. Cypherpalooza was "created with a mission of bringing light and providing a platform for the talented artists in Denver that are often overlooked," stated Kevin Miller, organizer of the micro-music festival. With a roster ranging from TheyCallHimAP to Nakira and Paydro 610, the lineup does just that. Cypherpalooza is sure to celebrate the diversity of Denver hip-hop, ranging from some of its most well-known characters to its emerging figures.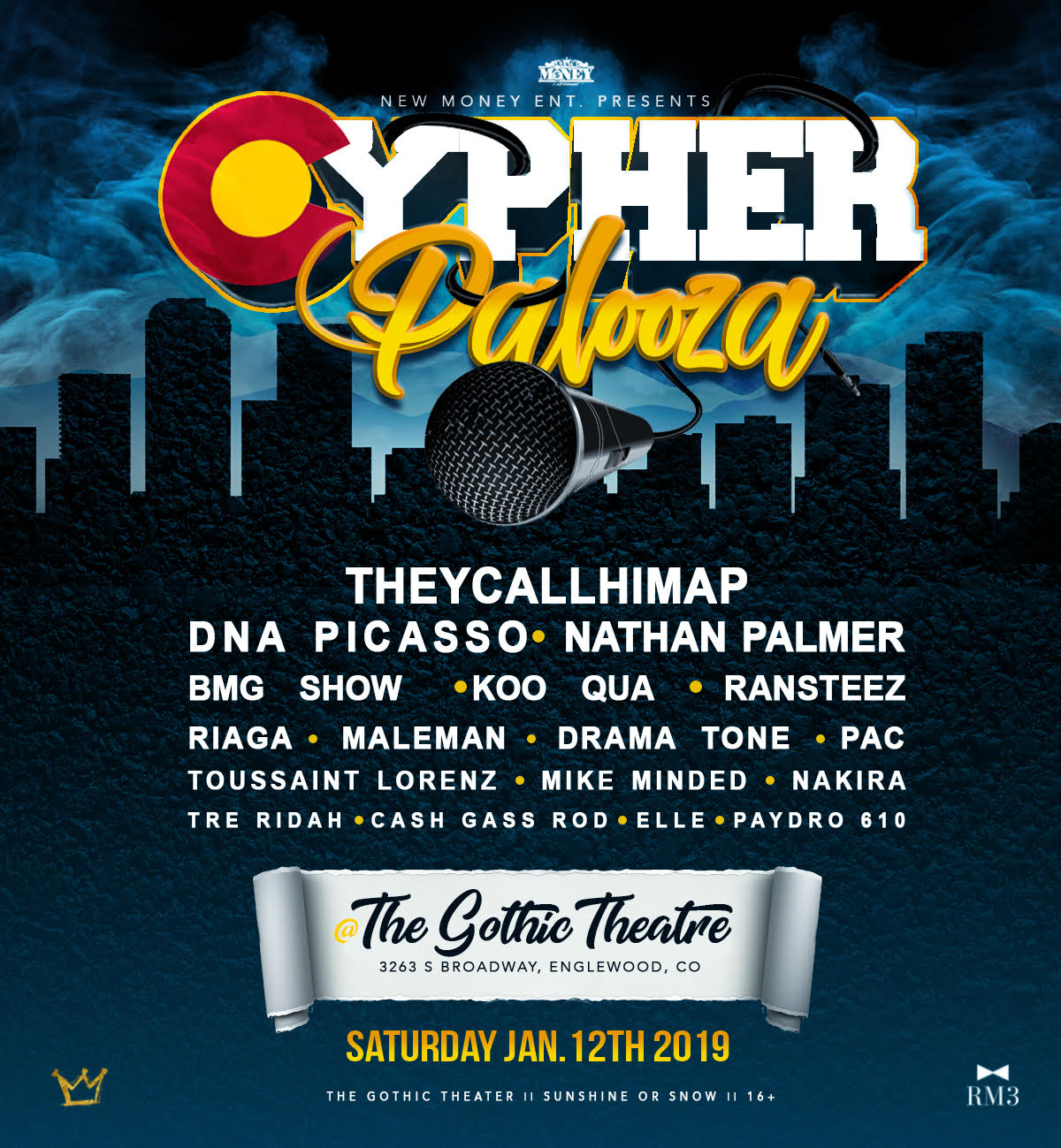 With a plethora of artists to choose from, Miller narrowed down the lineup based on the artist's output and dedication to pushing their artistry forward.
"I select the artists based on how much work they are doing. Are they consistently putting out music, dropping videos, social media presence as well as their ability to hustle and sell tickets and their draw?"
Recognizing that the hip-hop scene individually shares the same dream, Miller thinks the unification of the scene is important in developing comradery. While Cypherpalooza is about showcasing one's prowess on the mic, Miller presses that the event also allows the artists and fans space to network and build rapport with each other that'll inevitably push the culture forward rather than tearing it down. Speaking on the scene at large, Miller cannot help but remiss the lack of support from the city.
"I feel like the music scene here in Denver is lacking support amongst fellow artists. We don't have many media outlets that deal with hip-hop, as the demographic is so much smaller here than in Los Angeles, Atlanta and New York. They all are way more united in pushing their culture and we are way too divided in that regard."
Miller's hopes for unification couldn't come at a better time for Denver's hip-hop. Miller has observed that radio stations are picking up more of the city's rap talent, putting artists on bigger shows and overall giving them a bigger platform to excel into the mainstream. Likewise, Miller has advice for those trying to break into the hip-hop scene and those who didn't make the Cypherpalooza lineup.
"The advice I would give an aspiring artist out here would be to just keep working. Don't complain, don't be afraid to share your fellow artist's music as it won't make you less of an artist. Get yourself a team, get out and network, shake some hands and go to shows."
TheyCallHimAP is set to headline the micro-festival this weekend, on a stacked bill that includes Nathan Palmer, DNA Picasso and many other local hip-hop stars. Tickets for Cypherpalooza can be found
here.