Project Angel Heart radiates love, compassion and a deep concern for their community while caring for people across Colorado. Founded as a food delivery service in 1991 to provide 12 people living with HIV and AIDs appropriate nutrition, the nonprofit now caters to over 3,000 clients a year living with a variety of illnesses. Though the nonprofit's reach has multiplied, the values Project Angel Heart was founded upon still drive the mission of their work today.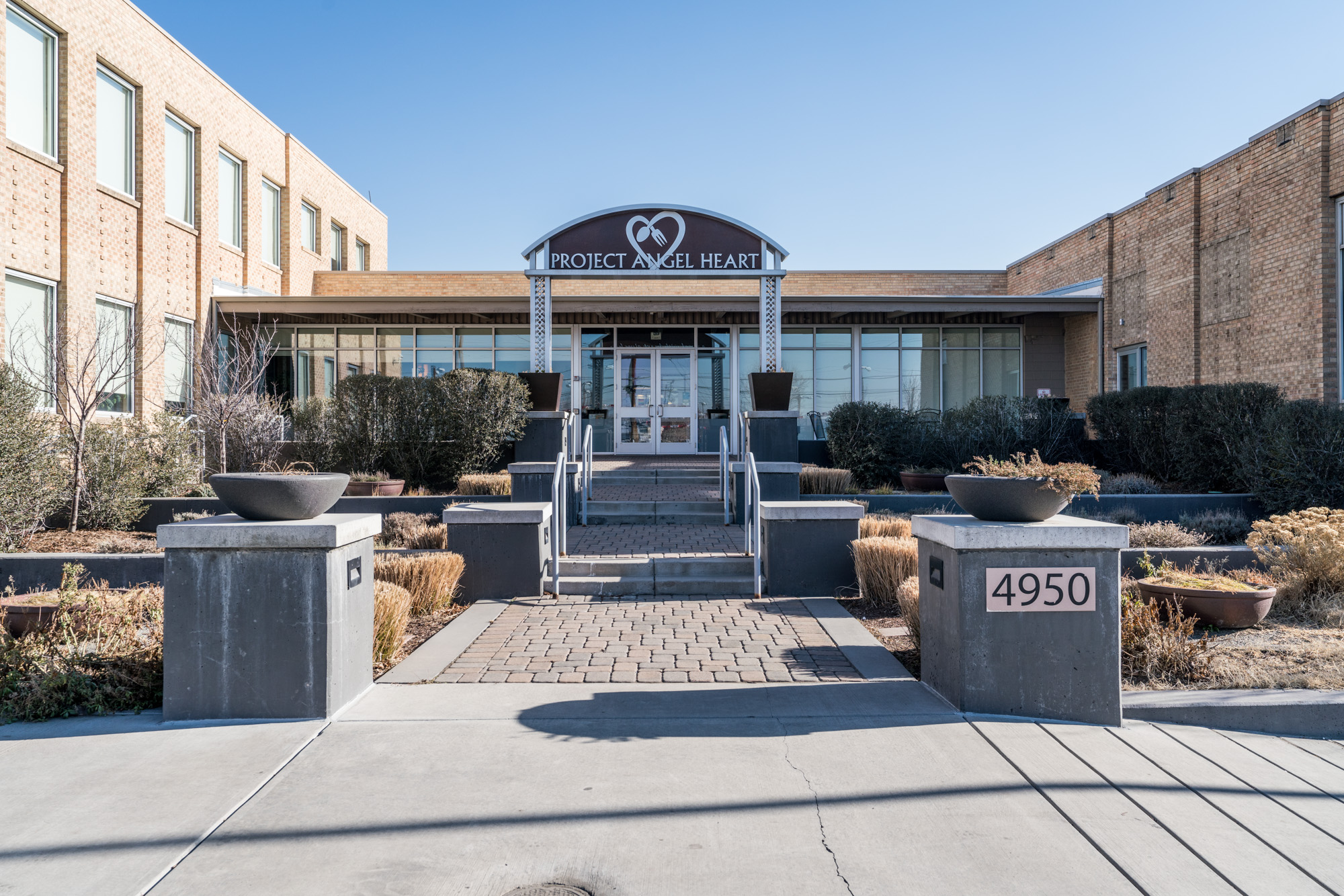 Any Colorado resident with a diagnosis of a life-threatening illness and a related mobility issue is eligible to receive services from Project Angel Heart. "Our clients come from all walks of life," director of marketing and communications Amy Daly clarified, so there is no income requirement to be eligible for meal delivery. With the support of volunteers, donors, grants and a small portion of government funding, Project Angel Heart prepares and delivers meals free of charge to all clients. A network of drivers in Denver and Colorado Springs deliver meals in the surrounding areas, while the nonprofit just started shipping meals to clients in more remote locations.
Project Angel Heart's chefs dedicate their work to ensure all clients have an appropriate meal for their needs. Each client receives a nutritional assessment upon applying for Project Angel Heart's services. After completing the assessment, a registered dietician helps clients select a meal plan. The organization currently offer six meal plans – standard, renal, heart health, diabetic, vegetarian, anticoagulant appropriate and mild or bland. Clients can receive any of these diets gluten-free or puréed.
Healing Nutrition
This slideshow requires JavaScript.
"We are really passionate about food, and we really care about the quality of food," Daly explained. "Especially because the people who are getting our food are dealing with serious illnesses, a lot of them are losing weight as a result." Executive Chef Brandon Foster (who has a background in fine dining) and his team spend a lot of time creating meals that meet nutritional standards and are appropriate for each client.
Each week clients receive a bag with seven different entrees – compliant with their dietary needs – as well as a few sides, such as soup and vegetables, bread, fruit, milk and a dessert. While the meals within a week's supply range in protein, grains and vegetables, Foster creates even more variety for the clients by ensuring that recipes are not repeated within 90 days.
Meeting this standard was a challenge for Foster when he started over two and a half years ago. With the help of sous chef Summer Polson and Modified Meals Specialist Logan Lafferty, Foster created about five meals a week for his first four months to build a catalog of meals for Project Angel Heart's clients. Now he has over 100 recipes that have been analyzed and approved by the nonprofit's registered dietician.
"That's something a lot of home delivery meal programs fall short on – something I think sets us apart," Foster commented on the variety offered to their clients. "We make everything from scratch and we try to keep a fun variety – different foods, different types of cuisine."
A Spirit of Volunteerism
This slideshow requires JavaScript.
While Foster and his kitchen staff have an obvious passion for their work with Project Angel Heart, the volunteers also have an undeniable impact on the clients' lives. Any staff member at Project Angel Heart will agree that the organization could not impact so many Coloradan's lives without their supportive volunteer base. From individuals to corporate groups to kids' sports teams, all ages are welcome to help out at Project Angel Heart.
Since the nonprofit functions as a complimentary meal service, the funds donated, raised or granted could not cover a large staff. Project Angel Heart instead utilizes Denver's spirit of giving back to reach the broader Colorado community. The Volunteer Resources Manager Mark Smith explained that there's "a culture of volunteerism" in Colorado that has benefitted nonprofits such as Project Angel Heart. With 375 volunteer shifts a week, there's no lack of jobs needed to be completed. Volunteers help prepare, package, organize and deliver meals; greet visitors at the front desk and fundraising events and enter data for the client services team.
One of the most creative volunteer opportunities is decorating the paper bags in which the meals are delivered. While this is one of the best jobs for kids, Daly joked that "there's nothing better than a room full of bankers in suits decorating meal bags." Some are so impressively artistic that they end up on the Wall of Fame in the volunteer break room before going back into the rotation for clients.
This slideshow requires JavaScript.
Delivering meals to clients may be the most impactful experience a volunteer can have. With the exception of the Project Angel Heart staff member who drives a truck full of meals from Denver to Colorado Springs each week, all the drivers are volunteers. Using their own car and gasoline, networks of drivers drive door-to-door to hand-deliver a week's worth of meals to each client. "When you've delivered meals to somebody," Smith commented, "[it's] in your mind forever."
"We are so lucky here, at Project Angel Heart, to have the support we have from volunteers," Smith added. "They completely understand our mission, and why they are connected to us, and that their skills are invaluable to what we have to do." Smith ensures that each volunteer walks away from their shift with a powerful experience, knowing they have impacted someone's life. He added that though the nonprofit's clients clearly benefit from Project Angel Heart's work, "often volunteers are more rewarded by the gifts they give, sometimes personally, than the clients do."
Giving Back Creates Lasting Bonds 
This slideshow requires JavaScript.
The nonprofit has a strong volunteer and support base because they are intentional about creating an atmosphere for their volunteers that will encourage them to return. This is an aspect of the organization that is particularly important to the executive chef. Before working with Project Angel Heart, Foster resonated with the organization's mission. Previously at Denver's award-winning Vesta, Foster brought his kitchen staff to tour the nonprofit's facilities because he believed his cooks had something to learn from Project Angel Heart. It was the organization's reputation that excited him about taking the executive chef position after he decided he wanted a break from the restaurant industry.
Moving into Project Angel Heart's kitchen was a welcome and exciting challenge for Foster. Volunteers do the majority of the prep work for the meals. "There's something about being at work everyday with people who are there because they want to be and not because they have to be. It's inspiring," Foster commented.
He and his team work to create a positive environment in the kitchen that volunteers will want to return to time and again. And many do – there are some volunteers who have worked the same shift for 15 years. Daly commented, "there's a lot of love in this organization, people funnel their personal passions into what we do." And they create friendships along the way. During their lunch break, many volunteers bring a potluck to share a meal with each other. With the shared love for giving back, volunteers create incredible bonds – some even go on vacations together.
Improving Lives Statewide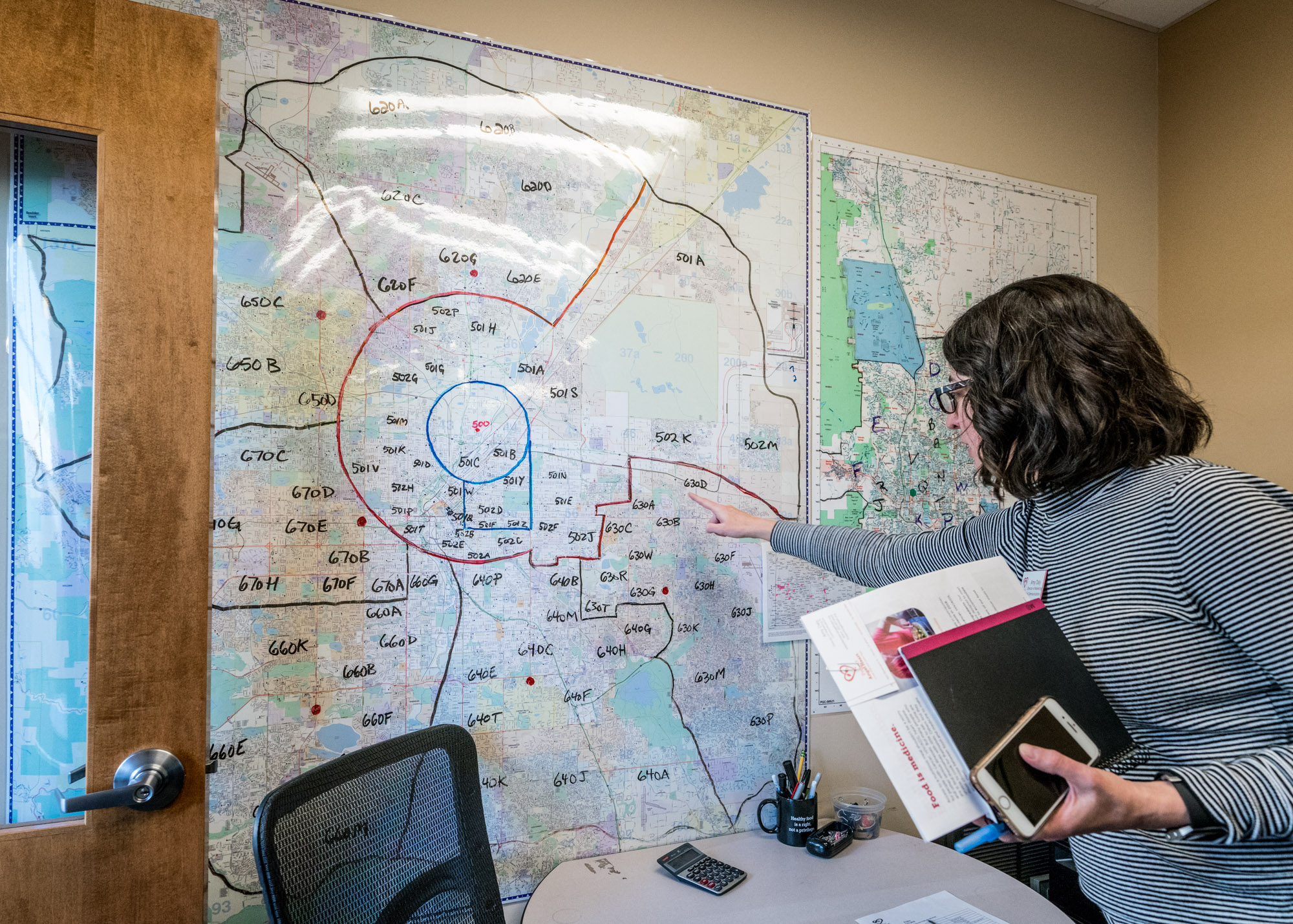 This year Project Angel Heart expanded their reach in Colorado by shipping meals to people outside the delivery routes. Now the nonprofit improves the lives of residents across the state. They also recently increased their meal production by 40 percent to provide their clients with seven entrees each week. The deep support from the community allowed Project Angel Heart to broaden the reach and depth of their impact in the lives of Coloradans.
This impact is not only one of warming hearts and feeding stomachs. Project Angel Heart just completed a study with CIVHC – Center for Improving Value in Health Care — which reported that their efforts positively impacted their clients' health. Clients receiving meals had a 13 percent reduction in hospital readmissions. The data also showed that clients with chronic obstructive pulmonary disease (COPD), congestive heart failure (CHF) and diabetes had health care bills that were on average 24 percent lower than before receiving meals.
Project Angel Heart makes a real difference in Colorado. Their meals not only improve the health of their clients but also the quality of life of clients and volunteers alike. To learn more about volunteering, go here. To donate to Project Angel Heart — either as a one time or monthly contribution — go here. To apply to receive services from Project Angel Heart, go here. 
—
Project Angel Heart is located at 4950 Washington Street, Denver and 1625 W Uintah Street, Suite I, Colorado Springs. 
All photography is by Samatha Hines.