The arrival of a new project from Colorado culinary darling, Daniel Asher is always a promise of something wonderful. Serving epicurean delights from the Levant and beyond, Asher's new restaurant, Ash'Kara, is an exciting new addition to LoHi. Ash'Kara (ASH-kahrah: Hebrew slang for "no kidding," "for real") showcases the melting pot that is modern Israeli gastronomy through the lens of Colorado-grown meat and veggies.
Upon entering the restaurant,  those with a keen eye will notice Easter eggs built into the design. In a wink to Tel Aviv architecture, Ash'Kara's design is equal parts Mediterranean and Bauhaus. Above the tables are wooden beams supporting cloth canopies — or, chuppahs — and there are several wooden cutouts that could have been copied from the Hagia Sophia. Asher believes that, "food is like travel but you don't leave." From the design to the menu, Asher has clear intention behind everything in the restaurant.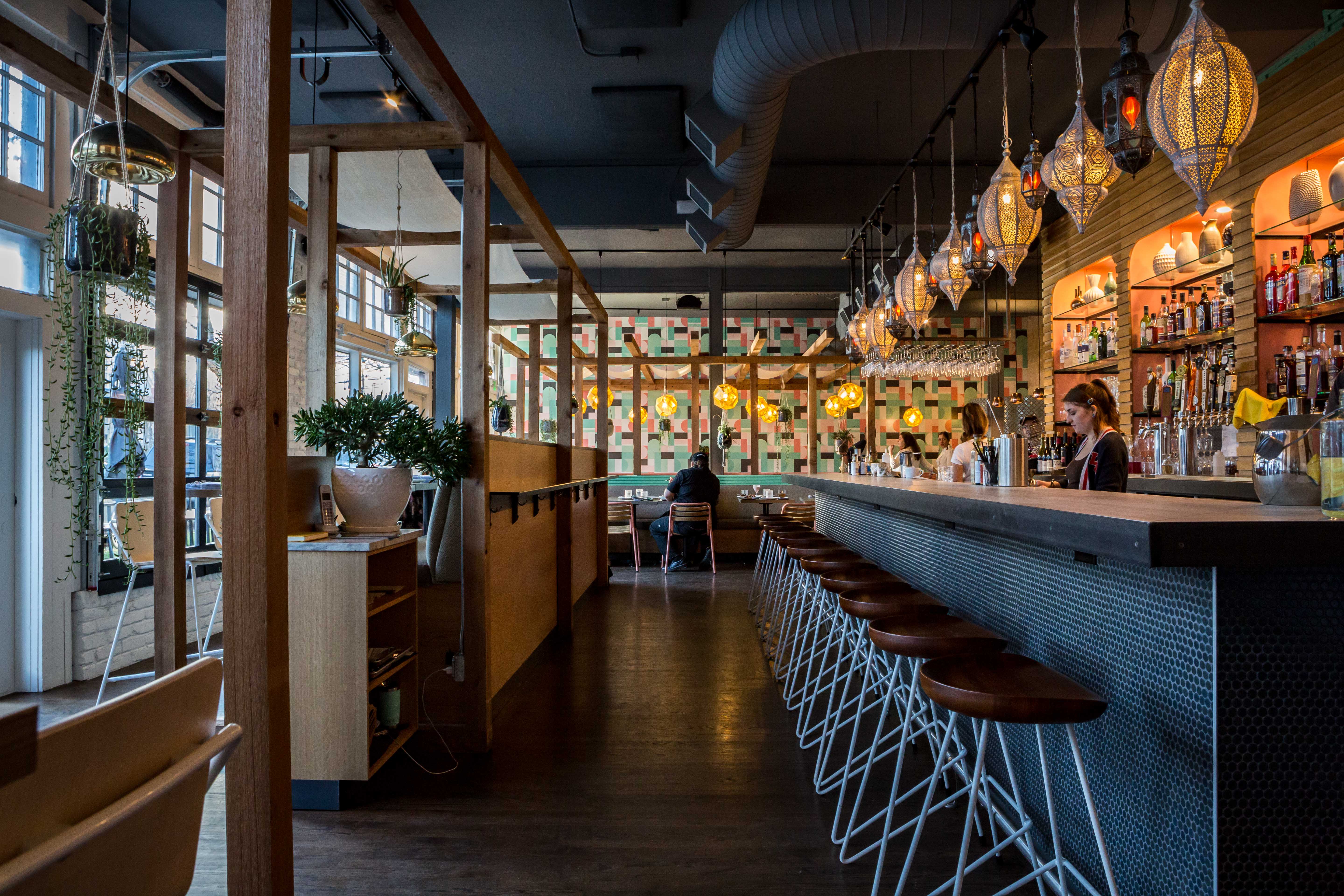 Mediterranean food is built around sharing. Rather than telling people how to eat their food, Asher built a menu that wouldn't make sense not to share. The menu is separated into five sections: Hummus, Snacks, Dips ( no, hummus is not just a dip), Small Plates, Feast. Unless you're looking at the Feast section (which we'll get to later)  it might seem like this whole menu is built of side dishes, but it's not. So here's how to order like a real Mediterranean.
First, you want to order some hummus ($10) — a good rule of thumb is one bowl per three people (Middle Easterners, please feel free to avail yourselves of the comment section below to say that's nowhere near enough). In the Levant, especially among Israelis, in a meal like this hummus is the star. Next, take a look at the small plates: These guys will be your hummus' supporting actors. Just like in the movies, there are always more supporting actors than stars, so go to town. falafel ($10) and Israeli salad ($11) are classics, but be sure to try the wood roasted carrots with labneh (thick, strained yogurt), pistachio dukkah, and pickled red onion ($10) or the salt spring mussels ($14) served in an Arak broth (Arak is an anise-flavored distilled spirit, but we'll get back to that after we get back to the Feasts). After you've decided on a few Small Plates, check out the Snacks and Dips — which, you can be adventurous and figure out on your own. At this point, you can set down your menus and get ready for a delicious meal, but if you're out on special occasion (celebrating new, delicious food in Denver for example), look over the Feasts.  
The Feasts are a bit more expensive, but, like everything else on this menu, are meant to be shared. Duck tagine ($42) is an anatine version of a Moroccan classic served with grains moist with duck neck jus, roasted fruit and date molasses. There is also a vegetable tagine ($34) and a wood fired whole fish ($36).
Ash'Kara provides forks and knives, but you won't need them. Food at Ash'Kara is meant to be eaten by hand, wiped up by their extraordinary, homemade pita. Ash'Kara's pita is made with wholewheat flour, fermented with honey and cooked in their wood-fired oven. Among fans of Mediterranean and Middle Eastern food, wholewheat pita has a pretty awful reputation which, frankly, it deserves; it's normally dry, papery, and served by the kind of person who thinks tofu steak tastes just like the real thing. But Ash'Kara's wholewheat pita is different. Not only is it better then any whole wheat pita you've ever had, it's probably better than any "regular" pita you've ever had. It comes, hot out of the oven, soft and chewy. Do yourself a favor and just take a bite by itself before you dip it in anything; it's like the first time you hug a lover and realize, by how they pull you in, that they love you too. Forget arguments over white flour vs. wholewheat flour, this is how pita is supposed to taste.
Finish your meal with the Middle Eastern cookie tray ($7) tahini chocolate brownie, sesame brittle, orange blossom almond cookie and baklava. The tray is brought to the table and garnished by beautiful perfume atomizer full of rose water; ask the waiter to give you a few spritzes on the wrists and neck for good measure.
Along with food, Ash'Kara has an impressive cocktail menu. The Ash'Kara Old Fashioned ($13) is humbled by the earthy sweetness of date syrup and black walnut bitters. The Peace-Full ($12) is a delicious salty/sweet yogurt-based cocktail inspired by the non-alcoholic drink ayran, popular in the Caucasus (the area between the Black and Caspian seas); it tastes like a boozy, pomegranate Go-Gurt. But there's one thing that is not listed on the cocktail menu, it's just for people who know to order it and Mediterranean food can't be properly enjoyed without it: Arak.
Arak (like its Mediterranean siblings Ouzo, Ojén, Rakı and Sambuca) is an anise-flavored spirit. It's easy to be intimidated by Arak's strong licorice flavor, but in a cuisine that loves fennel, Arak pairs beautifully. Order it on the rocks, pour in a few splashes of your water and watch the clear spirit turn a milky white. Arak is strong by itself, but after you pour in a little water and get used to its bold anise flavor, it is pure ambrosia.
Asher really nailed it with this place. The menu is a short list of things they can knock out of the park,  is so cozy and inviting it would be hard not to make a few new friends before leaving and, unlike a lot of places in Lo-Hi,  everything is reasonably priced. With no dishes that are explicitly Jewish or explicitly Muslim, Asher does a wonderful job of focusing on foods that unite rather than divide. The front of house staff is delightful and the kitchen is packed with industry veterans. As they say in Hebrew, you will have a great time, Ash'Kara.
Ash'Kara 2005 W. 33rd Ave. Sun-Thurs 4 p.m. – 10 p.m. Fri-Sat 4 p.m. – 11 p.m. Happy Hour 4 p.m. – 6 p.m.
All photograohy by Giacomo Di Franco