Chef Lon Symensma has made quite a name for himself in Denver as a master of modern Asian cuisine with restaurants like Cholon and Cho 77. As such, people might be surprised to hear that the focus of his next restaurant, LeRoux is entirely European. But European gastronomy is by no means outside his wheelhouse, for the first 11 years of chef Symensma's career (he has been at it since he was 14), he cooked entirely European, working in restaurants across France and Spain.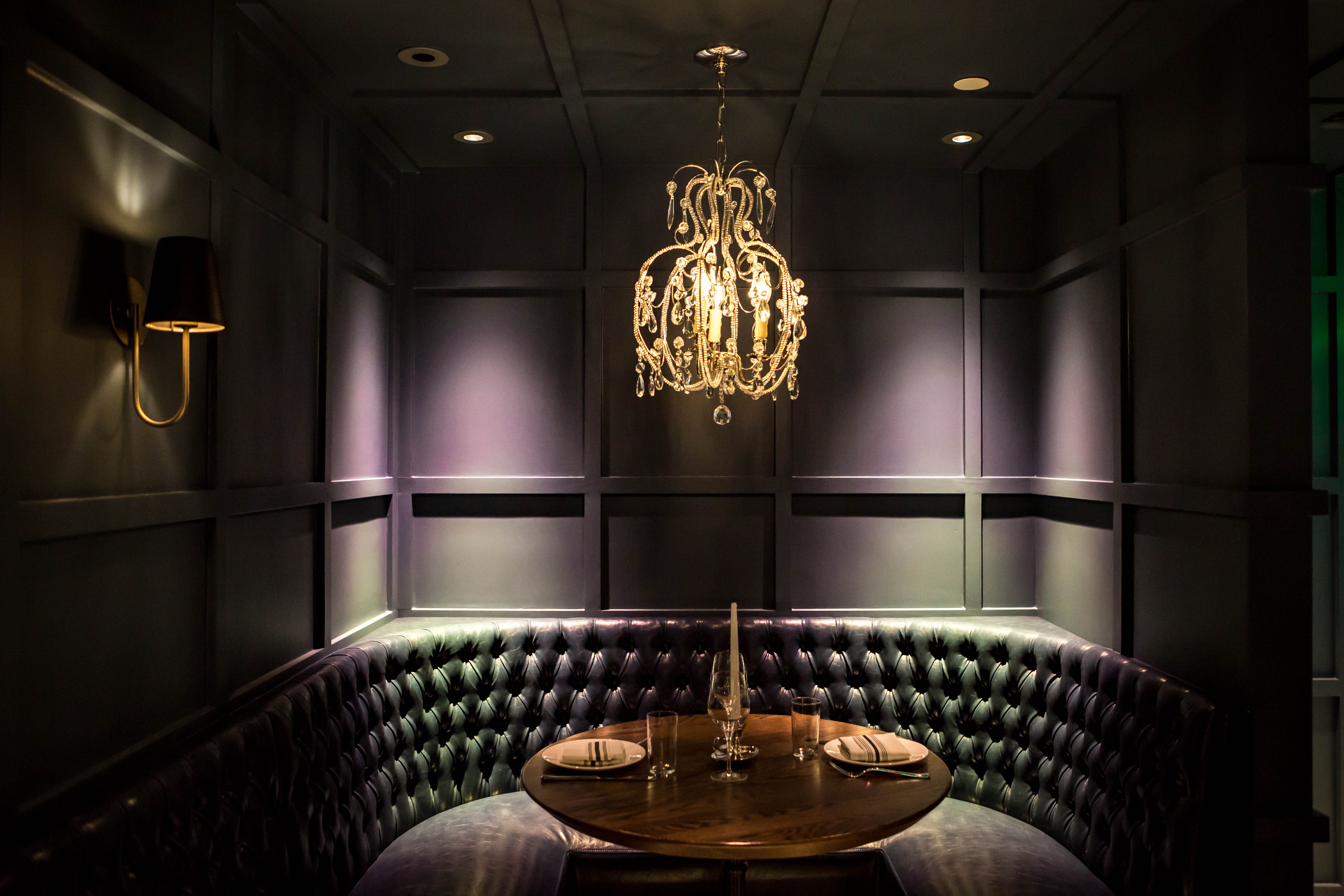 "I don't think even saw lemongrass until I was 25," Symensma recalls.
For chef Symensma, LeRoux is a nostalgic jaunt revisiting the European classics he was cooking in his formative youth. Consistent with the rest of the restaurants in chef Symensma's Cholon Concepts restaurant group, the atmosphere is sexy and inviting, the menu is clearly intentional and the food is delicious. After years in the industry, chef Symensma knows that no matter how nice the restaurant looks, nothing can "hide behind a shitty dish."
Chef Symensma owes a lot of his success to his ability to connect with people. He says he tries to "cook for Denver" and he likes to think of his parents when building and naming dishes. LeRoux does this well and isn't the sort of restaurant that wants you to do extensive research before making a reservation. It invites you to come as you are and takes the fear out of high-end European dining.
In the kitchen, the dishes are as efficient as they are tasty. Leftover foie gras from an appetizer that requires it be cut in perfect cubes gets mixed with Chicken liver mousse ($15). The dish comes paired with vacuum compressed apples. The juice retrieved from the vacuum pressing of the apples is mixed with spiced port and reduced. The reduction cuts through the buttery richness of the chicken liver and foie gras. This is one of many dishes that could be too heavy but somehow isn't.
Eating chef Symensma's food, you can tell you're in good hands. Brussels sprouts, parmesan fondue, lemon compote, fried shallots ($15) is exactly as robust a dish as it sounds — but, thanks to a dollop of lemon compote on top, chef Symensma takes you right to the brink of being overwhelmed without pushing you over. 
LeRoux has masterful intimacy with classic, proper French cooking, which allows it to create wonders like French onion short rib, pommes gruyère, tender leeks, pickled pearls ($29). If there were a Mount Rushmore of soups, french onion with certainly be on it; this dish takes the flavors of that famous soup and encourages them to reach their full potential. Start of this dish is a short rib so tender it falls apart when you look at it. The short rib is gratinéed with panko crumbs — you expect your first bite to be as smooth as the foie gras appetizer, but, just as your guard is lowered, the panko crumbs grab you by the lapel with a delightfully surprising crunch. Every bite of this dish has a combination of beef stock, gruyère and onion, but it will make you forget those ingredients ever even came in a soup.
Heading a few kilometers south from France into Spain, LeRoux offers Mediterranean delicacies like Octopus à la plancha, cured pork sofrito, chickpea panisse, garlic aioli ($26). This is perhaps the most tender octopus you've ever tasted (with the exception of a satisfying crunch at the thin end of the tentacle) served over a bed of aromatics and pork. The octopus lounges next to a chickpea panisse. The whole fare is polka-dotted with garlic aioli so good that you'll lick the plate before letting a drop waste. 
A splendidly rich meal requires a majestic dessert — and LeRoux doesn't disappoint. When you order Baked Alaska ($9), a metal cup of rum is set of flame at your table and poured over sliced bananas and homemade cinnamon ice cream covered in a protective layer of spiky marshmallows.
Their cocktail program is similarly incredible. Be sure to try the tiki-inspired King of Carrot Flowers ($13), a mixture of Rhum JM Silver, Velvet Falernum, carrot and herbes de provence. And the Ménage à Trois ($13), Deerhammer Dutch style Gin, Amaro Nonino, Amontillado Sherry, which is served up and garnished with candied niçoise olives (this drink is wonderful, but it is worth trying for the candied olives alone. They have a crunchy sugar coating and a soft, salty olive interior. It shouldn't work, but it does, wonderfully).
This slideshow requires JavaScript.
Chef Symensma acknowledges the pay gap between the front-of-house and back-of-house staff and is working to eliminate it. In most restaurants, the back-of-house staff makes a flat hourly wage regardless of how busy they are,  while front-of-house staff gets tipped out and can end up making a lot of money (especially at high-end, expensive restaurants). To fight this pay gap, LeRoux adds a two percent Kitchen Appreciation Program Fee (KAP Fee) to each check — this goes directly to the kitchen staff.  And there's more good news, if you're the kind of selfish, curmudgeonly cheapskate who doesn't think that the highly trained craftspeople who slaved over your incredible meal deserve to make a living wage, LeRoux will happily take  two percent off your bill and pay the KAP Fee themselves (but you're not that kind of person).
—
LeRoux is the perfect fine-dining experience. It is pleasing to all five senses, the staff is superbly trained, and the food is remarkable. The dishes have almost too much going on, but are so well balanced that you will never feel overwhelmed. Conducting a multitude of stimuli to come together in a delicious symphony is hard; the opening of LeRoux confirms what many Denverites already knew — chef Symensma can conduct such a symphony.
LeRoux is located at 1555 Blake St. #102 Sun – Mon 5 p.m. – 9 p.m. Tues – Thurs 5 p.m. – 10 p.m. Fri – Sat 5 p.m. – 11 p.m.
All photography by Giacomo Di Franco