Brother Ali has been a staple in hip-hop since he teamed up with Rhymesayers Entertainment — an independent record label out of Minneapolis —  which was founded by rapper Slug and producer Ant of Atmosphere. While Ali's first album with Rhymesayers, Rites of Passage, came out in 2000, it was 2003's Shadows on the Sun — produced by Ant — that was met with critical acclaim and success. 
Ali celebrated his iconic album by embarking on a 15th anniversary tour for Shadows on the Sun, ending in Denver at Cervantes' Masterpiece Ballroom on Saturday night. The line to enter the venue wrapped around the building and the ballroom filled early on in the night. Reason the Citizen — a Denver based rapper who relocated to LA— opened the evening with a clear, decisive flow and notable beats. The rapper critiqued Denver's cold weather and lack of oxygen but remarked that Denver audiences are more involved and entertaining to perform to.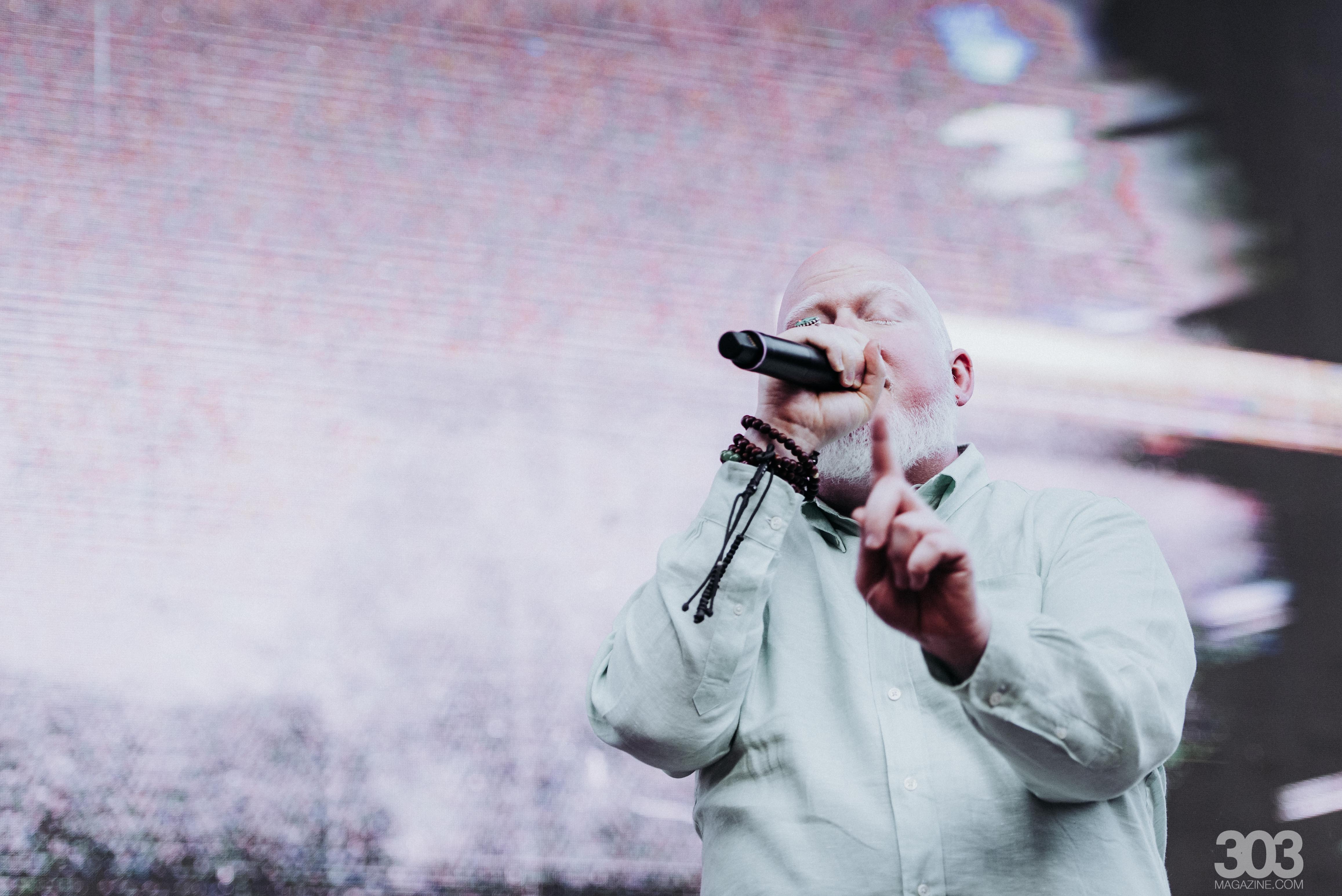 The sold-out room waited in between rappers to the sounds of DJ Last Word spinning various Rhymesayers tracks and other hip-hop favorites. When the time came for Ali to join the show, he did so under the guise of himself 15 years ago, and introduced himself as the "newest musician signed to Rhymesayers Entertainment." He removed a hat and scarf, revealing his signature windbreaker outfit and dove into the performance.
The orange and blue lights lit the stage in homage to the colors of the album cover, and various members of the audience rapped along. "I wrote this as an angry young dude. I wrote these songs never knowing if anyone would hear them other than Ant," Ali stated — referring to aggressive lyrics that explode over Ant's beats. Ali's words have evolved greatly over the years.  His projects now reflect a much more peaceful perception due in part to the adversity he has overcome. During recent performances,  Ali has dodged repeating curse words from his music, although the Shadows on the Sun anniversary show seemed to remain true to the album. One line in the song "Dorian," stated "Mr. tough guy/one punch bring out the fag in him," in the original recording. Although this was the case, the rapper refrained from singing it and informed the crowd, "we don't say that line anymore."
When Last Word dropped the beat to "Blah, Blah, Blah," which features Slug, Ali announced "Everybody welcome Slug from Atmosphere!" He then immediately shook his head, laughed and explained, "He's not here, I'm just fucking with you," and went into the track on his own. When he came to the end of the track list, the musician explained that he wanted to keep going, which his fans accepted excitedly. Last Word continued on with more songs, including the politically charged "Uncle Sam Goddamn," which Ali described as "a song I wrote 10 years ago and I used to have to explain it, and now I don't, though it is more timely now."
15 years is a long time to have a project thrive and be as popular as Shadows on the Sun. Through the various evolutions of Ali's music, he has proven his ability to grow while remaining true, and his loyal followers have shown that they will continue to grow with him. Shadows on the Sun will live on for another 15 years, and then some.
All photography by Alden Bonecutter