Known as one of Denver's favorite vegetarian restaurants, City O' City also serves another Denver favorite: local art. While the main dining areas feature gallery-style exhibitions, the restaurant's art curator D. Fritz wanted a more casual exhibition space in the front to feature more Denver artists. On display this month is Unlocked Poetry: Voice + Presence from Prison.
This project was a result of Wayne Gilbert's work with prisoners in the Sterling Correctional Facility. Gilbert talks all things poetry with 12-20 prisoners each month. While he typically brings in collections of published poems, Gilbert insisted the most important part of their time is allowing the prisoners to share their own poetic works.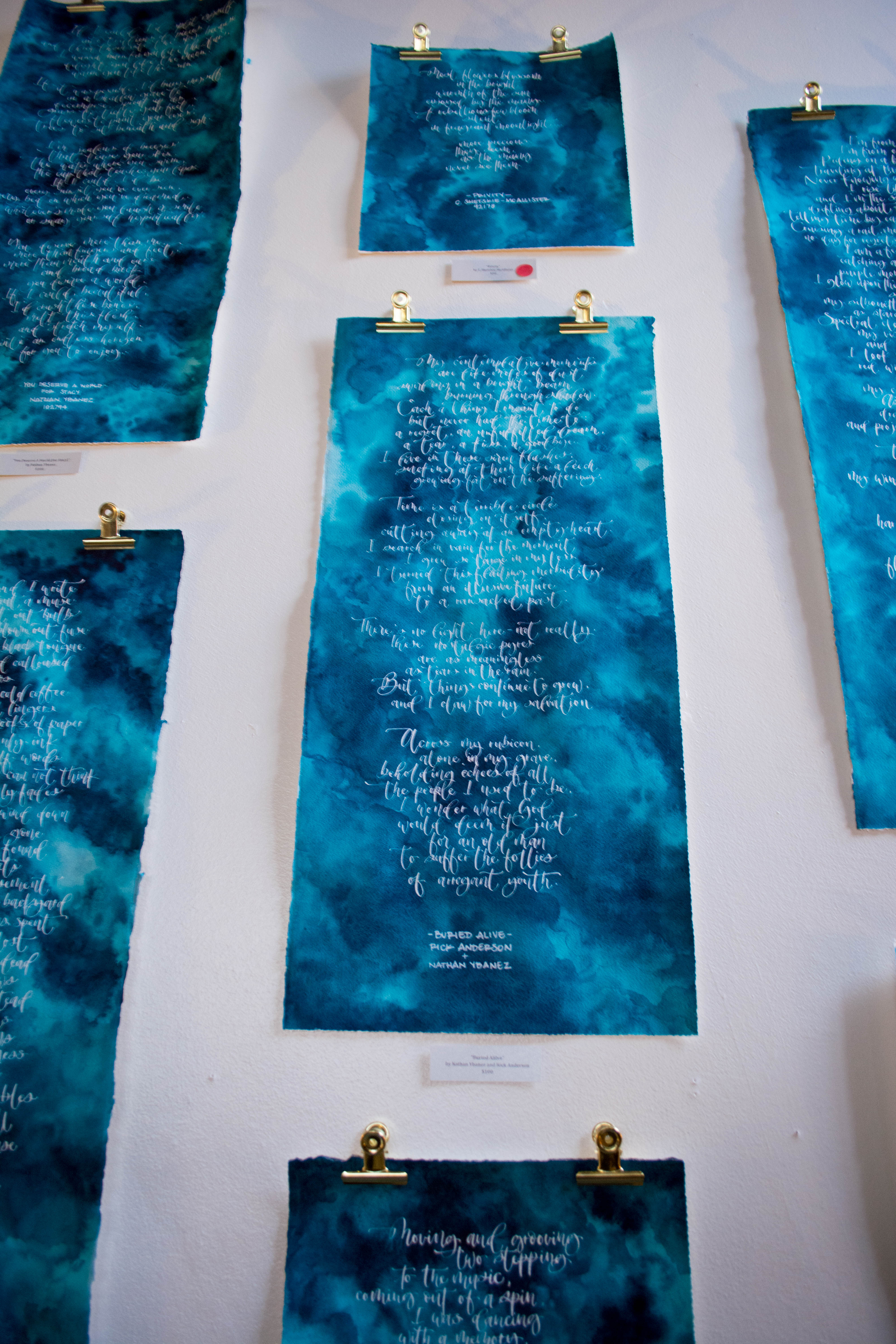 After his first visit, Gilbert realized the importance of giving these men an outlet for their stories and creativity. "The guys were just so responsive," Gilbert reported of the beginning of the program. "They were hungry for this sort of thing." Through Unlocked Poetry, Gilbert provides the prisoners a way to connect to the Denver community. Last April, he helped facilitate a show at City O' City that showcased the prisoner's poetry and paintings.
Inspired by last year's exhibition, Fritz and Gilbert wanted to create another show with the Unlocked Poetry group's work. This time around, Gilbert wanted to transform the poems into a visual art to stand alone from other works of art. Enter Nicole Terrei, a professional calligraphist.
An employee at City O' City, Terrei was eager to lend a hand in the project. "I've done volunteer work in the past," Terrei commented, "and lately I've been truly feeling like getting back into it." So when Gilbert and Fritz asked her fee for her calligraphy, Terrei volunteered to work for free. Before she wrote out the poems, she spent countless hours designing the pieces, from selecting the perfect paper to choosing the right colors and paints. She also suggested that they sell the paintings and use the money to buy poetry books for the prison library.
"The work the prisoners did is incredible to say the least. Their words and the stories they tell have touched me in many ways. It's been a gift to be able to fuse my love for beautiful colors and designs and sinuous lines with their emotion. I can only hope I captured it all the way it deserved to," Terrei added.
After seeing Terrei's finished work, Gilbert could not be more pleased with the outcome. "I really like opportunities to share the prison poet voices in the community. This makes their voices literally physical in a whole different kind of way," he commented.
While Gilbert knows this exhibit means so much to the Unlocked Poetry poets, he believes this show will benefit those who read the poems just as much – if not more. Customers can react to the show on clipboards provided, writing their thoughts about the poems and the poet's stories. At the end of the show, Gilbert will bring the reactions back to the prisoners, creating a conversation between poet and reader in a way that the prisoners are not often given.
"You can't read the poetry and think the same way you thought about prison and prisoners when you came in. You can't read these poems and not be touched by the humanity and the possibilities for these human beings," Gilbert commented.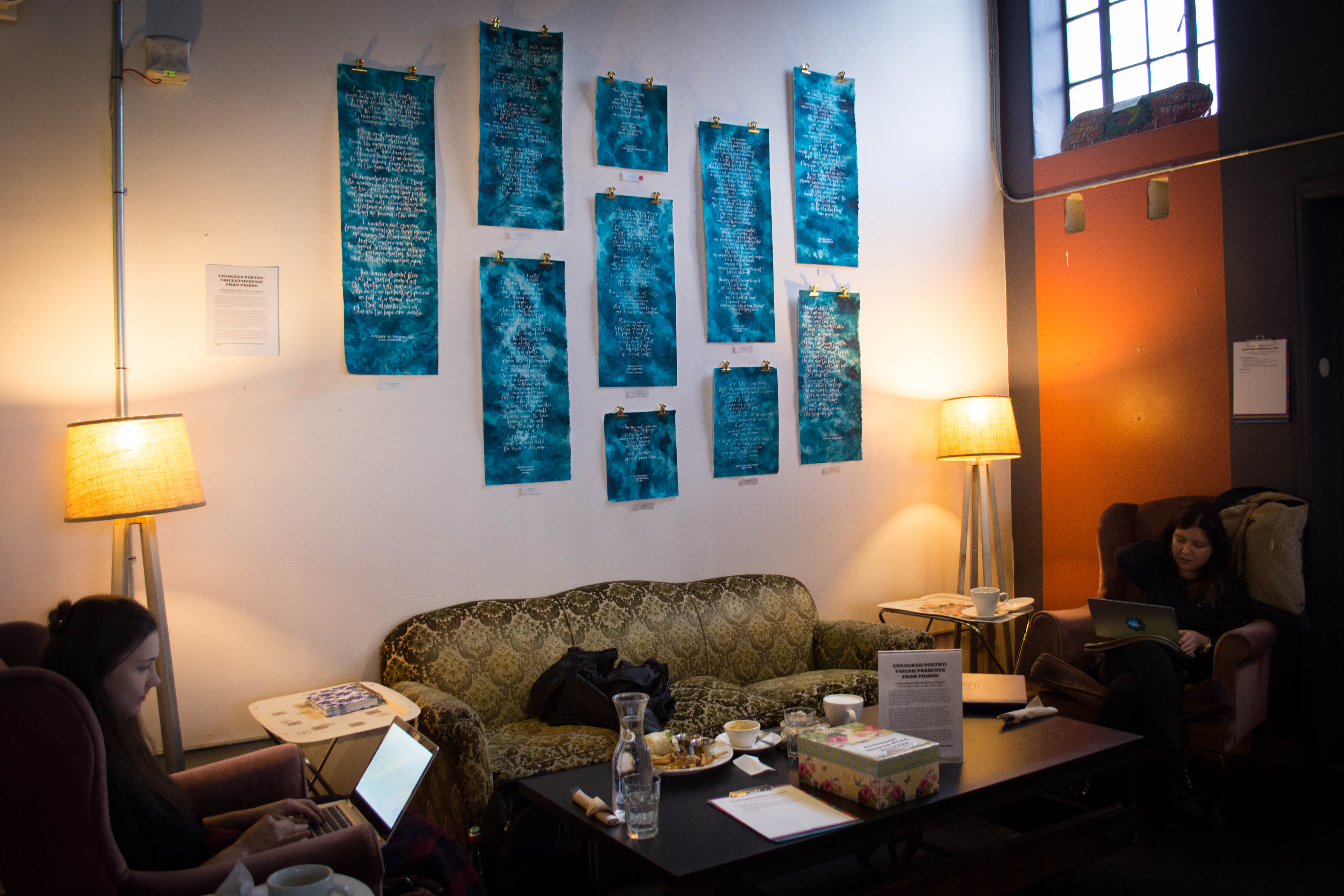 If you haven't been to City O' City yet, now's the time. Open from 7 a.m. to 2 a.m. every day, the coffee shop turned restaurant turned late-night bar caters to a wide variety of customers. Only a few blocks from the capital, City O'City's customers range from government officials to a retired couple who have been vegan for 20 years. Fritz describes it as "more than just a restaurant. It's a community, it's a culture, and it's awesome."
Gilbert loves City O' City for the sense of justice, compassion and community it radiates. "Its not a kind of place where only certain people come or certain kind of people, certain class of people, or whatever. The diversity of the customers is truly wonderful." Which is exactly why Gilbert wanted to exhibit the prisoner's poetry at City O' City. He knew that hundreds of people with various background would see the prisoner's work and they would be able to connect with the poets in a unique way.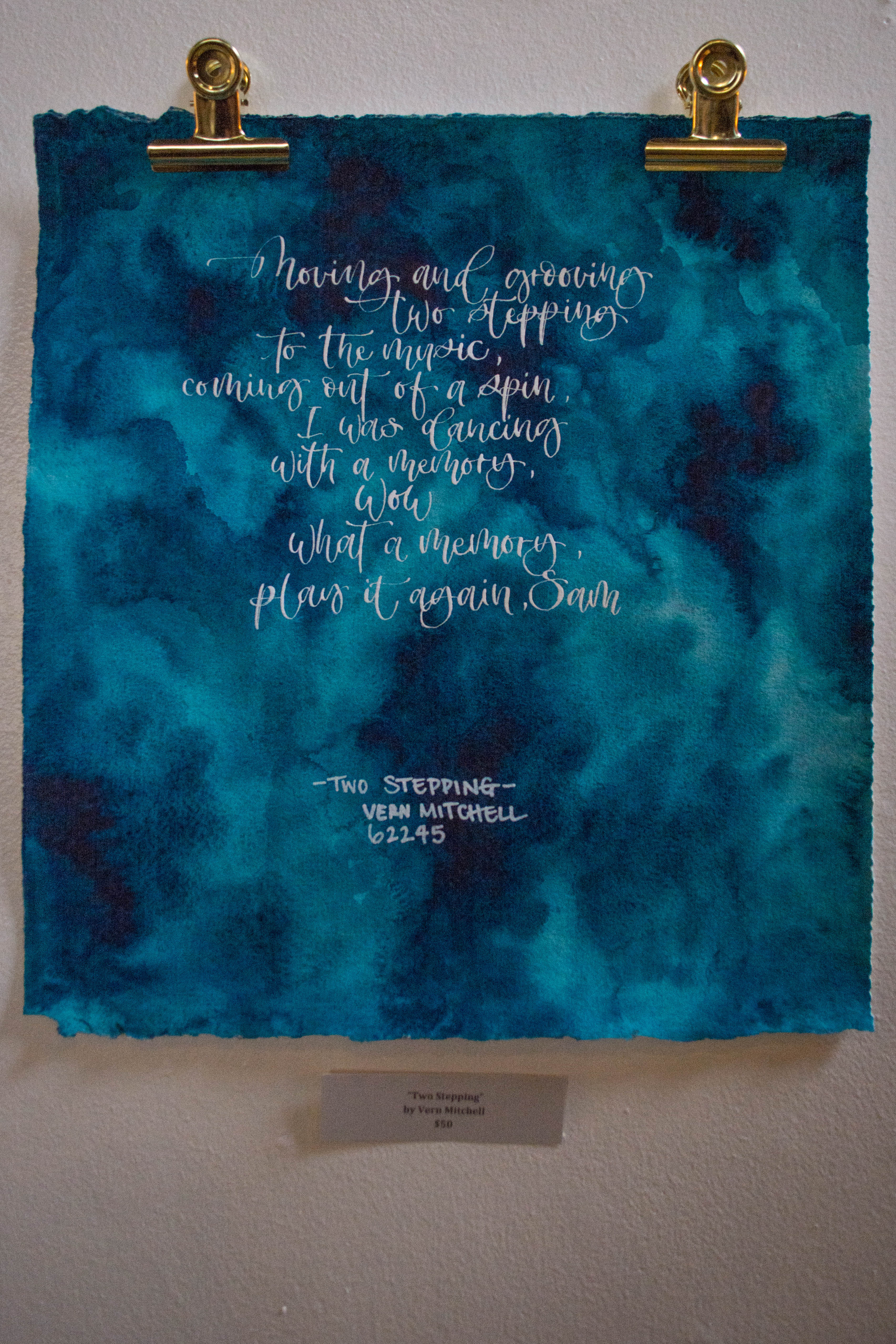 Unlocked Poetry: Voice + Presence from Prison is on exhibit through the end of the month. The larger pieces are available for purchase for $100 and the small pieces are available for $50. All proceeds will go directly to purchase poetry books for the prison library.
City O' City is located at 206 E 13th Ave, Denver and is open from 7 a.m. to 2 a.m. Each month the restaurant features new local artists, with artwork available for purchase. More of Nicole Terrei's work can be found here.
All photography by Evans Ousley.