Imagine the party to end all parties — the one that people talk about days, even weeks after it's over. They reminisce on events that happened and wish they could go back and relive it over and over again. This past weekend at Red Rocks, everyone in attendance for Big Gigantic's Rowdytown VII had that exact feeling. The two-night event was a party you never wanted to leave and left you wanting more.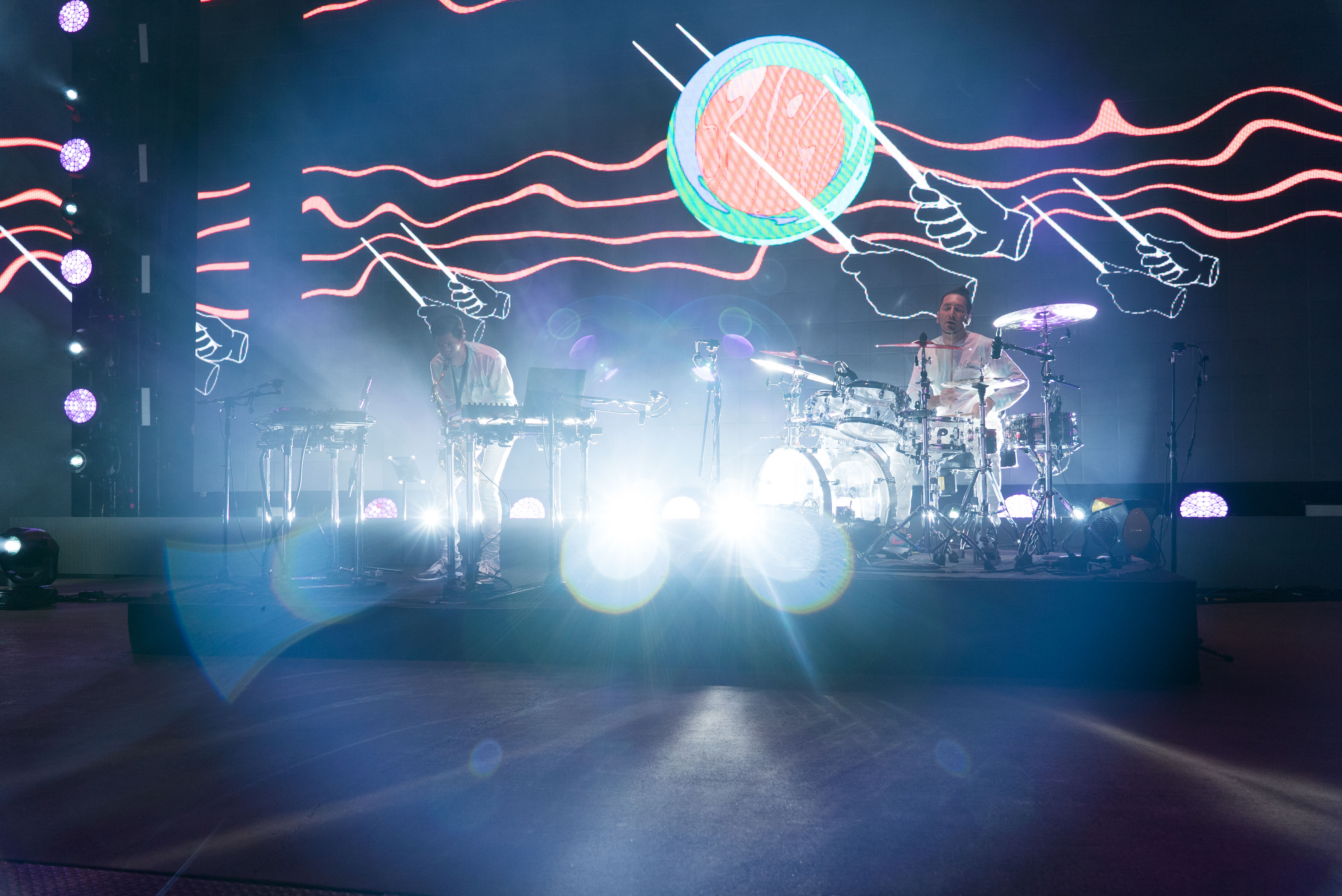 Party Pupils kicked off the second night of the weekend and immediately set the bar for what the rest of the show would hold. The duo, Max Schneider (also known as his solo artist name, MAX) and Ryan Siegel, looked like they were straight out of the '90s in their neon yellow and pink windbreakers, whilst playing and remixing songs like "Ms. Jackson" and "This is How We Do it." The night was still early when Party Pupils performed — people still trickling in from the parking lot and their party buses — but Party Pupils had everyone in the venue on their feet, dancing and jamming along. They brought the energy and proved that the night was only just beginning.
Shortly after Party Pupils, Los Angeles based producer, Tyler Minford (aka Louis Futon), came out around 7 p.m. to keep the party rolling. While no one could compare to the electrifying and ground shaking performance of the soon-to-come Big Gigantic, Louis Futon came pretty damn close. The electronic jazz artist played a mix of original songs and some songs where he took and flipped it to make his own — including songs like "Solo" by Frank Ocean and "Pride" by Kendrick Lamar, (both of which are worth taking the time to listen to). He even performed his flip to the Stranger Things theme song, with Futon asking "You all fuck with Stranger Things?" He performed original songs such as, "Wasted on You" — that has over 15 million listens on Spotify and was released through ODESZA's Foreign Family Collective — and "Fall on Me." "Fall on Me" is his most recent single that combines everything you could want from an electronic-jazz ensemble — a funky beat, phenomenal background vocals and a trumpet section that makes you want to bop up and down, shoulders dipping and hips swaying. Louis Futon may have been an opener this time around, but don't be surprised if he headlines his own shows at Red Rocks seasons to come.
Futon played for nearly an hour with electronic DJ 3Lau, coming on stage around 8:30 p.m. Pronounced "Blau," 3Lau — who broke into the EDM scene years ago after turning down a career on Wallstreet — was the third opener of the evening. Anyone who knows this Las Vegas hailing artist knows that he has an affinity for mashups and light shows and on Saturday night he brought both in full force. The DJ mixed track after track of absolute bangers, incorporating music from artists like Travis Scott, Biggie Smalls, Zeds Dead and Anna Lunoe. He hit the crowd hard with deep drops, fast-paced beats and a perfect blend of original and remix content. This, coupled with his unmatched ability to incorporate lights into his performance made for a perfect segway into Big Gigantic and a truly rowdy night at Red Rocks.
As 10 p.m. came, Big Gigantic appeared and played until the very last minute possible. It was nearly two full hours of dancing, jamming and a lot of 3D. The dynamic duo of Boulder-based Big Gigantic, Dominic Lalli and Jeremy Salken, performed to a sold-out crowd on their (now) seven-year tradition of the tour de force that is Rowdytown. What made this Rowdytown different from the rest was not only new openers, new songs and unreleased music, but also a new concept — a 3D light show crafted specifically to the setlist and the show. 3D glasses were given to concertgoers at the beginning of the night but weren't necessarily required the whole time. "Put Your Glasses On" flashed on the screen halfway through Big Gigantic's set, but even with the 3D graphics the glasses weren't needed to amplify the experience of the show. Rowdytown is such a magnetic force to begin with. From the worlds of jazz, hip-hop and electronic music colliding to the electrifying colors, graphics, set designs and overall audio and visual sensory, adding 3D to the lineup seemed exciting but not essential.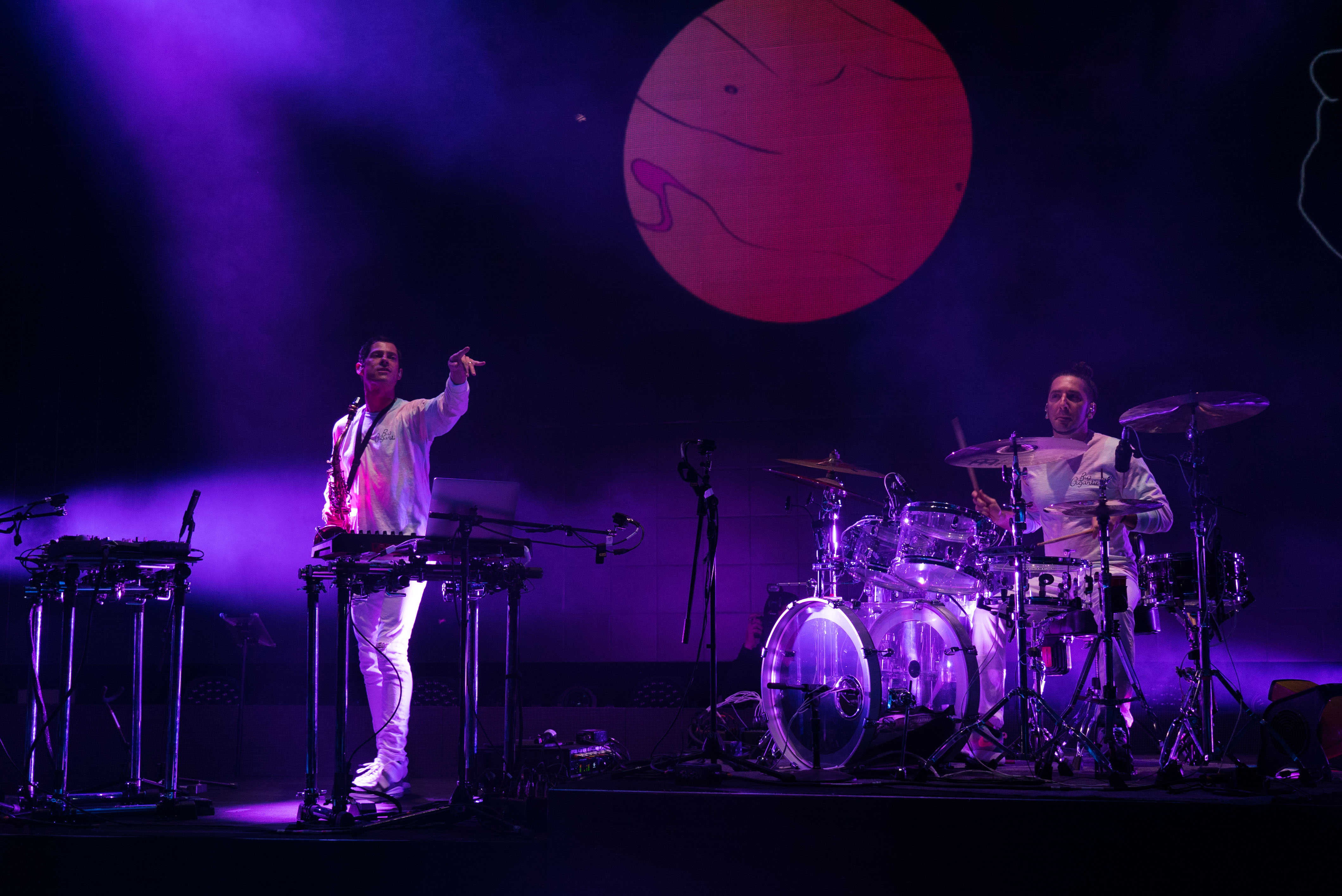 The 3D visuals were noticeable, however, and definitely added a unique sensory experience. An astronaut would reach out their hand, a car would come driving towards the crowd, floating saxophones and static screen TVs would move and jolt out, among the various laser lights that weaved throughout the crowd. At one point, there were two life-size Notorious B.I.G. heads floating in the air and rapping along to the remix of a Biggie Smalls song. Big Gigantic was tasteful with the 3D, never overdoing or exhausting the light show. It was well thought out and timed to match the songs. From Notorious B.I.G. to the car, everything was designed for 3D — but only when appropriate.
The band played their beloved hits "Good Times Roll" and "All of Me." They also played "Got the Love" and "I've Gotta Know"  — both of which feature Jennifer Hartswick who came out to perform both of them with the band. Big Gigantic also played their remix to song "Ride or Die" featuring Foster the People and The Knocks,  and a personal favorite, "The Little Things – Kasbo Remix." The duo had a perfect sandwich of old and new songs, opening and closing the show with their well-known hits while playing new material in the middle. While at times Big Gigantic sounded more deep-house EDM than their usual electronic hip-hop, it was paired perfectly with lights behind them and the graphics and colors to match it.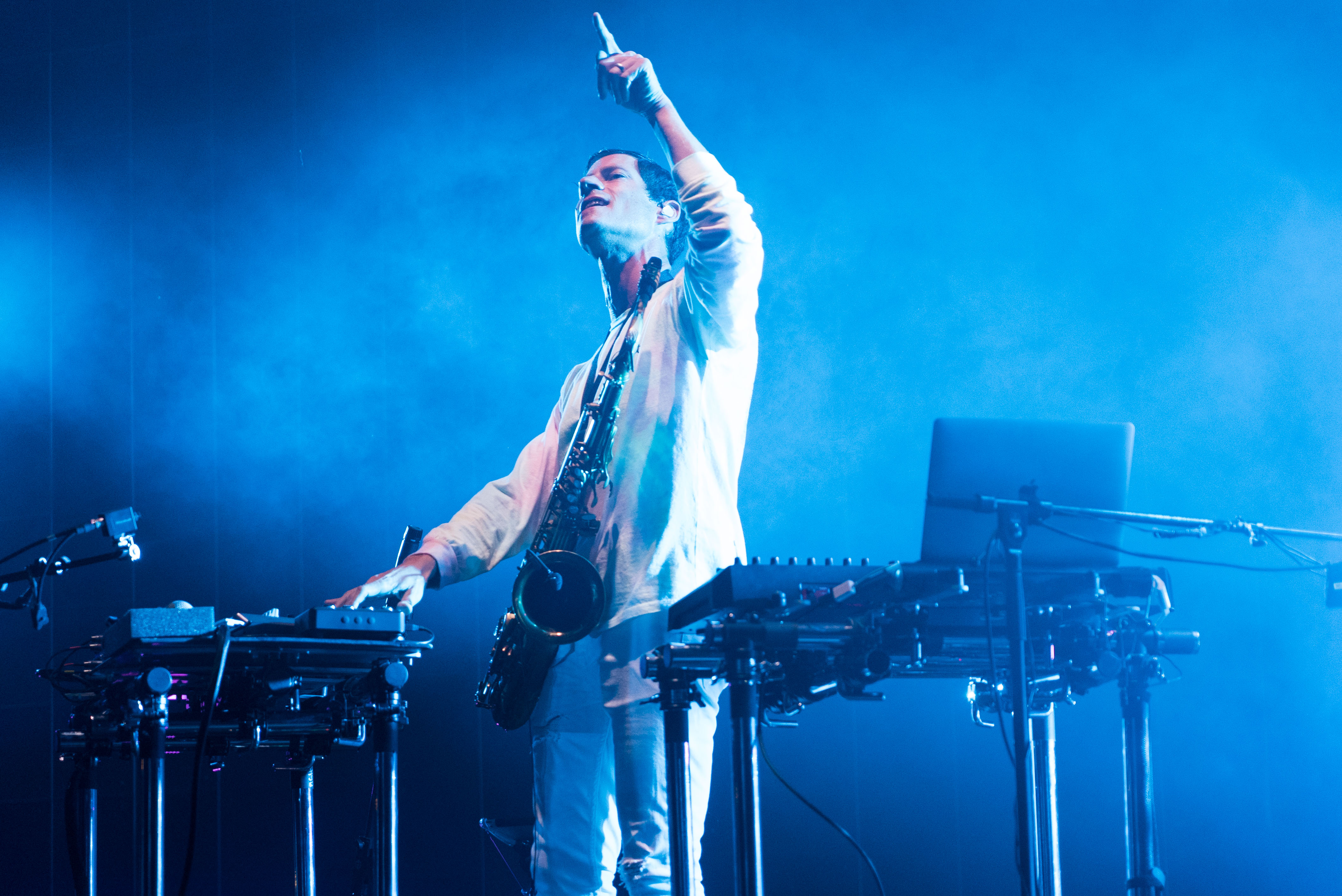 Rowdytown VII was a harmonious blend of colors, imagery, lights, sound and a whole lot of horns. Each opener was well thought out and contributed flawlessly to the overall aesthetic of the show, with Big Gigantic bringing it home for their seventh Rowdytown. "Thank you Rowdytown seven. This was the best one yet!" Shouted Big Gigantic at the end of the night. Yet, we have no doubt they're going to try to beat it next year.