On Monday, November 5 new Japanese restaurant Osaka's will open its doors across the parking lot from iconic local home and garden giant McGuckin's Hardware. The compelling, highly stylized spot toes the line between fast casual and upscale in a way that has been hard to achieve. Modern Market comes to mind — both serve alcohol and have well-lit and carefully but sparsely decorated interiors — but the new joint from businessman and Japanese native Koji Tamura has an originality and sophistication all its own. Traditional Japanese hospitality is at play from the moment you walk through the door and the cuisine manages to be both true to its origin while having a remarkably familiar feel for American audiences unacquainted with Kansai (the region in which Osaka resides) cuisine.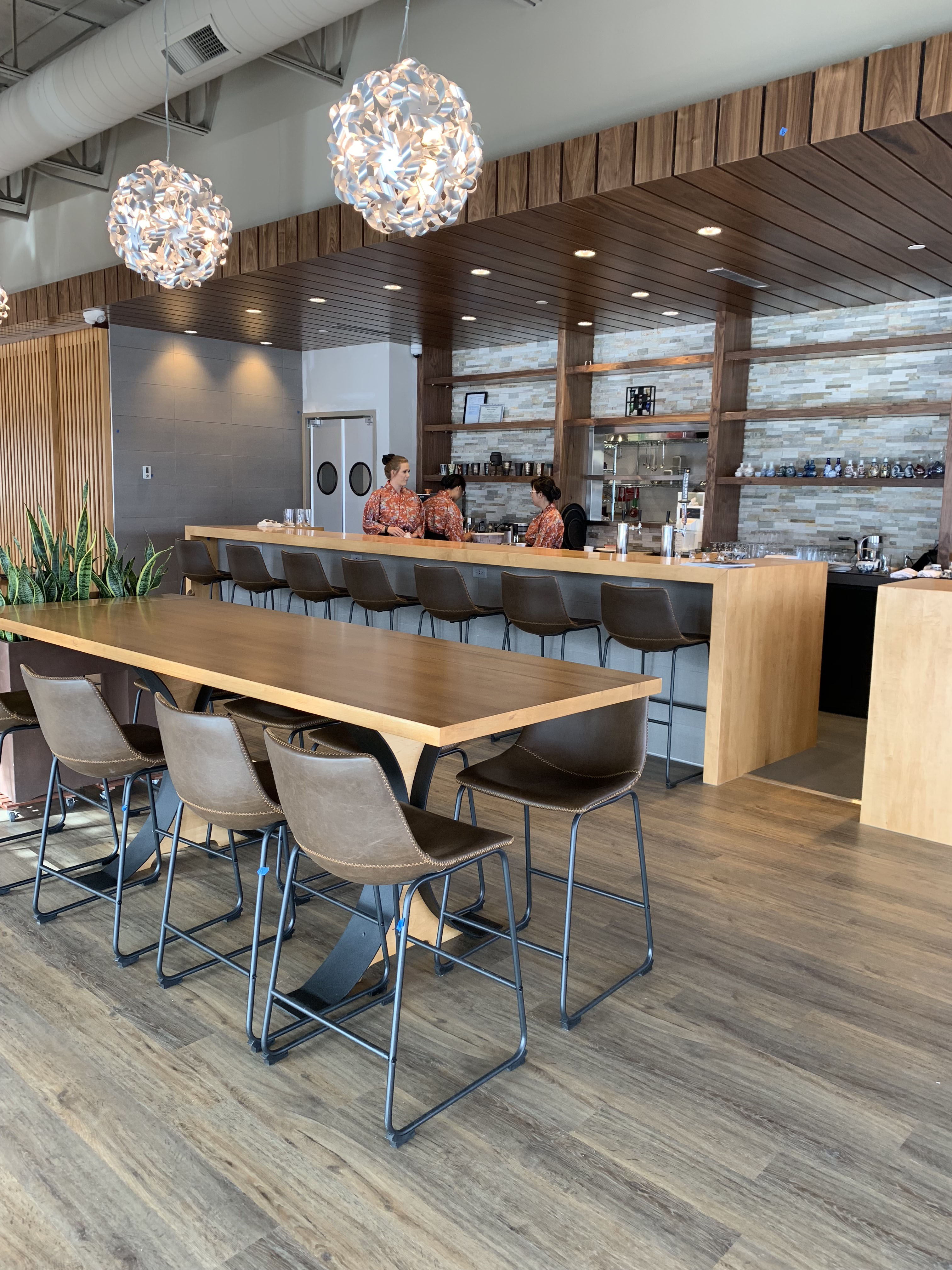 When customers first walk through the door they will be greeted with great zeal by a gaggle of Kimono-clad waitresses — a welcome that could not be further from bored employees slumped over host-stands. General Manager Charles Curtis — also born in Japan — stresses the importance of hospitality as central to the business' philosophy. Waitresses bow when they drop food — an indication of requesting permission to enter a customer's space. Each table is graced with a Noodoe device — an innovative gadget that allows customers to silently call wait-staff to the table when they need attention. A cube, each side with an icon for a common request – drink, water, order and check — can be placed with the desired side up. When done a message will appear on the server's watch and they will quickly arrive to meet the demand.
Tamura has had the dream of opening this restaurant for nearly 40 years. He originally envisioned the concept while studying in Los Angeles in the '70s, but life had other plans for him. He returned to Japan and spent many decades in business — with a 25-year stint in medical equipment and a stretch at Motorola in both Japan and Germany. After his retirement last year it was not long before his wife suggested that he pursue his original ambition.
Several factors dictated Tamura's decision to open Osaka's in Boulder. His daughter attended school there — both at the University of Colorado and the Rolf Insitute — and a famous Japanese marathoner Mizuki Noguchi was looking to return to Japan and had a place in Longmont where the Tamura family could set up. Along with the serendipitous occurrences, Tamura cites Boulder's health-conscious demographic as a key factor. He also hopes to franchise the business, following Google campuses being a main component of his corporate model.
This slideshow requires JavaScript.
The menu has a lot of excellent traditional Japanese fare, but the highlight is Tamura's Osaka Burger — a concept taking okonomiyaki — a savory pancake — and fashioning it into something fast and hand-held. The buns are made from a more customary cabbage base or the equally delicious kale alternative. Fillings include teriyaki chicken, sukiyaki beef, mushroom and others and range from $12-13. The tonkatsu ($18), is a healthy portion of fried pork cutlet complete with a sweet sesame sauce. The sauce is served in two parts — fresh sesame seeds with a mortar and pestle and an accompanying sweet sauce. Guests are invited to hand-crush the seeds, immediately bringing out the freshness. All the dishes are bright and the dishware is elegant — much of it is directly imported from Japan. "We want you to be able to taste the food with your eyes first," said Curtis.
Drink-wise the spot will have Kyoto-style drip coffee, matcha lattes, an intricate tea program and a beverage program that will highlight sake and Japanese whisky. Happy hour will run daily from 5 – 6 p.m., with the specifics coming closer to opening.
The business has all the markings of a successful chain. Tamura's particular demographic insight legitimizes the higher price point — and his attention to detail should keep tech customers with a certain amount of disposable income coming back. All the take-out containers are biodegradable and charming, and his chefs — two of whom he flew in from Japan — are making food that is equally delicious and nourishing — convenient brain-food for athletes and innovators alike.
Osaka's will open it's doors November 5 at 11 a.m. It will be open daily from 11 a.m. to 3:30 p.m. for lunch and from 5 to 9 p.m. for dinner. It is located at 2460 Canyon Blvd. 
All photography courtesy of Osaka's.