Personal style extends beyond the fresh and new threads we put on our backs or the bags and heels we flaunt while we walk downtown. Whether short or long, bold or pastel, hair is the accessory to pay most attention to this summer and oVertone is bringing us 30 colors of PETA-approved, game-changing hair dye treatments to use. The potent color and easy two-part application treatment were founded by Liora Dudar and Maegan Scarlett who had two goals. First, to make formulas that could last and be manipulated to whatever tone, tint or shade you may want. Second, reaching out to the many cool kids in Denver, inspiring each of them to find the shade that helps them express themselves through the color of their hair. We got to speak with one half of oVertone — Dudar — about the manifestation and inspiration behind color, hair and rebellion style.
303 Magazine: How was the idea of oVertone conceived? What was the main goal to create a company that allowed people the access to affordable luxury hair dye?
Liora Dudar: We actually created oVertone first out of a personal need. Maegan and I both had bright hair and within days of leaving the salon, it would start to fade. At the time, the only solution was to mix the dye with conditioner — which is incredibly damaging and makes hair look and feel dry and brittle from constant exposure to ammonia and other harsh chemicals. It wasn't an ideal situation and we knew there had to be a better way to maintain vivid hair color. If we had this problem, there were likely thousands of others struggling as well. So we created a formula that had all the pigment and conditioning properties of our former DIY concoctions, without the damaging ingredients typically found in the dye.
As the company grew, we found that many customers weren't using our conditioners solely as maintenance products but also as a way to color their hair for the first time. Some clients were skipping the salon entirely and exclusively using oVertone — saving them time and lots of money. While it wasn't the original vision, we 're thrilled to offer a product that allows people to do both and express themselves at an accessible price point.
Pastel Purple
"My hair demands attention whenever I walk into a room — it's wild and unorthodox, much like my personality. Having the power to dye my hair means I can express myself and be my most authentic self." – Selina Baca
303: The process for using oVertone is much different than usual dying processes. Can you explain the difference between oVertone and other brands?
LD: oVertone conditioners are pigmented and deposit color but that is the only similarity they have with dye. Most at-home color kits are multi-step, require tools like a tint brush and bowl and have a bit of a learning curve in order to use them effectively. oVertone is foolproof and low-maintenance — if you can condition your hair, you can use our product. Because it contains no harmful chemicals, no peroxide, no ammonia, no heavy alcohols. oVertone will never damage hair, regardless of how long it's left on.
Extreme Blue
"My hair can change with my emotions. My locks are my feelings out here, they amplify my intuition and accent my movements." – Zoid Ham
303: The most epic aspect, besides the color itself, is that oVertone products are vegan. What made you want to go cruelty-free?
LD: In a nutshell, we give a shit. We care about the planet and the creatures who inhabit it. We're certified by PETA and have never conducted animal testing because it simply isn't necessary — not to mention inhumane. All of our conditioning agents, emollients and oils are plant-based and we only test our product on human hair extension wefts.
Vibrant Pink
"Having domain over my hair is having power over my body. Although it may seem like a trivial form of expression, it still maintains the impact of being in control. I live in a society that wants me to conform to a Eurocentric style for professional life and to make others feel comfortable. It's far more than just a new color — it's a form of confirmation and resistance." – Stephen Garcia
303: Hair is so important — just like anyone's personal style. How has your hair color influenced either your life, career or fashion moments?
LD:  Before I colored my hair a vivid shade, I had an identity that was built around being less visible.  I wouldn't wear certain things either because they showed too much cleavage, or I was too self-conscious or I thought it would bring too much attention. Of course, having colorful hair makes you immediately visible. Getting used to the attention that comes along with it allowed me to explore more avenues of self-expression that I had previously dismissed as "not for me." I was already receiving attention from having colorful hair that it became much easier to make more personally daring fashion choices and express myself visually.
Teal
"Honestly my hair is a pretty integral part of my personality. It's my favorite part of my appearance because it gives me so much opportunity to play around and try new things. I work in the film industry, and a lot of the time other people get to dictate how I look and act. Having hair like mine — hair I can change every other week if it strikes my fancy — means I'm still at least a little in charge of who I am, no matter who I'm portraying on camera." – Shepherd Overcash
303: What are the best tips and tricks for longer lasting color?
LD: Use oVertone! That's what it's made for, after all. We recommend using our Deep Treatment once weekly for an extra jolt of color and conditioning and the Daily Conditioner to replace pigment lost anytime you shampoo. In general, protecting your hair with an SPF measure when it's exposed to the sun, chlorine or salt water helps to prevent premature color fade. Make sure to choose a shampoo that's free of sulfates — clarifying shampoos are notorious for stripping hair color.
Rose Gold
"Having the power to dye my hair means being able to have the freedom of creativity through another facet of my beauty routine. Changing it whenever the inspiration to." – McKenna Seckman
303: For many people having the ability to dye their hair an "unnatural" color is the only way to feel natural in their skin. What does it mean to you that you're helping so many people find their true selves?
LD: The first time I colored my hair, I felt more representative of who I was as a person. That feeling of self-acceptance and pride in who you are as a person is important for every human. If oVertone as a company can help people achieve that feeling, then I am honored to be a part of that process. As a brand, we are deeply rooted in promoting global inclusivity and unapologetic self-expression. So, providing a product that is true for everyone and creating a social community that encourages people to be comfortable in their own skin — regardless of gender, sexuality, race, size, etc. — is an incredible privilege.
303: What is the future of oVertone? Any new colors we should keep our eye on?
LD: The future is bright! We have a lot of exciting announcements on the horizon but you'll have to wait and see while spreading color in a world that seems to be darkening,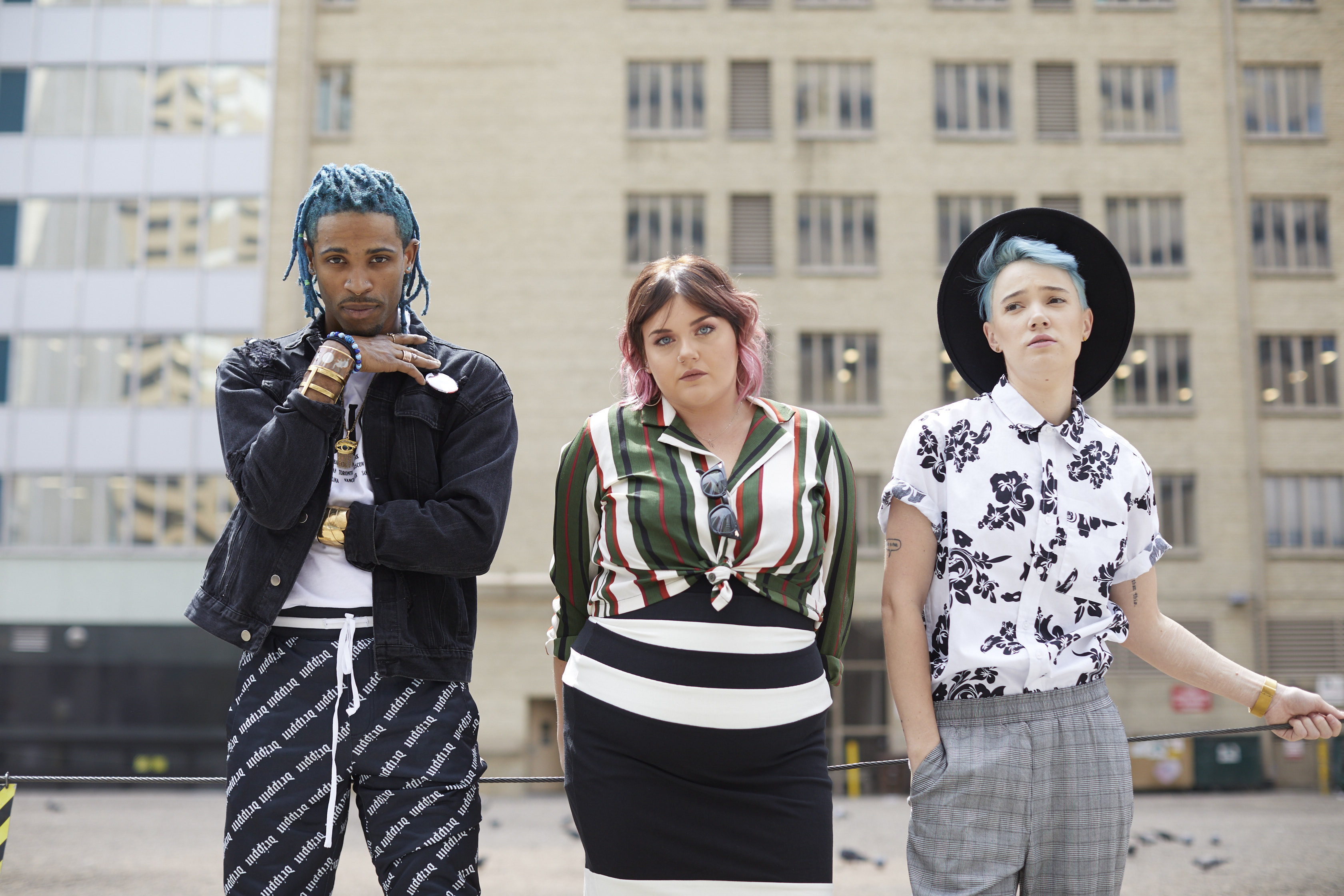 Photography by Danielle Webster and Rebecca Grant 
Styling by Ernesto Prada
Models: Selina Baca, Stephen Garcia, Zoid Ham, Shepherd Overcash and McKenna Seckman