What was once an area designated by its massive warehouses and cheap real estate, the RiNo neighborhood has become increasingly dense and developed. Nowadays, it feels as if business owners are clamoring over every square foot. However, Improper City — the brand new bar, coffee shop and soon-to-come food truck park — seems to be the exception to the rule. Located in an old HVAC warehouse at 32nd and Walnut — Improper City has nothing but space.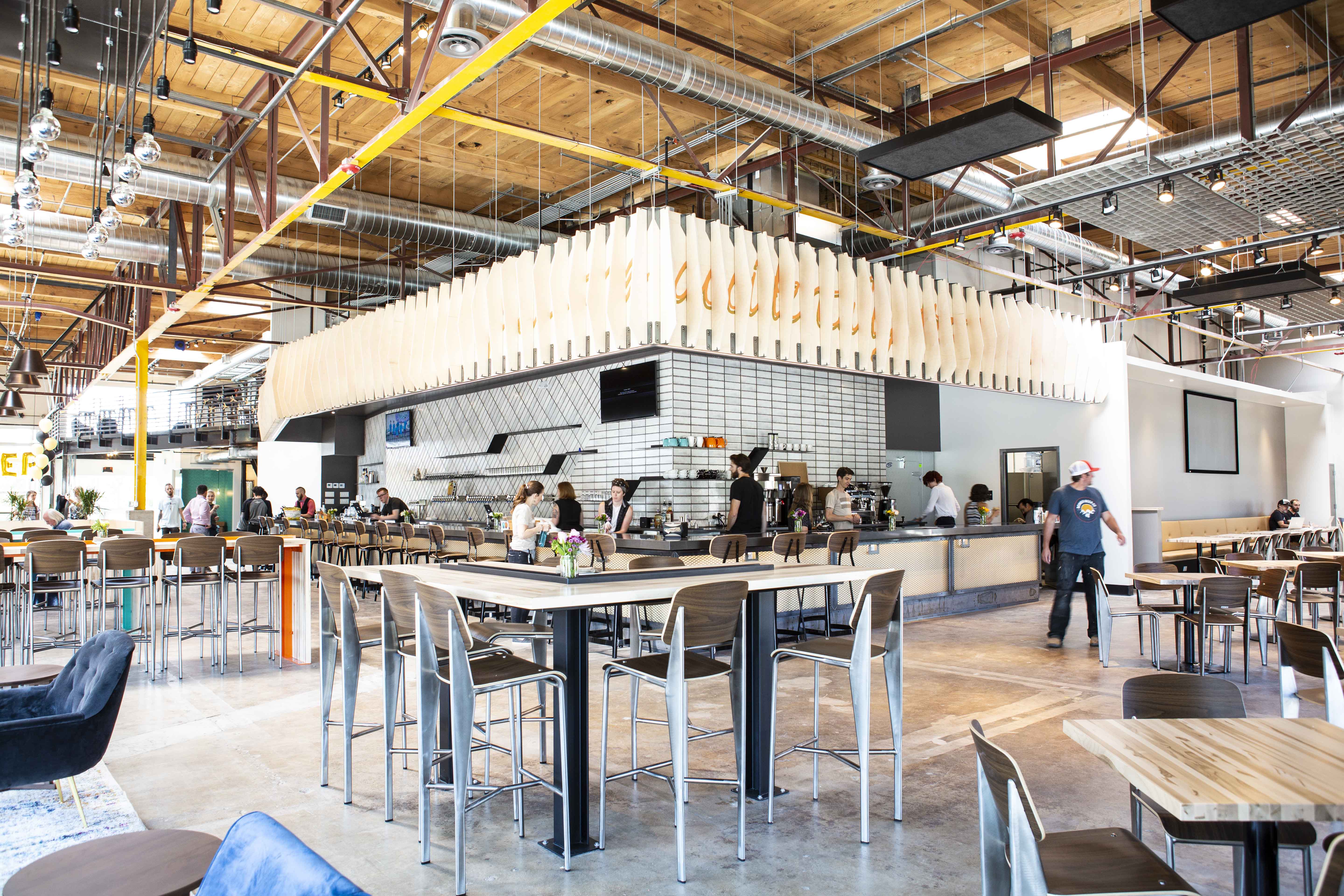 Sharing walls with partners Movement Climbing + Fitness, Improper City is a multi-use spot. Aside from being next door to a full climbing gym, the location has a coffee bar, complete with their own roasted beans. It also has public WiFi and even a phone booth — making it somewhat of a daytime co-working space, minus the fees. Come lunch and dinner time, the bar will come into full swing with 36 taps and eight draft cocktails. There will also be a lineup of local beers, wines and ciders — think Infinite Monkey Theorem, Stem Ciders and Ratio Beerworks. Admittedly, Improper City is currently missing a big piece to its concept – one that made its original location, the Rayback Collective in Boulder,  a hit.
The patio — which at 12,000 square feet — will be the biggest patio in the city of Denver and will host up to six trucks at any given time. However, the patio is still under construction and is not set to open until later this fall. In the meantime, you can snack on a daily rotation of food trucks outside the building, where one will post up for lunch and two for dinner. The cafe plans on bringing in pastries, breakfast burritos and smoothies as well. But as far as a robust food menu — that won't be a part of the equation right now.
This slideshow requires JavaScript.
However, according to the owners, Improper City has always been about flexibility.
"Very little things are bolted to the floors," said Hank Grant, one of Improper City's owner, explaining that they plan to learn from how people use the space and adapt to that. "We want it to feel like a 'Choose Your Own Adventure' experience."
One part of this new experience will also be live music with plans to bring in a full PA system so they can host a lineup of local musicians. Art will increasingly become incorporated into the building as well. Improper City spoke of plans with CRUSH, the annual street art festival, to paint more murals at the location. As explained by Grant, they aim to work more and more with the neighborhood and hope to adapt to whatever their surroundings demand most.
"We can't wait to engrain ourselves in this area," said Grant.
Just like its neighborhood, Improper City is going to change. It currently has 7,500 square feet and another 12,000 to come. This makes the new spot feels almost like a blank canvas.  But knowing the nature of this art-driven district, it won't be long before the area adds its own color.
Improper City is located at 3201 Walnut Street, Denver. It is currently open from 7 a.m. to midnight Monday to Friday, 8 a.m. to midnight on Saturday and 8 a.m. to 10 p.m. on Sunday. It officially opens on July 13. 
All photography by Amanda Piela.