This past Saturday, the 24th annual Westword Music Showcase (WMS) took over the Golden Triangle and several bars and nightclubs in downtown Denver for a full day of good music and great memories. The day began slow, with just a handful of people surrounding the Coor's Light stage as the opening acts look over. And though attendance seemed low from the looks of the main stage, people were gathering in venues from Club Vinyl to Stoney's to hear the slew of musicians set to rock the Mile High city. Read on to check out the highlights we caught at this year's installment.
–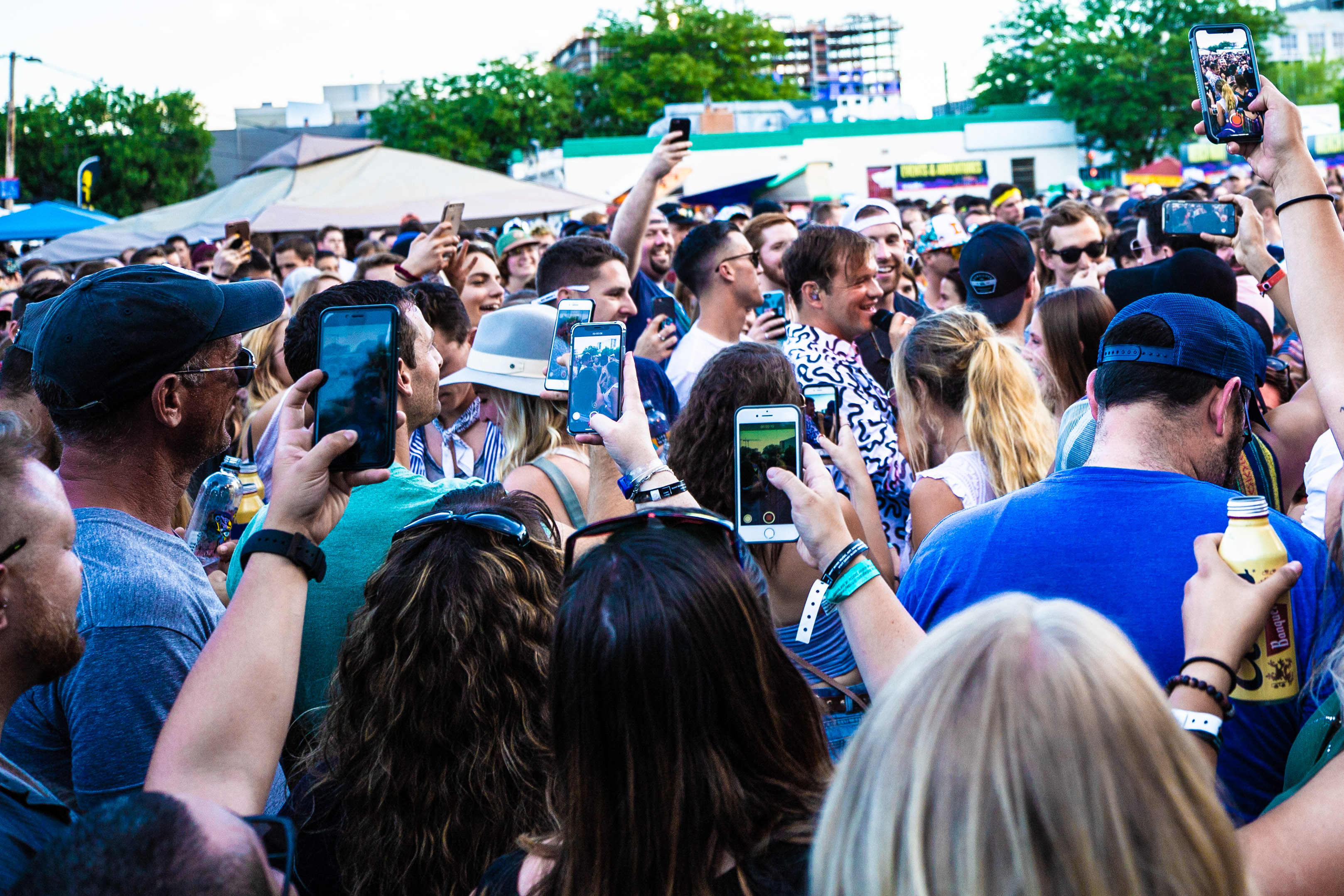 From rock 'n' roll to country, alternative, EDM and even hip-hop, this year's showcase brought out musicians from across the board. International icons and beloved hometown bands alike made their mark on the audience, proving that Denver listeners have a diverse taste in music. And who better to kick that off than local favorite Wildermiss? The foursome, known for grand sound and ethereal lyrics, took to the stage with two guitars and a keyboard and while the audience was thin, they showed us that no matter the size of the audience, Wildermiss brings their A-game. "Hey guys. [Are] you going to have a good day — feeling good?" asked lead singer Emma Cole. And the answer, across the board, was a yes. With haunting lyrics and intricate instrumentals, Wildermiss took the crowd on a journey and kicked off Westword Music Showcase on a strong foot.–
As Wildermiss began to wrap up their set, the crowd migrated just a few hundred yards over to the Mike's Hard Lemonade Stage to see California hailing Magic Giant perform. This alternative rock band has gained fame in recent years following their 2017 studio album In The Wind. Since, they've charted Top 30 in Billboard's alternative charts and have toured with Mike Posner, Beats Antique and Eric Hutchinson. Before rocking WMS the trio performed at Coachella and was named one of the 10 Awesome Bands to play Coachella in 2018. And their performance this Saturday was just that — awesome.
They took to the stage at roughly 1 p.m., and with a single drummer, stole the crowd's attention immediately. The show began with Brian Zaghi, cellist, guitarist, bassist, percussionist and back vocalist, beating his drums in the center of the stage. He was followed shortly after by lead singer Austin Bisnow and Zambrick Li. "We're Magic Giant from Los Angeles," announced Bisnow. "But it feels like Denver's our second home." This raw energy that this trio put down could be felt throughout the crowd and they soon had everyone jumping right along with them.
This slideshow requires JavaScript.
The best way to describe Magic Giant is an instrumental tornado of boho-chic energy with hints of pop. Their sound is comparable to an Avett Brothers-Imagine Dragons mashup and apart from performing with some of the industries biggest names they've been hailed as one of 2017's 10 new artists you need to know by Rolling Stone. And they proved that to be true at WMS, even in 2018. Of all the artist that we saw that day, this group in particular really stood out and while they don't have plans to return to Denver one thing is for sure when they do — we'll be there.
On the heels of the spectacular performance that the L.A. trio delivered, the crowd was buzzing and shortly made their way to some of the local bars and nightclubs surrounding the main stages — Stoney's Bar and Grill, being one of them. Stoney's featured two stages, one in their main room and one in Stoney's South. When we arrived Grayson County Burn Band had begun to will the room with what they call Campfire Country — a melange of acoustic guitar and rugged vocals.
On the other side, in Stoney's main room, salsa band Quemando took over. With 11 band members and 10 instruments, Quemando provided a sharp contrast from the folksy humble sounds next door. They filled the space with latin sounds — utilizing saxophones, trumpets, maracas, keyboard, drums and three vocalists. And in no time, couples began to take to the dance floor to show off their skills in this classic form of dance.
This slideshow requires JavaScript.
With eight venues and two outdoor stages, the Westword Music Showcase not only offered a variety of backdrops but also a variety of performances. In determining this year's lineup the team behind this event polled more than 200 music business wizzes — from promoters to fans and musicians. They narrowed down the more than 800 local bands into 150 finalists, nearly half of which performaned at the showcase. And from jumping with the bands to racing from one perfomance to the other, WMS kept us on our toes.
After getting down with Quenmando and Grayson County Burn Band we made our way to the Vinyl rooftop for ILL Se7en. Also known as Michael Acuña, ILL Se7en is not your typical MC. This activist, educator, poet and underground hip-hop artist produces more than music. He is known for spending his time in classrooms moderating conversations between police officers and students in an effort to encourage peace and trust — and his lyrics reflect that. From gun violence to race and raw emotion, the Vegas-born musician has a passion for real talk.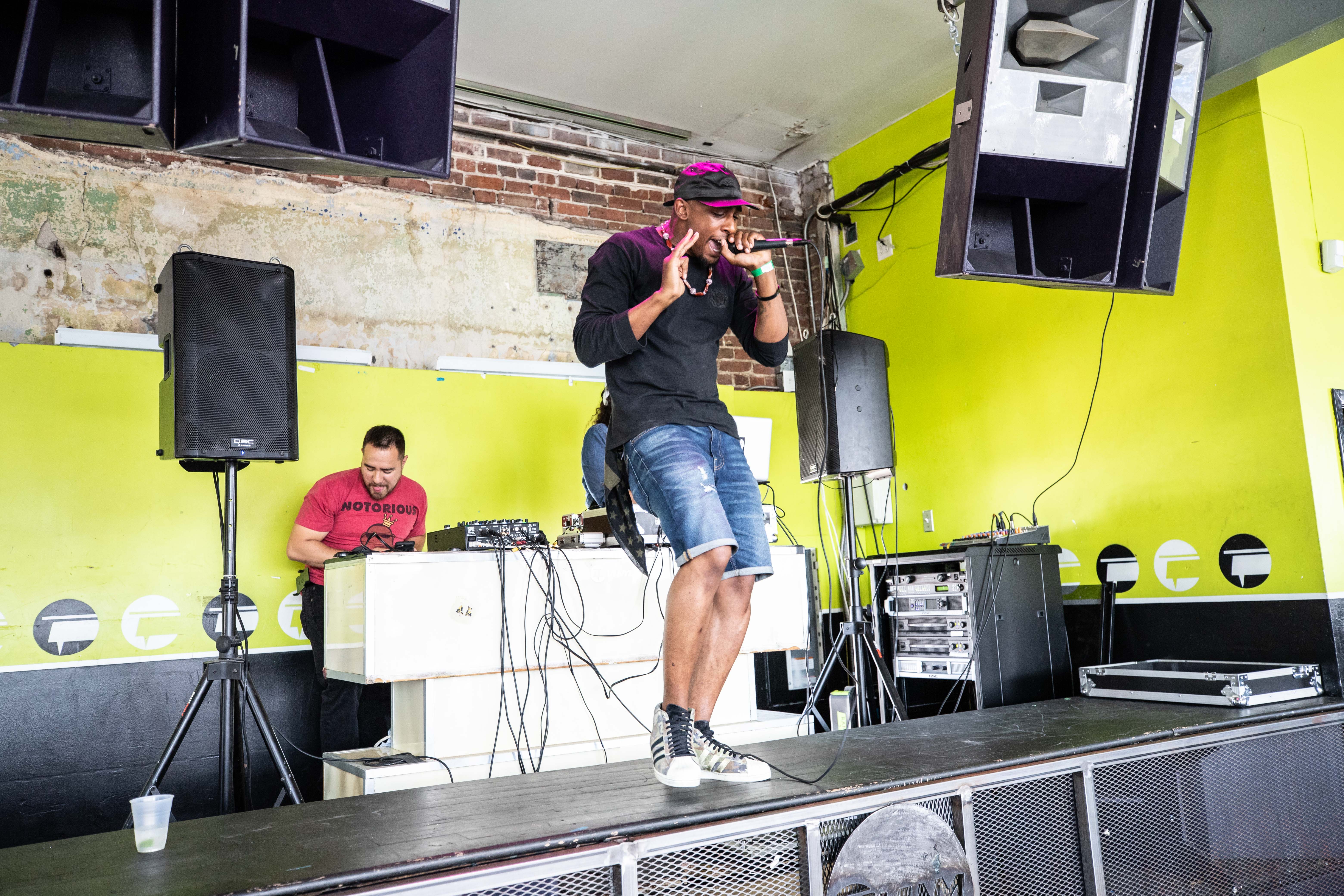 Our next stop was Vybe to catch local favorite CITRA. This four-man rock band has taken the Denver music scene by storm in recent years following their first album release, Mr. Copacetic. Apart from performing at 303 Music Fest, they've played in venues across the state and nation including an upcoming performance at the Bluebird Theater this July 21. The band was greeted at Vybe by a full crowd and the dove into their set with ease and energy performing hits like Felt So Right and That's What She Said.
This slideshow requires JavaScript.
CITRA works well together. Their stage presence emanates vigor, comradeship and brotherhood and they made the crowd believe in what they were selling. They were a welcome addition to the day and made Denver music look awesome amoung an international lineup.
CITRA wasn't the only local group or musician to kick-ass on Saturday — Ray Reed, YaSi, heavy rockers the Velveteers and many others represented the best of Colorado groups and showed that our state is chalk full of talent. The Velevteers, for example, won the Westword Music Award for Best Denver Rock Band of 2017 — and when they took the Vybe stage on Saturday, we could see why. The Boulder-hailing rock duo recently released a self-titled EP this year with a release party at Hi-Dive. Singer and guitarist Demi Demitro and brother John Demitro owned the stage with heavy instrumentals and aggressive lyrics. They performed ballads from their new EP with the kind of grit and grunge that one would expect from a Led Zeppelin concert.
This slideshow requires JavaScript.
This year's Westword Music Showcase, especially, highlighted some of the best of local music. In past years internationally renowned bands like New Politics, Dillon Francis, Matt & Kim and Cold War Kids were the highlight of the day but this year seemed to shine more light on the talent that we have in our own backyard. From hard-rock to hip-hop and alternative, the local bands that performed at WMS all brought their best. While Bonobo, Joywave and Galantis all delivered note-worthy performances, the hometown heroes really came through.
The 24th annual Westword Music Showcase was the place to be for music lovers of any kind. It offered not only a variety of genres and venues but also a solid mix of local, national and international musicians. By the time we left, we were blissfully exhausted after a day of non-stop movement and music. Overall, it was a perfect day. Between the sunshine, company and the cold beer one couldn't ask for a better overall experience. However, while those elements improved the mood it really was the raw talent of our Colorado musicians that made the 2018 WMS fantastic. –