–
Have you noticed a few things changing downtown? Pink billboards, smiley-faced clouds, kiosks in Union Station — these are the signs of the movement spurred by British artist Stuart Semple to incite mass happiness in Denver.
It's been just over a week since Denver started the six-week series of "artistic interventions" known as Happy City: Art for the People. So far, the events have focused heavily on educating people about mental wellness and offering a framework for making the most of the remaining interventions. Since the Happy City project is such a massive undertaking for the city, many different organizations are involved and helping to support, fund and enrich the programming. 303 Magazine stopped by a few of the events to see how and if happiness can be contagious.
–
–


Mixed Messages

This slideshow requires JavaScript.

One of the very first installments of Happy City in Denver appeared at Union Station last week — a black kiosk with gold lettering at the top, reading "Emotional Baggage Drop." Designed by Semple himself, the somber-looking station sits in the middle of the Great Hall and commands a lot of attention from passers-by. When it's open (which isn't all the time, as it turns out) there's a chance to step inside to explore the theme of "storing" your thoughts, like baggage. Ideally, once you've unloaded whatever thoughts weigh you down, you reemerge into Union Station with a lighter step, an enlightened viewpoint, or at the very least, a good chuckle with a stranger.

When the Emotional Baggage Drop first appeared, the purpose behind it was lost on some people. Perhaps best exemplified by a series of Reddit comments that questioned whether the booth was a "pop-up psychiatrist's office" or a "scream chamber," it does make one wonder why black was the color of choice. Of course, that Reddit thread also included a particularly sarcastic comment reading "I checked it out $1680/month incl gas, shared bathroom … off street parking extra, no dogs, no smoking, close to light rail and shopping, hotels etc … seems bigger on the inside."

Even though some might joke about the little kiosk, or question its effectiveness, there's still a curiosity to step inside. And much like other immersive art installations, once inside, the decision to suspend your doubt is left up to you. So in many ways, the Emotional Baggage Drop is, like one Redditor explained, a psychiatrist's office. Whatever or however much you put into it will be reciprocated.
Art Projects
A large portion of the Happy City interventions come in the form of visual art projects. Though some of the major events are scheduled for June (like the makeover of 16th Street Mall alleyways and a new Understudy exhibition) a few installations and pieces are already on display. Unlike art installations in galleries or museums, these pieces are subversive and nonchalant. They might not even catch your eye at first, but once they do it's hard to overlook them again.
Three billboards in the Denver Theatre District were painted with Baker-Miller pink, a certain hue that reportedly calms people who look at it, by local artist John Roemer. Based on a series of experiments and research conducted in the 1960s, this pink lowers heart rate, pulse and respiration of onlookers, making it a fitting color to plaster on the side of city streets. The three billboards are massive, allowing more time for the color to seep into people driving by, busy or plagued with road rage.
–
–
In order to find another set of artistic projects that are aimed at misdirecting people in a positive way, you'll have to look carefully at the LED screens downtown in four locations. Those large screens typically rotate through advertisements and announcements for the surrounding creative and cultural institutions. But for the next month, short animated films break up the commercialism in an overt attempt to comment on that commercialism, as well as technology more generally. So far, Vince McKelvie has showcased a few different animated shorts, with heavy insight about technology's influence on our wellbeing. One of McKelvie's films is shown above, from Happy City's Facebook page. There will be three more artists displaying their films on the screens throughout Happy City.
The four screens are located at 14th Street & Champa Street, 16th Street Mall & Champa Street, 15th Street & Champa Street and 14th Street & Arapahoe Street.
Happy Clouds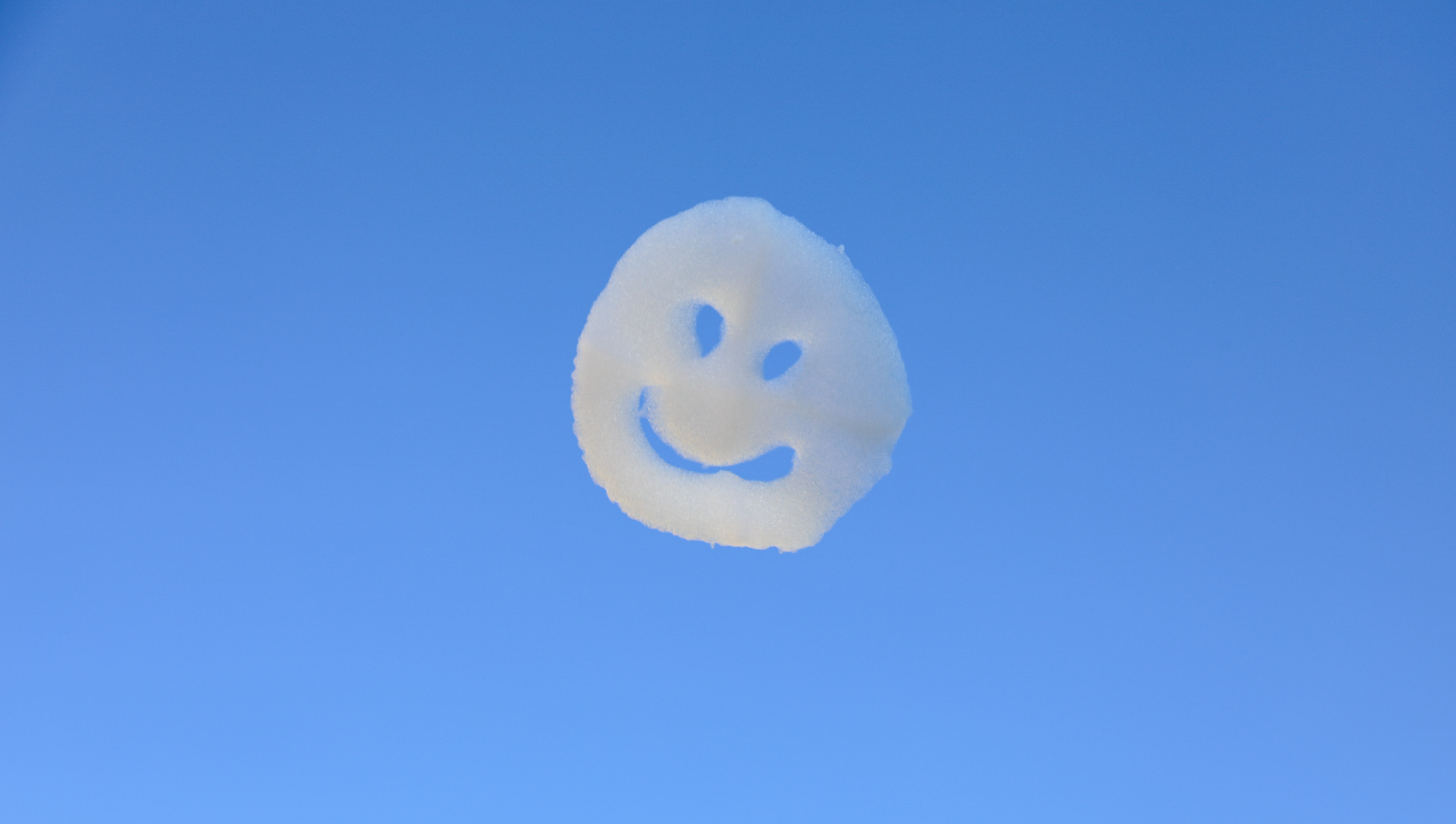 We can even admit that seeing the happy clouds for the first time was a little bit of a letdown. But what we realized shortly after thinking that was that it was that kind of unhappiness that all these interventions are aimed at interrupting. So the clouds weren't always perfect smiley faces, and there wasn't necessarily a flood or deluge of them all at once, but in the end, they were still charming and silly and they elicited the exact response wanted — a smile.
With only two happy cloud launches so far — one at the Convention Center and another at Museo de las Americas — there might still be improvements or alterations to the overall process. Especially with an upcoming launch at Red Rocks on May 31, with the Colorado Symphony orchestrating a soundtrack. Even still, each launch is an event that goes beyond the clouds, with plenty of other activities — both goofy and profound.
This slideshow requires JavaScript.
This has only been the first week of Happy City, and though the sunny weather and traditional start-of-summer activities may lend to the overall good vibe of the city, it sure helps to see entire events dedicated to just improving someone's day. The most apparent thing that we've gathered from this first week is that making people happy is an ambitious goal made easier when a community works together toward achieving it.
For our description of all the events during Happy City, visit here. 
For updated information about events, workshops, demonstrations and more, visit their Facebook page.