Samantha Aragon — commonly known as fashion designer, Lil Fresh Sam — strongly believes in the power of self-confidence and perseverance. Armed with those qualities, she is actively creating the life she always dreamed of and is eager to share that with the world.  Since 2012, Aragon's fashion line, INFATUÉ, has celebrated the bold and fearless with classic pieces that are transformed into one-of-a-kind, wearable art through Aragon's use of paint, gems or even faux fur. Over the years, INFATUÉ has garnered praise from icons like Method Man and Iggy Azealia, as well as major brands like UnderAmor and Skullcandy.
Her most recent endeavor, called Dreams Come True, was a fashion exhibit with interactive art components designed to draw attendees in and get them to think about what their dreams may be.  Held at Favor by Rome Boutique, the exhibit aimed to inspire the attendees by providing a window into Aragon's creative process through showcasing her latest designs and displaying vision boards she created. The exhibit also included prominently placed quotes by people Aragon admires, like Maya Angelou, and imagery of notable artists, like Frida Kahlo. The event was also created to support children in the community in need of supplies to help make their dreams come true. Aragon will donate 10 percent of the proceeds from the event to local nonprofits to sponsor kids who may not have the financial means to achieve their goals.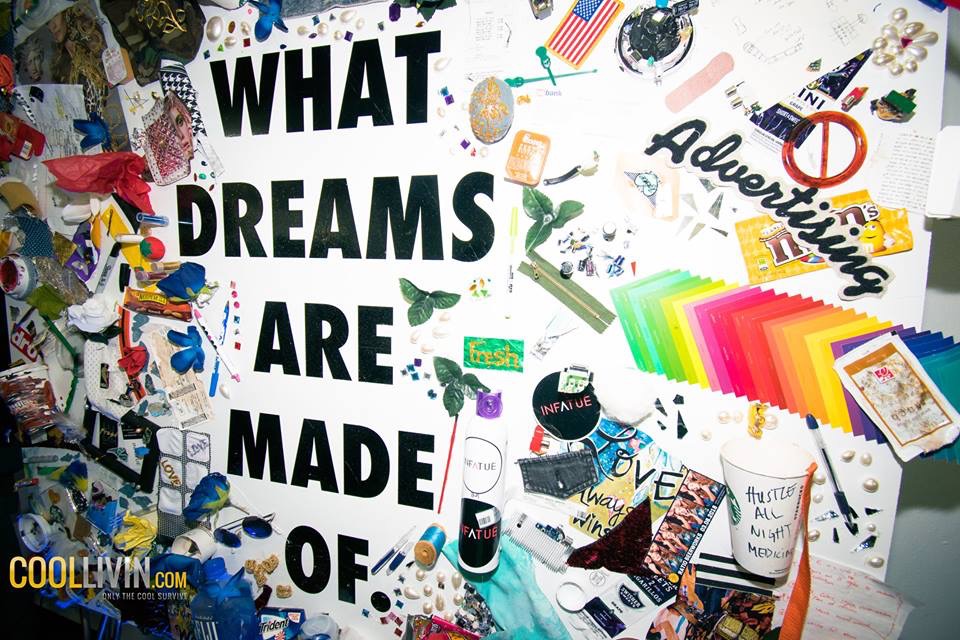 The exhibit's first art installation was a wall that had geometric cutout mirrors placed around the words "Wall of Dreams." On the side hung a chain with the instructions to write your own dreams on a piece of vinyl that would be tied alongside other peoples' dreams onto the chain. A small note on the side of the chain read that this specific installation would be placed in the city after the show. The location is yet to be announced.
The second was a massive collage titled "What Dreams Are Made Of." The piece hung above the ground and was plastered with everything that went into the creative process such as letters to self, gems and pearls, energy bars, magazine cutouts and even Swisher Sweets. Coffee cups were also seen on the massive piece with the words written on the sides of them, "Hustle All Night Medicine," representing the endless nights Aragon and her team spent creating the looks.
This slideshow requires JavaScript.
The most inspiring piece on display was an actual timeline that allowed the viewers to see the many major moments in Aragon's career. Dropping out of college in 2011 — something that could be scarier than starting — led the designer to her first fashion show the next year and after that, in 2014, her first red carpet event. Throughout the next couple of years, Aragon would have pieces from her line featured on television, in magazines and in her first exhibit in Denver that is to be continued in Los Angeles. The honesty that was in the piece was the most relatable. She opened up about struggling with a cancer diagnosis, deciding to buy fabric or food and how becoming an aunt changed her entire life — leading her to focus harder on her career.
Aragon had another goal for the exhibition, the night was free. She wanted everyone to feel like they could be in the space and wanted it to be humble. "I want everyone to feel welcomed, I want to make a space where anybody feels like they belong, it's what I do," she said. Denver has been her home and a place that she grew up in so she wanted to make sure people from her background would feel just as welcomed in a space of art and fashion. The number of people who attended Dreams Come True to view Aragon's work was a testament to her ability to carve out a niche for herself in Denver's fashion scene and beyond.
Photos Courtesy of Cool Livin