Spring is here, and you're 17 again. It's prom and you've got the perfect dress to showcase your unique style — complete with accessories. Maybe you have a really sweet date, or you're planning on partying with friends. It's the last hoorah before college where you'll likely just live in sweats or track shorts. You are nervous, psyched or both. Getting ready took hours. You want everyone to notice you.
Everyone has these prom memories. Whether or not it was "a night to remember," your prom was likely still one to remember because you will recall that evening, what you wore, what your date wore and all the embellished details piled as high as silver, strapped six-inch heels.
Imagine not even going.
Last year, USA Today published an article on how much teens and their parents spend on prom, and the average price nationwide was more than $600. Let's face it — that's insane. Many teens will not get to attend prom at all because their families cannot afford it, but there is hope.
Bella Boutique in Denver is working to change that. As Colorado's only official 501(c)3 nonprofit dedicated to providing area teens with free gowns, shoes, accessories and more for their high school dances, founder Tia Hunsperger has a lot of work to do.
Every year during prom season, Hunsperger and her volunteers bring more than a thousand dresses of all colors and sizes to a vacant space and set up shop. Complete with dressing rooms, jewelry racks, mirrors, a modeling walkway and more, Bella Boutique is open during the spring — and sometimes during winter for winter formal dances — and is committed to helping teens get ready for their big dance, free of charge. Donated by local businesses and generous ladies who no longer need them, the dresses, shoes and accessories are inspected by Hunsperger and her employees to ensure that they are on-trend, stylish and in great condition. Many of the dresses which are donated have never been worn, but are donated by stores who cannot sell them due to slight damage — missing beads, etc.
Hunsperger, who is originally from Seattle, used to volunteer for The Ruby Room, a local nonprofit with a similar mission dedicated to helping Seattle teens, but was inspired to collect dresses by her friend Nipal who originally started a similar organization called "The Princess Project." When Hunsperger moved with her husband to Denver, she created Bella Boutique, named in honor of Nipal's late daughter Danielle "Bella." Hunsperger said she was encouraged to work with these organizations because of her own experience growing up.
"I did not get to go out and buy the fanciest dress that existed," Hunsperger said. "I wouldn't have necessarily said I was from a low-income family, but we were a family shopping the sale racks for sure."
She also said it wasn't really about the fashion.
"It's going to sound bad to a fashion reader, but it was less about the fashion and more about being able to help people," Hunsperger said. "I was a pageant girl once upon a time, so I own some fancy dresses and know how to put a dress and shoes on because I don't know how to solve world hunger. I don't know how to — you know — cure cancer, but I know how to dress a girl up, make her look pretty and make her feel good about herself."
"It [Bella Boutique] was a way for me to give back and feel like I could impact our community by giving the girls coming out of high school — especially a lot of the kids that we work with coming out of some challenging upbringings — an opportunity to feel like there's hope and to feel like there's an opportunity for them, and that life might look different outside of school than it did in school."
Hunsperger estimates that this season, Bella Boutique has helped nearly 300 teenage girls from the Denver area get ready for the big dance. Bella Boutique will stay open for a couple more weeks in May until all the local proms are over, but Hunsperger expects some more will come in for last-minute shopping.
Each teen who qualifies must make an appointment, so a volunteer can help them try on dresses and choose shoes and accessories. Bella Boutique also partners with the Aveda Institute in downtown Denver, which gives them a gift certificate to make an appointment to get hair and makeup done on the day of the dance.
How does a teen qualify?
"They will qualify for our program if they get free or reduced school lunch or if a community leader refers them to us," Hunsperger said. "It could be a teacher, it could be a pastor, it could be a doctor, a coach — whoever it is in the community that knows a little bit about their situation and knows that they need some help. We specifically ask that it's not your own parents. Think of it as a student asking for a letter of recommendation for a scholarship program."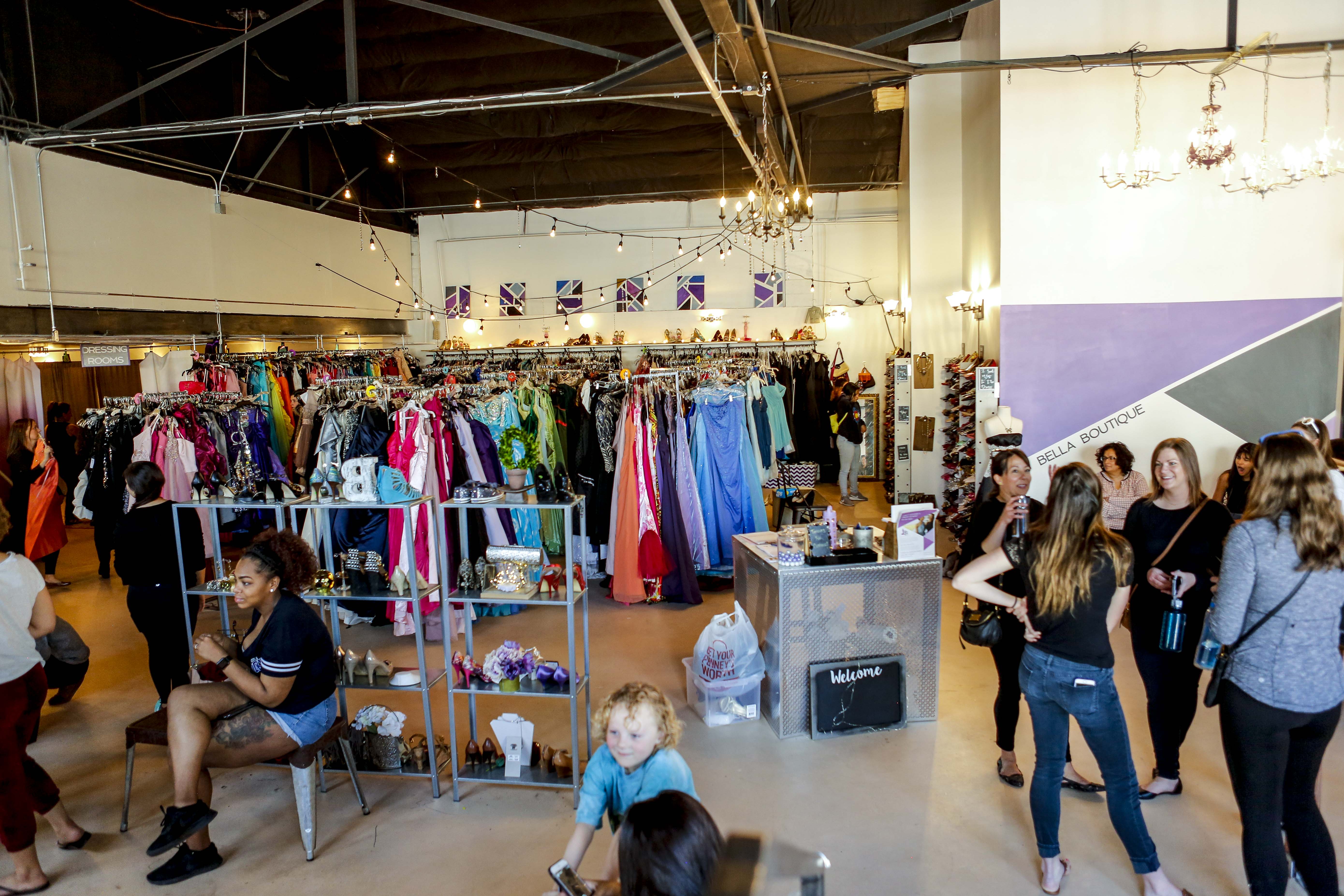 And it's not just teenage girls who qualify either.
"We don't do tuxes or suits, but we're happy to help a transgender student wear a dress to the dance," Hunsperger said. "So, we'll help boys or girls, but we just have dresses."
Many of the teens who visit Bella Boutique are extremely grateful.
For 18-year-old Sierra Morales (pictured in header), she was touched the woman assisting her was not getting paid.
"I think that's the best thing is that they're just helping us," Morales said. "This means there's hope for girls who may not have the money or even the mindset to go to prom or have pretty dresses on like this."
Tahanna Clayton, an 18-year-old who attends Sheridan High School, is excited she gets to finally go.
"I never went to my junior prom because of not being able to pay for a dress," she said.
Morales' mother, Angel Ramirez, says the experience has touched her too because she wanted her daughter to attend the dance, but was having a hard time affording it.
"I had just taken her shopping for prom, and it was so expensive," Ramirez said. "It's her senior year and I didn't get to go to prom, so I'm kind of living through my daughter. She's my only girl. She's the one that told me about it [Bella Boutique]. I guess they heard about it at school and wanted to check it out, but I didn't realize it was going to be half of what it is. It's just an amazing experience. I don't have all the means to do the hair, the makeup — so I'm just thankful. I'm grateful they have stuff like this."
Ramirez hopes that other parents and teens hear about this amazing opportunity.
"All these young ladies in here — they're probably in the same situation," she said. "Some of the parents don't have enough to make a living now and to have something like this just given to the kids is a great feeling."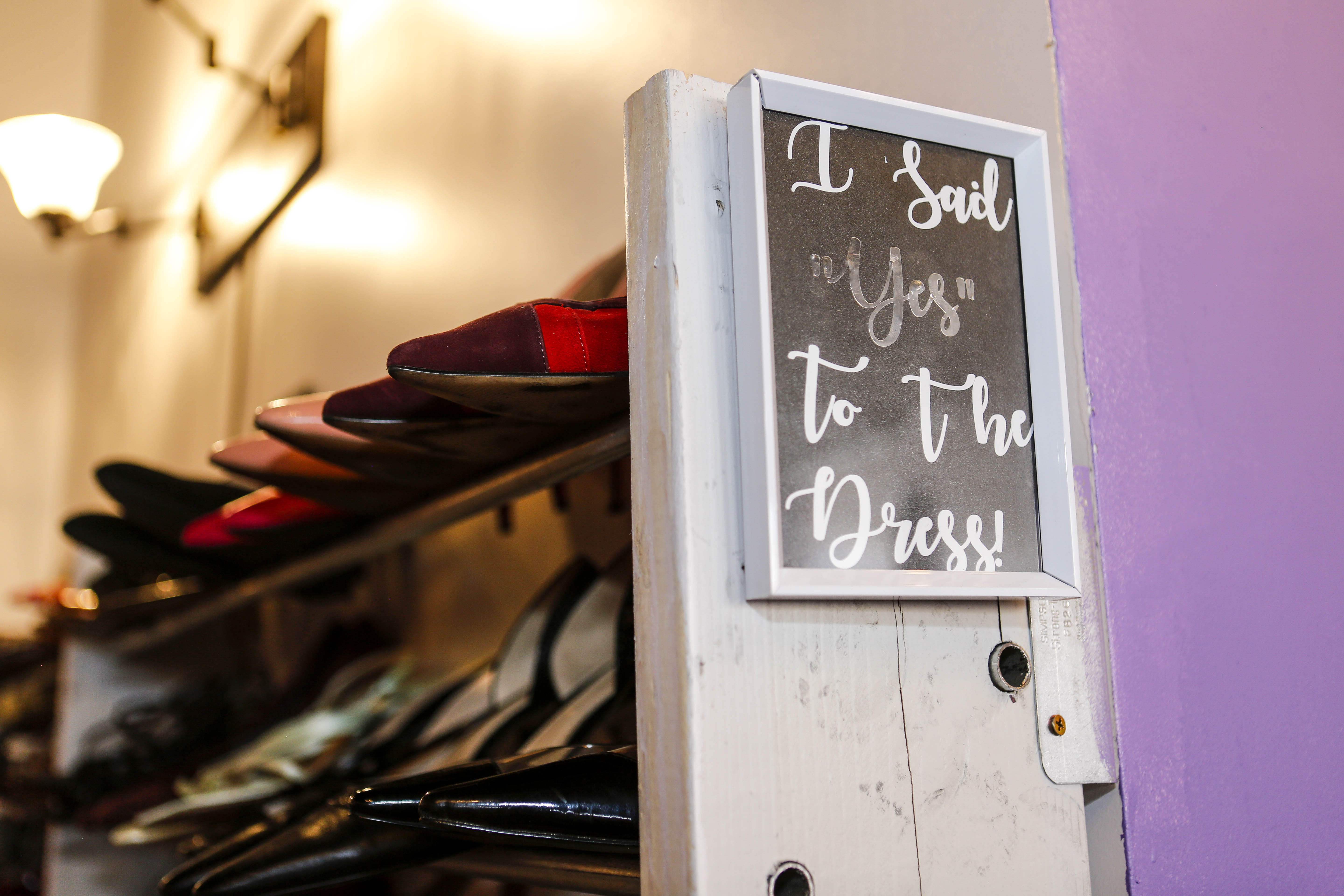 Hunsperger said that people's reactions are why she loves Bella Boutique. She and her volunteers love to receive prom photos of students they have helped and hear about the great night they had. Some occasions are more memorable and Hunsperger is touched by the gratitude she sees from the teenage girls.
"There was a girl that I worked with personally four or five years ago, and after we picked out her dress, we went to pick out jewelry and as she was looking at jewelry and we were getting it wrapped up for her, I noticed that she had taken her own jewelry that she had on off and left it on the table," Hunsperger said. "She was going to give it to us because she was getting something in return, and I was like, 'No, no, no. Your jewelry.' We have many sweet moments like that where people are really thankful."
Hunsperger said her mission is to make sure nobody ever misses out on a school dance because they couldn't afford it. "I think if kids want to go to an event like this, they should have the opportunity to. Not everybody has a wedding day to dress up for, but most high schools in the US have a prom and everybody gets the chance to go," she said.
Bella Boutique is happy they get to make that happen.
"Every girl needs to have great self-esteem and feel like they're powerful and they're amazing," said Hunsperger. "And if for one minute when they come into the boutique, we can tell them that we're excited and proud to be a part of this moment — they totally deserve that."
To learn more about making donations or volunteering, please visit Bella Boutique's website. 
All photography by Amanda Piela.