This past Wednesday, Nottingham's Jake Bugg brought his acoustic tour to Denver's Bluebird Theater. Armed with at least six guitars and the voice of a god, 24-year-old Bugg showed the Mile High City what acoustic performances are all about. In a haunting, intimate interpretation of his traditional show, Bugg established himself as one of the best folk-rock vocalists of our time. Yet with four full-length studio albums under his belt, the musician remains an underdog in the States.
Nina Nesbitt opened the show with her first-ever Denver performance. Not only was it Nesbitt's first time playing in this city, this tour with Bugg marks her first time playing in America, period. The Scottish singer-songwriter mixed acoustic instrumentation like piano and guitar with her soothing and ambient vocals. It was a generous mix of folk and blues intertwined with gorgeous falsettos and admirably balanced tonality. It was a wonderful kick-off before Bugg.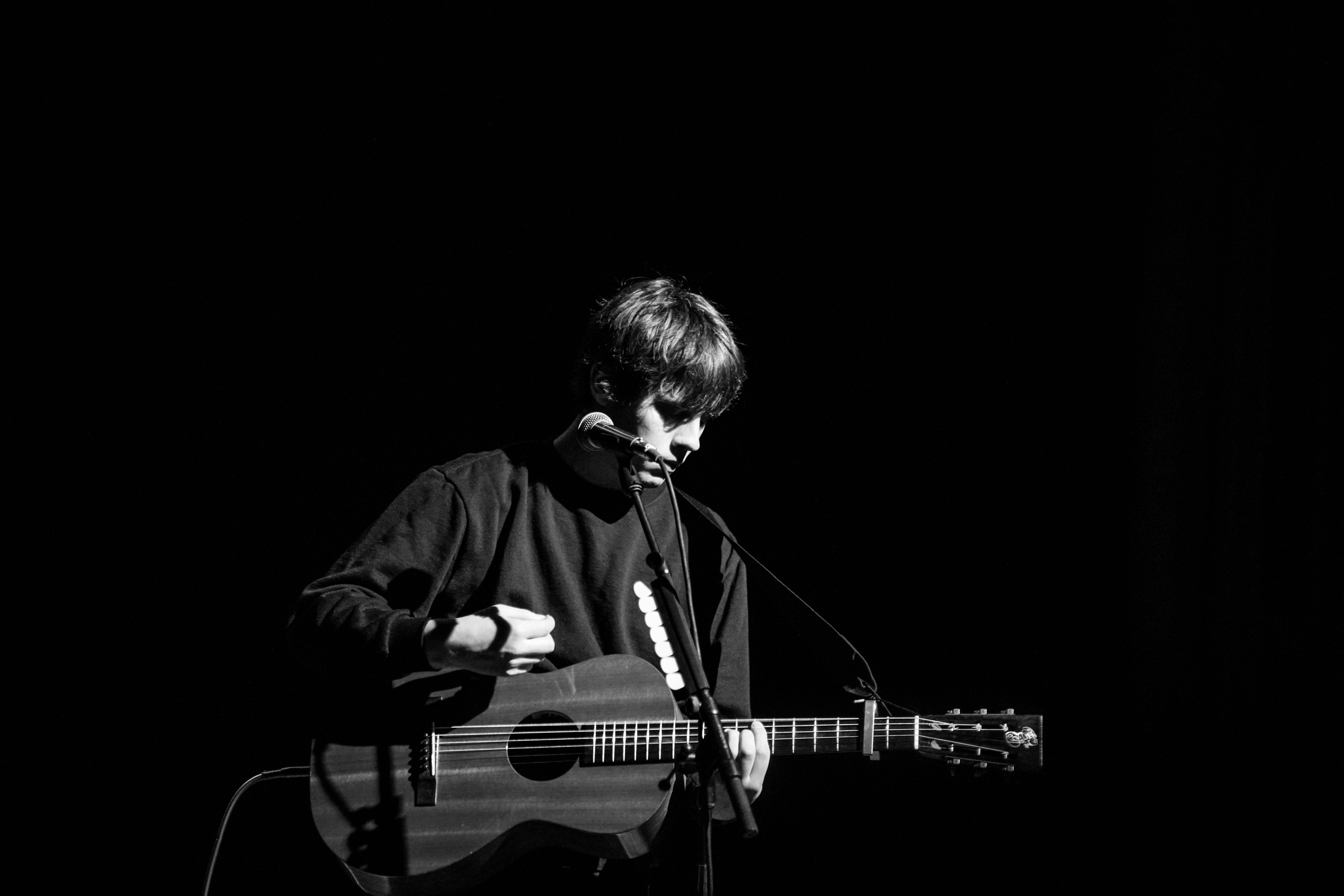 Bugg took the stage, greeted with a roar of applause that he didn't seem to expect — the first of his many modest moments last night. Sporting all black, no backdrop and simply a spotlight for lighting, it felt like Bugg was embracing his dive-bar days. Sinking into the theme further, he even took a request (we'll get to that). Acoustic guitar in hand, Bugg sported his sad eyes without many expressions occupying the rest of his features. He wore what seemed to be a troubled past — and even maybe a present one, too — like his shadow on the stage. 
Very few vocalists are perfect live. Something that became clear by the end of the second song — "Saffron" — is that Jake Bugg is one of them. His ability to jump from note-to-note without slurring them in transition is astonishingly impressive. He gets under your skin and speaks to your soul — not only speaks to it but has a conversation with it. It doesn't seem like just plain talent for Bugg. Like a preacher giving a sermon, his words just seem to flow out of him seamlessly with an unbelievable weightiness. Every time he opened his voice the audience grew breathtakingly quiet. Fans were truly captivated — enchanted even. It was a tranquil crowd, aside from the moment Bugg took off his jacket, which pulled up the back of his shirt exposing a little skin. The audience shouted "woo's" and cat-calls, provoking a light-hearted response from Bugg: "Ain't nothin' to see here folks."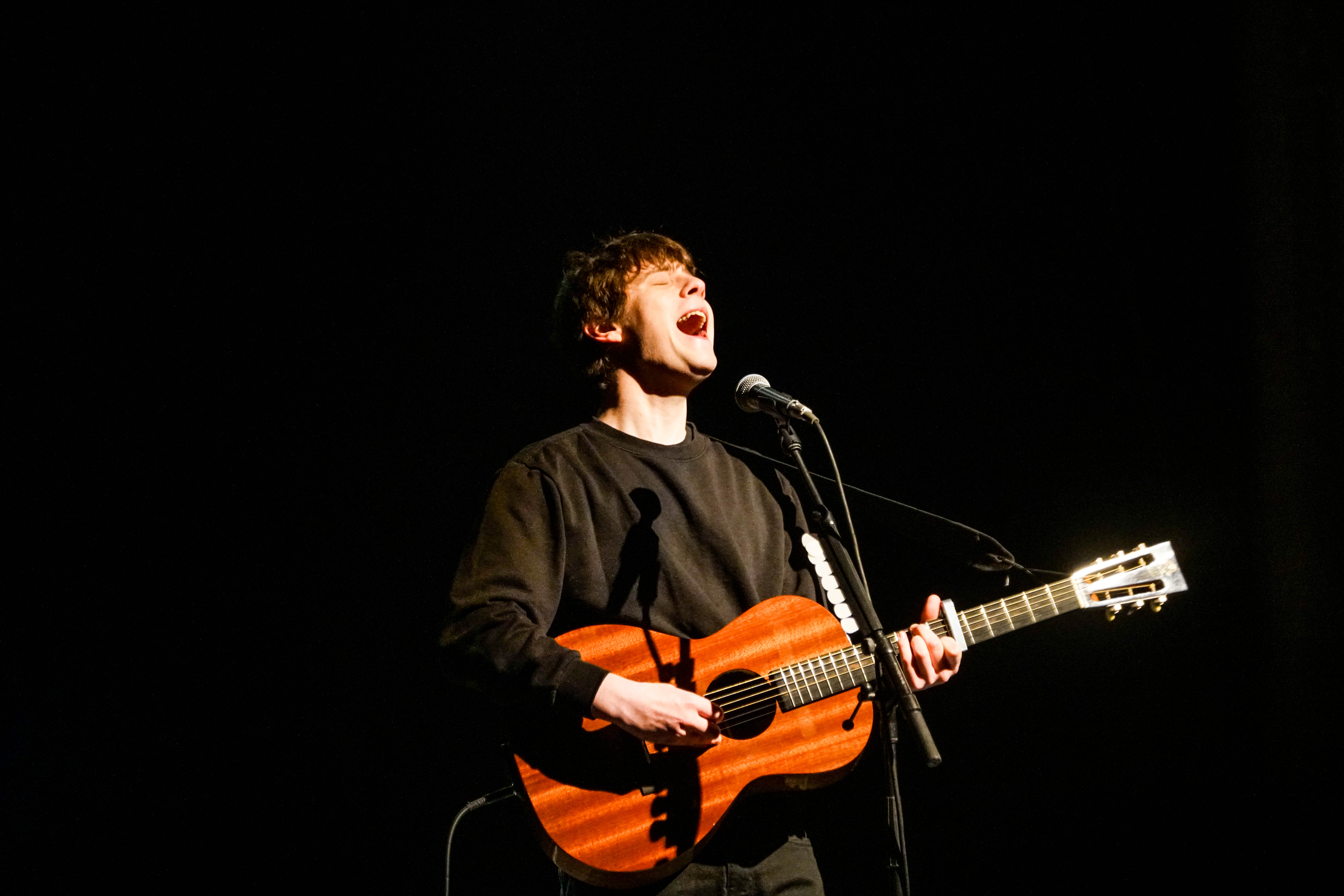 Bugg's vocals weren't the only thing that impressed. At points, it seemed the musician was just showing off with his guitar playing. But if you're going to show off at least make it impressionable, and Bugg did exactly that. Though Bugg is truly an incredible performer, he's modest. At one point in the night, the musician said, "Thank you very much. I hope it sounds alright." As one would expect, the crowd extended Bugg some reassurance. Bugg introduced many of his songs throughout the evening, offering background information and inspirations behind the tracks to fans.
"Y'all seem like a very nice audience, so thanks for coming out." – Bugg
Someone yelled, "Two Fingers" which Bugg responded without hesitation, "No." There were several moments throughout the set where hecklers requested "Two Fingers," but when one woman shouted, "Never Wanna Dance," Bugg took a moment to consider performing it. "I don't know. I haven't played that for ages," Bugg said. But he played it — effortlessly and flawlessly — though it was his first time ever playing the song acoustically.
"Never Wanna Dance" wasn't the only treat the Bluebird audience was given last night by Bugg. The musician also performed "Broken" — a song he seldom plays on tour these days. Special surprises like that, which were woven into the set, were the icing on the cake. The acoustic nature of the show allowed the audience to pay more attention to Bugg's intricate and emotional lyrics as well as the subtle pleasantries in his voice. This show is one we won't soon forget.