At 16-years-old, Billie Eilish has a stage presence of someone far beyond her years. The California-hailing singer-songwriter's enchanting performance at the Bluebird Theater Friday night involved a simple set, with just her, her brother Finneas, a guitar and the occasional ukelele. Her performance, however, was anything but simple. She played nearly every single fan favorite off her new and old albums. Over a span of an hour and a half, she returned to the stage for not one, but two encores and reminded all in attendance that age and talent are not mutually exclusive.
The night began with opener Reocragun. Sporting dreaded hair and brightly colored clothing, the two-some brought West Coast hip-hop to Denver and made it clear that "they were just tryna have fun." With a diverse array of moods and beats the duo showed that though they're new to the stage life, they could make up for it with endless energy, authentic immaturity and no shame in their game.
"It is so good to be in Denver," the duo announced. "We will be back. Now, are ya'll ready for Billie? I still have to clean all of my shit up but she'll be out soon ok?" He announced — and with that the crowd erupted, filling the room with screams and chants for the girl that we'd all come to see. At nine o'clock on the dot, two men sporting white jumpers and a green bandana over their mouths and noses took the stage. The stood side-by-side and staring into the crowd they raised their right hand and shot dollar bills into the audience. Eilish then waltzed onto the stage in all black with a red puffer coat and kicked off the performance with a classic, "Bellyache." It was clear a mere 30 seconds into the performance that everyone in attendance new her lyrics by heart. The room filled with not just Eilishe's voice, but the voices of hundreds of dedicated fans who probably knew the words better than the writer did.
"It's so hard to breathe here guys," laughed the pop-star. "We're so high up and bitch, I have asthma too! But honestly fuck it, let's go hard."

This slideshow requires JavaScript.
Regardless of the lack of breath, Eilish dove into her next song, "Watch," (and every song after) with complete abandon.  Each song was adorned with a simply lit background, keeping it simple to let the music shine. She performed all of the expected fan favorites, from "Bellyache" to "Six Feet Under," "Idon'twannabeyouanymore" and of course, "Ocean Eyes."  
Those who don't know Eilish usually know "Ocean Eyes." It racked up more than 44 million streams on Spotify and was remixed by DJs across the globe. Her perfectly haunting voice filled the room with "you really know how to make me cry when you give me those ocean eyes," and reminded us all why we've had the chart-topper on repeat since it first came out in 2016. Few performers sound through headphones exactly as they do on stage, however, lucky for us, Eilish is one of the few who does.
Eilish was, throughout the entire performance, exactly what you would expect in the best way. She laughed, jumped, threw down a couple of choreographed dances with brother and guitar player Finneas and even whipped out a ukelele for her cover of Drake's "Hot Line Bling," (which we liked better than the original). Throughout the night, she continued to deliver a mix of wanted predictability and appreciated surprise, even performing a song that hasn't been released.
"So I'm going to perform a song for you that's not out yet," stated Eilish as she took a seat. The crowd fell completely silent as she strung together melancholy lyrics over the calm and eerie sound of a ukelele. And though she didn't announce the name of the unreleased track, we can tell you that when it does drop, we'll be the first to download.
"This is what I've dreamed of my whole life," stated the young star. "Thanks for existing Denver, I've been on this tour for two and a half months and tomorrow is the last show, so I'm glad to be ending this tour here, with you. I'll be back soon. And yes, I do have one more song for you, dance with me."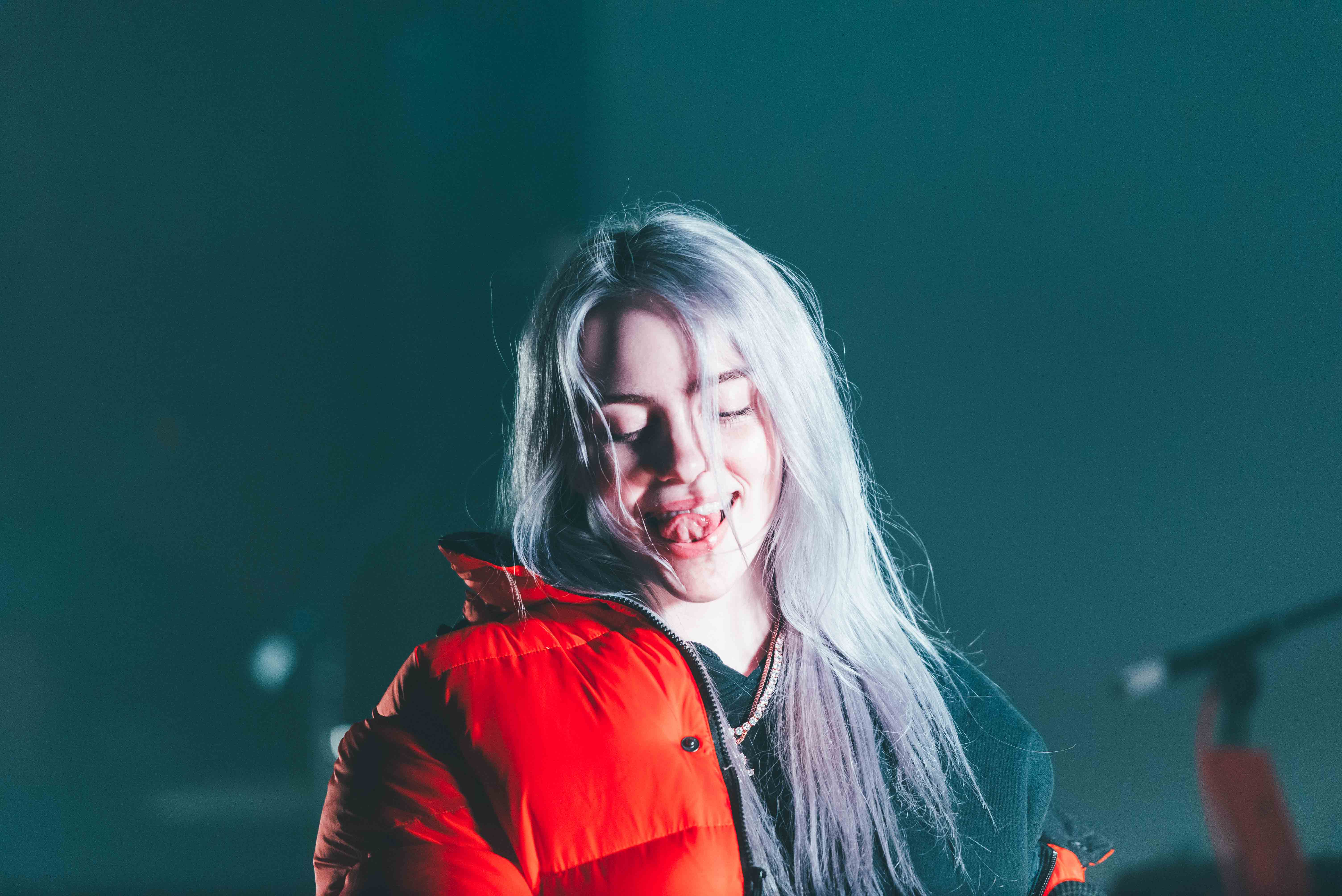 Eilish then jumped enthusiastically into a rendition of a hit track off her latest album "My Boy". With more than 20 million plays on Spotify, the anthem is one of her most beloved songs and that rang true at the Bluebird Friday night as a room full of dedicated fans sang "if you want a good girl than goodbye," along with their idol. Following the banger, Eilish left the stage, but fans wouldn't let her go easily. They chanted "Billie, Billie," in unison until she came back out greeting the audience (inhaler in hand) with a "hey, I'm back."
She came back out for two encore performances. First with romantic favorite "Hostage," and ending the entire night, fittingly, with latest release "COPYCAT".  The entire performance was predictably perfect. She gave fans exactly what they wanted, and expected, and proved to those unfamiliar with her that she would become one of their new favorite artists. And though Eilish is a mere 16-years-old, she performed with the confidence of a woman far beyond her years, ending the night with a simple bow before exiting the stage.