High Point Creamery is Denver's ice cream shop known for obscure flavors and a deep attention to flavor detail. This local favorite has gained fame throughout the Mile High for serving up unexpected frozen desserts with a feel for community. And now, the dynamic duo behind this sweet sanctuary is opening a third location in one of Denver's oldest neighborhoods, Berkeley.
"We've always wanted to have three shops… I guess we just like odd numbers," explained High Point Owner Erika Thomas. "And we've been working on this shop for about two years. It was previously a fitness studio, a black hole. The floors were black, the walls were black and the ceiling was black."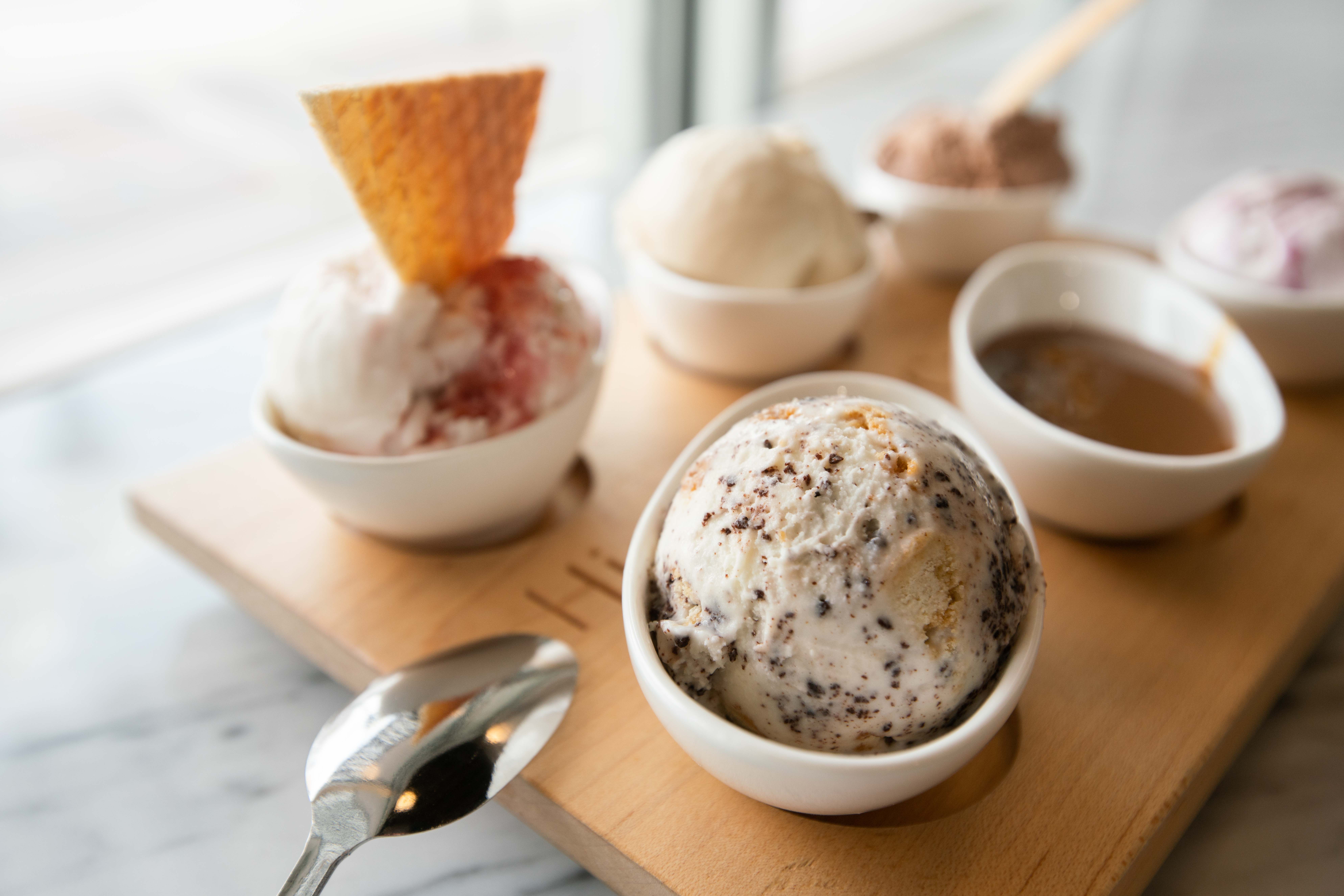 Erika Thomas and husband Chad Stutz made the shop unrecognizable — ripping out the original floorboards held up by stilts and rocks, renovating the walls from pitch black to bright white and adorning the space with marble tables and wall to wall benches to accommodate the community. They took a space centered on the burn and transformed it into a space centered on the churn, and the community is pumped.
"We did a pop up in Berkeley a while back and that generated a lot of excitement," explained Stutz. "Now, we have to clean the glass every day because people are going by with their faces pressed to the window wondering when we'll open. So we already feel embraced by the neighborhood."
This dynamic dairy loving duo believes that ice cream shops are the last edition of a neighborhood, the final piece of the puzzle that bring families together and solidify it as a community. And High Point's previous two locations have done just that. They have served as a hubs for communication, connection and diversity. Take their Hilltop location, for example, it sits in a historically Jewish neighborhood. And what did High Point do? They became the first ice cream shop in Denver to serve kosher cones. Now, members of the community from the synagogue to the church and mosque visit to enjoy a frozen treat.
From Hilltop to RiNo and now Berkeley, this husband and wife team is bringing unique ice cream to unique corners of Denver. Whether you're stopping into the Tennyson location for a scoop of blackberry basil or heading to Denver Central for classic vanilla, this shop has a flavor for every palette.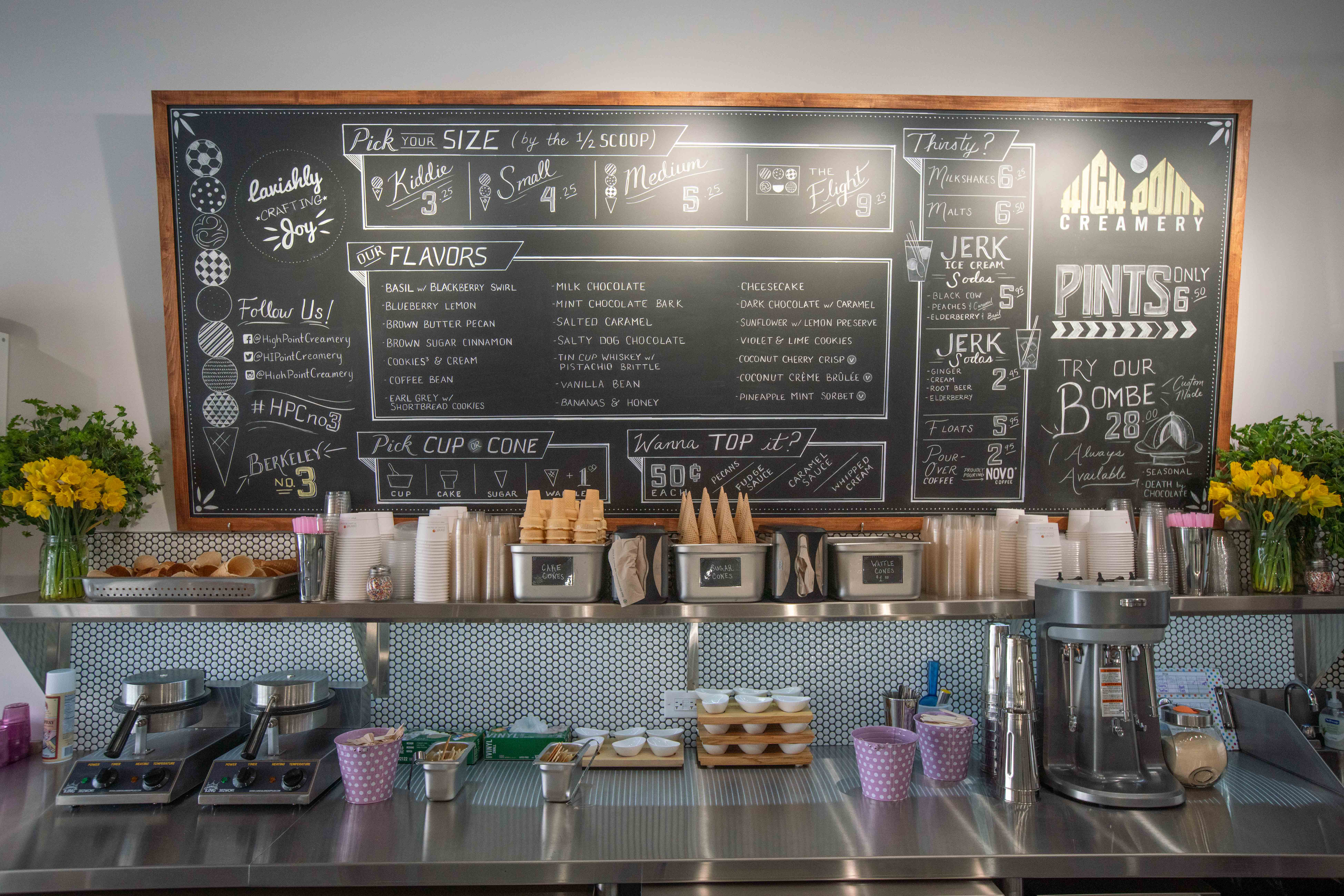 "If we're making it, I want it to be the best that it can be," explained Thomas. "For example, our cheesecake ice cream has a long story of growth and development behind it. Cheesecake is my favorite cake, I just love it, and I wanted to make the best cheesecake, not just another cheesecake ice cream. When we were first dating we would go to a spot in New York City, a famous spot called Juniors. So for our cheesecake ice-cream, we try to make it like that … we make the graham cracker crust from scratch to replicate the perfection that Juniors had."
And the cheesecake ice cream isn't the only batch that this local creamery is mixing to perfection. From seasonal flavors like sunflower lemon preserve to signature flavors like Tin Cup Whisky and pistachio brittle, High Point masterfully crafts each batch with a unique edge, even the vegan ones.
"Most of our flavors develop from a problem. The problem could be a holiday, or that I needed something for summer and we've used all of the fruit so I'm looking at what fruit I have left," explained Thomas. "For example the cherry coconut crisp… the problem was that people wanted to have an ice-cream that was dairy free and gluten free and I don't like making things that aren't delicious. And to make that delicious is a challenge."
Thomas began the process of making vegan delicious last fall. And according to her, it took awhile. They tested recipe after recipe, without satisfaction, until one day they were able to combine tapioca flour with maple syrup for the perfect blend. Since they've continued to create vegan concoctions that would fool any ice cream fanatic into thinking it was dairy.
"Our coconut creme brulee is one of our most popular flavors, but it's also vegan," laughed Thomas. "We've really been working to develop our vegan flavors so that no one would know they were vegan and gluten-free. We have a lot of customers who have requested both of those things, and we want to give them something that they'll love."
While Thomas and Stutz aim to create obscure concoctions, they also stay true to the classics. From milk chocolate to vanilla, cookies and cream and mint chocolate chip — guests will find all of the fan favorites that one would expect while gazing into the High Point cooler. This home-grown creamery is covering all angles.
"I don't remember the first flavor I ever made but I do remember the one where I thought… I can do this. For real," explained Thomas. "It was the blackberry basil, and we serve that to this day. There was one point when I attempted to make a pesto ice cream. It was disgusting, but I've made all kinds of weird ice-cream, some work some don't."
Whether you're a die-hard lover of butter pecan or looking to experiment with whiskey-infused, sunflower adorned, salted, homemade cookie injected desserts  — High Point has a handmade mix for all.
You can catch them on April 6 at 4 p.m., at their new location 3977 Tennyson Street, Denver where they'll hand out $10 gift cards to the first 50 customers. Ice cream will also be buy-one-get-one-free from 4 to 6 p.m.
All photography by Kyle Cooper.