'Tis the season to spread holiday cheer. That said, what's better than celebrating the holidays while giving back to the Denver community? The 303 Magazine staff rounded up a list of concerts that benefit both local and national organizations for our Denver locals to check out. That said, here are seven Colorado concerts for a good cause. 
Leftover Salmon "Art That Feeds" Food Drive
When: Friday, November 24
Where: Boulder Theater — 2032 14th St., Boulder
Cost: $32.50; get tickets here.
The Lowdown: On November 24 and 25 Boulder's own Leftover Salmon and Denver's Conscious Alliance are teaming up for an 'Art That Feeds' Food Drive at the Boulder Theater. In fighting to end hunger and empower youth, the first 150 people to donate 20 non-perishable food items (or a suggested monetary donation) will receive a limited edition screen print poster. Items that are most needed include canned soups, pasta, tuna, oatmeal and peanut butter. Visit the event Facebook event page for more details.
Crisp Mo Show
When: Thursday, November 30
Where: Herman's Hideaway — 1578 S. Broadway, Denver
Cost: $10; get tickets here.
The Lowdown: The first annual Crisp Mo show is to take place November 30 at Herman's Hideaway. Teaming up with Crisp Barber Shop, CU Cancer Center and Loturco Chiropractic, the Crisp Mo Show is to feature live rock music from Scooter James & the Well Whiskey Boys as well as reggae-rock vibes from The Hashtones + The Wandering Natives. The event showcases other local artists as well such as Denver's Larry Nix and Dedoz, making for a fun local outing benefiting a great cause. All proceeds from the event will benefit the Movember Foundation— a multinational charity that aims to raise awareness of and money for men's health. Visit the Facebook event for more information.
Pantheon
When: Saturday, December 2
Where: Aztlan Theatre — 976 Santa Fe Dr., Denver
Cost: $10; get tickets here.
The Lowdown: An encompassing show that takes you across the rise of Olympus, this Aztlan Theatre concert features the sounds of seven DJs and 2 MCs. Joining forces with Firepower Records, Q-Vents and Lucid Living Productions, the concert is to showcase Firepower DJs such as Cherney, Rettchit and Messinian (the MC of dubstep trio Destroid). But that's not all — Pantheon has joined forces with "Impact," a Denver-based charity which feeds thousands per year. Pantheon's curator wanted to give back to the community and thus, is offering two dollars from every ticket purchased to be donated to the organization.
An Evening with Ben Nichols of Lucero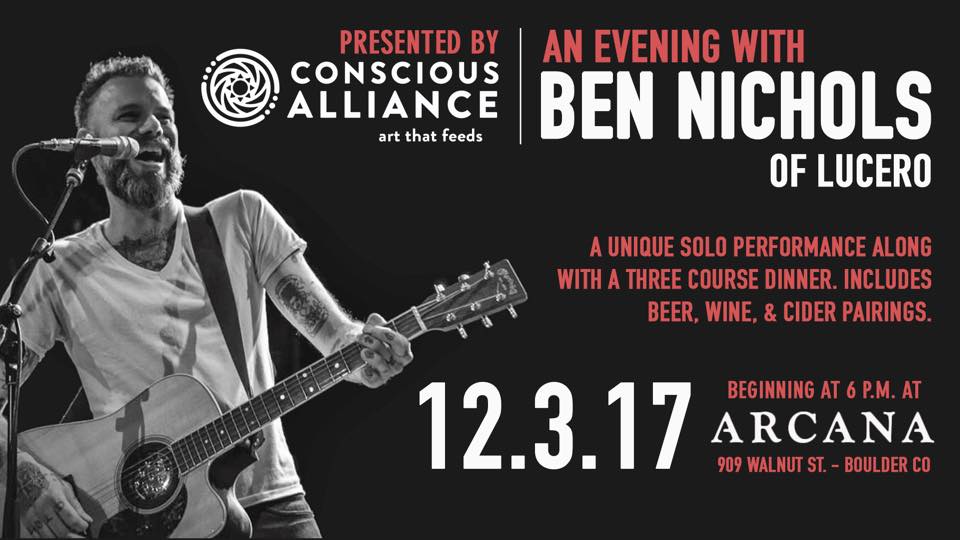 When: Sunday, December 3
Where: Arcana Restaurant — 909 Walnut St., Boulder
Cost: $185. VIP Ticket Price: $235 — All the benefits listed above plus a happy hour 'meet & greet' and reserved VIP seating with prime viewing. Get tickets here.
The Lowdown: Conscious Alliance is teaming up with Arcana Restaurant to help provide healthy food for food banks nationwide. This exciting dress to impress event will feature a live solo musical performance by Ben Nichols of Lucero, an American country-punk rock bank from Tennessee, as well as a three-course dinner including wine or beer and an exclusive silent auction. For more information visit the official Facebook event here.
Boogie for Puerto Rico
When: Sunday, December 10
Where: Your Mom's House — 608 E. 13th Ave., Denver
Cost: $10; get tickets here.
The Lowdown: After the devastating Hurricane Maria that hit Puerto Rico in September, Your Mom's House was determined to help. The Category Four Hurricane left the people of Puerto Rico with no power, no food and no hope and full power isn't expected until six months from now. Your Mom's House is passionate about helping those in need and will be hosting healing workshops, tarot card readings, games, live art, raffle prizes and more. Support our fellow citizens and come dance at Boogie for Puerto Rico. More details on the Facebook event page. 
No Barriers Benefit Concert
When: Friday, December 15
Where: Mercury Cafe — 2199 California St., Denver
Cost: $15. $25 mystery boxes available for purchase at the event. Get tickets here.
The Lowdown: This fundraiser concert is to benefit No Barriers — an organization that teaches people to never give up regardless of what their 'barriers' may be. This organization offers programs for Wounded Warriors, youth and people with disabilities, along with hosting several other transformative events. In 2017, the drummer of Thunderthief was so inspired by the cause and the band wanted to help. Joining with Envy Alo the vision became a reality and the Thunderthief No Barriers Benefit Concert is set to take place this December 15 at Mercury Cafe. All ticket proceeds from the concert go directly to the organization. To learn more about No Barriers go to www.nobarriersusa.org.
Umphrey's McGee
When: December 29-31
Where: Fillmore Auditorium — 1510 Clarkson St., Denver
Cost: $50; get tickets here.
The Lowdown: Teaming up with Conscious Alliance once again, Umphrey's McGee will be participating in an 'Art That Feeds' Food Drive at The Fillmore Auditorium on December 29, 30 and 31. The first 15o patrons to donate 20 non-perishable food items (canned fruit, pasta, tuna, etc.) will receive a limited edition Umphrey's McGee poster created by Half Hazard Press. Food donations will be accepted in bins outside the main entrance and monetary donations will be accepted at a booth inside the venue. Health oriented products are encouraged and ramen noodles will not be accepted.