Full-time singer/songwriter and part-time class clown Keller Williams returns to Denver this Saturday, October 21, where he'll take the Cervantes' stage for one of his infamous solo performances. We got to talk to Williams himself about the upcoming gig and the latest advancements in his musical career. If you're unfamiliar with Williams' work, he's a jack of all trades has covered onstage just about every single musical genre in existence. "The past two times I've been to Denver, it's been a couple different projects," projects which fall into any number of categories, including funk, bluegrass, jam, etc. Saturday's show will be his "solo looping show," where he'll be "getting back into what I'm most comfortable with – creating loops and playing songs that I've been playing for a while, as well as some new stuff."
Williams, being the ultimate homie that he is, had to throw a bone to Saturday's opening band, an "amazing band from Michigan," the Accidentals. "I imagine we're gonna be doing a bunch of stuff together as well.  We'll be able to hopefully play different songs each night."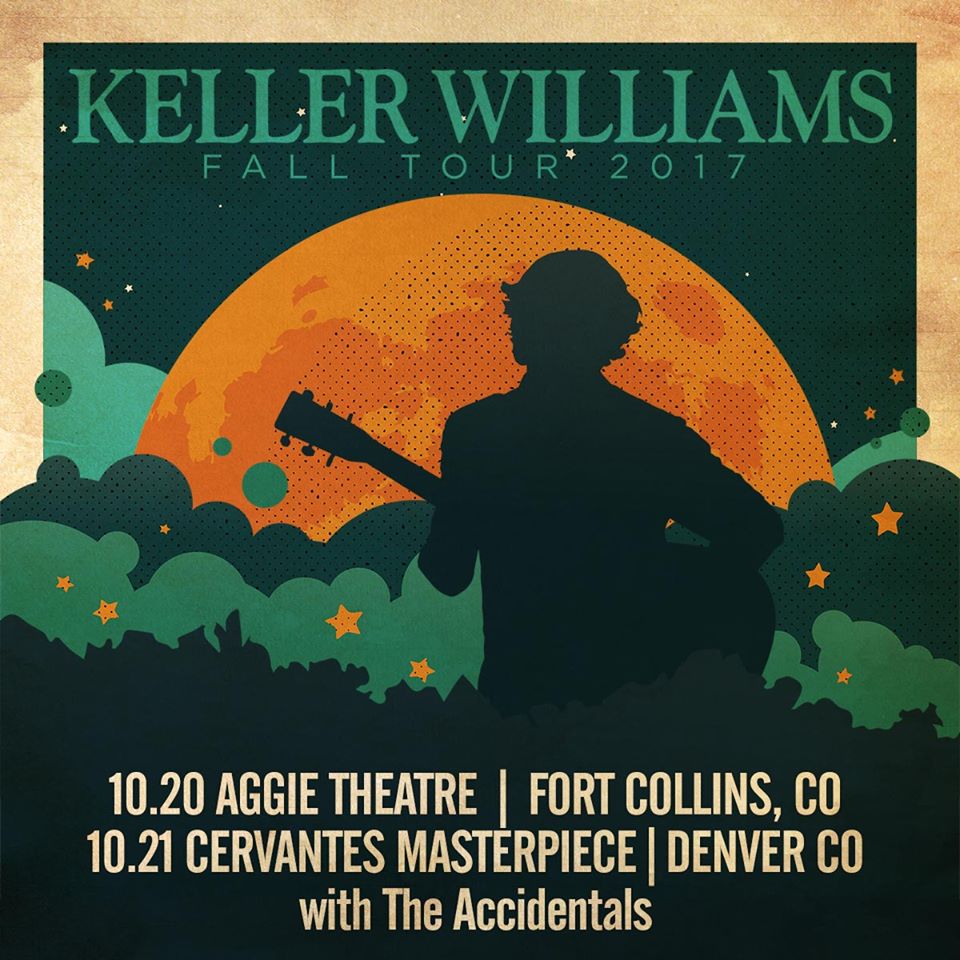 In most recent news, Williams has released two entirely different and equally as incendiary albums. The first, titled Sync was recorded by the Williams-led band Kwahtro. "It's what I consider a-game players — Rodney Holmes on drums, Danton Boller on bass and Gibb Droll on guitar — all of whom I've been fans of since before ever meeting them."  For those who are unaware, Williams is also a master of improvisation.  Thus, the story of Sync comes as no surprise whatsoever:
"This record started out as an idea to use acoustic instruments but follow an electronic dance music formula. What came out was something a little bit more along the lines of acid jazz, kind of like an acoustic groovy acid jazz, if you had to put some genre-label on it. It definitely did not go in the direction of the acoustic dance music that I was hoping for but ended up in a really cool place and I'm very proud of it." – Keller Williams
The second album is titled Raw and was created originally in 2012 as an idea of playing 12 songs on 12 different guitars. "At the very end, I just didn't dig it, and just kind of abandoned it. Skip ahead a couple years to this co-bill with Leo Kottke, amazing guitar hero of mine, and I wanted something that represented what I was doing on that co-bill." After revisiting that old record of the 12 songs on 12 guitars, Williams chose four or five of his favorites and then recorded six more.  "We thought, why not just pair the two together [and] make it a story? We were pretty much done with that record in three days."
Lastly, Williams is the king of collaborations. Of all the collaborations he's been a part of, the nearest and dearest to his heart are with the String Cheese Incident. There were a few years of "Keller Williams Incidents," (the nickname for that particular collaboration), in the late '90s and early 2000s, "and those stick in my mind as some of the first real instances of joy in front of large audiences." Furthermore, Williams couldn't forget how "being able to play with Bon Weir was incredible, and all of the members of the Grateful Dead, are engrained in my mind.  I can't remember what I had for breakfast, but I'll never forget those times on the bus with Mickey Hart and Bill Kreutzmann."
We asked Williams which musicians are on the top of his to-collaborate-with-list — "It would be fun to dive in with some real electronic producers. I would love to hear some kind of Bassnectar or Pretty Lights thing with my samples." With the amount of talent, ingenuity, far-out charisma and everything else Keller Williams has got going on, it's no doubt Saturday at Cervantes' will be a hoot of a good time.
Tickets are available here.