With the conservative connotation of a library, to many, it comes as a surprise that you can now find green screens, functional music studios, digitization equipment and technicians to aid with these technologies at a public library. Along with others within the Arapahoe Library District (ALD), Southglenn Library in Centennial has implemented these amenities, and more to fulfill the needs of their modernized community.
Today, gratification, along with everything else, is on demand. All information and limitless possibilities for curiosity sit at our fingertips. Under this dictation, libraries are thinking of modern ways they can cater to all, they also look at ways they can inspire the next generation of library users.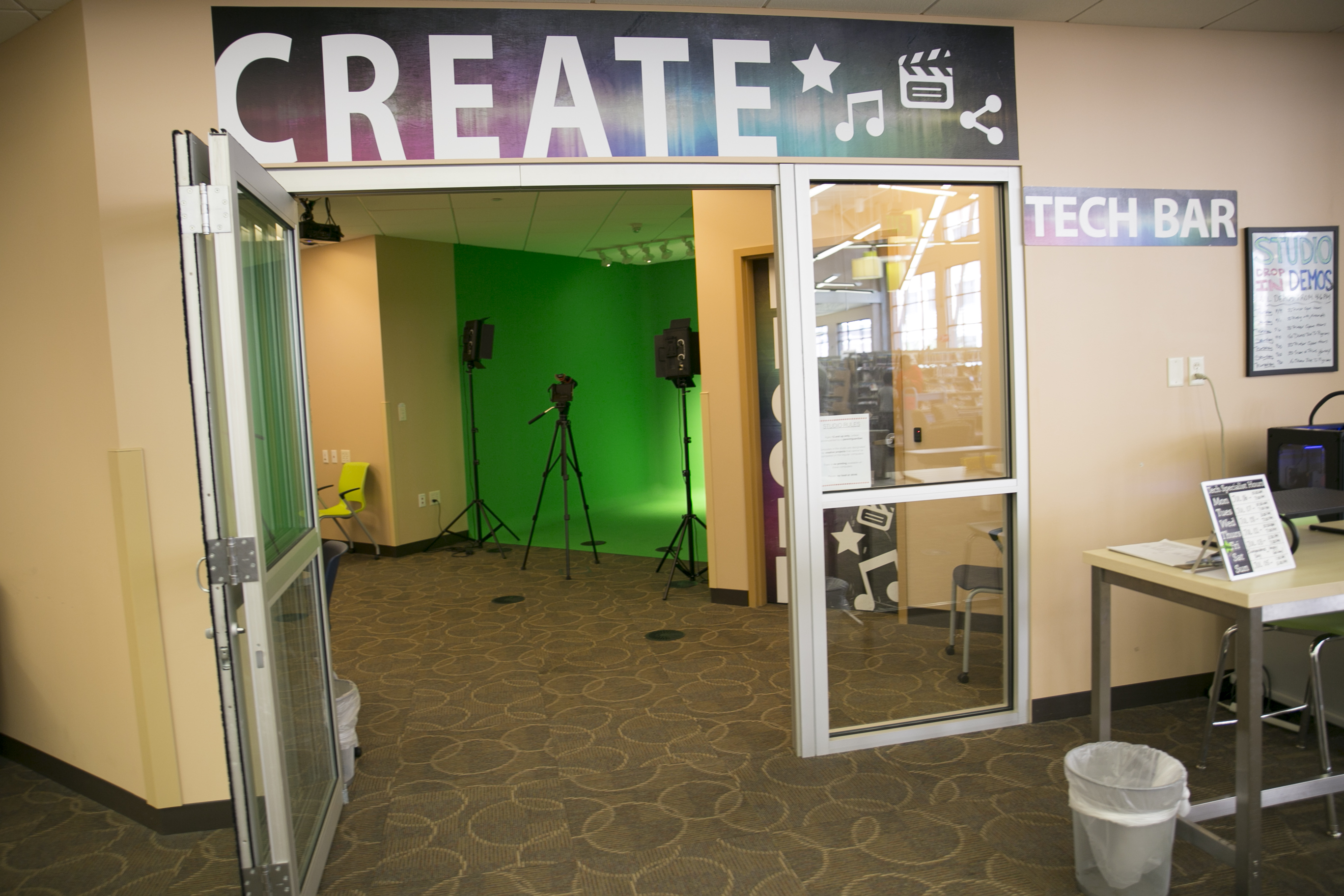 We went to the Southglenn Library, not to comb through books or conduct computer research — we went to see the modernized features available at this public library. "This is an unbiased place where you can try new technologies," said Arapahoe Library's senior writer and media relations specialist Michelle Cingrani. Several creative studios and a variety of equipment are open for all to learn and use. There is a digitization center where you can preserve memories that live inside photos, CDs, cassettes, VHS tapes and vinyl. There are several Apple iMac computers available, equipped with over 30 different software programs, including the Adobe Creative Cloud, Logic Pro X and Final Cut Pro. For the musically inclined, there is a sound dampened music studio with instruments, microphones, a midi keyboard and the necessities to mix and master available for recording.
Allison Piper, a multimedia librarian at ALD, showed us around the functions of their video production studio and walked us through its potential use for such things as making a music video with the help of their four-sided green screen. Much of what you need is provided for you — an easy-to-use camera and an iPad are available to shoot your session. You are supplied with software on the Macs to edit video and create the green screen effects — they even have microphones and production lights. Some advice – do come prepared with an idea to film, bring any props to help complete your set and a thumb drive to save and transport your work.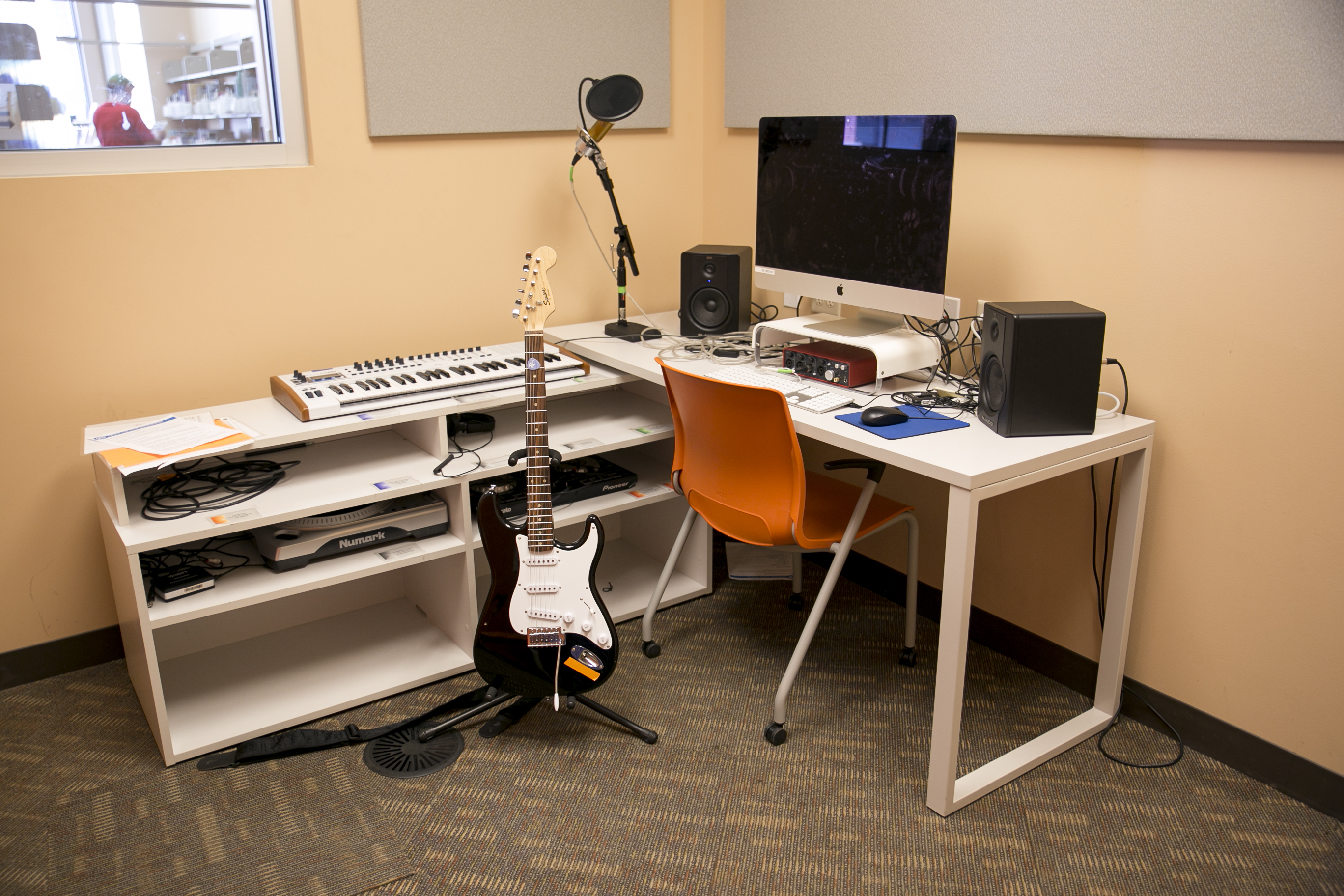 Visitors can book studios for up to three hours at a time. To reserve a spot, you can do so on the Arapahoe Library website. Through the website, you can also find references to the technology and different studios available. Cingrani encourages those interested in refining or learning skills to attend one of the many available technical workshops offered through ALD. To have one-on-one help, you can use the Book A Librarian service. Educators from Arapahoe Community College and Metropolitan State University of Denver also volunteer on site as studio technicians, to assist visitors with the problems they may encounter.  "We are trying to fulfill the needs of as many [people] as possible," Piper said.
ALD is not alone in expanding the definition of services that can come from a library — others in the Denver area share a similar vision. Douglas County Libraries has a location with a recording studio, and Denver Public Libraries also has two branches with recording studios, while also hosting some unconventional hallmark services focused on social and educational needs. Denver Public Libraries also launched Volume in August, an online streaming service that features Denver musicians. The platform allows DPL card holders to stream, download and make playlists with tracks made by Denver musicians.
Study spaces, meeting rooms, conference rooms and 'makerspaces' that offer tools for craft projects are some other assets Arapahoe and other library districts are seeing patrons use frequently. Go to each library's website to see its individual video capabilities and other offerings.