303 Style Profile is an ongoing series highlighting unique locals and their incredible style and stories. Go here to see past profiles. 
Abena Antwiwaa is a breath of fresh air for the Denver fashion community. Originally from Ghana in West Africa, the fashion and beauty blogger is known for her unique approach to styling. "I am an extrovert, I'm easily amused and a total giggler. I love food, I will justify it any way I can just to have more and next to food is my love for trap music," she stated when asked about herself.303 Style Profile is an ongoing series highlighting unique locals and their incredible style and stories. Go here to see past profiles. 
Her website, Style by Abena, features everything from head-to-toe velvet looks to beauty tips and tricks on how to get perfect brows. "I got started as a blogger because I have a great eye for clothes and how to put clothes together. I wanted to be a wardrobe stylist at first and I thought a blog would be the perfect portfolio," Antwiwaa said. Not only does she blog about beauty and fashion, but Antwiwaa also works as a personal stylist and shopper, helping keep the people of Denver up to date on trends and style. We sat down with the multi-talented blogger to discuss being a blogger, shopping and her favorite things for fall.
303 Magazine: What is it like being a blogger in a world that is seeing more and more fashion content on the internet. How do you think you set yourself apart from others?
Abena Antwiwaa: You know it's quite crazy because when I first knew what a "fashion blogger" was there wasn't really a lot but now there is just too many to count. It's great because it's a thriving industry but also scary because at times, it's hard to know where you fit in. I set myself apart because there is only one Abena Antwiwaa and no one can do me like I can, it's as simple as that.
303: How would you describe your personal style? Where are your favorite places to shop local and not local?
AA: My style isn't just one certain way. I love being feminine but I am also such a tomboy and I live for masculinity. For example, I love getting dolled up, but nothing gives me anxiety as much as having to be in heels does; I am a loafer wearing, sneaker-loving babe who is forever stealing clothes from her brothers. Sorry, not sorry! To be honest I go to H&M at least twice a week. I love Zara so much and when I have the patience I find some incredible pieces at Forever 21 too and Nordys, let's not forget Nordstrom.
303: You're also a beauty blogger, what makeup trends do you want to try out for fall and what do you think should go away as we approach the colder season?
AA: My new thing for fall are wine-stained eyes. That kind of beautiful burgundy, wine color on the eyes is so sick and I've seen it so much on some of my fave celebs… it's incredible. I wish everyone would just let go of those really odd colors on the lips. You know the purples, blues, greens etc. it's not a good look.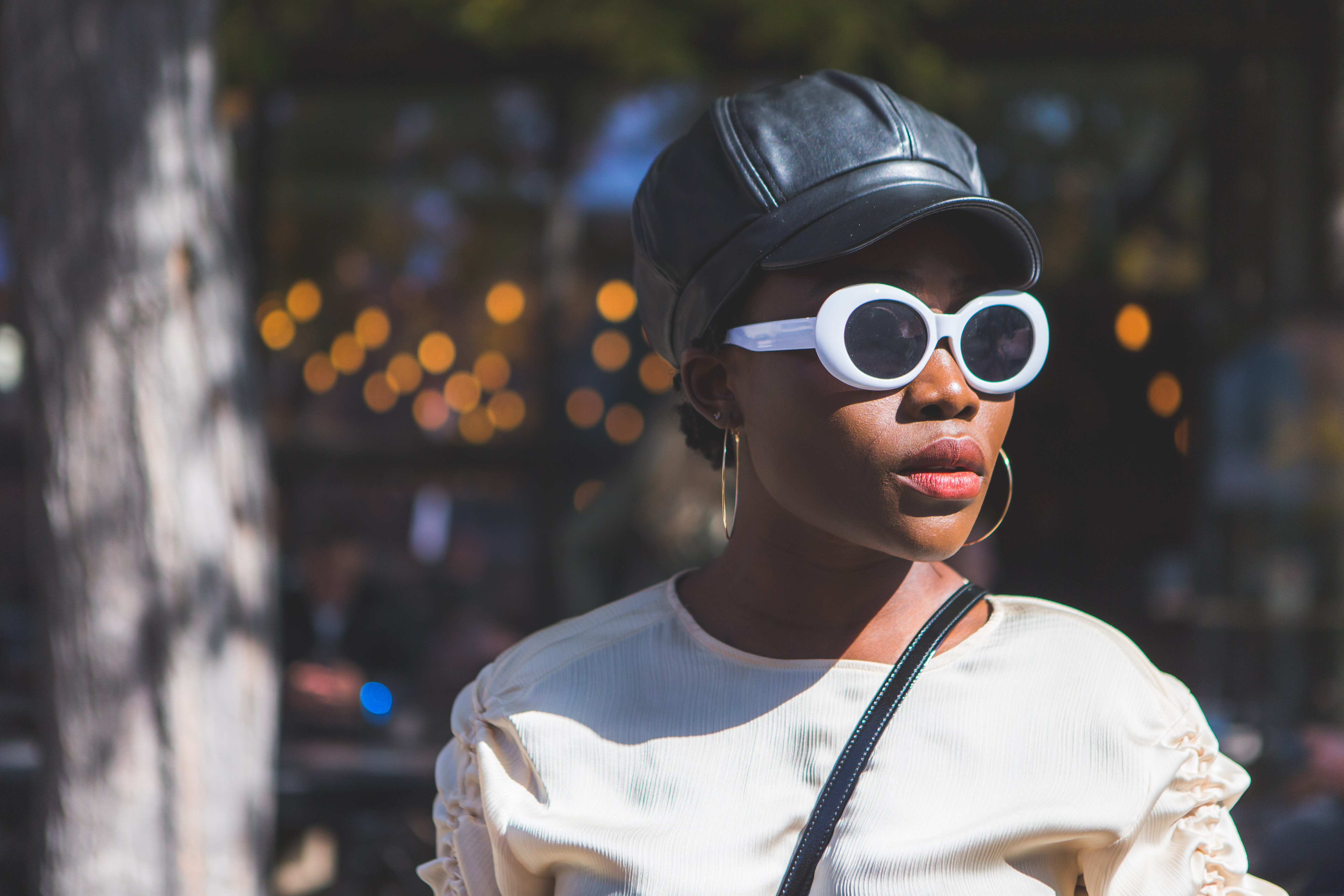 303: What do you like most about the fashion scene in Denver? What would you like to see grow?
AA: What I like most about the Denver fashion scene is that it's progressing. We are not there yet, but I truly believe that we are getting there and it's exciting to witness it and play a part in it. I think it will grow when people take more interest in it. We just all need it to grow bigger and bigger.
303: What trends are you going to be rocking this fall season?
AA: I am honestly so excited for fall fashion, let me just say. I love the baker hat/ beret trends. The checkered trend is brilliant and layering is always a go-to during this time of year. The looks I've chosen for this style profile are totally me, you can tell it has my personal touch and flare by the way I styled them. I am hoping to achieve a '70s vibe for fall, which will be a big hit.
303: What advice would you give to those wanting to start their own blog/site?
AA: If you are wanting to start a blog, I say go for it. Be you and only that. It's a lot of hard work so you better be ready and social media is your friend so get acquainted.