Love Free Movement's charitable endeavors are as varied as the merchandise it sells in its converted 1991 Chevy Step Van. In just over two years the Denver-based mobile boutique has launched 39 philanthropic campaigns and giving back has been no happy accident. Anna Klausmeyer started the business with community service in mind.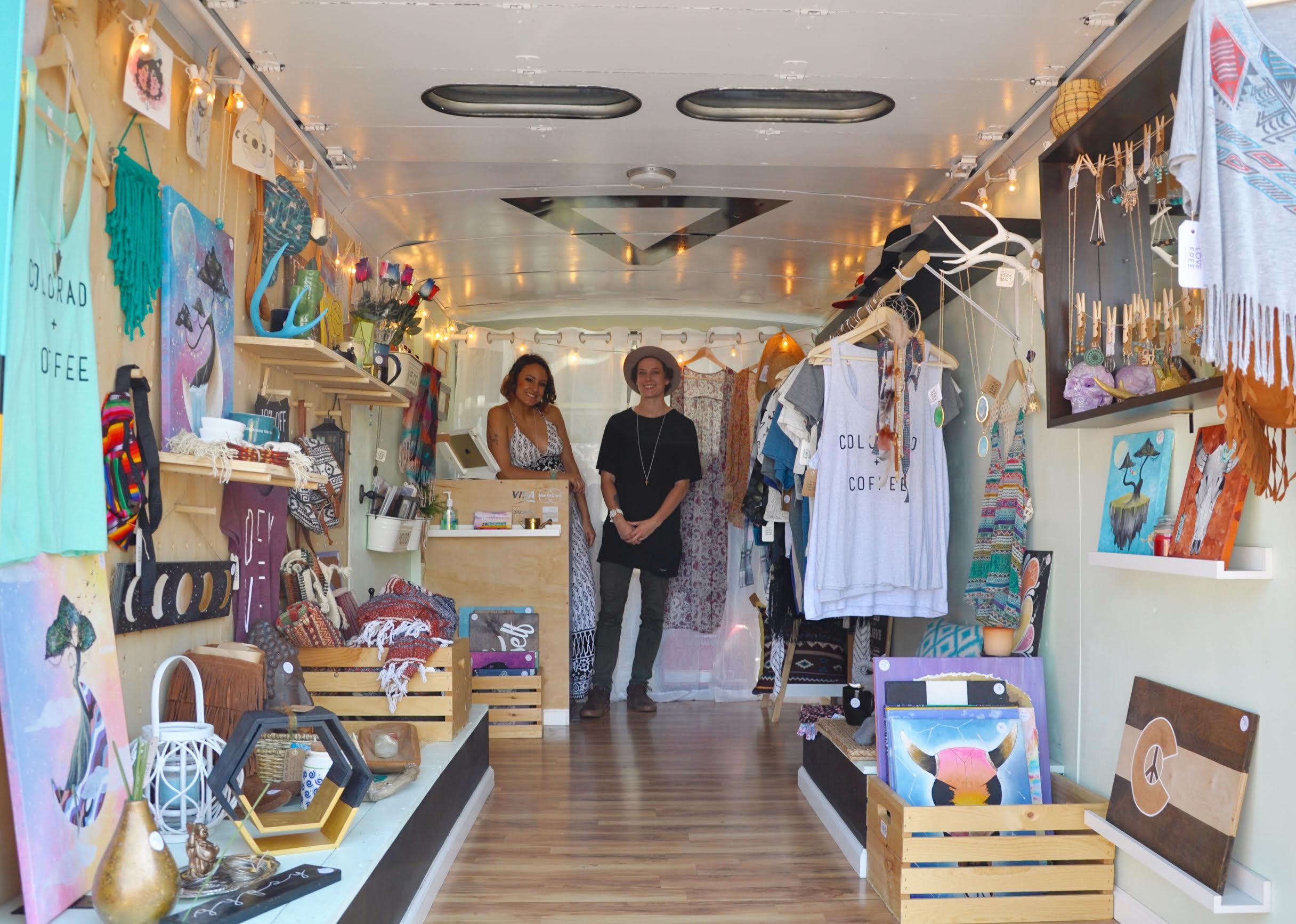 Klausmeyer opened Love Free Movement, as an online store at 24-years-old with her partner Bianca Tyrell. The former graphic design student and maker sold her homemade goods including, canvas paintings and digital prints and Tyrell's custom jewelry on the e-commerce website, Etsy. A blossoming mobile boutique scene in California, as well as a previous employment experience, led Klausmeyer to the concept of taking her retail show on the road.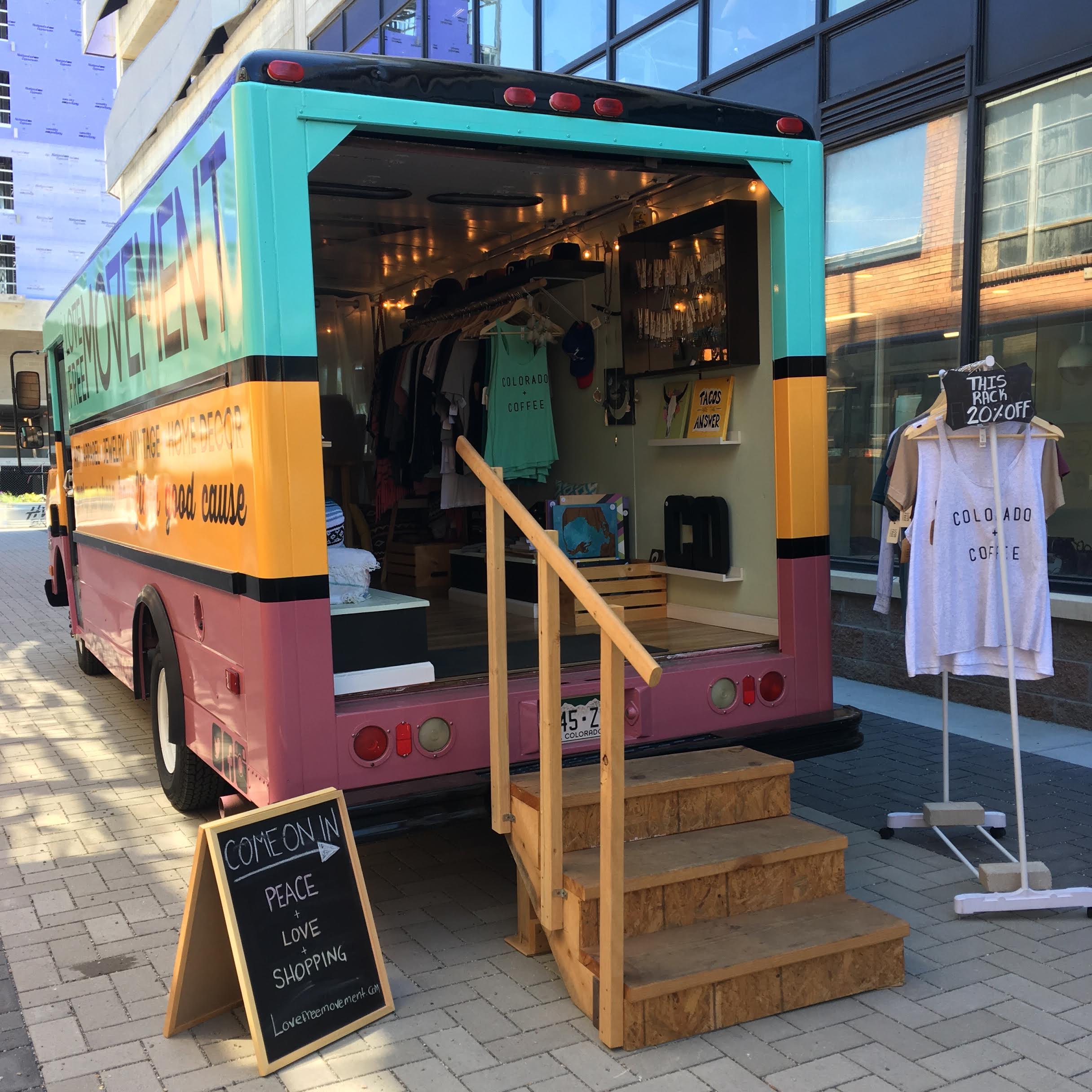 "I had worked for this company that sold a lot of merchandise at festivals. It sparked this idea that you can have all of this art and all of these different things and take them to different places without having the insane overhead of a storefront," she said.
Transitioning out of Etsy and into a physical shop called for a few changes on Klausmeyer's part and she's enjoyed the learning curve. While she has stayed close to her original merchandise model – her and Tyrell's goods still stock the truck's shelves – she has beefed up and expanded her inventory. Klausmeyer can now add soy candle maker and clothing designer to her set of DIY skills.
Through her mobile boutique, Klausmeyer has also created strong partnerships in the Denver community. Love Free Movement's merchandise can be found at the I Heart Denver store on 16th Street Mall and Klausmeyer has started carrying merchandise on the truck from outside sources. Shoppers can buy merchandise from local Coloradans, including hats from Worthy Made.
Throughout all of the change, one thing that has stayed the same is Klausmeyer's dedication to giving back and every month Klausmeyer chooses a new issue to tackle.
"We've developed it into this idea where we pick a different charity every month. We tend to correlate the commemorative month with whatever charity we pick," she said.
Love Free Movement's charitable efforts are diverse. Its campaigns have focused on the LGBTQ community with donations to the Mathew Sheppard Foundation, women's health with The Feminine Hygiene Project and addiction recovery with Step 13, to name a few.
For the month of July Klausmeyer has introduced Love Free Movement's latest Blessing Bag campaign. The campaign focuses on raising money for care package supplies. This season's packages include a gallon-size bag filled with supplies that are crucial to the Denver summer. Canned goods, sunscreen, bottled water and sanitizing wipes are just a few of the items included. Klausmeyer and Tyrell pass them out to anyone who might be in need as they make their way around the city and customers can also purchase the bags to hand out on their own.
"It lessens the feeling of having to hand over cash. You're able to hand over these good items," Klausmeyer said.
Klausmeyer prefers to partner with local charities in Denver so that she can meet the people and the organization she is aiming to help. Her favorite campaign so far has been directly related to her work outside of the Love Free Movement boutique. At the end of May, she was working as an art teacher at a local elementary school and there was a lot of talk about parents not being able to pay off overdue lunch fees. Klausmeyer got to work and for every item her boutique sold in June, she set $2 aside to donate to her students. Generous local donors also helped her reach her goal.
"At the end of the month, it was really cool to be able to hand them a check in person. They were really appreciative and the kids were so sweet," she said.
Despite all of the fun, there have been a few bumps along the way. Finding a balance between work and play has been one of them. With so many events and such a fast growing city, last summer was a hectic season for the boutique and threatened to burn the women out.
"We were so set on getting out every weekend and stuck on the numbers and merchandise. We forgot to take time for ourselves," she said.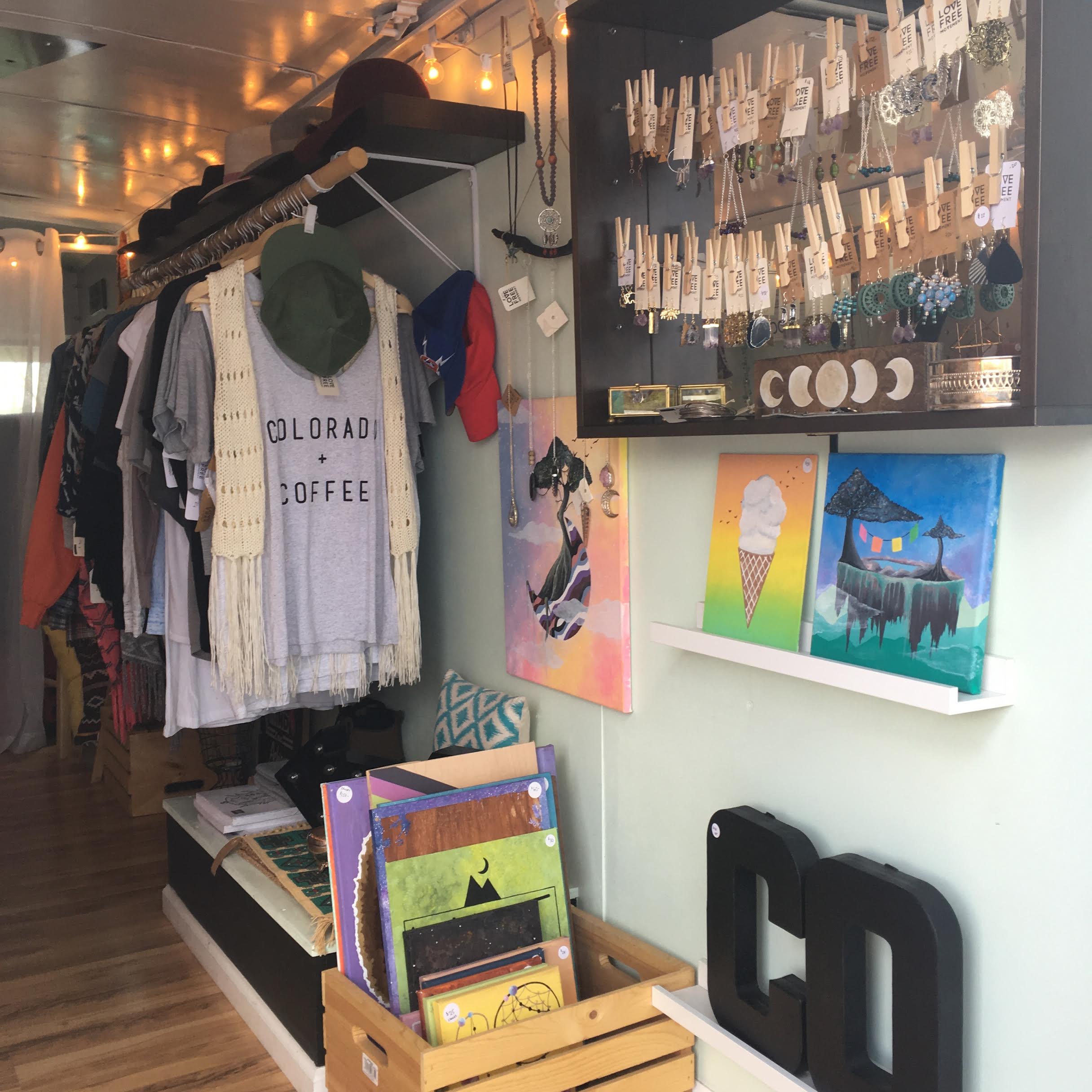 This summer she is focusing on staying passionate, dedicated and intentional with her time. As for the somewhat distant future, Klausmeyer acknowledges the advantages of having a physical storefront, but she is more interested in e-commerce. She admires businesses that are able to drive their customer purely online and through social media and hopes in some way to do the same.
But no matter where her dreams take her Klausmeyer hopes to remain dedicated to giving back.
"I want to stay active in the community and keep meeting people and partnering with charities. That's always been a goal," she said.
If you're interested in shopping Love Free Movement you can find a list of its stops or take a look at the online store here. You can also find more information on their current campaign here. 
All photos courtesy of Love Free Movement.