When John Allen Woodward made a New Year's Resolution to take on any exciting venture that came up in his busy schedule, he didn't realize a Netflix series would be in the midst. Just two days after making this personal mantra, the master bootmaker received a call from costume designer Jeriana San Juan, who was looking for a pair of red, hornback alligator boots for the Netflix original series The Get Down. The series, created by Baz Luhrmann (Moulin Rouge, The Great Gastby) was definitely an exciting opportunity but also presented a challenge: Four days to complete the signature boots before they had to be on set in New York. As an expert in fine, high-quality leather, Woodward knew how much he was taking on but he accepted San Juan's request. "The particular color was very difficult to find but she had to match the color of one of the main character's costumes. She searched the internet, found me and reached out. I had a similar pair of boots as far as texture and style and if she could get those in red she'd be happy," Woodward recalled. He feels fantastic about the fact that millions have now seen his boots through the show even if the series was just canceled (and not without objection). But don't worry,  season 2 of The Get Down is on Netflix and you can see Woodward's boots in action.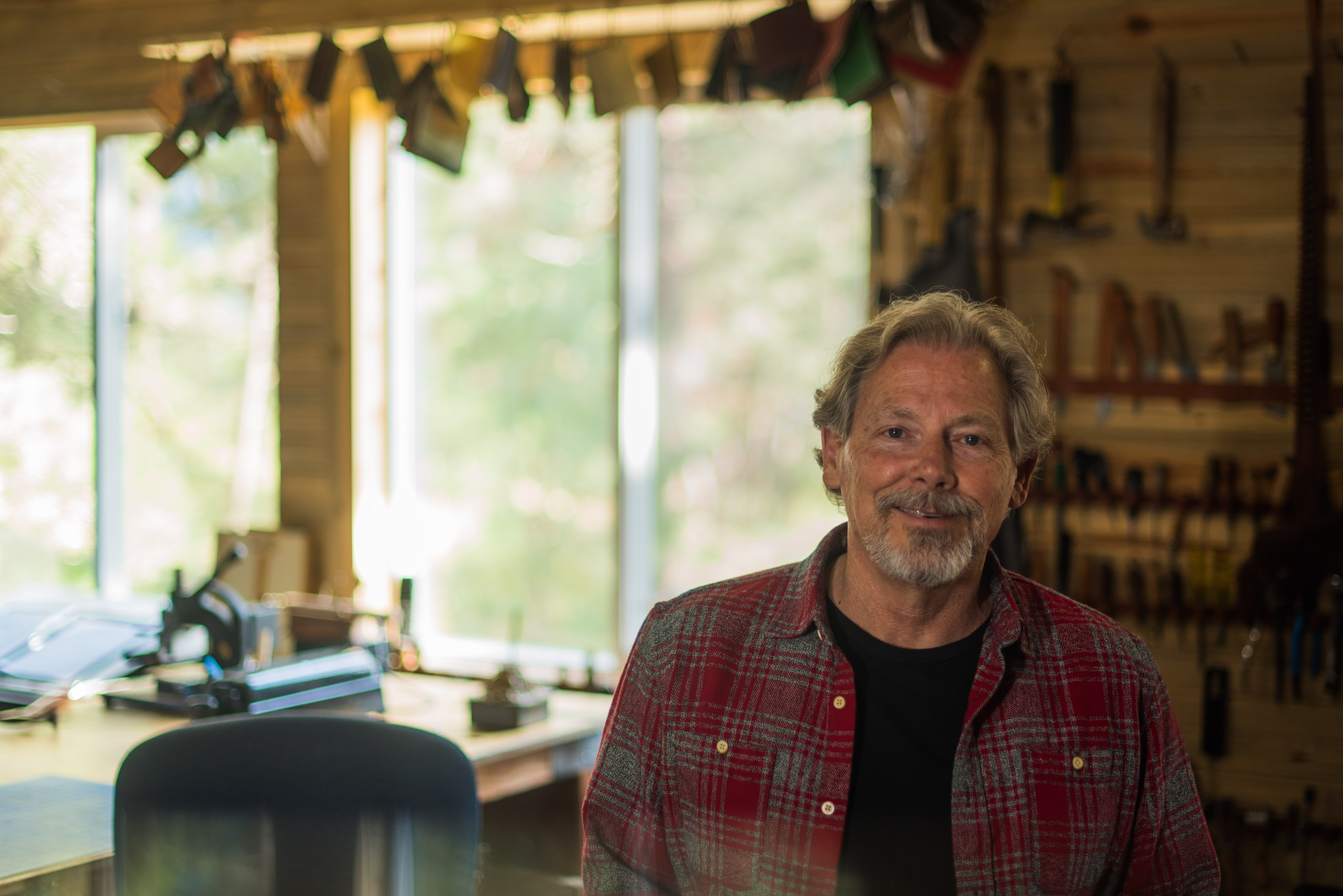 You might think Woodward would be better suited living in Hollywood but he says the internet allows him to successfully work from here in Colorado, as he is one of the few remaining designers to make leather, gold and silver accessories by hand. He was also recently commissioned to make a wallet for the hit show Empire. "There's a flow in the entertainment business and if they need a certain item, they can't go on until they get it. So they get on the internet to find someone who can either make what they want or has what they want. It really levels the playing field for other designers and makers. They don't care about your track record, as long as you can deliver what they want," Woodward said.
This slideshow requires JavaScript.
Even though it was the internet that connected Woodward and San Juan for the coveted boots, he admits inspiration also plays a big part in deciding to live in Colorado. At one point, Woodward operated a retail store and lived in San Diego but the over regulation and over taxation became a burden to his creativity. He says that while California was beautiful and had wonderful people, he wasn't being as creative as he wanted to be. "With the internet, I could be anywhere. So my wife Angie and I decided to be where we really wanted to be. We found a mountain home above Boulder, and it's a great place with great people, and it's very inspirational. I think I've done some of my best work ever in the last three years here. I think where you're at has a lot to do with your inspiration," Woodward said.
Woodward's respect for the creative process began when he encountered bootmaking 25 years ago. While trying to get into the music industry in Nashville, Woodward met a man and woman who enjoyed his music and began writing songs with them. The man's day job was making boots for many country artists. The day came when his apprentice quit and Woodward decided to help him. "I'd never even been inside a maker's shop but almost instantly I loved the creative part and all the artwork the boots carried. I worked there for about two weeks and decided that was what I wanted to do," Woodward recalled. After a few months, he moved to San Diego to open up his own shop, determined to make things work. "I didn't know what I didn't know but I burned my bridge when I decided to be in this business. You get up early and stay up late and just work all day long and it doesn't seem like work because you're having fun. You're never going to dread creative work. I'll run out of time before I run out of art. If I had to do it all over again, I would," Woodward said.
If you look at Woodward's designs, whether it's boots, belts, wallets and other accessories, you'll notice intricate work and craftsmanship. He believes attention to detail is what separates the craftsperson from the artist. "I'd rather throw something away than have a stitch out of line," Woodward said. The art is where all the great work is. The boots you see in The Get Down were a lot of fun but his personal favorite is a pair of Alligator boots with engraved sterling silver with 42 diamonds and 24 sapphires. Beyond the appearance, the boots are also his favorite because he got to use his other skills on them, including fabrication, engraving and gemstone setting. Woodward made the boots for an art show and took an order after someone was enchanted by them. "It's exciting to make something you've had in your head for a long time and see someone love it like you do," Woodward recalled.
Delving deeper into Woodward's designs, he says nature and ultimately, the customer, are major influences. "If you look at nature, it never makes a mistake with color. You look at a flower bush or a hummingbird and it's in their DNA. As far as color and design, nature always inspires me," Woodward said. Customers inspires him by allowing him to try new techniques. For example, he takes a piece of an alligator that was originally white and undyed, then adds a color combination to it. Sometimes he throws things away and starts over. Lastly, his biggest influence is his desire to do better everyday, for himself and for his family.
For aspiring creatives, Woodward advises them to learn everything they can about the business and jump in. "Talent is very overrated, and hard work is very underrated. I've seen other bootmakers and shoemakers with so much more talent than me but they pretty much repeated the first couple years through their career because they never got better, they never worked hard. Embrace failure because every time you fail, you learn something. I've failed more than anybody I know because I try more things than anybody else. Don't be afraid to fail, the only thing that keeps any of us from being what we want to be is fear."
All photography by Nick Annis, unless otherwise noted.