Film-lovers, food-lovers and beer-lovers in Denver can rejoice over the newest opening of Alamo Drafthouse on West Colfax, only a short walk from Sloan Lake. Four years in the making, this Alamo Drafthouse also features a full-service bar named "BarFly" — after a Charles Bukowski screenplay and in honor of Denver's beat writers and poets. Eight theaters will be ready to serve a full dinner and drink menu with "ninja-like servers" and seats far enough apart in rows that only someone taller than 7'4″ could touch the person's seat in front of them. With all these features, alongside its dedication to serve the community, Alamo Drafthouse is looking to become a fixture for West Colfax.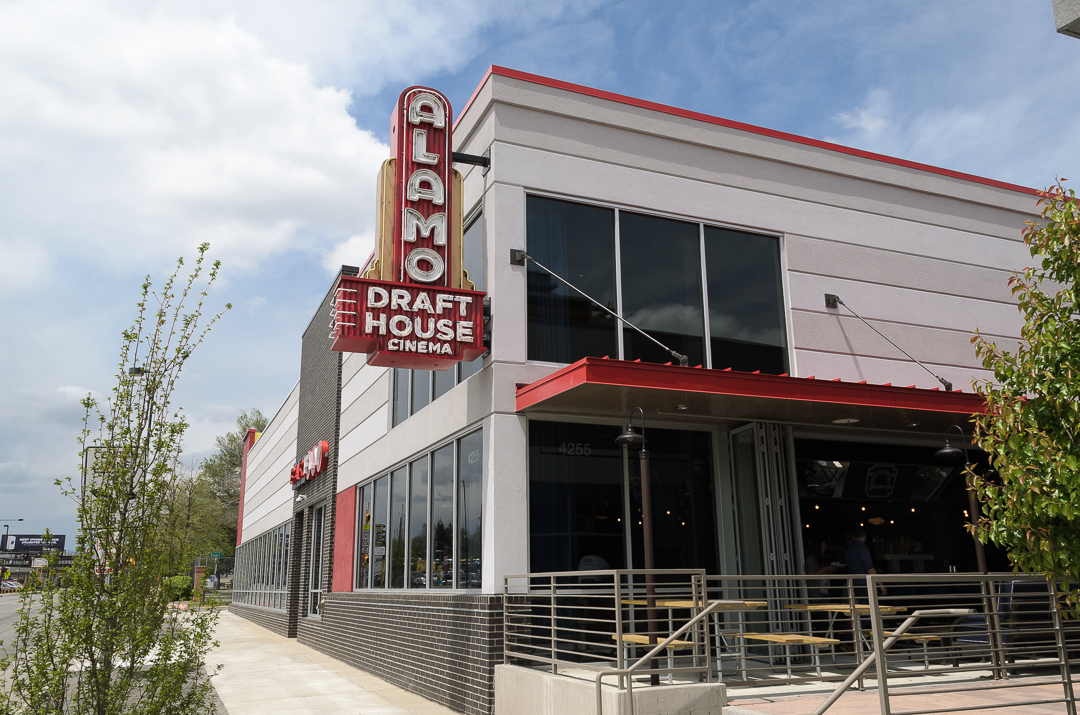 At the ribbon cutting ceremony on Monday, May 8, Nettie Moore, a life-long resident of the area, spoke briefly about her support for the theater and the changes she has witnessed on Colfax (the "longest, wickedest street in America", according to PlayBoy) since 1925. The team in charge of this second Colorado location insisted that collaboration is one of the cornerstones of any Alamo Drafthouse — the "special sauce" that other movie theaters haven't figured out the recipe for — and they want the community to communicate about how they can serve them the best.
The decor within this location pays homage to past generations, with a large wrap-around bar that any beat writer could really saddle-up to, black-and-white tiles in the entrance and vintage movie posters in the hallway leading to the theaters. Alamo Drafthouses always have touted themselves as places "by movie-goers, for movie-goers" — a creed that has led them to be very strict about its no texting and no talking policy during showings. But the more remarkable aspect of the chain of Drafthouses is its support for local entertainment, community-building and ability to bring non-movie-goers into the theater. BarFly has its own events planned separate from the theater including poetry readings and live music, curated by the Creative Director Steve Bessette.
Alongside blockbuster hits — like its first showing of Guardians of the Galaxy — Alamo Drafthouse will highlight films throughout the decades with special events and screenings. Beer and movie pairings, afternoon tea service while watching British period films and quote-along movie parties (where props are provided to help with the hilariously immersive experience) are a few of the options to look forward to.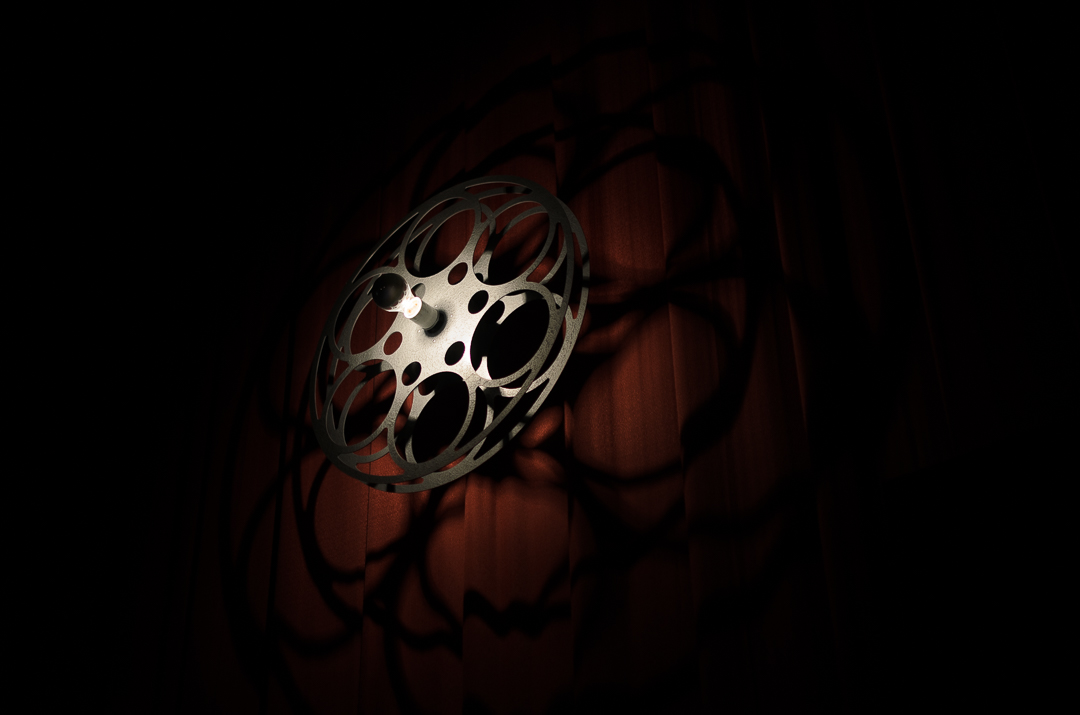 Though the decor is vintage-inspired, the theaters are capable of screening old and new films, including 3D presentations in RealD. They also have full A/V capability in its micro-theaters — suitable for birthday parties, business meetings or community events — which can be rented. These three micro-theaters seat 48 people. The other five theaters seat between 76 and 196 people, three of which have spotlights and raised stages specifically designed for special presentations.
One of the more outstanding aspects of Alamo Drafthouses is the beer and movie pairing dinners, coordinated by executive market chef Seth Rexroad who has been with Alamo six years and was part of the Littleton location opening in 2013.  About those pairing dinners, Rexroad said, "Sometimes I get to educate people about a good movie, if they come for the beer, and sometimes I get to educate people about a good beer if they come for the movie."
Hundreds of these dinners have taken place through the years, though part of the experience is knowing it is a one-of-a-kind night.
"There's no ceiling for what we can do. In Littleton a few years ago we had Gunnar Hansen — the original Leatherface from Texas Chainsaw Massacre — chainsaw a pig carcass before the showing of the film, inside the theater and then we created a three-tiered pig fountain from it."
Other examples of this marriage of movies and cuisine are Hunt for Red October with Comrade Brewing, 13 Assassins with a sake tasting and a squid-ink risotto with fried calamari perfectly timed to come out when The Thing reveals itself.
This slideshow requires JavaScript.
Just going to the movies isn't enough anymore and Alamo Drafthouse has accepted that challenge. Alamo wants to cater to its audiences, encouraging movie-goers to request indie films, cult classics and nostalgic hits from their childhood that other venues won't show. On top of the movie selection, Alamo also has a big selection of food and drinks made in-house. All tastes should be satisfied with dishes like the carnitas quesadilla, beyond meat burger, carnivore pizza, chopped cobb salad, fresh-baked cookies or a milkshake. If your thirst is greater than your hunger, order a cocktail, wine or from its list of 32 local draft beers.
Looking forward, Alamo Drafthouse hopes its initial warm welcome evolves into an established partnership, becoming a place that responds to the needs and wants of the community surrounding it. The Sloan's Lake Alamo Drafthouse will open on May 15. For more information and to reserve seats in advance (highly recommended, as all seating is assigned) visit the website.
All photography by Austin Cope.
This slideshow requires JavaScript.