Happy hour is a brief, yet glorious occasion. The only tragedy of the affair is that it isn't all day, every day. Whether you're working during the traditional happy hours, entertaining friends from out-of-town or you're simply feeling frisky — it's always nice to know you can get a reasonably priced drink in the early or late hours of the day. We put together a list of drink deals that don't apply to your typical 3 to 6 p.m. constraints, so you have more options to find your happy here in Denver.
Angelo's Tavern
When: Daily 9 p.m. – close
Where: 620 E. 6th Ave., Denver
The Lowdown: Angelo's Tavern is a neighborhood staple for Capitol Hill and Washington Park residents. Located on 6th avenue, it's easy to get to and there's surprisingly decent parking. The grilled oysters ($2) are popular, and the $2 off wine taps are a great pairing for any time of year. The back patio recently opened and the bar has garage windows. A down to earth feeling radiates from the wood grain surfaces and exposed brick walls.
Cart Driver
When: Daily 10 p.m. – 12 a.m.
Where: 2500 Larimer St., Denver
The Lowdown: Cart Driver is a popular evening spot for a reason. Its wood-fired pizzas are a big hit for late night munchies. With prosecco on tap ($5) and two market oysters ($5), your date is sorted. The interior is cozy and intimate. Summer is approaching and the patio offers great people watching in the heart of RiNo. Like many Denverites, this establishment is a fan of the cult classic, Life Aquatic — Campari is served in honor of Steve Zissou.
Charlie Brown's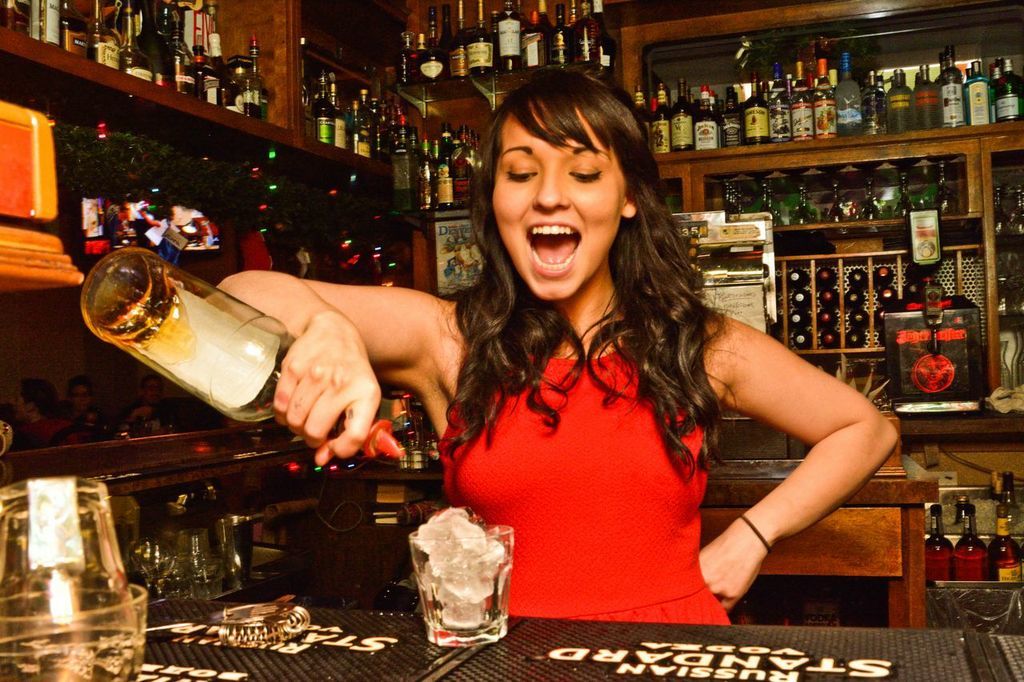 When: Daily 4 – 6:30 p.m. and 10:30 p.m. – 12:30 a.m.

Where: 980 Grant St., 
Denver

The Lowdown: A Denver classic — this restaurant and bar is fun after work or late night. Its location is convenient for anyone in Capitol Hill or Downtown, and the happy hour is twice a day. Head in for two-for-one wells, house wine, domestic beer and on-calls. It also hosts a live piano sing-along music every Tuesday through Sunday from 6 p.m. until 1:30 a.m. and free hot wings during the 4 p.m. happy hour on Fridays.
Cho 77
When: Wednesday – Saturday,  9 p.m. – close
Where: 42 S. Broadway, Denver
Lowdown: Asian fusion lovers will adore this place — you have a choice of Thai, Singaporean and Vietnamese cuisines. Vegetarians — you have more options than what the menu says, so feel free to ask. Its dumplings go well with cocktails, beer or simply served by themselves. During happy hour, sake shots ($1) are always a good idea and selected plates ($2 off) and signature cocktails ($2 off) definitely don't disappoint either. To really get your late-night tipsy, go for the sake bombs for only $3.
Citron New World Bistro
When: Sunday 2 – 9 p.m., Monday 3 – 10 p.m., Tuesday – Friday 3 – 6:30 p.m., 8 – 10 p.m., Saturday 4 – 6:30 p.m., 8 – 10 p.m.
Where: 3535 S. Yosemite St., Denver
The Lowdown: This is a casual spot with a welcoming patio for the summer. The Mediterranean-inspired menu offers a lot. Chainbreaker and Man Beer are popular beers on tap, and the bartenders are comfortable mixing a variety of cocktails. Bottled beer and drafts ($2.75) are a cheap and casual option. Its specialty drinks ($5) have a latin flare and are worth a try.
City, O' City
When: Daily 2 – 6 p.m. and 11 p.m. – 2 a.m.
Where: 206 E. 13th Ave., Denver
The Lowdown: Denver loves City, O' City. If you haven't been here, it's a must for inspiring drinks and vegetarian fare. Even non-vegetarians love this place. It has multiple waffle dishes that are an interesting rendition on what many think is just for breakfast. The jalapeño-infused tequila is as wild as it sounds. The interior is bohemian chic. Go for the well spirits ($2) or Genesee beer ($2), it's hard to beat that price in the middle of downtown.
The Corner Office
When: Daily 9 p.m. – close
Where: 1401 Curtis St., Denver
The Lowdown: The Corner Office is in fact, located on a corner in the heart of downtown Denver. Its cocktails and location keep things respectable. Bartenders pour liberally so order the wells ($5) and house wines ($5) with confidence. Classic drafts ($2-3) are good options for those of you that are trying to keep your buzz to a minimum. The interior has an elegant feel — an excellent option for tie and heel-wearing drinkers.
 Lala's Wine Bar + Pizzeria
When: Daily 10 p.m. – close
Where: 410 E. 7th Ave., Denver
The Lowdown: This is Italian fare without too formal of a setting. Its location attracts a big after-work crowd and those who just happen to walk by. The bacon-wrapped dates ($5) are popular and easy to share. The glasses of wine ($5) are approachable and can be paired with the majority of the menu. It has better-than-average well spirits ($3.50) for those of you that aren't wine drinkers.
The Irish Rover
When: Daily 9 p.m. – 2 a.m.
Where: 54 S. Broadway, Denver
The Lowdown: For those that need a go-to option on Broadway, this is it. It's conveniently located next to a myriad of restaurants and bars if you want to wander around the streets on foot after a late-night happy hour. The beer of the month ($3) and car bombs ($3) are good late night options to keep the party going until closing time. Its back patio is big enough for a large party and intimate enough to make new friends.
Illegal Pete's
When: Daily 3 – 8 p.m., Thursday – Saturday 11 p.m. – 1 a.m. 
Where: 2001 E. Colfax, Denver
The Lowdown: With multiple locations, this is arguably the best place in town for a cheap and quick stop that's the epitome of casual. At the Colfax location, the happy hour drinks are as chill as the huge patio — with select drafts ($3.50), domestic drafts ($2.50), house margaritas ($4) and wells ($3). And not to mention you get freee chips and salsa if you order from the bar. If you just came back from a hike or are dirty, tired and exhausted for any other reason — this is a good option for a food and drink quickie.
Occidental
When: Saturday 11 a.m. – 4 p.m., all day Sunday
Where: 1950 W. 32nd Ave., Denver
The Lowdown: A food truck makes an occasional appearance out back and the atmosphere is incredibly relaxed. There are a few arcade games for people who like to play while they drink. The alcohol list is long and patrons are fun — the cheap drinks and relaxed vibe attract all types at all hours.
Ste. Ellie
When: Daily 6 – 8 p.m.
Where: 1553 Platte St., Denver
The Lowdown: It's all about the cocktails. Go here to get a thorough education in the potential relationship between spirits and seasonality. With $2 off all cocktails, you can definitely experiment. The interior's black and white colors combine with indirect lighting — the perfect venue for good drinks and sincere conversation. Saunter here to catch up with close colleagues, dates or friends, and come hungry — bar snacks are $1 off. 
Steuben's
When: Daily 10 p.m. – close
Where: 523 East 17th Ave., Denver
The Lowdown: This is a fun spot on the border of Uptown and Downtown. There's a patio and garage windows that stay open during the warm months. It has a variety of food and drink deals during happy hour including burger, fries and beers. The deal will get you a  cheeseburger + fries + choice of PBR, Olympia, Coors, Coors Light, or Imperial for $7. This is a quick escape from the hustle and bustle of Downtown. For groups, the buffalo wings ($1) and little kings cream ale ($1) make for a very affordable tab.
Tacos.Tequila.Whiskey
(aka Pinche)
When: Monday "all night"
Where: 1514 York St., Denver
The Lowdown: You can guess from the name what this place is about. The chipotle deviled eggs ($3) are an interesting snack if you'd like to branch out from tacos. They go well with the pinche paloma ($5) —  an exotic tequila drink with agave. It's close to City Park, and like most of Denver's best happy hour spots, it has a patio.
The Denver Wrangler
When: Monday – Friday 11 a.m. – 8 p.m.
Where: 3090 Downing St., Denver
Cost: $2 vodka, $1 off all drinks except domestic bottled beers
The Lowdown: With a happy hour that goes most of the day, this popular gay bar has been serving Denver for almost 20 years. It's famed for getting rowdy, so it isn't for the weary. With vodka ($2) and all drinks (except domestic bottles) $1 off you can get your party on all day. The lighting and atmosphere give it a bit of a club feel.
Tony P's Pizza
When: Monday – Friday 9 – 11 p.m.
Where: 777 E. 17th Ave., Denver
The Lowdown: Tony P's Pizza is a popular Uptown spot with pizza by the slice and a concert venue upstairs. Its happy hour offers standard drinks and slices into the evening — PBR ($1), craft beers ($5) and pizza slices ($3). The patio is fun on sunny afternoons and warm nights. Patrons are a mix of ages and every other demographic.
Vesper Lounge
When: Sunday – Thursday, 11 p.m. – close,  Monday all day
Where: 233 E. 7th Ave., Denver
The Lowdown: This is a classic dive bar located in Governor's Park. Happy hour has an interesting mix of drinks and food with a mildly Mediterranean flare. Drink deals like crossroads — buy one get one dirty martini ($8) and Capitol Hillbilly — any draft and well shot ($7) keep the menu interesting. The Vesper fries ($3) and red pepper hummus ($3) are good options for groups or couples. The crowd is young (but not too young) and fun.
Vine Street Pub & Brewery
When: Monday – Thursday, 10 p.m. – 12 a.m. and Friday – Saturday 11 p.m. – 1 a.m.
Where: 1700 Vine St., Denver
The Lowdown: This pub and brewery will be celebrating its 20th birthday this month. Beer is the focus for this classic Colorado establishment. Draft pints ($3.5) and house beer pitchers ($10.5) may inspire you to sample its wealth of beer options. It can host a lot of people with ample room outside and in. The crowd is often on the younger side, but families often frequent the place during the day and early evening.