Catherine O'Neill Thorn is the founder and executive director of Denver's Art From Ashes, a non-profit organization that uses a unique, creative empowerment curriculum to guide at-risk and under-served youth on a journey to discover their creative genius. Thorn, the England-native turned Denver resident, has been serving Colorado's youth, ages nine to 24, for over 25 years through her work with various treatment facilities, juvenile detention facilities and schools. Thorn's own journey has been fueled with the power of words and poetry, just as she fuels the ongoing journeys of so many of Colorado's struggling youth.
Earlier in life, Thorn founded O'Neill Publishing, Inc., where she did desktop publishing, marketing and graphic design. Then, finding the need to direct her creative energies in another direction, she created Poiesis, a bimonthly calendar and newsletter for poetry events in Colorado. At the time, she was also serving on the board of directors at a residential treatment facility.
Thorn decided to become more involved in her role as a member of the board of directors at the residential treatment center for male adolescents. She decided to bring the power of literature to the young men who were dealing with substance abuse, violent crime and perpetration issues. To the bewilderment of others at the center, Thorn began reading to the incarcerated youth. She would read C.S. Lewis', The Chronicles of Narnia and books by Roald Dahl to the young men, a chapter a week. And quite unexpectedly, the young men displayed child-like joy in reaction to her reading; Thorn's heart began to soften towards youth in a way it never had before.
"I was not a happy teenager. I was not happy with other teenagers. I thought it was an incredibly brutal period of life. So I was a little bit scared of young people," Thorn said.
Each week's reading was met with a chorus of young men begging her to read just one more chapter. "It confirmed to me that there are a lot of lost childhoods and just having someone nurture through literature made a huge difference to the young people," Thorn said. "Books and literature have been very important to me and to my survival as a young person, so it came from this personal way to support and hold a young person through the power of words."
Not long after Thorn began to see the transformative power of words her reading had on the youth in the treatment center. A woman reached out to her to request the publication of some of her poems. The woman had just lost her institutionalized mother and was doing work with poetry therapy. While Thorn's publishing company focused mainly on small print and chapbooks, her poetry struck a chord with Thorn and so did the idea of poetry as therapy.
"And that was the first I'd heard of poetry therapy," Thorn said. While she was not interested in therapy, specifically, being a poet herself, she did understand the therapeutic aspects of poetry. From that understanding, she has cultivated the curriculum for Art From Ashes into a guided path leading young people towards empowerment through language and self-expression.
"My belief is that therapy is very powerful and very effective at healing. [And so is] just being able to be heard and to speak through the language of metaphor. To understand yourself and your own power to heal is also a complementary form of therapeutic healing," Thorn said.
For 12 years, Thorn had worked extensively with Colorado's struggling youth through various outlets like her church, serving on the board at the residential treatment center and publishing Inner 303 – an arts and poetry magazine for Denver's urban youth – at The Spot. She also conducted weekly poetry sessions for three years as a service to students of Columbine High School after the fatal shootings in 1999. In 2000, Thorn compiled the poetry of Columbine students into the book, Screams Aren't Enough, which won the Colorado Book Award.
Eventually, after heavy statewide funding cuts to youth organizations and arts programs in Colorado, Thorn found herself going back to work. She worked three jobs including running her publishing company. The Colorado Council on the Arts was also decimated by the funding cuts. However, this was just the push that Thorn needed to get back into the game of passionately changing the lives of young people.
"I just said, I'm going to start a youth arts organization because they just cut funding to youth and the arts and somebody's got to do it. So I started Art From Ashes on my credit cards," Thorn said.
With what she recalls to be abounding energy and a lot of faith, in 2003, Thorn established Art From Ashes as a non-profit located in Denver. Now, over 13 years later, Art From Ashes has partnered with over 120 organizations dedicated to providing creative healing and empowerment to more than 10,000 young people who have struggled with abuse, neglect, poverty, trauma and destructive behaviors.
The unique curriculum of Art From Ashes is heavily centered around the power of expression and rooted in the use of metaphor. Each of the organization's programs uses symbolism, metaphor and storytelling as a way for young people to articulate painful events and circumstances into artistic expression. For Thorn and the other facilitators at Art From Ashes, language is fundamental to the empowerment of youth.
"I started out thinking I would do therapy and going, 'No, it's really all about the power of words for me,'" Thorn said.
The Phoenix Rising program is the cornerstone of Art from Ashes. It uses poetry and spoken word to provide a safe space for young people where they can express, connect and transform themselves through the power of language.
"What we help young people discover is, that their voice is worthy of being heard," Thorn said.

Through carefully constructed writing prompts, young people begin to discover the power of their own voice. Each writing prompt begins with an example poem that gets them to listen and exposes them to a variety of voices and styles of poetry. Then, participants are given three minutes to write something according to the specified prompt. This method allows for an unedited and non-critical outpouring of words.
"And we hope that through the language of transformation, they'll see a difference in their lives and respect the power of language to make that difference happen," Thorn said. She quoted Martin Luther King, Jr. by saying, "A riot is the language of the unheard." As the youth begin to see that their voice has worth and power, they are able to develop the confidence to speak up, no matter where they are and no matter what situation they may find themselves in.
The power of telling their stories also allows young people to separate themselves from the story that has been ingrained in them because of traumatic experiences. They combine these image and word metaphors and create an artistic expression, which allows them to connect and transform their individual stories.
"The distinction is, [stuff] happens and then you make [stuff] up about it," Thorn said. The idea being, that everyone lives in a story that has been created because of what has happened to us. In our own minds, everything that happens generates a meaning about ourselves and about who we are. Thorn encourages young people to create their own stories anew for themselves, and learn to live out that story on their own terms.
"Your identity is rooted in your ability to create a story for your life that is more powerful because you are worth it. That story will affect your choices and behaviors," Thorn said.
Through that transformation, is where Art From Ashes helps young people to transform the ashes of their past into the art of their future. Once three pieces of poetry are created from the writing prompts, participants then create a power piece. The power piece takes participants from the state of raw, unedited emotion towards closure and safety. It ends the workshop on a positive note that reinforces the worth and brilliance of each person's voice.
In addition to Phoenix Rising, there is its' sister program, Drawing on Air. It is similar but instead of just the written word, it also incorporates artistic expression through painting and collage. Both allow young people to begin to understand that they have an identity beyond victimization or perpetration.
"I started out only wanting young people to keep breathing. I didn't want them to kill themselves because they despaired," Thorn said. And it is that basic drive, to keep young people alive and empowered to change their world that keeps Art From Ashes going. Over the course of the life of Art From Ashes, the organization has noted a significant decrease in violence and substance abuse within the population it serves. There has also been an increased interest in academics and the community.
Art From Ashes offers weekly Phoenix Rising drop-in workshops for youth ages 12 to 24 at their Denver location at 1310 West 10th Avenue from 4:30 p.m. to 6:30 p.m. on Wednesdays. Pizza is donated from Pizzeria Locale for each week's workshop where youth can congregate and feel supported while moving through the Phoenix Rising curriculum. Pens and journals are provided and guest poets from Denver's community feature each week to contribute and inspire.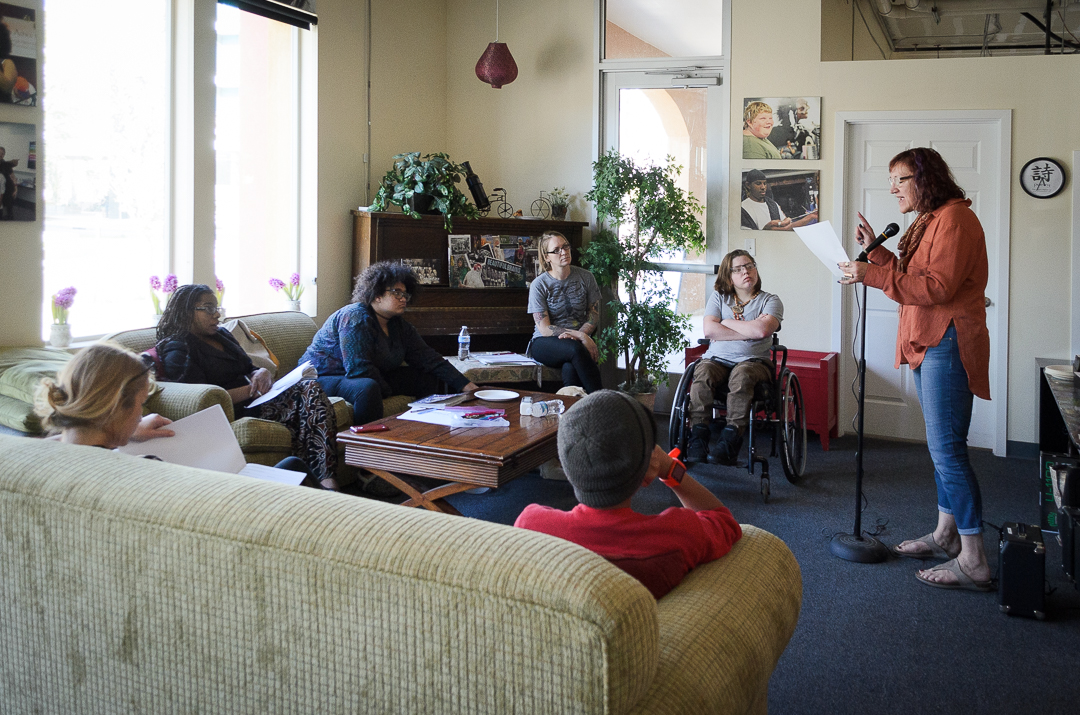 The Art From Ashes community supports youth ages 12 to 24 at their weekly drop-in workshops. Thorn and the other facilitators of the workshops don't see themselves as teachers or coaches. Instead, they gently guide youth towards discovering their own inner strength through the power of words. "Honestly, it's like they're just waiting for somebody to say that. And we don't even say it. We let them see it. Isn't that beautiful?" Thorn said.

The transformational work that Art From Ashes is doing is, indeed, beautiful. After over 25 years, Thorn still finds herself moved by the impact of the work she is doing and the youth. She remembers all of them and holds all of their stories. In a mere two hours, to have one person say that Art From Ashes has saved their life, continues to be the engine that drives Thorn and the rest of the team. "This is something magical and I [feel] like I [am] delivering it," Thorn said.

All photos by Austin Cope Photography.