You read that headline right – this synth master has been cranking out material for years here in Denver. French Kettle Station is a one man post-punk synth band that is the brainchild of the prolific Luke Thinnes. Many of the songs that Thinnes creates are ambient and lo-fi sounding, but also often super danceable. Nothing sticks with you like a live performance that pushes boundaries. This is what happened when I witnessed a French Kettle Station show. With synth driven sounds a little reminiscent of Joy Division and a front man giving it his all, the show was fun, high energy and super memorable.
Thinnes has been busy honing his craft and being active in the Denver music scene and was kind enough to chat with 303 Magazine before what looks like a busy summer for him.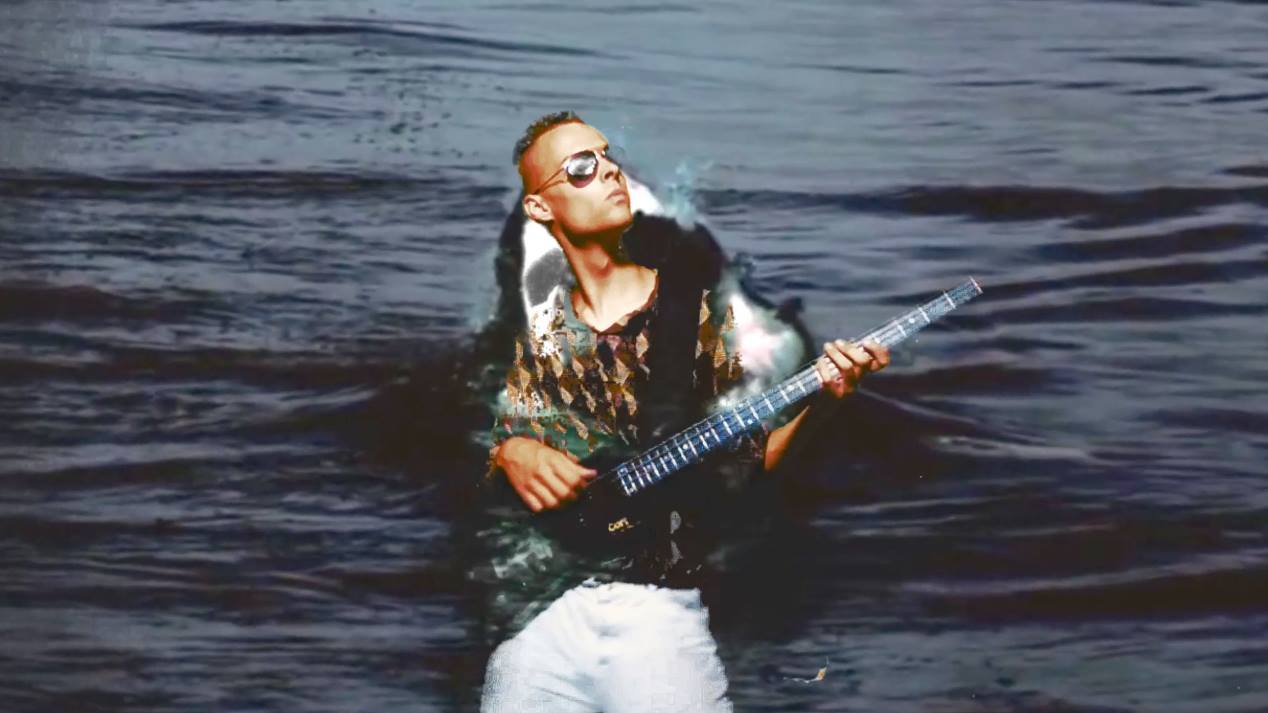 303 Magazine: How long have you been performing as French Kettle Station?
French Kettle Station: My first set as French Kettle Station was on July 25, 2014, so almost three years now!
303: How did you get your start in the Denver music scene?
FKS: Ever since I went to Rhinoceropolis to see Lightning Bolt on April 6, 2011, I have felt like a part of something larger than I can ever imagine. I went to nearly every show at Rhinoceropolis since that first time, and every performance I saw there forced me to assess what I appreciate about art, music and existence. I made plenty of friends at Rhinoceropolis and Glob but what always seemed to be at the forefront of necessity was having space and ability to work in a zone that fostered raw and unfiltered creativity. That has always been what I spend my time working to get in touch with.
303: You have a unique style/sound. Where do you find your inspiration for material?
FKS: It's this impulsive urge that comes out of nowhere and I just end up making as much noise as I can until it feels complete. The more I analyze what I'm trying to accomplish the less inspired I feel, so I try and inject my work with as much positive energy as I can without thinking too much about what works within the process. I have, however, found that it feels better to get what's in my heart out there than whatever is just simply on my mind at the current time. There's a lot of crossover between moods & thoughts, but generally, I think moods are more intentional & relatable to work with. Attempting to discard the use of thought is an important step in my creative process.
303: What kind of emotion/vibe do you hope to achieve with your songs?
FKS: Ideally, I hope to make each song with a slightly different purpose or emotion than the one before. As it fits in with an entire album, it feels best for me when there's some sort of sonic congruence to the effect of a story being told, even if it's not being described in concrete terms or even if it's just a landscape of feelings that are hard to put into words. If I'm writing a song and there is something troubling or confusing to me, I tend to feel better if the resolution doesn't end up some vague blur of incompetence.
303: Who are some of your favorite artists?
FKS: My all time favorite album is Laughing Stock by Talk Talk. I wouldn't call them my favorite band though because dozens of studio musicians contributed their talents to the album and it's more an astonishment in discipline and production techniques than a traditional band-oriented effort. Currently, I am enjoying a lot of new age/ambient music like the music of Iasos. He put out an album in 1975 called Inter-Dimensional Music that I have been listening to constantly.
303: Are there any local acts you're really digging currently?
FKS: Tons! Ever since I discovered Geoffrey Landers I have held him in the highest regard of local artists. He hasn't released anything since 1987, but every album he has finished is just a completely mind-blowing work of art. Tollund Men is a band that changed my whole life when I first saw them live. My good friend Alex Fischer is based in Pueblo, but we grew up together and he has inspired me like crazy since elementary school. He has been working on an album since September of 2015 and it currently has 100 songs on it. Spectral Voice is an absolute force of nature, and even though they don't play in Denver very often, it's a privilege to be based out of the same city as them.
303: You've got seven albums available online, how do you crank out so much material?
FKS: Seven is only scratching the surface. I've produced over 100 solo albums across nearly a dozen monikers. I believe it's a choice and that people can decide how much they let certain experiences affect them. I choose to let the great artists and works of art affect me the way that they do because it helps me feel closer to understanding the banality as well as the cruelty of everyday life.  I guess the short answer is by harnessing positive emotional energy and upholding strict disciplinary values. I can occasionally submit to a gateway that gives me the vulnerability and focus on getting a lot of (what I consider to be) effective and necessary work done.
303: What are your goals for French Kettle Station?
FKS: Lately, it's been easiest for me to assess goals through examples of what I don't want to accomplish. I see lots of artists compromise their output or their style in hopes of gaining a larger audience or larger representation. My belief has always been that if I put enough meaningful work and energy into what I do, amazing things will come out of it, and that has already proven to be so true. I have had opportunities to feel and express things extremely personal to me in environments that I could only dream of just a few years ago.
303: Got any upcoming plans or shows?
FKS: My next show in Denver is on April 28 at a private location and it is a kickoff show for a month-long tour I am embarking on with my good friends' project Xbox Live. Should be a blast!
Enjoy some French Kettle Station songs here