The lull of Larimer Square on a cool spring evening is enough to put you in a romantic mood, but finding yourself at an authentic French bistro after teleporting through a brick-paved corridor is the stuff of true romance. Bistro Vendome, tucked away behind the twinkling lights of Denver's famed urban oasis, is just the spot you're happy to settle into, especially if you're there on a Monday night to wine and dine in the company of foreign cinema and a prix-fixe menu. Congratulations, you are in Paris.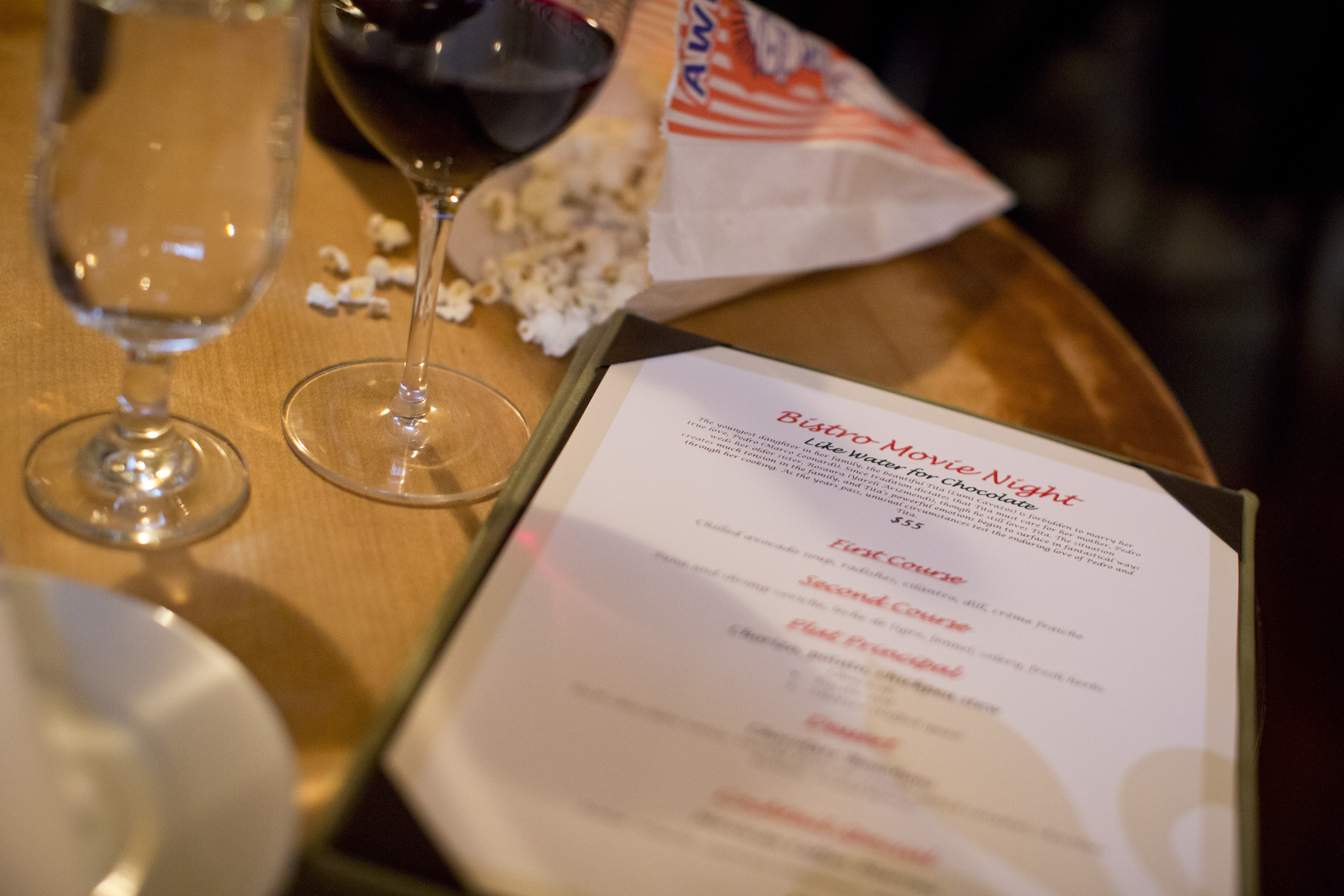 Opening the doors in 2003, Jennifer Jasinksi and Beth Gruitch (of Rioja, Euclid Hall and Stoic & Genuine) a power-duo in the Denver restaurant scene, have made Bistro Vendome into a Parisian dream, whisking together beautiful French cuisine with modern twists. Vendome discovered a gem in bringing in Missy Ihli, formerly of Mizuna, whose background includes film and French linguistics. With Ihli's passion for film and love of hospitality, the Monday night movie was born.
During our visit, Like Water For Chocolate, a Mexican film by Alfonso Arau, was on the silver screen and a gorgeous menu was prepared. The film followed Tita and Pedro — two lovers forbidden to marry because of old Mexican tradition — the youngest daughter only serves to take care of her mother until her death. You can imagine the tension, the passion and the longing— and these themes were represented on the menu and in the anticipation of each course as well.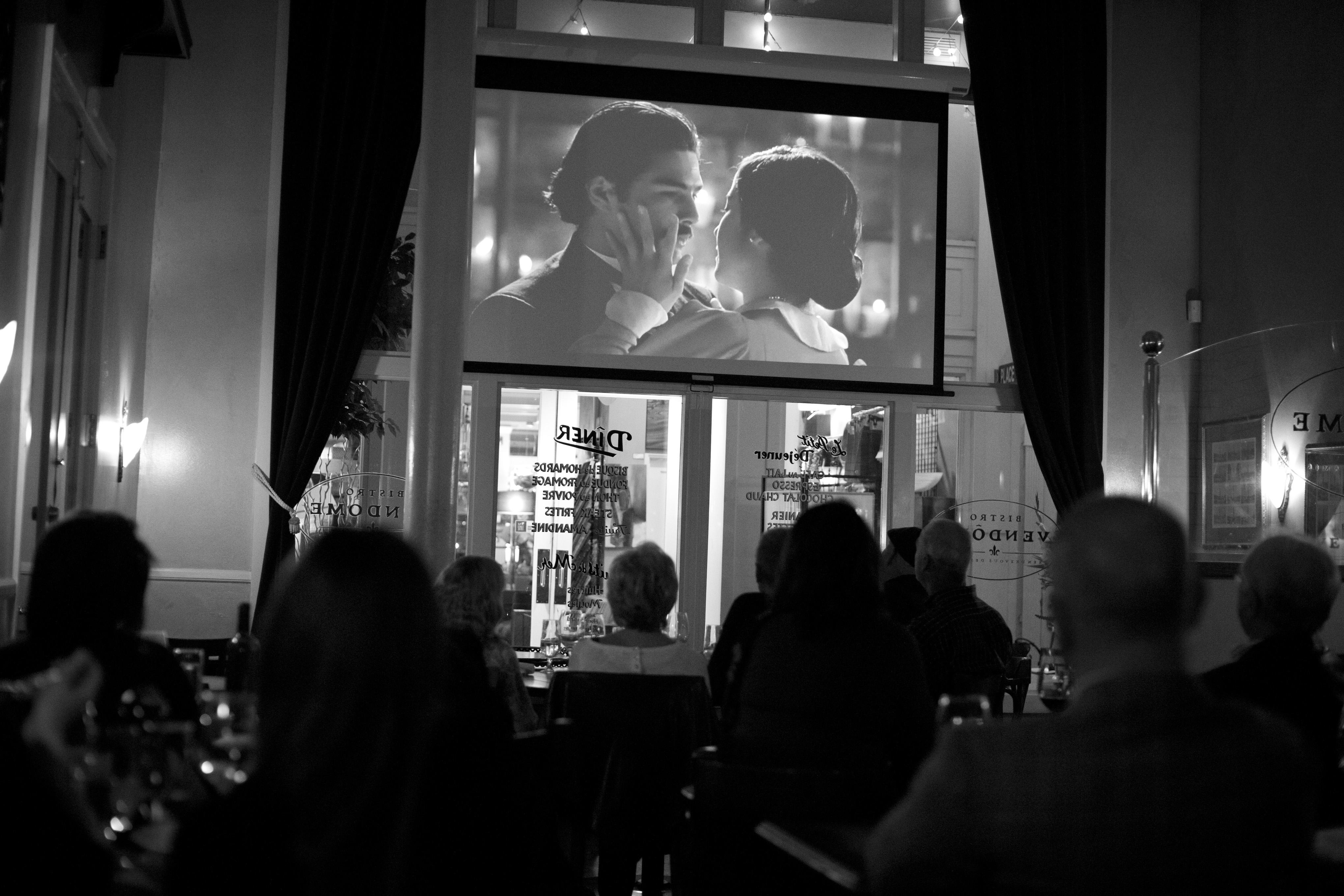 The magic of this movie night was held together by the vintage details in an old building and the quiet but efficient service. You are seated in Vendome's private dining room where you see adorable little two-top and four-top bistro tables with chairs pushed closely together. Vintage wall sconces, glass partitions, white-trimmed panel windows and fresh-cut flowers are the perfect set design for this mini magical experience. Truffle popcorn on the table and a single votive candle completed the setup and you're greeted almost immediately with a wine list that is mercifully concise but brilliant in its representation. The crowd was intimate at around 25 people, but because of the table setup, it felt like you were on your own island, with your own server, having your own uninterrupted experience, reminiscent of any love montage in film.
With a brief introduction and welcome to movie night, the opening credits started rolling and with a glass of spicy French wine in hand, our journey began. To start, a chilled avocado soup with dill, radish and creme fraiche awakened the senses as Tita and Pedro realized their passion for one another. A tuna and shrimp ceviche with homemade tortilla chips helped navigate the devastation of Pedro reluctantly marrying Tita's sister, only so he could continue to be close to Tita. It was a balancing act, following along with the movie and taking pause to savor each bite. While watching and nibbling, you could hear chef softly calling for hands in the kitchen, the gentle clash of plates, raw ingredients hitting hot oil in a pan and bottles of wine being popped. The resulting anticipation of each course lingered in your subconscious while the movie continued its twists and turns. It was a rather poetic feeling.
Just as the film reached its climax, a stew of potato and chickpea with chorizo-stuffed quail finished with rose petals gave you hope that Tita and Pedro would finally be together. Having found ways to share a life without belonging to each other, the two were painful to watch, but seeing that desperate longing as it appeared on our plates wasn't so bad. In fact, it was incredible. Slicing into the crisped quail skin to find perfectly-spiced chorizo fall helplessly into the stewy broth was seduction at its finest. Scooping up a rose petal with each bite was a brilliant touch and paid homage to the movie and to love — love in all forms which, that evening, was unequivocally the love of food.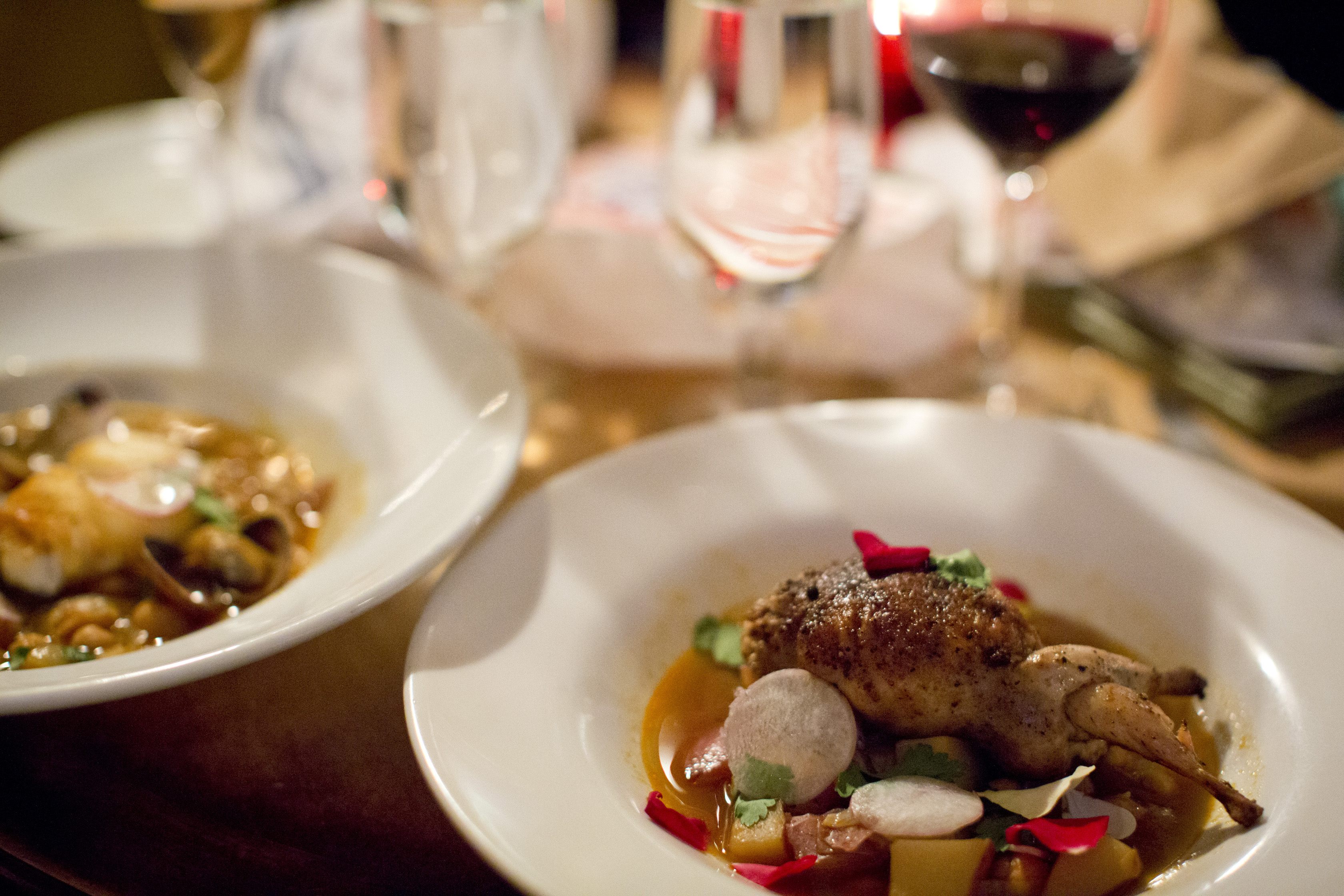 After the film wrapped up—and we won't spoil the ending for you—you are given time to reflect and perhaps slip away to the restroom to find the scent of fresh-cut lilies. Upon returning, the best part of the meal arrived: Chocolate tortes sliced in triangles, drizzled with salted caramel, sitting atop chocolate mousse and finished with housemade vanilla bean ice cream. It was well worth the wait, just like Tita and Pedro's love.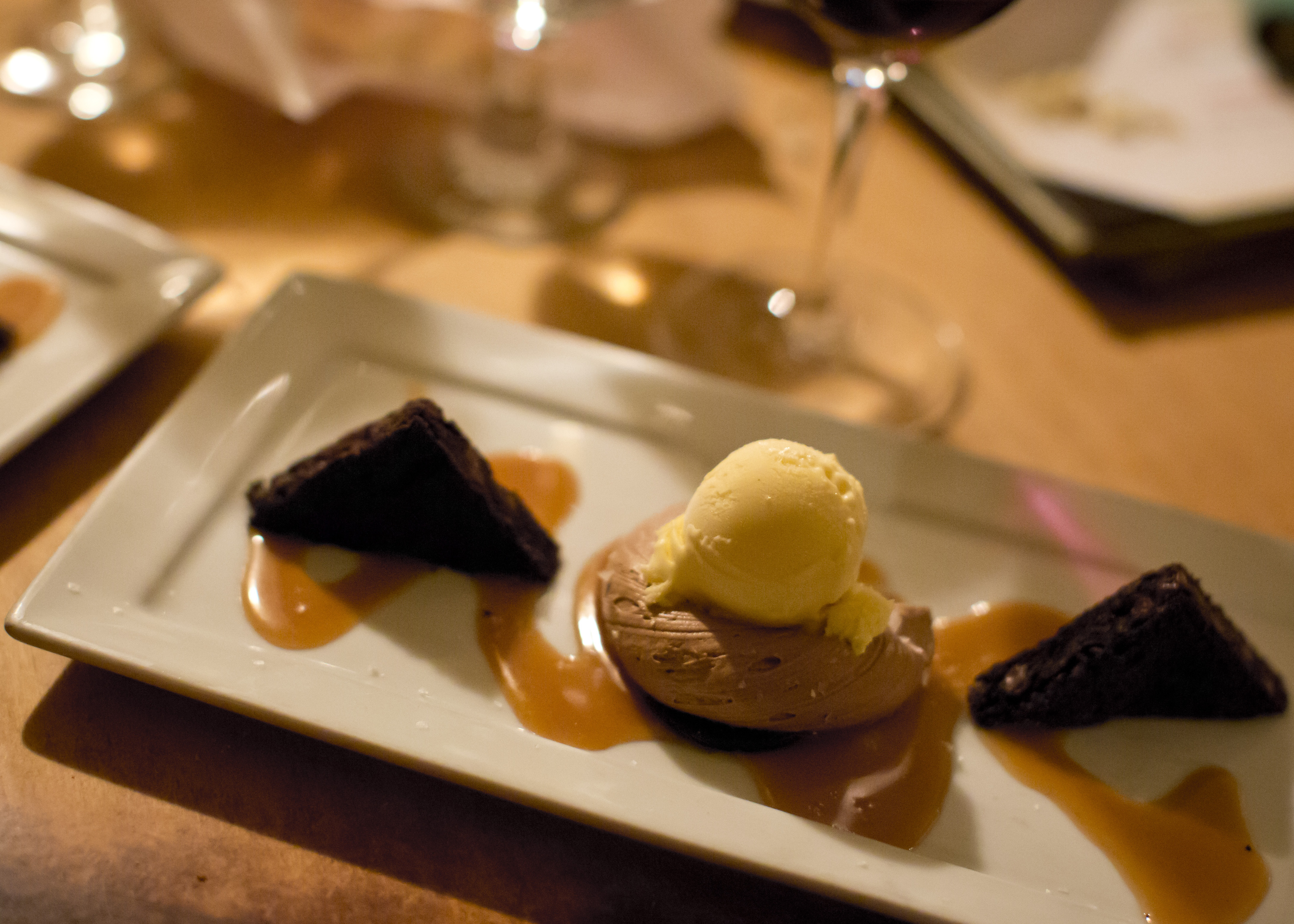 For $55 (plus tax and gratuity), you can reserve your seat to the show every other Monday to enjoy a four-course meal, and on Saturday you can dine on three courses for $35 (plus tax and gratuity) at a matinee. Every movie screens two times an evening (or at brunch!) giving you the flexibility you need to make this happen, and you should. Do it for love. Do it for food. Do it for Tita and Pedro.
Bistro Vendome is located at 1420 Larimer Square, Denver—in the Sussex Building through the breezeway. They are open Monday-Thursday for dinner from 5 until 10 p.m., Fridays and Saturdays for dinner from 5 until 11:00 p.m., Sundays for dinner from 5 until 9:00 p.m. and brunch on Saturdays and Sundays only from 10:30 a.m. to 2:30 p.m.
All photography by Rachel Muich.