There are few cities on Earth that have a day simply to celebrate the fact their city exists. If you have lived in Denver for a month or your whole life, you most likely have noticed the extreme Coloradan pride. From the beautiful state flag found all over clothing to "Native" bumper stickers— we love to represent. While so many of us may get annoyed by the influx of out-of-towners taking over the state, there is no denying the reason for wanting to come to what some are calling the best place to live in the country. At the 303 music desk, we know the best part about living in Denver is the endless music options, foreign and domestic. Sometimes we can get caught up on the big-name touring artists that come through the city, but it's important to recognize the ones still walking the streets alongside their fans – the one's that call this place home.
To celebrate this incredible local talent 303 Magazine, Channel 93.3 and illegal Pete's are teaming up for a 303 Day celebration (March 3) to bring a full day and night packed with some of the best local alternative music the city has to offer.
Beer Pong with 3OH!3
When: 6 p.m.
Where: Illegal Pete's Pearl Street – 1447 Pearl St., Boulder
The Lowdown: Almost too perfect of a start to the weekend, Colorado legends 3OH!3 will follow up a sold-out Fox Theatre show with an illegal Pete's meet and greet. Fresh on the heels of their fourth studio album Night Sports, 3OH!3 was one of the first groups that began Denver's new renaissance for nationally recognized music back in 2008. Their hilarious genre-busting sound will once again give their Boulder fans the attention they deserve.
Also see: Tonight, Thursday, March 2 at Fox Theater
AMZY
When: 7 p.m.
Where: Illegal Pete's D.U. – 1744 E. Evans Ave., Denver
The Lowdown: Beloved Denver band AMZY will also be making an appearance to celebrate everyone's favorite holiday. While the quartet claim rock as their style, this group can easily be filed under many different areas of tunes, including pop and electronic. Since banding together in 2005, they have won some serious accolade and have partaken in many festivals. If you consider yourself a Denver music aficionado, you will not miss the opportunity to rejoice the 303 with AMZY.
The Velveteers
When: 8 p.m.
Where: Illegal Pete's S. Broadway – 270 S. Broadway, Denver
The Lowdown: Start your weekend right with a heavy dose of grungy vibes from local brother and sister duo The Velveteers. Their aggressive and unique sound has blistered crowds at much loved Denver venues like Lost Lake and Hi-Dive. Formed in Boulder in 2014, these mercenaries of distortion were raised on a healthy diet of heavy rock and released their debut album Death Hex in September 2016. Recently back from a busy tour of the UK, The Velveteers have developed quite the following at home and abroad. This show is sure to rock the socks off Illegal Pete's- so grab some nachos and a beer and enjoy the grunge.
One Flew West (acoustic)

When: 5 p.m.
Where: Illegal Pete's Colfax – 2001 E. Colfax, Denver
The Lowdown: One of CBS Denver's 'Top Up-And-Coming Denver Bands To Check Out In 2016,' One Flew West will make an appearance at illegal Pete's Colfax. Since their formation in 2010, One Flew West have put in the work to play as many shows as they could around Denver, and will be a fitting name to celebrate Colorado pride.
Also see: Friday, March 3 at Lost Lake
888
When: 6 p.m.
Where: Illegal Pete's LoDo – 1530 16th St., Denver
The Lowdown: To round up the live music side of 303 Day, Channel 93.3 comes through to bring Denver's very own 888. Their blend of hard rock and indie electronic music can be compared to a harder sounding Passion Pit, all put together in a very clean fashion. Their heavy synths and hard-hitting drums will be perfect for the intimate setting of Illegal Pete's LoDo.
Also see: Friday, March 3 at Marquis Theater
Potato Frances
When: 7 p.m.
Where: Illegal Pete's "The Hill" – 1124 13th St., Boulder
The Lowdown: The young but quite talented Boulder band Potato Francis is what you wish all high school bands were like. Don't let their age fool you- these young punks have some serious chops. Their heavy and fast paced sound has a nice hard edge to it that is often bookended by a ripping solo or two from their leading guitar man. This up and coming local teenage group is no stranger to playing in front of crowds and is well on their way to making their mark in the Denver music scene. Celebrate 303 day with the next generation of young local musicians.
The Parlor Pickers
When: 8 p.m.
Where: illegal Pete's DTC – 5312 DTC Blvd. #400, Greenwood Village
The Lowdown: The Parlor Pickers have been around since 2010 and most recently released their second full-length, Joliet Street Shakedown album back in 2014. Since, they have been playing at local bars and venues throughout the city. The Denver band describes their style as Roadhouse – a blend of rock 'n' roll, country, blues and more, but their goal is to make music that simply makes people feel good. Get all the good feels on 303 Day with The Parlor Pickers at illegal Pete's DTC.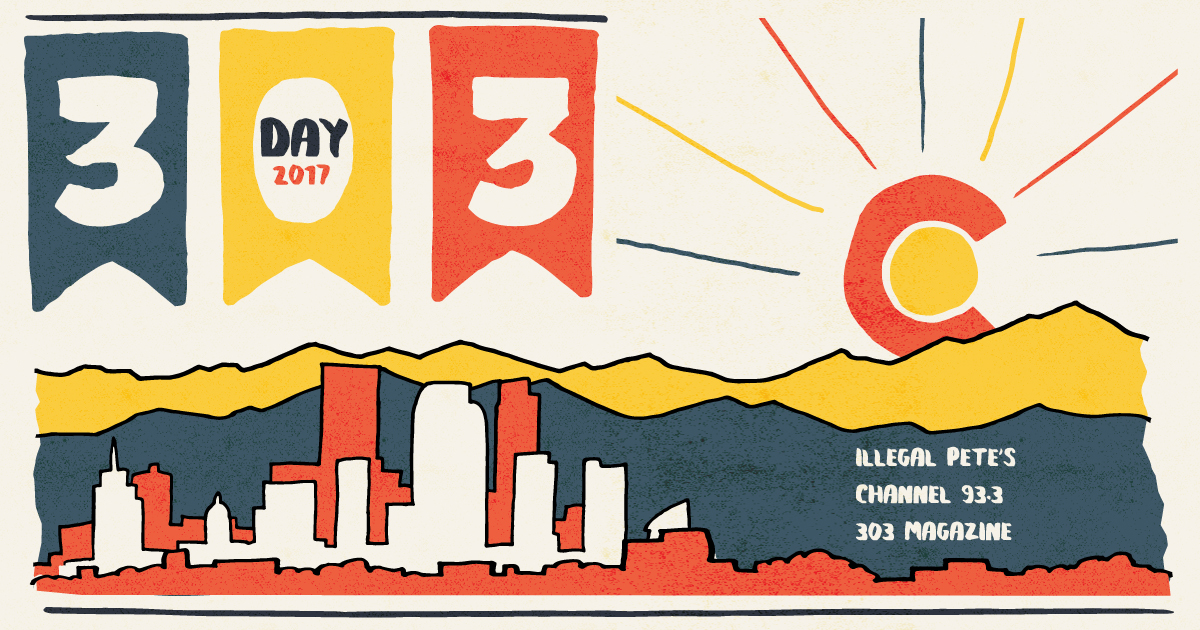 Finally to top off the many local music options, Channel 93.3 will bless us by spinning local tunes throughout the day for you to discover what this state has to offer. With this they will be exclusively premiering brand new tracks from Amzy, Rose Hill Drive and 888. If you are a burrito lover or if you just have more Colorado pride than you know what to do with, check out our Illegal Pete's 303 Day announcement for great deals and contests here.