The Museum of Contemporary Art (MCA) in Denver opened its winter exhibitions this last Friday, with a sold-out reception that buzzed with the relevance of the works, despite the fact that everything was created before or at the beginning of the 2000s. MCA had to build new walls, print unprinted photographs, painstakingly arrange thousands of Polaroids and graffiti one of their staircases to open, and the result is a conglomeration of sketchy, raw and revolutionary pieces. The three exhibitions on display are: Basquiat Before Basquiat, East 12th Street, 1979-1980, Ryan McGinley's The Kids Were Alright and Wall Writers: Graffiti in its Innocence. Each of these collections display a moment in the evolution of DIY artist workspaces and the idea that art can be a lifestyle rather than a hobby. Altogether, they provide rich documentation of a movement in contemporary art that was inspired by a gritty reality and ultimately paved the way for artists to integrate their working and living spheres into one.
Wall Writers: Graffiti in its Innocence
This slideshow requires JavaScript.
Located on the bottom level of the museum, Wall Writers explores the very beginnings of graffiti which began in New York and Philadelphia in the early '70s. Curated by Roger Gastman, who is well-known in the graffiti world for his extensive research and subsequent books and movies—including the documentary "Exit Through the Gift Shop"—Wall Writers provides a historical narrative and an educational experience. Through newspaper clippings from the 1970s, photographic documentation, first-hand accounts and artifacts, graffiti is defined by the angsty teenagers who decided to tag their names on everything.
With a more in-depth look at a few of the culprits— like TAKI 183 and Cornbread—it becomes obvious that graffiti began as an ego-fueled past-time, with no intention of being artistic but with every intention to gain recognition within small circles, or as TAKI 183 was quoted in a newspaper saying, "it's just something we did, for fun." Essentially territorial and isolated between neighborhoods, the fact that it occurred simultaneously in different cities betrays that it was a product of a culture, in the context of the times.
This subculture spread, splintering into other subcultures which expanded the definition of graffiti. But it's remarkable to see the origins, elementary and unfiltered, just a can of spray paint and some symbols, letters and numbers. And these pioneers laid the foundation for other kinds of artists, like Basquiat and McGinley. If not because of the aesthetics, then because it exemplified the constant need for self-expression to the extent that commuting to and from work could become a creative endeavor.
The exhibition also features work from the United Graffiti Artists, who were the first to bring graffiti into gallery spaces in the early '70s. Artists like Coco 144 incorporated color and started to create the bubble-like letters that expanded in popularity later on.
Basquiat Before Basquiat, East 12th Street, 1979-1980
This slideshow requires JavaScript.
If you know Jean-Michel Basquiat, it's from his short-lived and passionate fame in the '80s, with boldly gestural paintings that portrayed the emotive force of someone who lived and breathed artistic expression. But this exhibition has been designed to explore the year before Basquiat's art was really recognized, to understand that he was a hyper creative person who never distinguished his personal life from his artistic life. It also illustrates how Basquiat distilled ideas into concentrated acts of expression, simplifying major concepts into a single word or phrase, like his moniker SAMO© which he tagged all over his building. Everything in the exhibition was gathered by Basquiat's roommate at the time, Alexis Adler, and includes sweatshirts, pages from notebooks, photographs and sculptures.
Curated by Nora Burnett Abrams, the exhibition aims to entrench the viewer in Basquiat's life. It starts by taking you through an entryway with walls covered in his tags, representing his apartment building and hallways, then to a room taped out in the same floor plan as his East 12th Street flat. Not only does this illuminate the context of Basquiat's creative impulses, it expresses how he used any surface as a canvas.  Everything could be made into art in his world, it just needed to be tinkered with a little.
His inspiration undoubtedly came from his urban settings, with graffiti, tagging, commercials and advertisements, and much like he scavenged for survival, he became a scavenger for materials to make art with as well. He collected ideas and actual items from the streets and rigorously molded them, sometimes playing with one concept in a multitude of ways. In some of his notebook pages (located in the final room) he would write one line in several different stories and this exemplifies that creative distillation that Basquiat seemed to excel at, where he would squeeze a concept until he found the essence of it.
Ryan McGinley's The Kids Were Alright
This slideshow requires JavaScript.
The Kids Were Alright features early photographs from Ryan McGinley in Manhattan in the 1990s. The exhibition includes never before printed pictures, the actual point-and-shoot cameras he used to take pictures and an impressive band of 1,763 Polaroids in three rows wrapped around the entire floor, depicting visitors to McGinley's apartment over a four year period. His personal collection actually includes over 10,000 Polaroids, which is an outstanding number of portraits in an age before the proliferation of social media made the selfie and taking a hundreds pictures a week normal, and probably an outstanding amount of money for a struggling artist.
As with the other two exhibitions, McGinley's art is a result of his lifestyle, a documentation of a certain era and culture and an example of an artist blurring the boundaries between where he lives and where he creates art. The people who surrounded McGinley (many of which were artists themselves, attending Parsons School of Design in Manhattan) were his muses, and the antics of his friends became the focal point of his documentation. The Polaroids represent a spectrum of personalities, between different people and variation within the same person over time. The larger images portray the permissiveness of the time while still focusing on a person or people as the main subject.
These photographs are intimate, depicting moments shared between close friends—sex, drugs, breaking laws, getting in fights. Though most of the shenanigans would usually be attributed to overly active testosterone levels, the photographs have this unmistakably tender quality to them that come from McGinley's eye for light and perspective as well as the trust he shared with his friends and boyfriends. Every picture is unedited, unfiltered, candid and many show illicit images, including a section that has a warning for "mature content" (spoiler alert—it's a penis, you'll see a penis in there). McGinley and his friends could absolutely be classified as punk, with their fuck off attitudes and blatant disregard for authority or legal boundaries. Witnessing the documentation of this kind of a lifestyle feels naughty. He managed to represent the wild and abusive characters as romantic, as if the way they pushed their bodies to the limits was admirable.
Two of his closest friends and the subjects of many of McGinley's photos are Dash Snow and Dan Colen, who have been featured at the end of the exhibit with a few pieces of their own. The freestanding wall in the final room is a replica of an actual wall that existed in one of their apartments. If you take a moment to look at the headlines for some of the newspaper clippings, it will probably surprise you how apropos they still are—that the complaints and critiques from these degenerates still persist today (even if the degenerates themselves don't).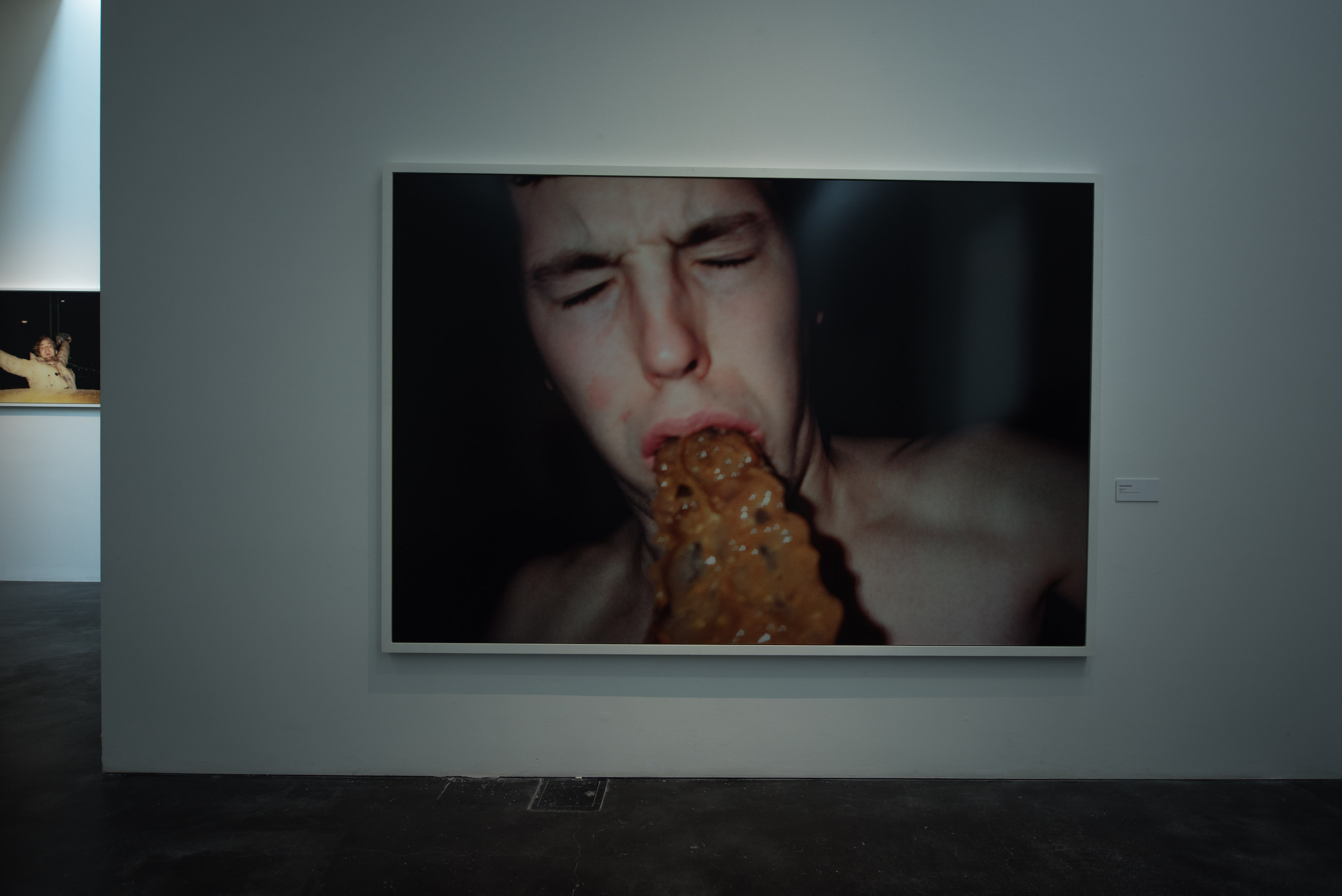 These exhibitions build on one another, revolving around a time in history that has been characterized by the passion of the people who engineered it. In their own ways, the exhibitions display the formation of a new wave of artistic expression and present this new wave with a brutal honesty, without caring if they offend.