Tucked in next to the Bluebird Theater off of East Colfax lies a small, couple-owned bistro that has grown to become a secret, lust-worthy spot in Denver's dining scene. Walking into the charming grounds of this hushed hot-spot is like heading next door to your neighbor's house and sticking around for a glass of wine or a good IPA.

To say this space is compact might be an understatement. The restaurant proudly boasts 14 seats including a four-top at the bar that bridges the dining space with an open kitchen. Size is not everything, and the bistro certainly packs a lot of punch per-square-foot with a menu that is constantly changing and whimsical dining experience that puts you up front and personal with Chef Royce Oliveira, (previously of Mizuna and Axios Estiatorio).
I sat down to indulge in one of the main plates of fresh, local fare and had a moment to chat with Chef Oliveira. I have to say, even though the menu appears simple at the first, one of the most notable qualities of To the Wind's food is the seemingly indefinite, metamorphic ability of its carte de jour.
"I try not to do the same thing twice," Chef Royce noted when asked where he draws such varied inspiration from. "I try to stay as local as possible, stick to seasonal stuff; in the summer and fall I go to the markets seven blocks away."
I had the opportunity to dig into the blue prawns ($12). These three succulent beauties were grilled in full form and then delicately placed atop a fresh julienne slaw playing with notes of coconut, hot spicy oil and a refreshing crunch of the slaw. They were a delightful surprise for the palate, finished off with sliced jalapeños and topped with a delicate coconut, soy foam. Almost too pretty to eat- almost. I chatted with Royce while he prepared other equally succulent dishes whose minimalistic nature did not detract from their immense palatableness, but rather, highlighted the individualistic quality of the ingredients themselves.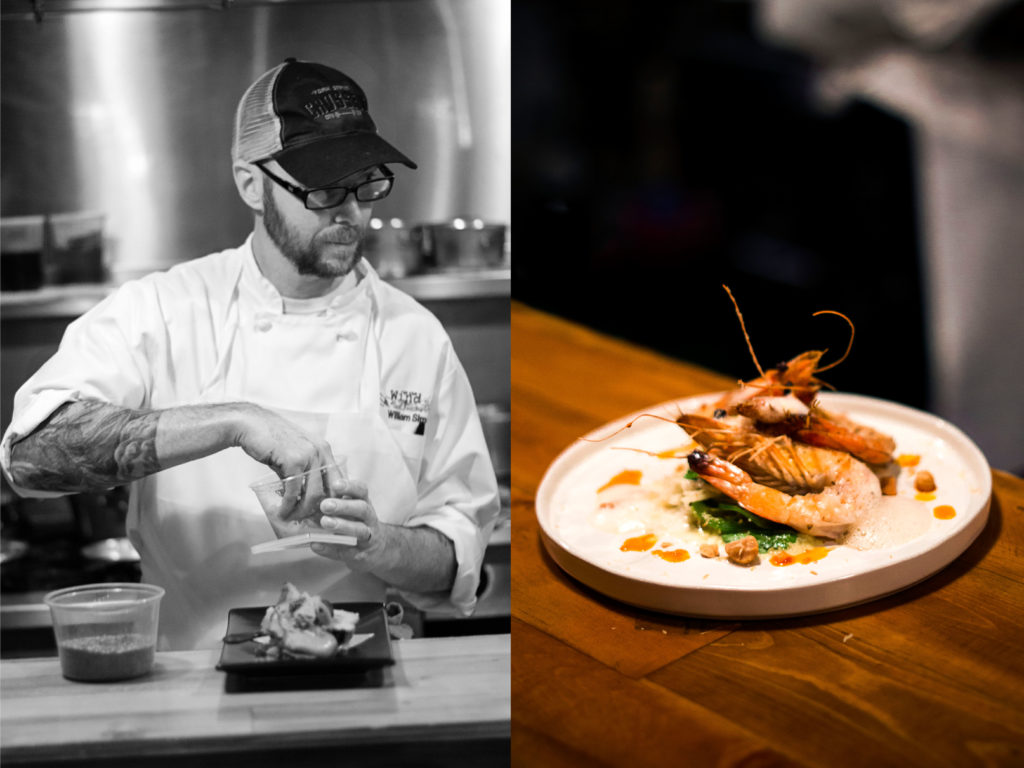 As I left with stomach and soul satiated it felt a lot like parting from that of a close friend or family members. It is evident that the diners who come here feel the same, there seems to be no barrier between guest and chef and perhaps that's the magic of being in such close proximity to one another. 
To the Wind Bistro: 3333 E Colfax Ave., Denver; open Tuesday through Thursday 5 – 9 p.m., Friday and Saturday 5 – 10 p.m. No reservations. 
All photography by Nisa Sedaghat.