My friends will tell you that it's no secret, I'm apt to hyperbole — but I truly do think that the Squirrel Nut Zippers are the most explosive, wildly entertaining and extraordinarily talented band around. After their seven year hiatus from touring, band leader Jimbo Mathus rallied a crew of fresh faced, hep young cats from New Orleans to play along and hit the road to celebrate the 20th anniversary of the release of SNZ's famed album Hot. This revival of sorts drew quite the Denver crowd of sharply dressed and loyal fans, who warmly welcomed new tracks played in between a set otherwise stacked with beloved hits.
The last (and only) time I was lucky enough to witness the genius cabaret that is a Squirrel Nut Zippers show was on a boat in New York City about ten years ago, where the nine-piece band paraded around, the entire crowd following them like devoted vermin to the Pied Piper. I'm pleased to report that, although the cast and crew of bandmates may be entirely different than that of the band I witnessed a decade ago, last night's show at the Gothic (best damn venue in Denver, if you ask me) was equally as infused with vigor — if not more so. (Ahem: The ultra civilized "mosh pit" that was churned up during "The Ghost of Stephen Foster" was exceptionally enthusiastic, and I don't recall the ol' boat permitting that sort of raucousness.)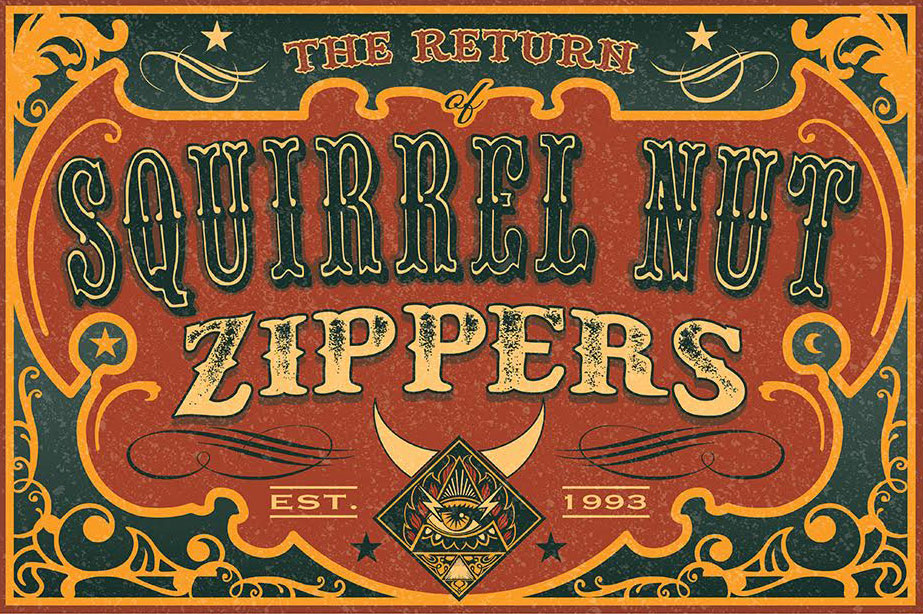 The Squirrel Nut Zippers combine elements of gypsy jazz with honkey tonk blues, with witty swing overtones and notes of Klezmer — with over-the-top showmanship all the while. Lead female vocalist Tamar Korn blew the crowd away with her high energy dancing throughout the entire set, while managing to sing with a voice that sounded like it was being played off an old gramophone from the roaring '20s. I swear, the only thing missing from her crooning was the sound of vinyl cracking in the background. How that woman managed to make the most agreeable sounds come out of her face while solo swing dancing away was beyond comprehension.
Listen to Tamar Korn's magical voice here (playing with her own band in 2013):
Furthermore, fiddle player Dr. Sick (Justin Carr) high kicked and head banged, tossing tidal waves of sweat across the stage from his flailing hair, all while sawing away at his instrument — and actually sawing away on an actual saw during a few select tunes. During the encore, Korn pantomimed fiddling while making the sounds with her voice and Carr would play back the same notes on his actual fiddle, comically taunting each other and driving the crowd wild.
After a haunting rendition of "Blue Angel," I noted to a friend that I could've resigned from seeing any live music ever again because they had played the track to utter perfection. If that had been all, that one track, it would've been enough. But there was much, much more. (Here I go, hyperbolizing again. But, seriously: auditory perfection was achieved at this moment. Ask anyone who was there.)
Jimbo Mathus is a captivating performer, righteous musician and marvelous ring leader — all balled up into one clown of a human. His energy is inspiring and his ability to curate such a creative ensemble, from horns and piano to badass Tamara Nicolai on the standup bass, does not go unappreciated. During the last several years that Squirrel Nut Zippers wasn't touring, Mathus continued to write and produce music with his band Jimbo Mathus & the Tri-State Coalition. He preaches "bringing the joy back," persistently referring to the audience as "you beasts." (Which proves great for moral, inspiring howls and cheering each time.) "Head Squirrel" Jimbo and the Squirrel Nut Zippers are currently working on a new album to be released this summer.
While we wait, we shall relish in the revival of the band that was big in the '90s, despite sounding like they're from the black-n-white honkey tonk days of yesteryear. Squirrel Nut Zippers continue to emanate that timeless quality about them, from their vaudeville energy and quirky lyrics to their nostalgic Tin Pan Alley grooves. They are a band like no other, and I hope they continue to make music for a long, long time.
Also worth a mention: Opening band Danette Hollowell & The Old Souls also had a timeless quality about them, fusing old soul and jazz styles — including a captivating and unforgettable rendition of Jimi Hendrix's "Little Wing."