The aliens of Denver congregated at the Gothic Theater on Friday night, for a night of wild and crazy dubstep improvisation by none other than EOTO. The 100% live drum and bass duo approached their usual December performance, this year at the Gothic, with rage-tastic jams and a jaw-dropping laser show.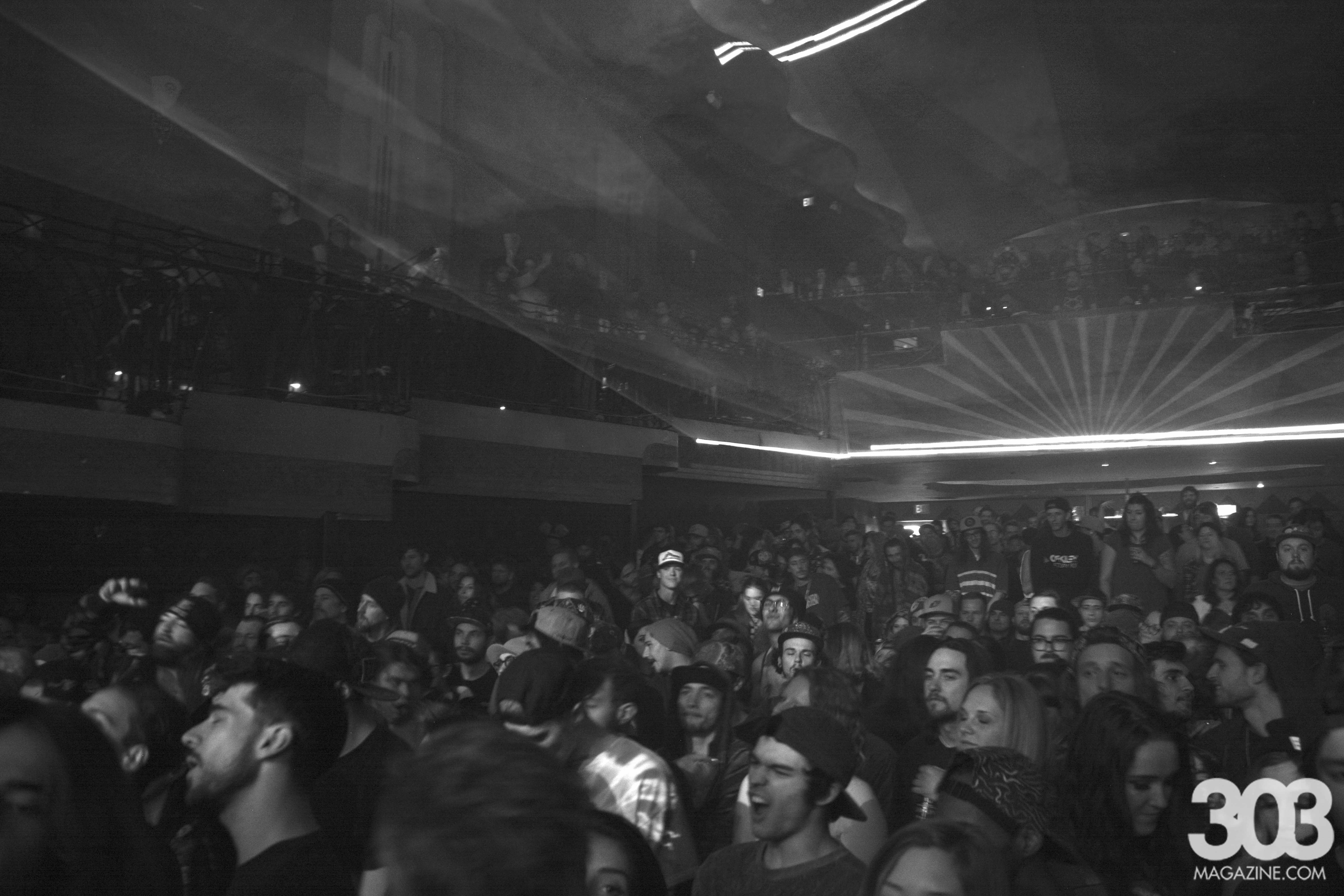 Openers CirCuit Bent and live Mr. Bill set were more than an appropriate preview for the night at hand. A projection screen served as the focus on stage, showing quick shots of various scenes and an animated spinning blob. The crowd welcomed the early sets, filling up the floor with eager dance freaks.
"That's why we love you Denver, We can do weird stuff like this." Said Mr. Bill.
During the set break, ab experimental light show burst out randomly, sparking uproarious excitement from the audience awaiting the set. EOTO has made name for themselves by bringing a fiery laser performance that would melt the brain of any average human with appropriate eyesight.
About a quarter after eleven, the two seasoned musicians made their way behind their elaborate stations of musical tools. Michael Travis placed himself on a platform with an array of gear, including two MacBooks, several keyboards, a bass, a guitar and two mixing boards. Jason Haan, on his own platform of instruments, was surrounded by his usual mixing board, snare, djembe and microphones. As learned in our Q&A earlier this week, Haan learned an array of different types of music at an early age, which he believed has helped his career and ability to create music of varying genres.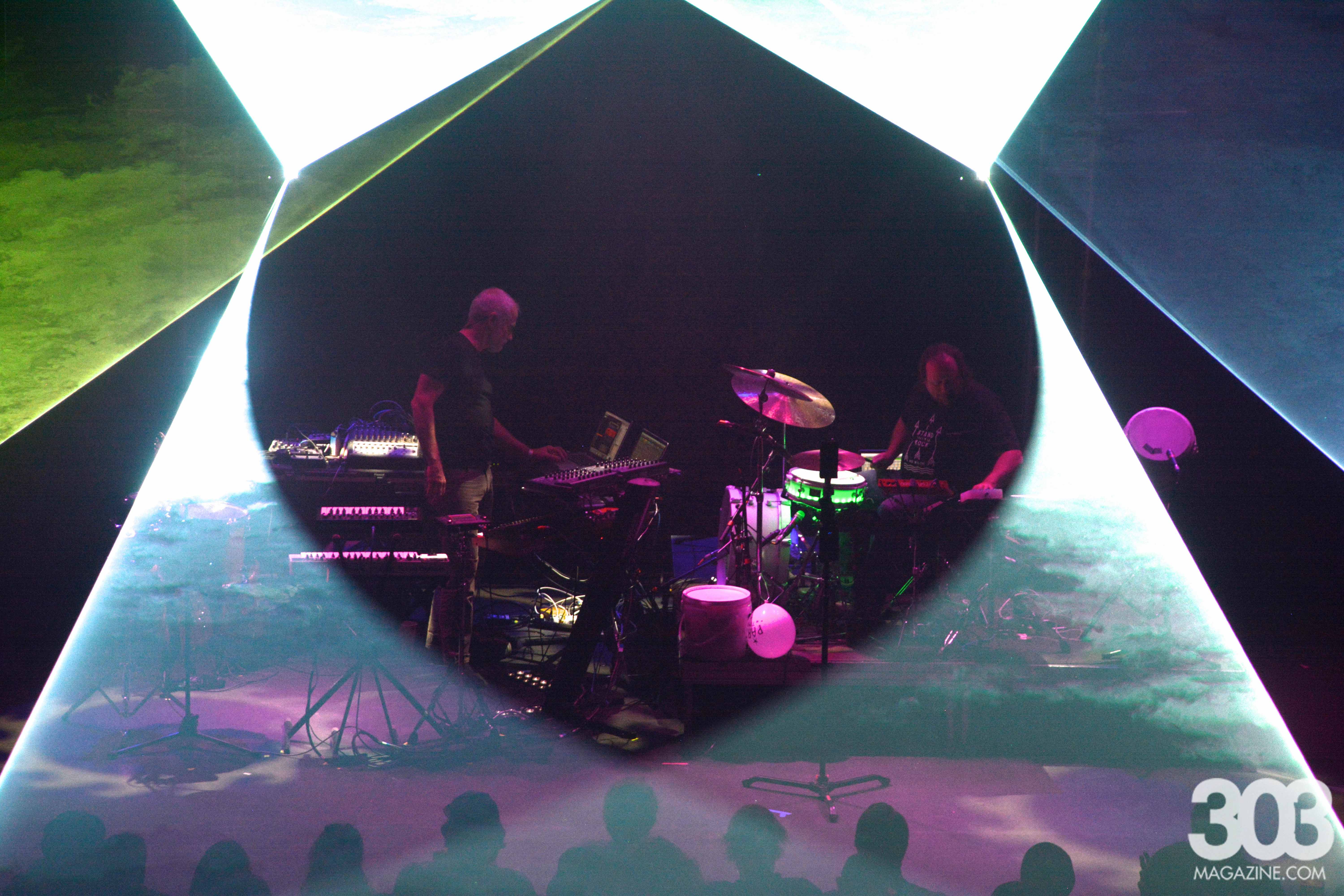 "We don't even know yet what we're going to play." Travis informed the audience.
Balloons of all colors bopped around by the hands of the crowd, making the scene look like an epic party from above. The set started out gentle and subtle, rising up slowly, after several minutes leading towards a surely epic drop, but not before a sample of a voice-over exclaimed "fire the lasers!" at which time the insane light show made its debut, lighting the entire venue with strings of green and blue.
"Denver, how y'all feeling out there?" Haan questioned.
The show went from trance to womp to fist-pumping rave tracks. At time, samples in other languages infiltrated through the cracks of their live music. The lights mixed with smoke to create a satin like effect on the blinding illumination above the stage. Entranced faces of fans dazed in and out of their journey, at times dancing frivolously and others barely swaying as they took in the set. Haan stood up on his stool at one point, requesting that the crowd clap in beat with him before he took his place again to bang the beat of the music. Around 1 a.m., the two members closed their set and retreated backstage.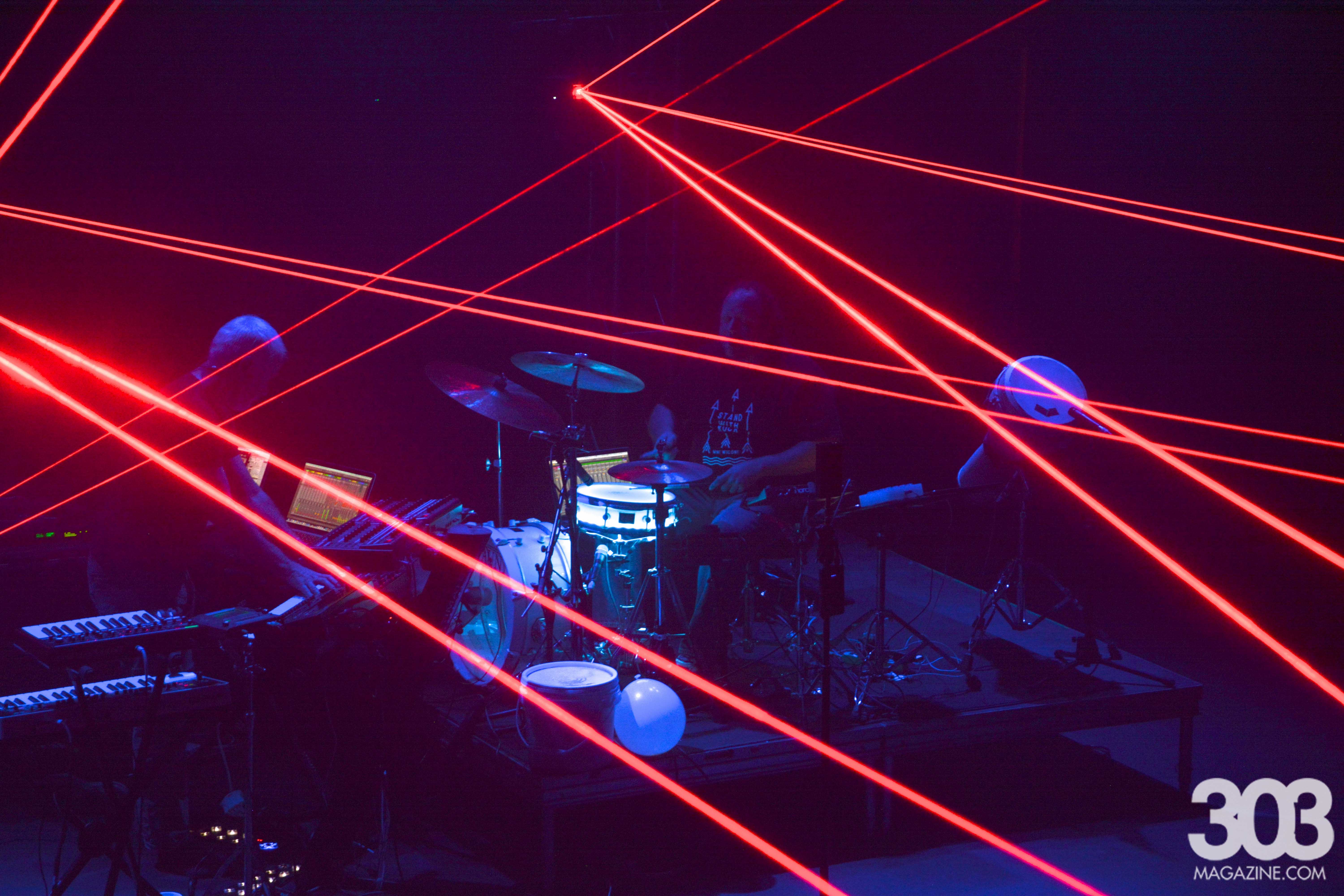 Not but two minutes after, they rejoined their cult-following for an encore. The encore began funkier that the rest of the set had been, with Travis ripping on the bass and guitar and Haan rocking along in unison. After a shorter jam session, the night had come to an end. Luckily, there were over two hours of music behind the fans, and the reassuring notion that EOTO will always be back for more.