Winter finally arrived hours before Toro y Moi's headlining set at The Fox Theater in Boulder, Colorado on November 18. My toes were frozen, my nose was running, but all was as it should've been — ever so briefly, for a late November day in Colorado. A shot of tequila and a bowl of Thai curry thawed me out enough to trek to the show embracing the expectations of the first actual winter day, and preparing to confront my expectations of the upcoming show.
Toro y Moi's particular blend of blissed out funk digs deep and has the tendency to devolve into an irresistible dance parties. Simultaneous funky and unconventional, the band manages to pervade any groove on the audience with the cohesion of a well-seasoned jam band. Their essential 2013 effort Anything In Return is the band at its best, finding the band playing their strengths and charting new territory over plush grooves and house vocal samples, with lead-singer Chaz Bundick's subtle voice leading the way. Having seen them touring behind Anything In Return, my expectations were high, as each song transformed and somehow managed to transcend the studio recordings, creating something utterly fantastic in the process. Hitting the Fox Theater behind their 2015 follow-up, What For? an album that departs from their signature funk, and instead embraces the bands psychedelic rock vibes, I was excited as ever for the band to reignite a fire in my heels and heat up the cold night.
Opening with "Half Dome" off What For? the set was off to a mellow but jamming start. Nothing quite grabbed hold until the band got into "Still Sound" from 2011's Underneath the Pine a couple songs in, but when they did the Fox was bustling and brimming with tempered expectations. It was blatantly clear it'd be a different show from the shows that accompanied Anything In Return but I kept the faith that the band and the new songs would find new life, like they did on the previous tour.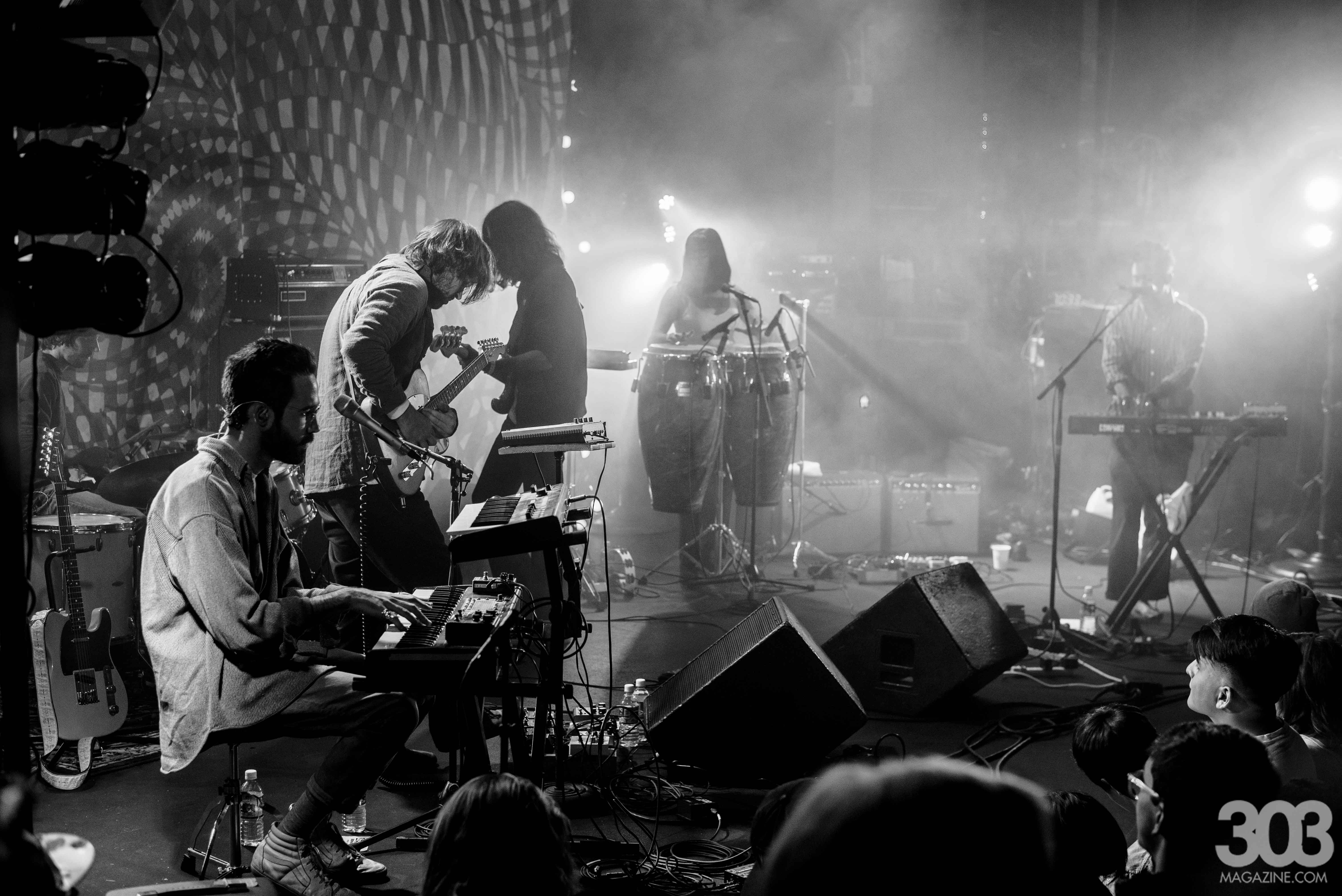 Yet, as the course of expectations goes, disappointment crept in and I found myself wondering why. Toro y Moi played as tight as I remember, but something was lost in the transition into newer songs that replaced old ones on their last tour. As badly as I yearned to lose myself in the music, the new material kept drawing me out, and I began to not only feel indifferent, but also like the moment was fleeting. Much like the snow that had been falling outside only to melt by morning, Toro y Moi while fun, didn't make the lasting impression it did back on their last tour. The pinnacle of disappointment came in the absence of songs "Say That," "Harm In Charge," and "Talamak" and while included, the abbreviated "Rose Quartz" failed to change my sentiments, fizzling out into smoke.
I expected the band to spark a fire, but what I got was a slow burn that never quite caught flame.
All photography by Austin Voldseth. Check out our full gallery here.