Cary Ann Hearst and Michael Trent, also known as Shovels & Rope, combined forces years ago to start creating some of the best modern country folk rock of our time. Touring after the release of Little Seeds–their forth LP–the duo is in the middle of a two-night stop at the Mile High City's Ogden Theater. Night one kicked off last night and night two begins at 9 p.m. tonight, Saturday, November 19.
Indianola, another rock duo, started night one with a grungy southern rock set that really got the crowd warmed up for Trent and Hearst. Everyone was boot-stomping, hooting and hollering. The drummer often played keyboard while drumming and had a tambourine atop the drum symbols to add an extra effect to their songs. Indianola closed out with an epic guitar solo. The suitable two-man band openers for Shovels & Rope packed some real power. They'll be back again to accompany Shovels & Rope for their second night.
The stage was lined with four columns of boards stacked atop one-another. The simplicity and folkiness of the decor was suitable for Shovels & Rope's style of music. Little did we know, the duo had a lot more planned for those boards. The audience soon found out that rather than just simple wooden columns, they were a clever substitute for a projection screen. Shovels & Rope took the stage with "I Know," their first single from new album Little Seeds, and the columns were lit up with the projection of a car driving down a night-time road. Over the course of the next hour and forty five minute set, projections of skeletons, fire, old photos, birds flying, the moon and Earth and creepy old video clips would play in the background. It was an unexpected treat.
"We're called Shovels & Rope and it's a pleasure to be here." – Michael Trent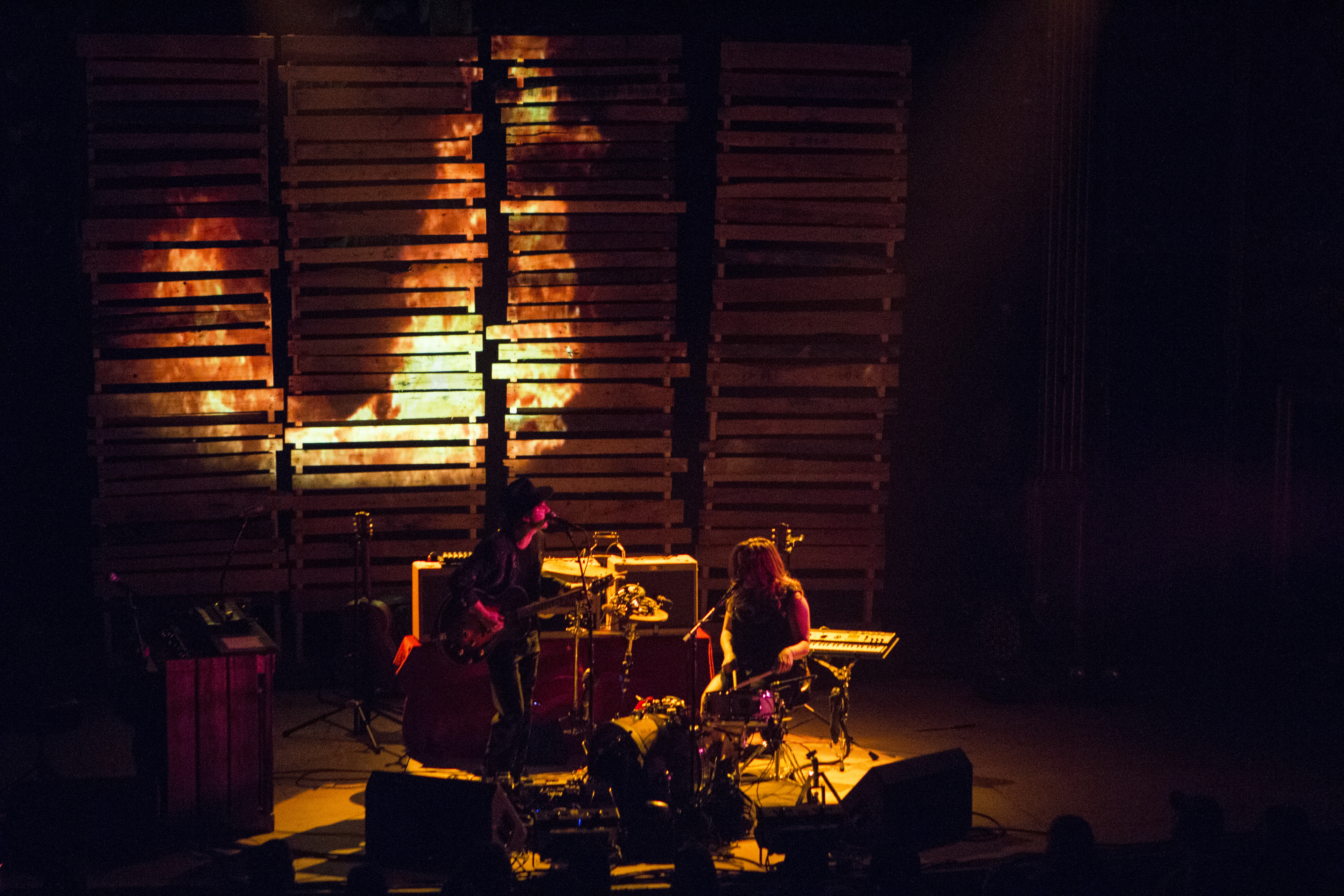 There was a guitar malfunction during the opening song. Their sound guy came out to try and fix the problem while Hearst entertained the crowd with her charm and charismatic jokes. The duo decided to switch it up, "We got plenty of stuff. We got stuff for days," said Hearst as they moved into "San Andreas Fault Line Blues." Eventually, Trent picked his guitar back up and the crowd stomped in unison with excitement. However, it still didn't seem to work (though they still sounded great). At this point the sound guy had become an actual stage presence as the crowd shouted "yeah, sound guy!" and such. Trent said, "We're gonna ad lib this a little bit right here" and improvised by playing "Missionary Ridge."
"We broke the guitar right out of the gate. What's your fancy suit gonna do for you now, Michael? [laughs] You look good though." – Cary Ann Hearst
Shovels & Rope started the show by playing a lot from Little Seeds but eventually moved into some Swimmin' Time and O' Be Joyful. In addition, they covered Tom Waits' "Bad As Me" in what they called a rendition of a love song. They sang songs of executions, the Great Depression and of course the Devil and God. During "Save the World" Hearst took a moment to address the crowd about love, brotherhood and the kindness in everyone. She didn't just say it, she sang it in a melodic and seemingly impromptu guitar session.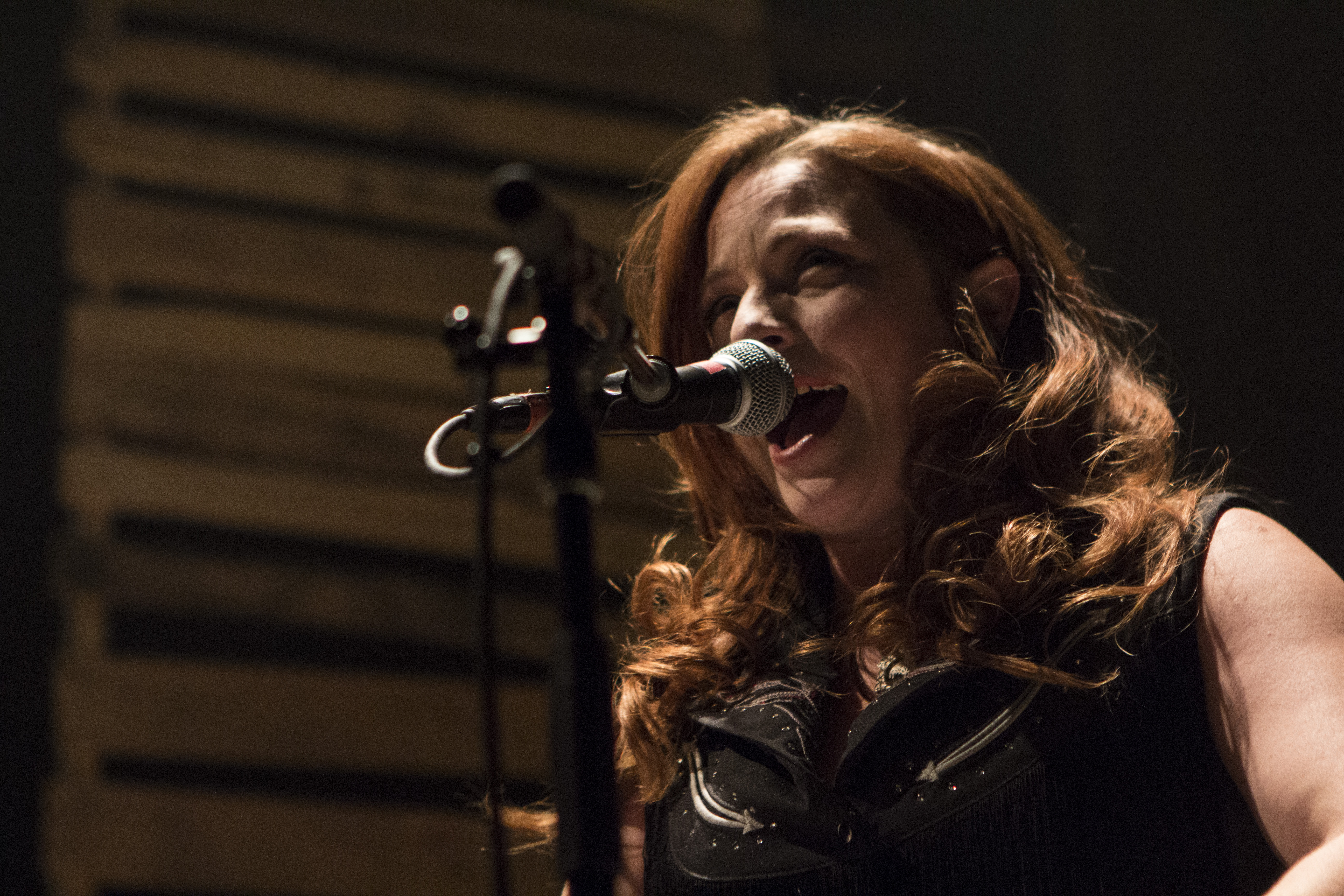 Trent and Hearst impressively alternated often between guitar and drums. Trent also played the Mandolin and harmonica. The husband and wife duo played off of one another often lovingly and jokingly. At one point Hearst wore Trent's hat while she played the piano and multiple times throughout the set, they would share a singular microphone for their incredible harmonies. Hearst announced that Michael's family, who live in Arvada, will be at tomorrow's show which Hearst jokingly claimed makes her nervous (did you know Trent is from Denver?).
Surprisingly, "Birmingham" wasn't their final song of the night. Shovels & Rope closed out with "St Anne's Parade." Then, they didn't hug, they didn't kiss, they shook hands and smiled at one-another before bowing to their fans. They then departed the stage but not for long. The crowd stomped, clapped and roared, until the duo returned for a couple more – "Buffalo Nickel," "Boxcar" and "Hail Hail."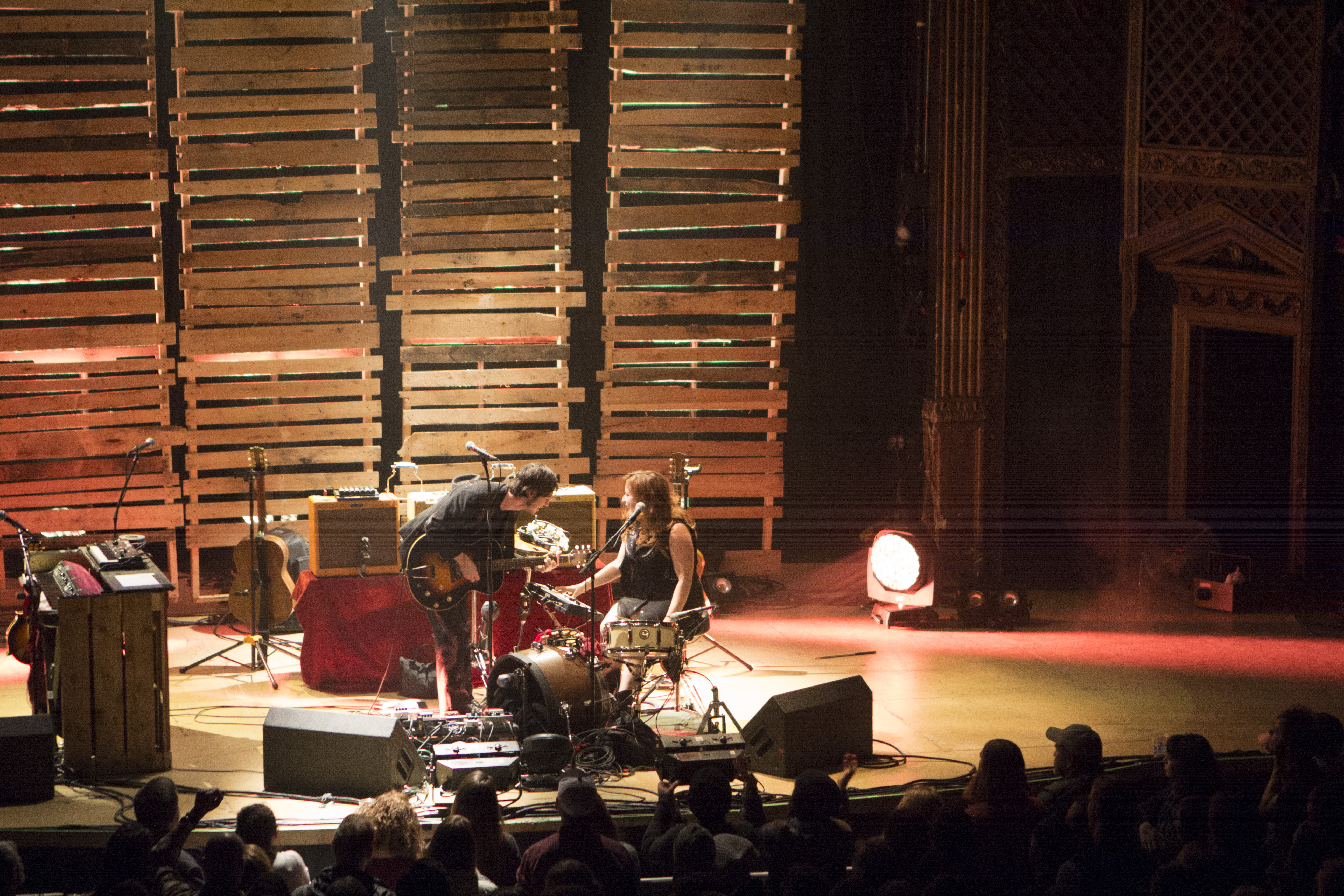 Shovels & Rope played an hour and 45 minute-long set and it's safe to say there wasn't a single point I was unimpressed. The duo even powered through a faulty guitar, transitioning smoothly and improvising as needed like talented musicians do. Their stage presence was impressive yet charming and their versatility with instrumentation showcased their skill sets. In our interview with Shovels & Rope, they promised to play two mostly different sets, so fans of last night should consider returning for round two.
Catch Shovels & Rope tonight, November 19, at The Ogden Theater. Tickets are available here.
Read more about why they decided on two-nights at the Ogden, what their favorite Denver spots are and much more in our Q&A with Shovels & Rope here.
All photography by Kenneth Coles.