Late Saturday morning the Source in RiNo hosted James Beard award-winning pastry chef Mindy Segal of Chicago. Starting at 11 a.m. the lucky "golden" ticket holders lined up for what was anticipated to be one of the sweetest (and savory) brunches. The sold out "Bagels & Brews with Mindy Segal" event lasted until 2 p.m. and continued to stay packed straight through.
All those in attendance waited anxiously as the line moved past the RiNo Yacht Club to a row of tables piled high with breakfast fare. Segal stood behind the first set of bagel toasts boasting of her scratch made cream cheese and encouraging quick banter with all the patrons salivating over her toasty creations.
First up in the line of bagel toasts was a pretzel salt bagel with nitro Oscar brined and smoked lake superior whitefish, sunflower sprouts and a buffalo milk ricotta. The creaminess of the ricotta happily complimented the salty bagel and melty smoked fish. Continuing down the line plates were loaded with Segal's scratch made fresh cream cheese on a pumpernickel bagel with a light spaghetti squash and a toasted pepita pesto. The final toast to fill real estate on this plate was my personal favorite, a crunchy and chewy hemp seed bagel with giardiniera carrot ribbons and avocado. The giardiniera was light and crisp with just the right amount of sour to cut through the richness from the avocado.
Continuing on to the next set of morning treats, a new plate was needed to again pile high with each and every offering. The doughnut row was stacked high with smoked sugar bite sized dough and honeycrisp apple fritter bites with brown butter cider glaze, maple butterscotch glazed rings and chocolate cocoa-nib, toffee glazed doughnuts. The texture of these sweet brunch treats was unlike any others, with a soft chewy interior and a crisp exterior glazed and dipped in a sugar addicts dreams — sweet but not overpowering.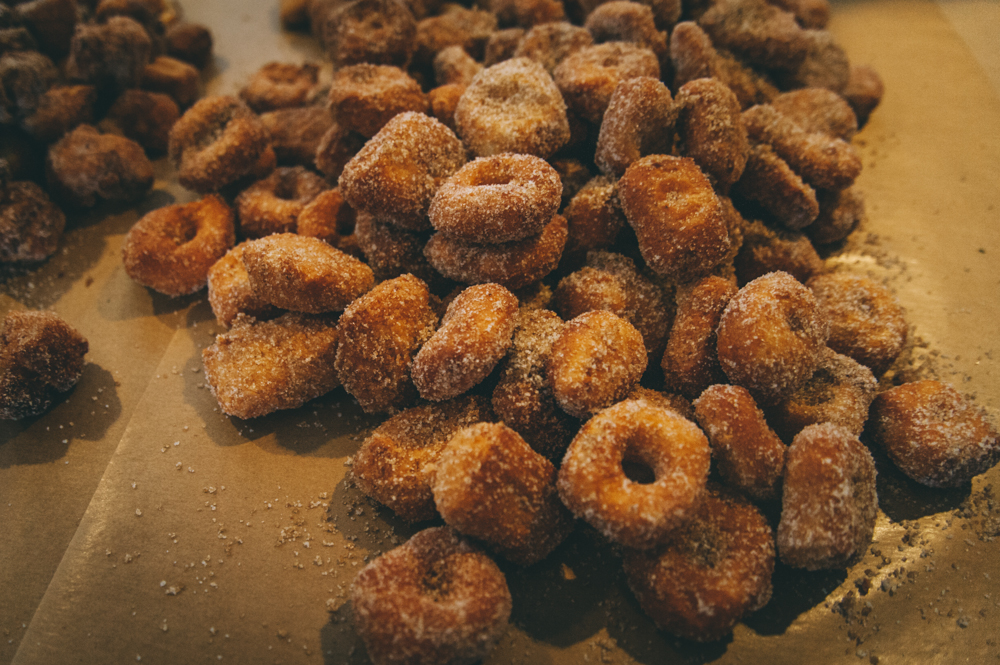 The last table held two variations of kolaches and two equally beautiful rugelachs. Sharing this final destination were the great brewers from New Belgium pouring tasters of their Ben & Jerry's collaboration brew: chocolate chip cookie dough, nitro Oscar worthy coffee, whiskey-aged fat tire and their cherry Felix. The beers were poured generously and paired well with each tasty pastry.
Each guest was given a punch card to order two cocktails from RiNo Yacht Club. The money shower seemed to be an overall favorite with mezcal, elderflower, green supreme juice, a splash of lime and garnished with a fresh bouquet of mint tucked into a lime wheel.
Segal also has her own line of medical marijuana edibles, "Mindy's Edibles" based out of Chicago. She partnered with Cresco Labs to create the perfect sweet and savory bites infused with oil.
"They're hard to do for several reasons — the right dosing, consistency. Also, being a professional chef standards are higher [for taste]," said Segal when asked about the overall process of making a delicious edible.
Although her edibles are created and sold medicinally in Chicago, when asked about Colorado's Initiated Ordinance 300, Segal simply replied, "I think it would take recreational use to a new level with fresh cannabis infused products. Social consumption should be regulated like alcohol is — in social safe environments."
Along with her extensive work in the Chicago food industry, there's hushed whispers of Segal diving into various future endeavors in our very own Mile High. Everything is still very much in the talking stages but after getting a hearty taste of what she's offering, we'd be lucky to have her and would be more than happy to welcome Segal with open arms.
All photography by Lucy Beaugard.