On Monday, October 3, 2016, Tears for Fears returned to Red Rocks after more than a decade. Paired with electronic up-and-comer Robert DeLong, it was an interesting combination for the '80s throwback. The English pop-rock stars performed all of their hits, but more importantly gathered multiple generations and combined many time-periods into one beautiful evening at Red Rocks.
If you're unfamiliar with Seattle-born Robert DeLong, it won't be for long. This on-the-rise electronic artist and singer-songwriter has taken the genre by storm with phenomenal production skills as well as a must-see live performance. At his shows, including Red Rocks last night, he mixes beats and plays the usual instruments such as guitar and drums, but he also overshadows other electronic artists in creativity with, well, other instruments. Do you remember those old computer joysticks? Yeah, he used one of those to play music. DeLong didn't stop there, also incorporating Wii and Xbox remotes. Alongside the electronica were incredible guitar solos, insane drum antics and a couple performances with another drummer.
"My whole family flew out from Seattle. It's my girlfriend's birthday. Everything's great. […] You know I live in Denver now; that's cool right?" – DeLong
Now, Tears for Fears gathered a particularly older crowd, as was expected considering their peak period. This crowd was one that you wouldn't think would be satisfied with a younger musician's electronic set. However, before the show, I thought about this a lot and grew fond of the pick. It made me feel as if Tears for Fears were passing the torch to Robert DeLong. Well, obviously not as a replacement, but as a sign of respect. DeLong is on the verge of fame and in a way is a modern-day comparison of the '80s classic. Mixing pop, rock and electronica, as well as showing copious amounts of talent, DeLong mixed things up – in a good way.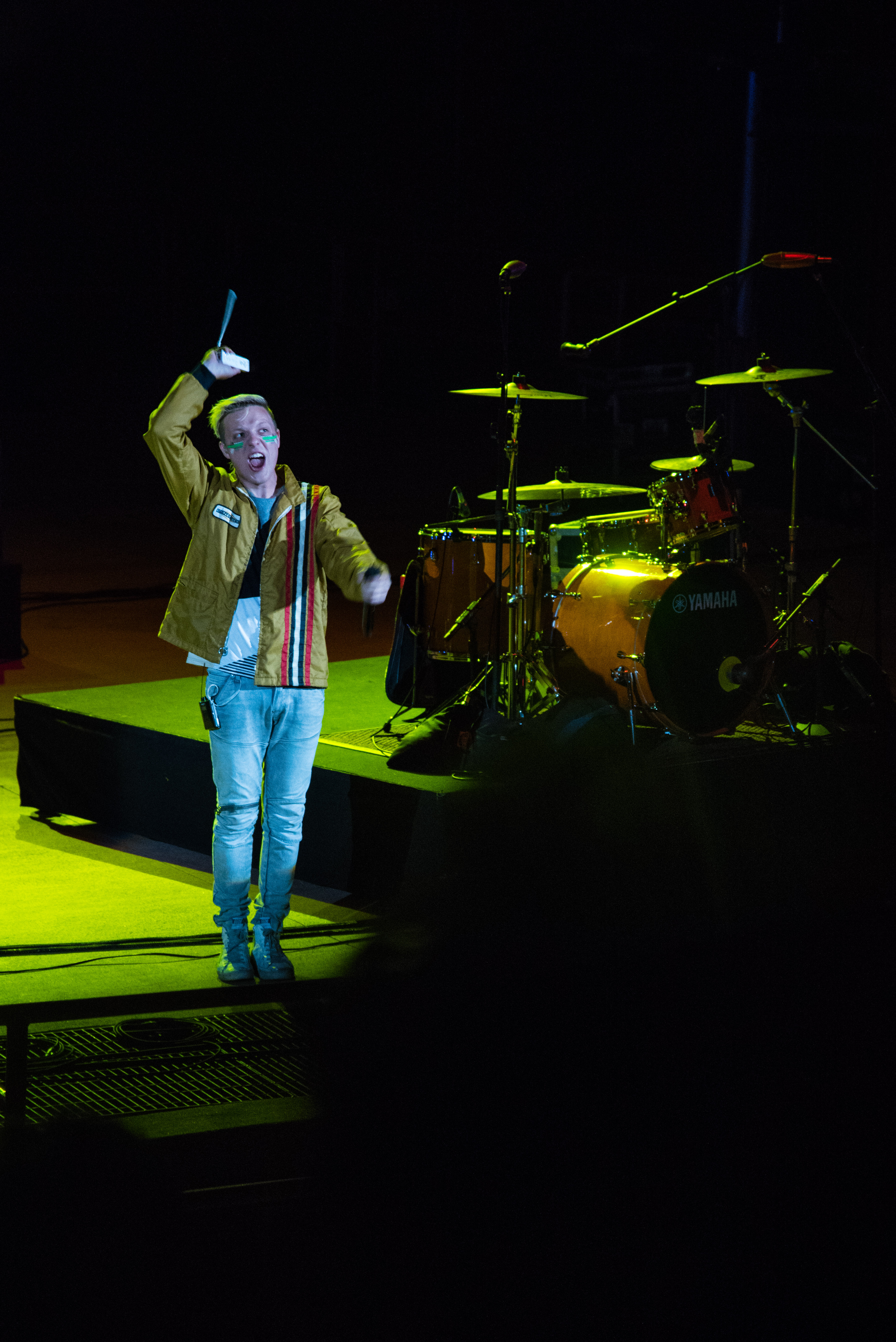 I was the only one dancing for most of this set. It was okay; this happens often considering I would even dance my ass off at a Sarah McClachlan concert. But the crowd still seemingly enjoyed the producer's performance. At the end of the show, the couple sitting next to me stopped me and asked, "Do you know who that was?" They went on to say that they had never heard of DeLong but were thrilled they had arrived early and were committed as instant fans. When you end a set with an extended version of the percussion-infested "Global Concepts," how couldn't you be?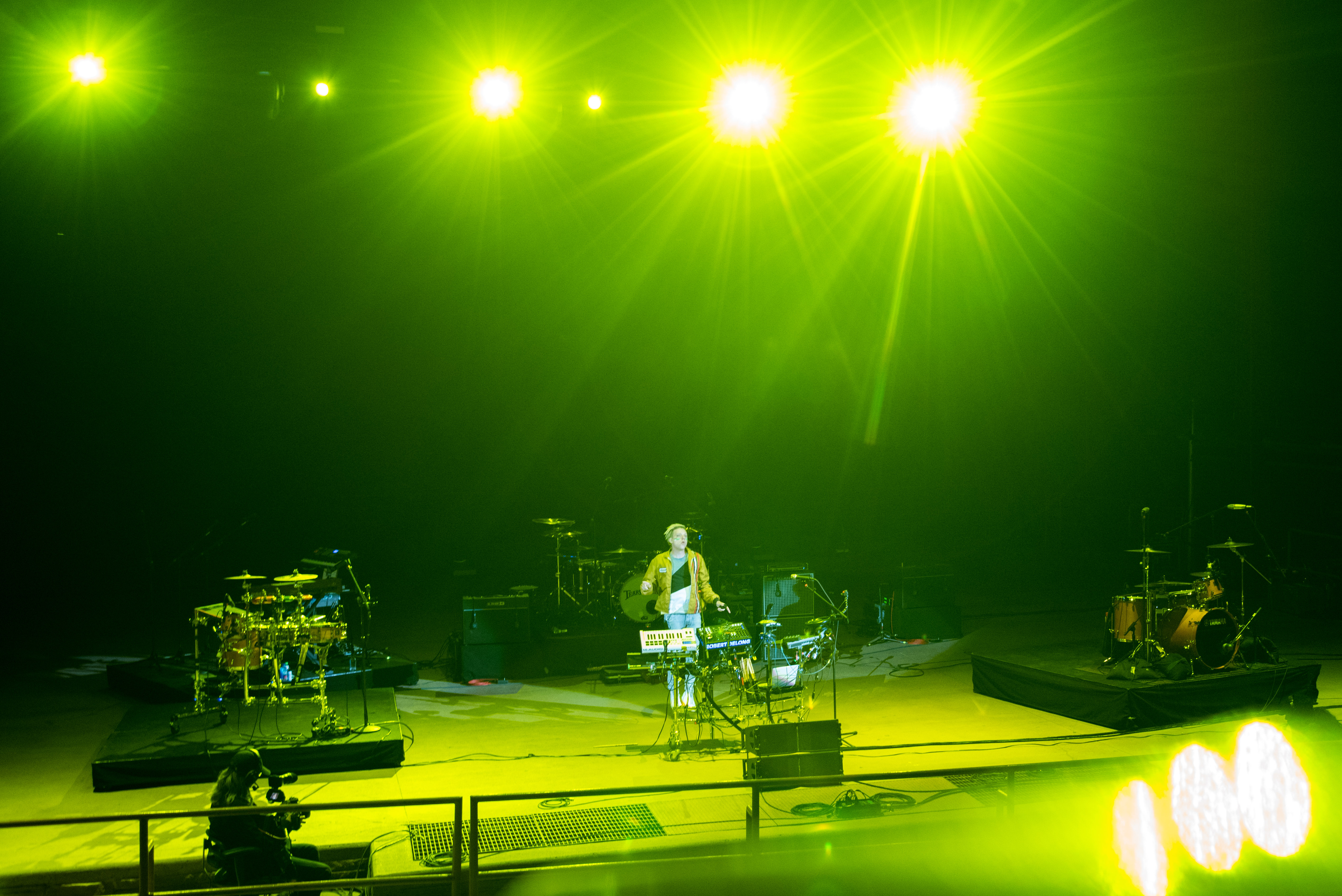 Mixing a classic '80s hit with a modern 2000s pop artist, Tears for Fears entered the stage in a surprise turn of events – with a Lorde cover of "Everybody Wants to Rule the World" playing over the airwaves. The band filed onto the stage and waved their hands, eventually leading into their original version of the 1985 hit. Next, they played "Secret World" and worked in "Let 'Em In" by Wings for a couple seconds.
"Wow this is amazing. […] Appreciate this incredible structure that Mother Nature has provided. It's incredible. Thank you so much for coming" – Roland Orzabal of Tears for Fears
Tears for Fears embraced their classics as well as some newer material. The group made good use of the stage, acting confident but still showing that they were enjoying every minute of it. Ladies screamed throughout, especially for the many romantic guitar solos and melodic harmonies between the three vocalists. They used the rocks as a back drop for their lights but kept it respectfully simple.
"How many people here are old enough to be fans of our first album? Okie dokie then. It's a shame were not doing any songs from them. [laughs] If it's okay with you, we'll do a few" said Orzabal as they then led into "Change" and a wonderfully nostalgic live version of "Mad World." Backup vocalist and solo artist Michael Wainwright who opened the show before DeLong deserves a huge shout out. Wainwright often carried some of the vocals, especially during "Badman's Song," where he belted some incredible tunes.
"If I could just echo my partners words: It's been 16 years since we've been here to Red Rocks. It's great to be back." – Curt Smith of Tears for Fears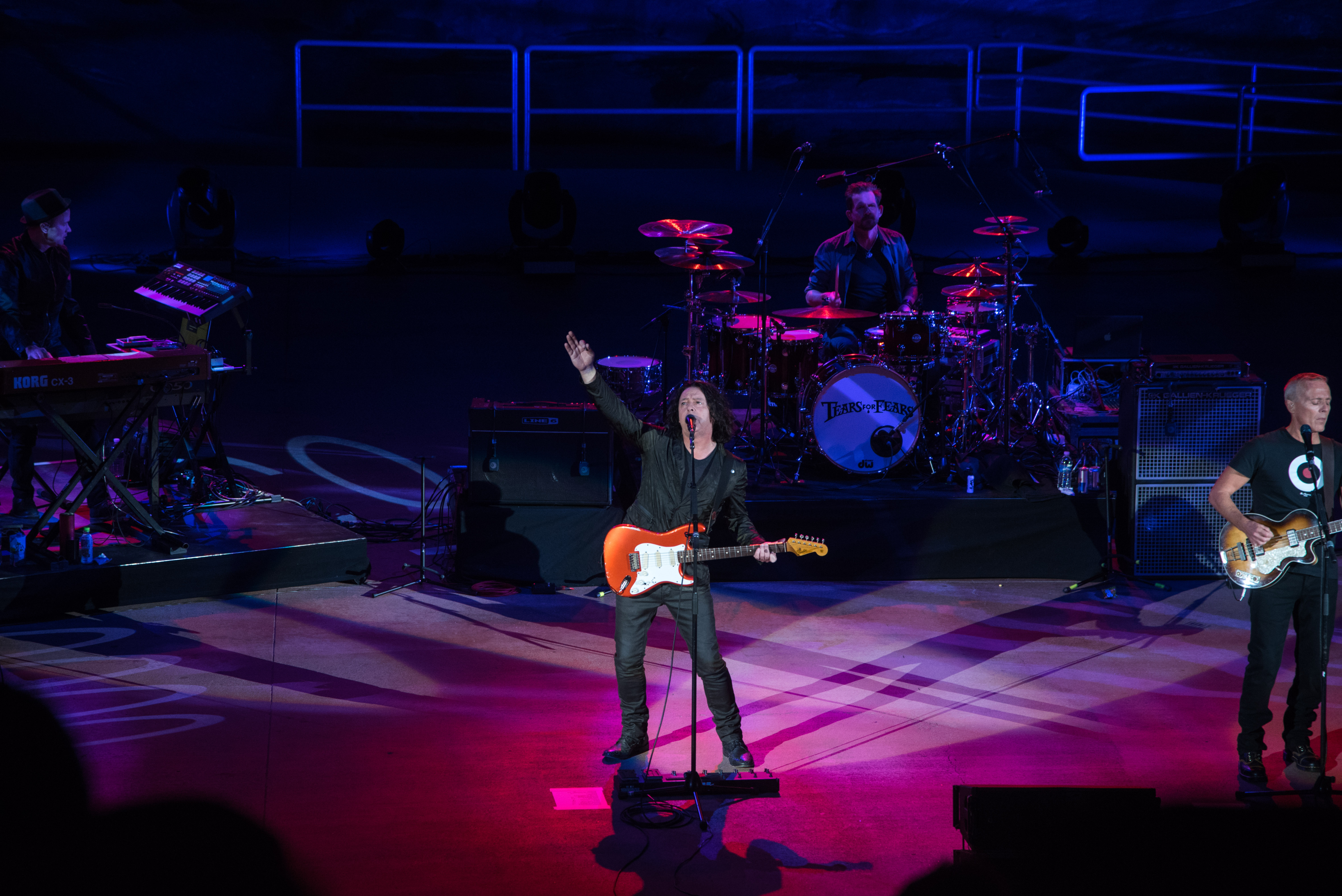 Tears for Fears closed out with "Head Over Heals" but returned for "Shout" after the crowd refused to leave. It was a truly deserved encore. The band played all of their hits and then some, showed an admiration for their fans as well as the venue and really delivered. Tears for Fears have certainly aged, but their followers, young and old, still admire them passionately. Over the years the band hasn't faltered, sounding nearly the same and still showing love for their fans just as a newer artist would. If you missed Tears for Fears, they will be performing in Colorado Springs at Pike's Peak Center on October 5.
All photography by Nick Annis. Check out our full gallery here.