The Rolling Pin Bakeshop's co-owner and executive pastry chef Jay Thomas has long been dreaming this project into fruition. Over 37 years have passed, with the last three years spent planning to make it a reality. Thomas, alongside Michael Martinez —co-owner, barista and front-of-house— will open their doors Sunday, October 16 for their soft opening and Tuesday, October 18 for their grand opening.
Thomas spent the early part of his life decorating cakes with his mother, who at the time worked for Keebler while also decorating and selling cakes on the side. With his knowledge and skill in cake decorating, Thomas was able to continue this work in Costco's bakery for nine years before deciding to go back to school in his 40s to study at Johnson & Wales University. Upon graduating he was then offered a teaching position and went on to teach for three years before moving forward with his career.
Martinez and Thomas met four years ago and realized they both shared the same passion and dream of opening their own little bakery.
"I've been decorating cakes for years (as well) and have always wanted to open a bakery. I just never thought I would and then I met a pastry chef, fell in love and now we're opening our own bakery together," Martinez responds in reference to how everything came together. "Everything just fell into place," Thomas added.
In 2013 Thomas met Josh Pollack — owner of Rosenberg's — at a point in his career where he was considered "over-qualified" for a position at the bagel shop that was being offered. Some of his more recent endeavors included the Brown Palace, Iverness Hotel and Conference Center, the Denver Country Club and a few other well-known kitchens.
Thomas graciously accepted the baker's position at Rosenberg's after discussing his plan to open a small bakery with Pollack. He soon realized what a big role Pollack would have in making this dream an actual reality. Both chefs — Thomas and Martinez — speak fondly of Pollack and the mentoring role he has taken on while encouraging, guiding and sharing knowledge with them in regards to the process of opening a business in the Five Points neighborhood — their neighborhood.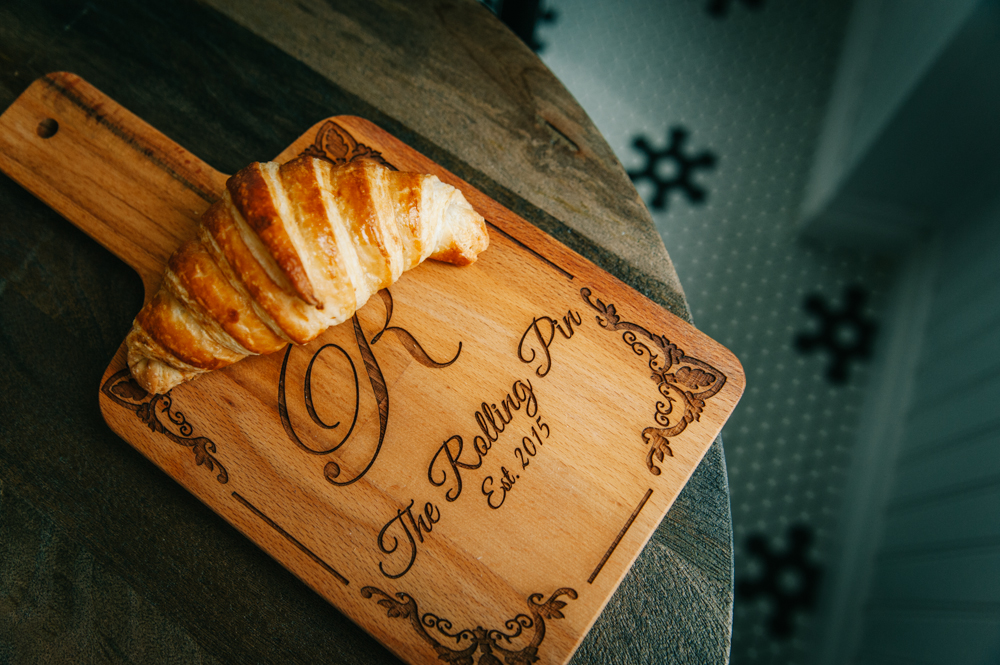 The Rolling Pin will have fully stocked display cases with classic french pastries and desserts. They are still testing sizes and prices to see what works best for their individual shop and its customers. To give you an idea of the croissant pricing, they will range anywhere from $2.50 up to $4 depending on the size and fillings. Pastries such as the napoleons will be $4.
Although Rolling Pin works mainly with flour which is sourced locally in Colorado, they will still have gluten-friendly options such as the caramel-nutty-corn-balls that Martinez fondly reminisces about from his childhood and grandmother's recipes.
This new baking endeavor, but a longtime coming concept, for the duo has already been a success-in-the-making with its large pastry sales at Rosenberg's. In the future the two hope to cater to morning business meetings with fresh pastries, custom ordered wedding and event cakes, the option of taking platters to go and eventually light lunch and dinner fare.
With the opening of Rosenberg's just days before Rolling Pin opens their doors, Thomas and Martinez believe that the two bakeries will not only jointly bring business to the growing Five Points neighborhood but also continue to work together as opposed to competing for clientele. Stop by Sunday for their soft opening with few pastry choices and coffee. Tuesday will mark their official grand opening with display cases packed with sweet and savory treats to satisfy all cravings.
The Rolling Pin is located at 2716 Welton Street, 303-437-2258, Tuesday through Sunday 6 a.m. to 3 p.m.
All photography by Lucy Beaugard.