It's no secret that Denver loves its craft beverages. And while beer usually has the spotlight, the third annual Grand Coffee Bazaar (GCB) proved that the Mile High's coffee scene isn't anything to scoff at either. Taking place at Redline Gallery on the edge of the River North Arts District (RiNo), the Grand Coffee Bazaar brought 13 of its best roasters, importers and brewers into one space to celebrate the booming industry. Shops from Boulder and Denver made up the bulk of the participants with a mix of GCB veterans such as Novo, Boxcar and Corvus serving next to newcomers like Dragonfly Coffee Roasters and Proper Grounds.
This slideshow requires JavaScript.
Aside from the handful of fresh faces, this year also brought new offerings. First, many of the coffee shops not only provided their typical pour-over setup, but they also served a variety of cold brews, often with nitro in tow. Also, a handful of breweries did make an appearance, but only in honor of the coffee scene by showcasing their brews made with participants' coffee. One of the more harmonious cross-breedings was between Broken Compass and Boxcar Roasters. Serving up two brews, Broken Compass brought a more traditional coffee beer in the form of their Chocolate Coffee Stout using Boxcar's Stella espresso roast. The result, though, was nothing short of extraordinary, as the beer was so smooth, rich and chocolate-y that you could have easily mistaken it for a milkshake (and that's without any nitro). Their other offering deviated from your typical coffee beer with a dry-hopped IPA using Citra hops and Boxcar's Ethiopian Bocatto. Unlike your typical IPA, the hops were very subtle and the coffee was able to shine through.
This year's "brunch bites" also got a revamp with hearty portions from vendors like Hi-Rise, which dished out biscuits and gravy and breakfast sandwiches. This seemed to be a hit as it was the longest line at the festival  — by far. But even though the food was a major draw, lines weren't short for the coffee either.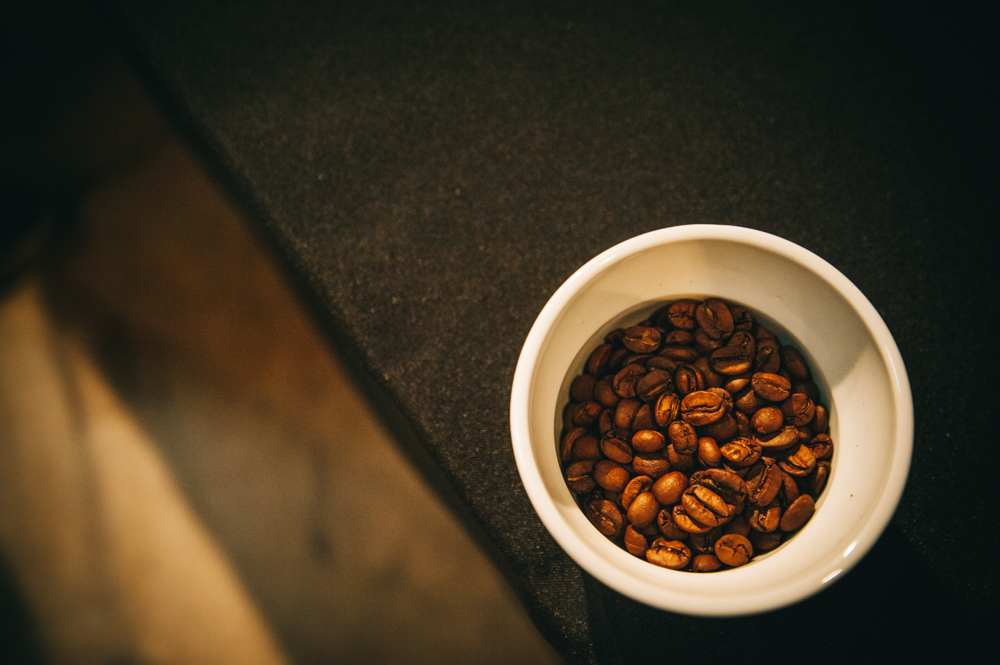 Nothing makes craft coffee's popularity more apparent than the turnout of GCB. Even inside Redline Gallery, which is much more spacious than its previous location in the parking lot of Our Mutal Friend, it felt packed. It was definitely great to see the support of independent coffee shops, but unlike years past, the crowding often made it a bit harder to take time to talk to roasters and get to know your local barista (typically, one of my favorite aspects of the event). Plus, with the event being indoors and the presence of hot coffee everywhere, the space did get a bit toasty and I missed the outdoor setting, which usually brought perfect fall weather with it. But what made up for it was, of course, the excellent line-up of coffee.
Each year, GCB teaches me something new, either about a coffee shop I love or one I soon will. This year Dragonfly Coffee Roasters stole my heart with their Myanmar Mya Ze Di Natural coffee. Made using a natural process where the coffee is dried still inside the fruit (as opposed to drying the bean by itself), the coffee is much more fruit-forward but balanced, with notes of cedar and sandalwood. Usually, I am more traditional in my coffee tastes and love richer notes of chocolate, so I was surprised how infatuated I was with this natural coffee. But what really sold me was its texture, which was so incredibly silky that it immediately stuck out from anything else I tasted that day (truthfully, a lot did blend together after a couple cups). Other favorites included Huckleberry's single farmer series, which highlights beans harvested from just one farmer and Novo's Varieties, which showcased varietals from one region.
—
By the event's end, I saw a sight that many might not recognize after leaving your typical Denver festival. Instead of the dulling and sometimes dizzying effects of a beer buzz, those leaving GCB were all smiles and full of energy. While it was undoubtedly the large amount of caffeine everyone consumed, it was clear that this coffee festival didn't leave a bad taste in anyone's mouth.
All photography by Lucy Beaugard.