Halloween is right around the corner and it's this crucial last week of October that costume shops are swamped with people looking to find the perfect disguise for this year's festivities. If you're a fashionista, Halloween presents you with both an opportunity and a dilemma. You want to look fun and spooky but you'll be damned if you don't look stylish. Fortunately, we know exactly where you're coming from and have put together some local looks that will suffice your Halloween hunger and your sense of style.
Werewolf
Grunge is back with a vengeance and pieces that are rough around the edges are great for a werewolf costume. The major distress allows you to sport post-transformation mode threads and also makes for an edgy getup to howl at the moon. Unapologetically imperfect and fueled by raw creativity, Rebellelion gives new meaning to second-hand as designer Madelyn Hadel creates unique pieces all from recycled clothing.
Witch
A witch is a classic choice, but a pointed hat and green face paint are no longer the rule. Thanks to shows like American Horror Story: Coven, style is just as important as spells and potions. A Stevie Nicks-inspired outfit with a top hat and all black makes for a simple and chic show-stealer. Located in the heart of Rino's Art District, Shea is a woman's boutique supplied with fashion-forward selections and enough black to give you the ability to fly on a broom. And for eye-catching, one-of-a-kind necklaces, check out Atomic Sean.
Ghost
A ghost costume can be easy to prepare, but that doesn't mean you have to wear a white sheet over your head. A white dress and white stockings can help you go from Casper the Friendly Ghost to the Woman in White, a spirit relentlessly looking for revenge. A stoic white face is definitely required. Goldyn in the highlands carries progressive designer apparel and fine jewelry. Whether you're looking to paint the town red or just your next haunting, Goldyn has you covered.
Vampire
A lot of people think formal clothes and capes when they think of a vampire's outfit, but we're going for a more rebellious look. Go with The Lost Boys instead of Dracula. Leather, silver jewelry and sneakers are all relevant options. Don't forget to add some blood to drive the disguise home. With quality as one of their main advantages, Blk Oak Dnv has moto inspired apparel you'll love. If you're hopping on a bike, or just dressing up as one of the stylish undead, Blk Oak Dnv is a premiere choice.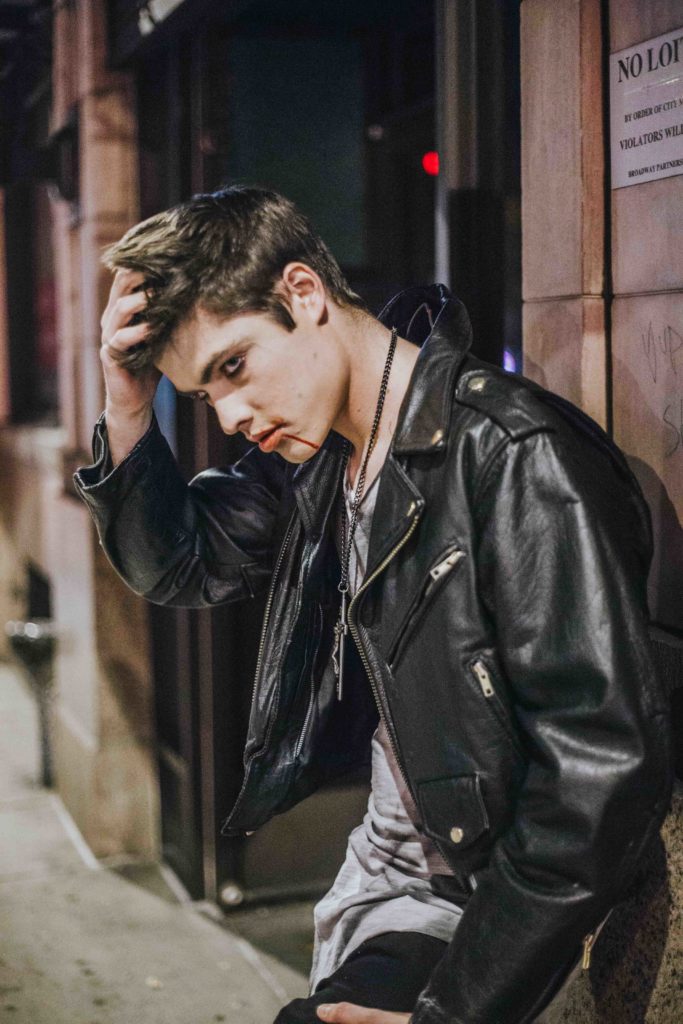 —
If you're a Halloween veteran, you know a a great disguise isn't cheap, only to be worn once and then put away. Why not buy something you'll actually wear the week after? Hopefully we've inspired you to try a different type of ensemble, or even to raid your own closet for your next frighteningly fashionable costume.
Models: Derek-James Cole, Victoria Piechowski, Sabrina Sanchez, John Lundy
Stylist: Aaron Rodriguez
Makeup: Stephanie Aldrich
All photography by Noah Berg