After opening in 2008 off a back alley on Santa Fe, Infinite Monkey Theorem (IMT) has continued to expand upon its successes and eventually opened its duel-lot warehouse location on Larimer and 32nd in May of 2012. Not only were they the second in the nation, alongside Coppola, to can their wine, but they were the first to begin canning still wine and also the first to begin kegging their wine in Colorado.
Ben Parsons, owner of IMT, got his start selling 1000£ (equivalent to a little under $1300 US) bottles of Bordeaux and Burgundy in London. From there his passion for great wine was ignited and he spent time harvesting in Marlborough, New Zealand while also applying for a scholarship from the Rotary Foundation. After being awarded the scholarship he then attended a school in Australia for a degree in Oenology — which is the study of the chemistry of wine making.
In 2001 Parsons saw an advertisement for a winemaker in Palisade. Having no idea they even made wine in Colorado he still decidedly moved from London to Grand Junction. He spent five harvests with them before moving to Durango where he began making wine for Sutcliffe Vineyards. While working with Sutcliffe and making the six-hour drive to sell wine in Denver, he realized there was a need for a winery in this urban setting.
"Why is this winery a six-hour drive from where all the people are and all the restaurants are, in this city that is potentially just about to blow up? So, kind of inspired by my father passing in 2007, I wrote business plans to start a winery in downtown Denver and in 2008 when the economy tanked I managed to find investors to start an urban winery in the city— an unproven concept and an unproven wine growing region," Parsons responded when asked how the idea behind IMT came into fruition.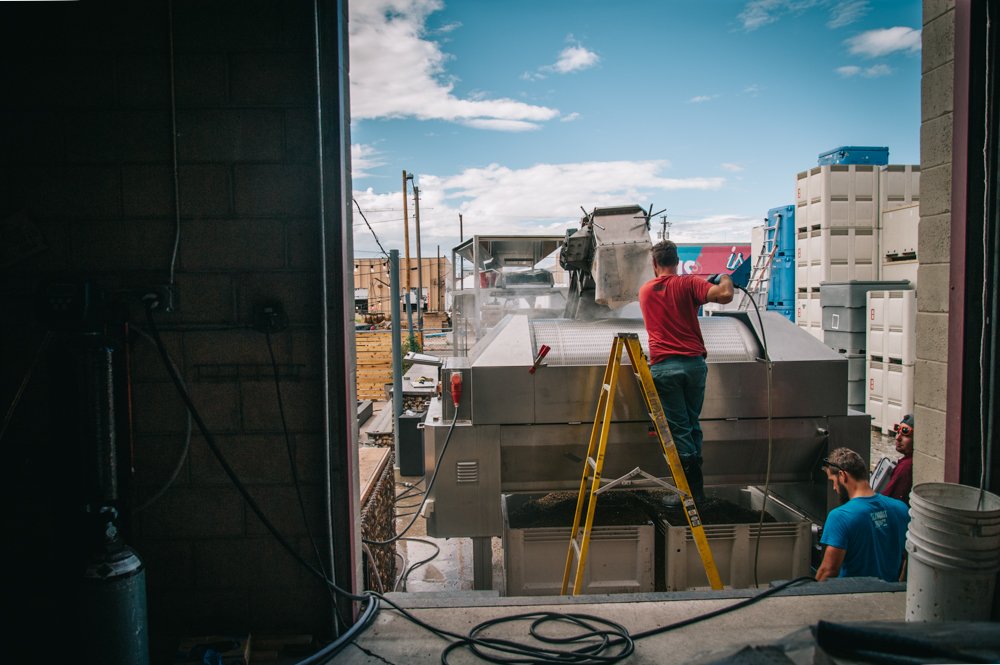 Fall harvest began last Friday with the arrival of eight tons of Albariño grapes and four tons of Viognier grapes, both brought in from Palisade. They are destined to be kegged and eventually poured on tap in Denver, Stapleton and even Austin.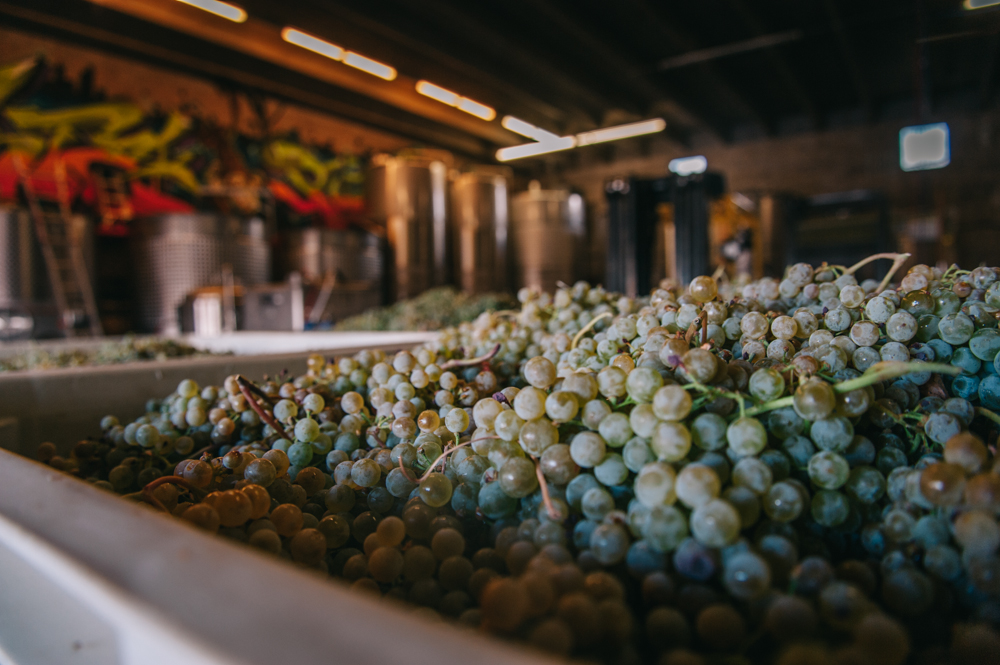 The harvesting process at Infinite Monkey Theorem begins by loading the grapes into the hopper, which vibrates until they drop down into the destemmer, a device that does exactly what the name implies — knocks the stems off each berry. From there the berries fall onto a conveyor belt, which then loads them into the press where the white juice is squeezed out of the skins before they begin the fermentation process. With red wine, the process is slightly different because of the color and flavor the skins add to a red.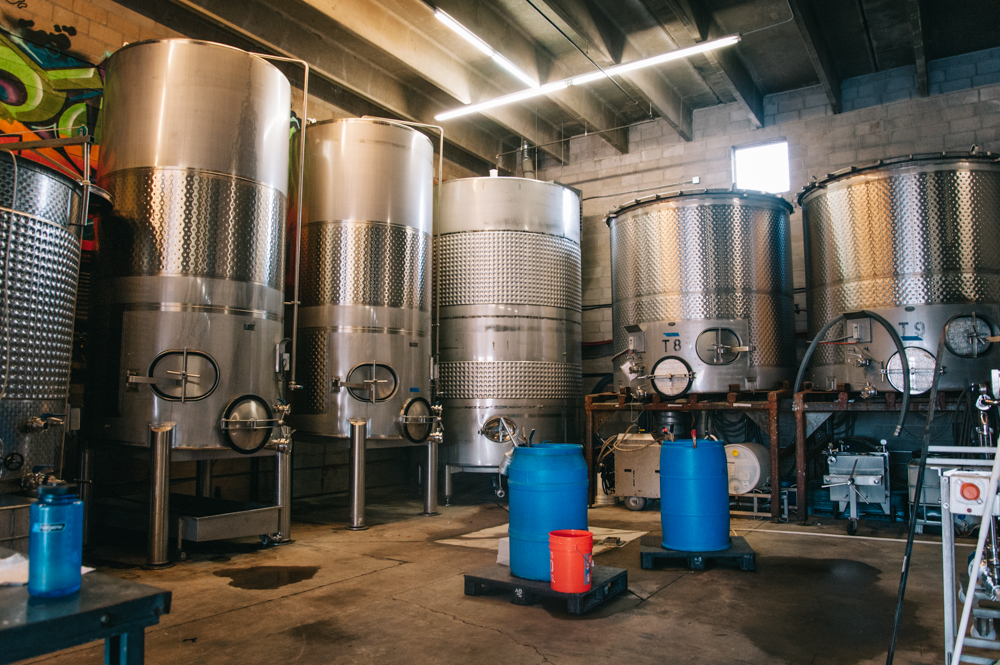 The fermentation process, in reference to a white, generally takes about 28 to 29 days. After this stage the wine then needs to be heat-stabilized to remove the unstable heat proteins that give the wine a cloudy haze. From there the white is cold-stabilized for three weeks so there are no "white" crystals left at the bottom, and finally, filtered and bottled. The entire process, from receiving the grapes to bottling, can take as little as 90 days start to finish unless it's being oak barreled, which can take anywhere from six to seven months total.
The infinite monkey theorem is an old mathematical theory based on the idea that if you sit a monkey in front of a typewriter and add an infinite amount of time, he'll eventually type the entire words of Shakespeare. Parsons explained the meaning behind the winery's namesake. "It basically tests your whole understanding of the concept of infinity and the fact that given an infinite amount of time anything and everything is possible. In my mind it's all about creating water out of this chaotic system — monkey types Shakespeare, kind of crazy right? The thing about growing grapes in Colorado [is that we are] at 4,500 feet of elevation and [have] a 165-day growing season compared to Napa, which has 200 days. And all the challenges that exist at high elevation, late spring for us, harsh winters, hale storms and then driving that fruit over the mountains in the middle of October when there could be that first snow on Vail Pass. Then making wine in a back alley, in a warehouse, in a city and cities are inherently chaotic; that's why we love cities, because there's so much going on in them. Bringing the whole wine concept to a city and then hopefully making something beautiful that ends up in a bottle."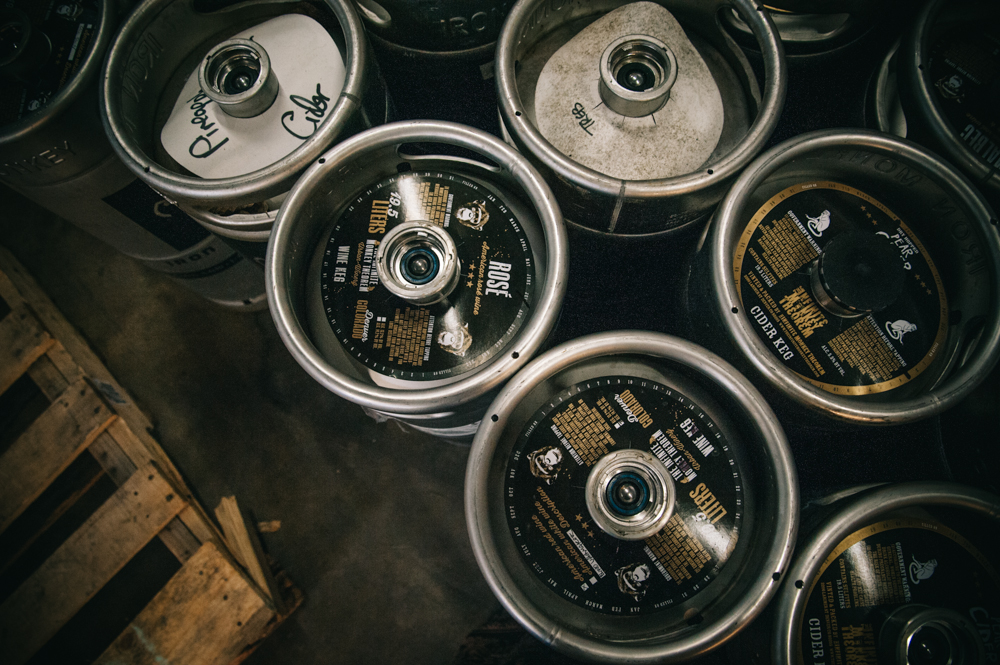 The fall harvest in Colorado generally lasts anywhere from eight to 12 weeks, but due to impending frost, this year's harvest will be complete in around three weeks. Infinite Monkey Theorem welcomes the Mile High residents and visitors to join in on the harvesting process, whether to watch from the sidelines while sipping a glass of freshly tapped wine or volunteering to get involved in the action.
Infinite Monkey Theorem, 3200 Larimer St.
For more information regarding harvest and winery tours: 303-736-8376
All photography by Lucy Beaugard.